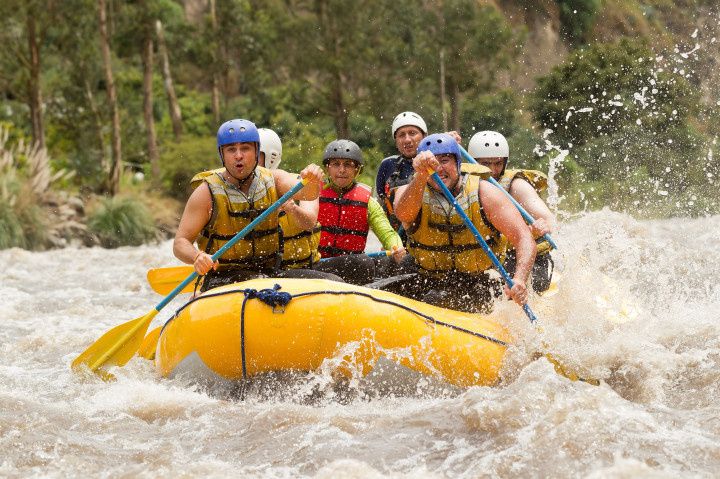 Contrary to bachelor party stereotypes, your last hoorah as a single guy doesn't have to look like one crazy night on the town. In fact, the adventure bachelor party is on the rise for groups interested in exploring beyond their own backyard with some thrill-seeking travel. Whether camping, hiking, fishing, skiing, whitewater rafting, and mountain climbing are appealing to your crew, there's no shortage of activities to fill your trip with an action-packed itinerary.
Think an adventure bachelor party in the great outdoors sounds right up your alley? Forget the Vegas strip and consider this your guide to adrenaline-filled destinations around the U.S.
Acadia
Known as the "Crown Jewel of the North Atlantic Coast" this national park set in northern Maine includes 158 miles of hiking trails and can appeal to visitors any time of year. Summer bachelor groups can take advantage of bicycling, boating, climbing, fishing, horseback riding, and swimming, while off-season visitors can add winter sports like skiing and snowmobiling to the list. Explore Acadia's seven peaks and incredible natural beauty, but make sure to break for ample downtime in between your explorations.
If camping isn't on the agenda, stay in Bar Harbor at Harborside Hotel & Marina. Book yourselves a boathouse suite for two bedrooms (sleeping up to 6 guests), a full kitchen, and your own rooftop patio to enjoy drinks with a view. While the boathouse suite will certainly set you back a bit, pool your funds and split the bill for a splurge you won't regret. Another solid option to stay at on your way to Acadia, Point Lookout Resort will make sure you get a true Maine experience in their authentic pine log cabins with 3-bedroom options that sleep up to 8.
Grand Canyon
No adventure bachelor party list is complete without mentioning one of the most recognized natural wonders—Grand Canyon National Park. Beyond marveling at the geological history before your eyes, you can take part in tours of all shapes and sizes. Depending on the level of adrenaline you're seeking, check out the area's rafting, helicopter, airplane, motor coach, jeep, or biking tours, all guaranteed to be a good time.
To stay in the park, pitch a tent in one of the developed campgrounds or make sure to secure a permit for overnight backcountry camping outside of the designated sites. For an experience more off-the-beaten-path, check out Phantom Ranch, which is the only lodging set below the canyon rim. Forget the car because this secluded lodge can only be accessed on foot, by mule, or by rafting the Colorado River. Book a stay in their historic cabins or dormitories to see why this place is completely worth the hype.
Yellowstone
When it comes to national parks, Yellowstone tops the list for wilderness adventure. Spread across Wyoming and into a few neighboring states, this expansive park covers 3,500 square miles of canyons, geysers, forests, and hot springs for your group to explore. Load up in a car to drive The Grand Loop and make sure to cover the popular route from Madison Junction to Old Faithful for the best sites along the way.
If your planning a summer trip for your adventure bachelor party, be sure to book lodging well in advance. Old Faithful Inn is one of Yellowstone's nine lodging facilities inside the park but tends to book out quickly during high tourist season. For accommodations outside the park, try Explorer Cabins at Yellowstone for an outdoorsman experience minus the tent.
Rocky Mountain
There's no denying Colorado's Rocky Mountain National Park is an impressive setting for any bachelor party celebration. Not only will your group have 350 miles of hiking trails across mountainous landscape, but you'll also be able to try your hand at of some of the country's best whitewater rafting. Especially appealing in the winter months, activities like sledding, tubing, cross-country skiing, snowshoeing and snowmobiling will keep your Rocky Mountain visit more than interesting.
Plan on staying at the National Park Campgrounds with year-round camping available at Moraine Park or opt for luxury accommodations at Della Terra Mountain Chateau. Set at the Fall River entrance to the park, you'll have the ultimate place to kick back after a long day of exploring.
Joshua Tree
You might not immediately think of the Southern California desert for your adventure bachelor party, but don't overlook Joshua Tree National Park with its own unique wilderness just waiting to be uncovered. Open year-round, there's tons of hiking trails to take you across the park's impressive rock formations, desert wildlife, and namesake Joshua trees. Whether you're camping, rock climbing, biking or hiking, don't forget to come prepared with plenty of water as the park does not include any stores, lodging, or cell phone service.
Either plan on staying at one of Joshua's Tree's nine designated campgrounds or stay outside the park at lodging nearby. The historic Joshua Tree Inn will provide rustic digs with Spanish Colonial style, while the 11-acre Rimrock Ranch is a hipster's paradise with options to stay in cabins, campers, or the on-site lodge.