The 4 Best Camping Bachelor Party Locations in the U.S.
If you and your guys want to spend your bachelor party outdoors, these camping bachelor party locations are definitely worth a look.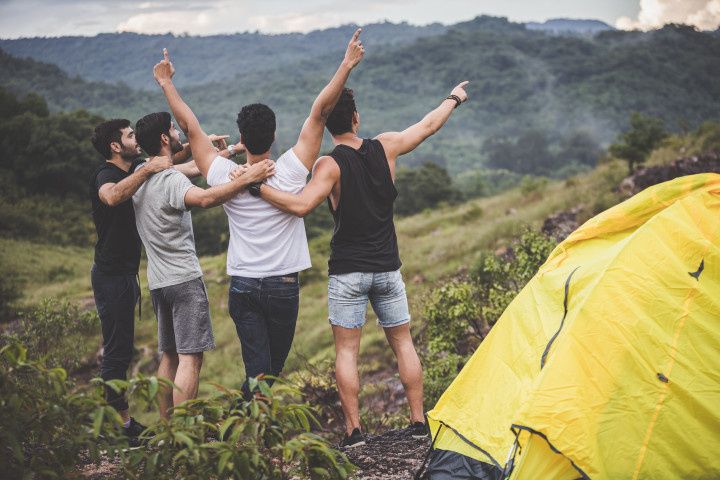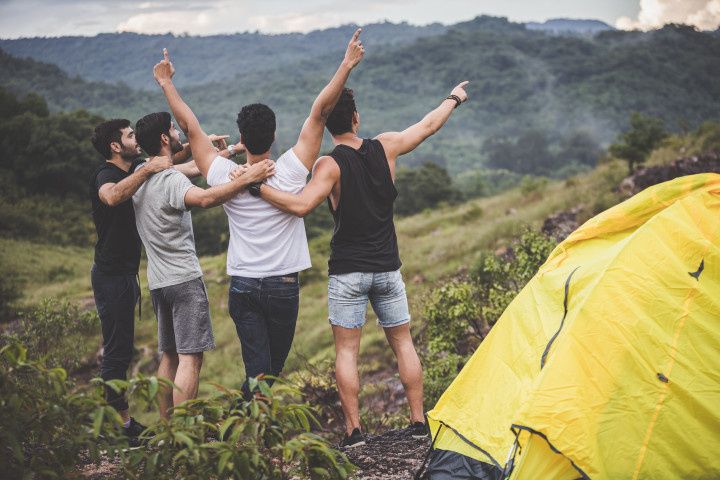 Camping isn't what it used to be during your short-lived Boy Scout years. While pitching a tent in your backyard (if you even have one) certifies as camping, these four camping bachelor party locations are totally worthy for your celebration. In these destinations, you and your groomsmen will get your fair-share of quality bonding time while hiking, biking, white water rafting, and sleeping in your canvas tent under the stars. A bonus for you: Many of these campsites are in remote locations, so you won't be tempted to respond to any late night emails regarding final wedding arrangements.
Bust out your hiking shoes and browse this list of the best camping bachelor party locations.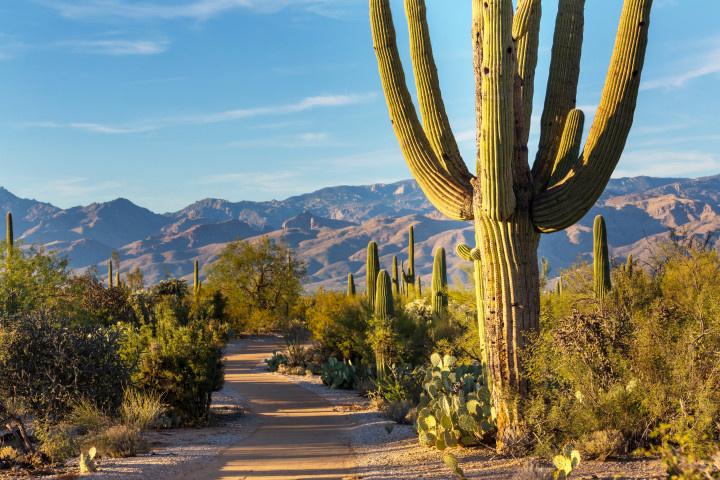 Tucson, Arizona
Take the road less traveled (a.k.a. anywhere far away from Phoenix) and consider making your camping bachelor party location Tucson. Spend a day outside (as long as it's not dangerously hot) checking out the acres of cacti at Saguaro National Park before hiking, swimming, or biking at Sabino Canyon. Roughing it in the desert, however, may not be the smartest idea — but that's why glamping exists. Stay overnight in the heart of Saguaro National Park in one of the suite tents at Under Canvas Tucson's campsite. Along with plumbing and electricity, each tent comes with a breathtaking view of the 60,000 acres of desert land, which you can explore as part of the campsite's daily programming.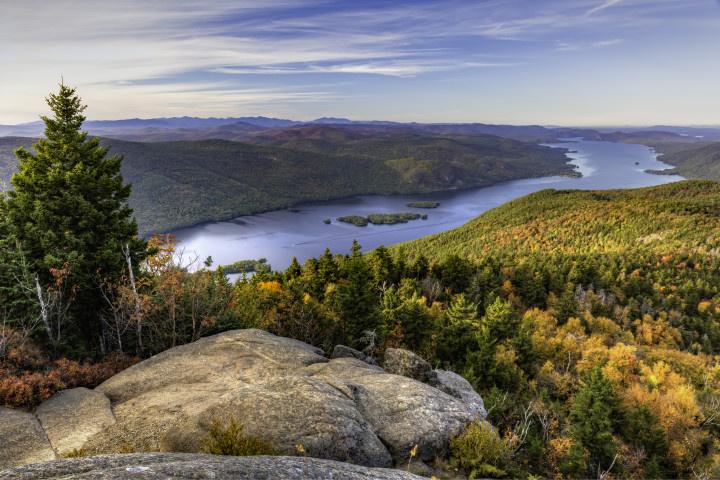 Adirondacks, New York
Not quite luxe, not quite bare bones: A camping bachelor party in the Adirondack Mountains gives you and your groomsmen the best of both worlds. Book a stay in one of the log-embellished canvas wall tents at Posh Primitive, and go from there. The world is literally outside your (canvas) door: Arrange a mountain biking tour, go finishing in neighboring streams, hop on the trails, or venture to the nearby rope and zip-line parks. Once it gets dark, head back to camp and fire up your tent's wood stove to keep warm during the chilly New York night.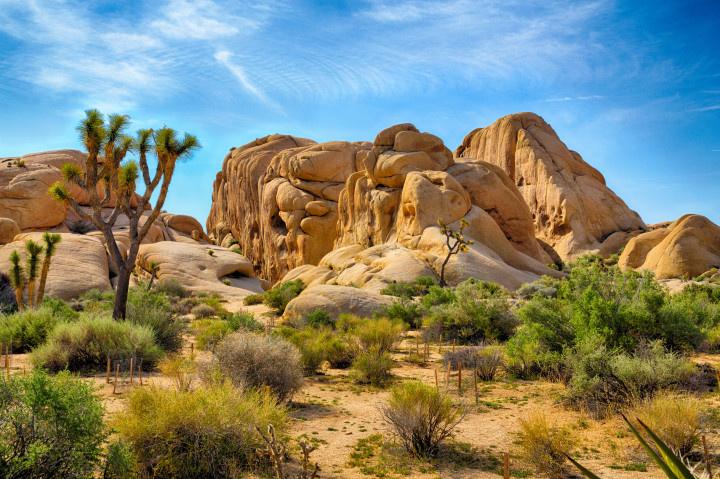 Joshua Tree, California
At first, you might think that Southern California is simply the ideal spot for a weekend of beaches, surfing, or checking out the Hollywood scene — until you realize that Joshua Tree National Park exists. And while there are plenty of hiking trails available — The hike to Skull rock (aptly named) and Giant Rock, allegedly the biggest single boulder, are well worth it. — there is plenty of non-outdoorsy activities when you need to escape the dry heat or want to be around civilization (both are equally important). Joshua Tree Museum is a hipster's paradise: The outdoor museum showcases Noah Purifoy's art that is made up entirely of found and junked materials like debris from the 1965 Watts rebellion. Since there aren't too many lodging options in the, pitching a tent at one of Joshua Tree's nine campgrounds is your best bet — unless it's summer, then splurge for a night at Joshua Tree Inn. Word to the wise: The area doesn't have any convenience stores, cell phone service, or Internet, so plan accordingly and consider it a camping bachelor party escape away from wedding planning mode.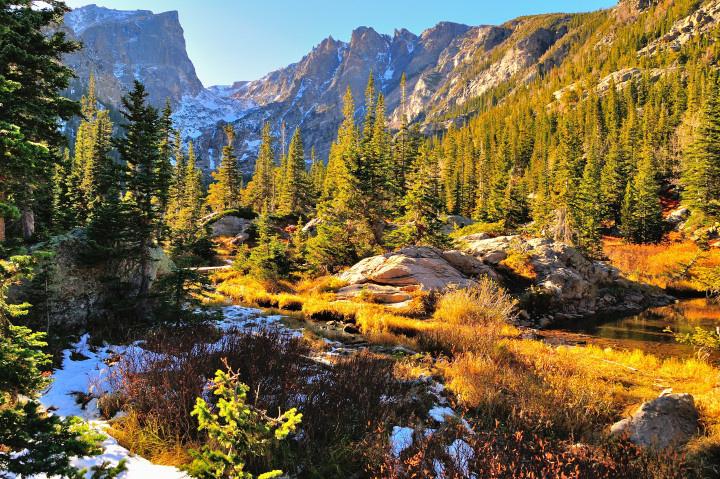 Rocky Mountain National Park, Colorado
If you really want to give your groomsmen options, then the 350 miles of trails in Rocky Mountain National Park will do the trick. Even though the mountain ranges are impressive, the nearby Estes Park is known to have some of the best whitewater rafting in the county — and nothing says bro bonding like an afternoon battling against rushing water, right? There are plenty of outdoor activities available year-round: If you visit during the winter, spend a day sledding, tubing, skiing, or snowshoeing. The National Park campgrounds at Moraine Park are also open year-round, so you can get the full experience, no matter when you visit.