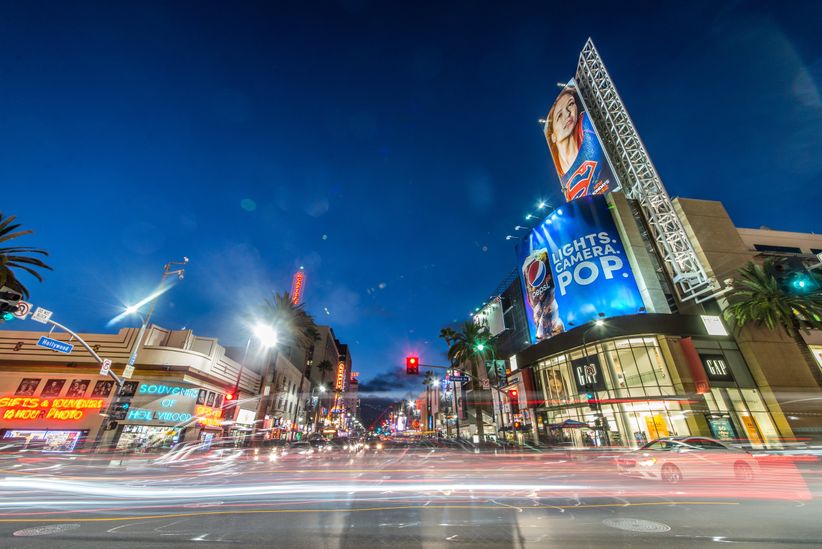 The sprawling city of LA can feel overwhelming but planning a Los Angeles bachelor party should be anything but! Once you've narrowed down your entry point into this urban-and-beach oasis, you'll find plenty to do, from hiking, beach time, and a heck of a club scene.
Start planning your action-packed Los Angeles bachelor party with the help of this guide.
What to Do
One of the best spots to station yourself for a Los Angeles bachelor party is in the Santa Monica area. Here, you'll find the best of the beaches, plus a great downtown scene that will keep the party going throughout the night.
Of course, you should make a day of hitting the sand. Start by checking out the Venice beach boardwalk, where you'll find some fascinating people watching, plenty of bars, and even legalized marijuana shops. Plus, there's muscle beach where you can get in a work out, or just watch the local body builders; skateboarders taking on jumps and ramps right on the beach; and running and biking paths for you.
Once you get to Santa Monica, you'll have plenty still to do. Play some volleyball on the public nets, try your hand at spike ball, or consider surf lessons with companies like Santa Monica Surf School (remember to where a wetsuit, the water is cold!).
Right on the beach is Santa Monica Pier, where you can take on rides and enjoy the views from the picture-perfect Ferris wheel. And when you're ready for a break, head right off the pier to Big Dean's, a favorite local sports bar with beers and good eats.
If you're in the drinking mood, there are also plenty of breweries to check out in the area. Consider the tasting room at Santa Monica Brew Works where you'll find more than 20 beers on tap and food trucks outside for good eats when the mood strikes.
If you're with a bunch of sports fans, heading to a Dodgers game is a must, so make sure to check out their home schedule before planning your Los Angeles bachelor party. If you're on the outskirts of LA, in Santa Monica, the stadium is just an hour ride by Metro (worth it to miss the crazy city traffic).
There's plenty to do once the sun sets in LA, as well. For a few hot spots near Santa Monica, check out The Bungalow, a retro spot on the beach with surf-themed billiards, an epic patio bar, and front porch with fire pits. For a more upscale lounge vibe, 41 Ocean has what you're looking for, plus the option of table and bottle service. The views from Hotel Irwin can't be beat for cocktail pairings. Located in Venice beach, it offers sweeping ocean panoramic sights with your cocktails above the boardwalk. And at 31 Ten Lounge you'll find a sexier lounge vibe, with plus velvet seating and a cocktail menu to die for.
In West Hollywood, just a short drive away, you'll find a great club scene along the Sunset Strip. Both the W Hotel and Dream Hotel offer rooftop pools with a bar scene for daytime pool parties or night time drinking escapades.
Back on the ground, Good Times at Davey Wayne's is a fun 70s-inspired bar (complete with an Airstream trailer) that includes great drinks and a backyard BBQ.
Where to Eat
You better come hungry to your Los Angeles bachelor party because there are plenty of places to eat.
For a great brunch, head to M Street Kitchen for fresh grub to start your day. Menu options vary from braised bacon egg sandwiches to sunrise burritos and avocado toast.
You'll want to check out EP & LP for dinner, an Asian-fusion restaurant that has a nightlife scene on the rooftop for when you're dinner is over. Try the Dan Dan noodles or twice cooked short rib.
You have to check out Wurstküche while in LA for artisanal sausages (ranging from hot Italian and Kielbasa to rabbit & pork and rattlesnake). The German beer hall also offers delicious fries with your choice of 10 dipping sauces like Thai peanut, sweet & sassy BBQ, blue cheese walnut & bacon, and curry ketchup.
Of course, while you're on the West Coast you should have a good sushi dinner, where the fish is so freshly caught it can't be beat. Head to Sugarfish for some of the best maki, hand rolls, and sashimi in LA.
For great Mexican food, head to Cactus Taqueria in Hollywood. Choose from 14 tacos on corn tortillas, or opt for one of their signature burritos, quesadillas, tostados, or tortas. Whatever you choose, you can't go wrong.
The Local Peasant is a great place to stop for late night eats and beers on tap. Pair your brew with mini sliders, cheesy fritters, or a German-style pretzel.
You should also be sure to hit up Carney's, located in an old Pacific Railroad passenger car on the sunset strip. Here you'll find fantastic burgers and dogs of the old school variety, like the namesake dog with chili, mustard, tomato, and onions. Trust us, you'll be ordering seconds.
Where to Stay
There is a plethora of hotel options in Los Angeles to choose from—from swanky lounge-like options to beachfront surf-inspired locales.
The Marina Del Ray Hotel is just a few blocks from both Venice and Santa Monica beach, boasts a year-round heated infinity pool, and fantastic views of the marina. It also has SALT Restaurant & Bar inside, an award-winning spot to dine if you're just not feeling like Ubering into the city.
For a midrange option, check out Gateway Hotel Santa Monica, which is less than two minutes from the pier and downtown Santa Monica. While the rooms are pretty standard, the coastal vibes of the hotel will have you inspired, and its location will mean you won't be spending much time inside anyway!
On the luxe end of things, you can't beat the Loews Hotel on Santa Monica Beach. This hotel offers an ocean-view heated pool with food and drink service on their two-level pool deck, easy access to 3.5 miles of beach, and on-site rental shop for bikes and boogie boards if you're feeling the need to get out.
But for a true LA experience you should rent a house with your bachelor party to really enjoy the experience. You'll find plenty of options with spacious digs and pools for soaking in the rays, like this Venice Beach location, in walking distance to golf courses and tennis courts. Or this oasis near the beach with surfer-friendly vibes.