Everything You Need to Know to Plan the Best Kentucky Bourbon Trail Bachelor Party
Where to go, where to drink, and how to make the most of boozin' on the Bourbon Trail in the Bluegrass State.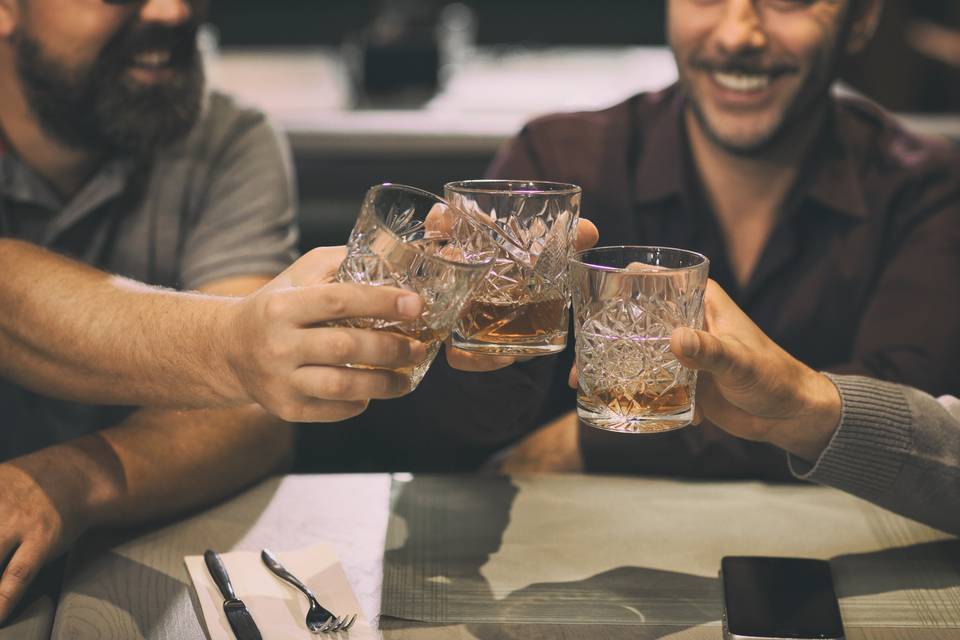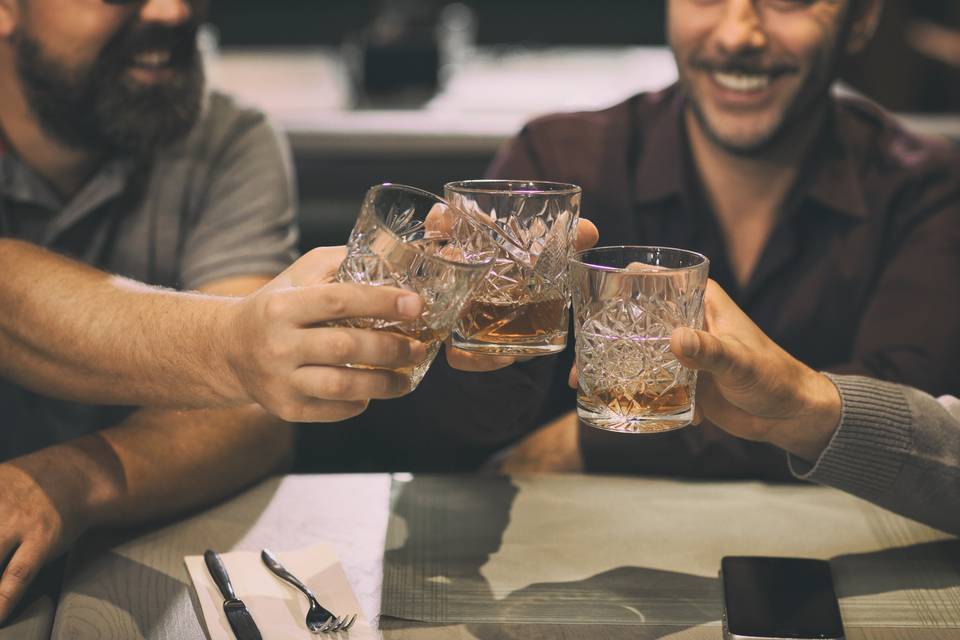 Dreaming of a boozy bachelor party locale that's steeped in history? Try the Kentucky Bourbon Trail, a sprawling collection of 18 bourbon distilleries located between Louisville and Lexington, Kentucky where some of the world's best bourbon is crafted daily. It's the ultimate one-stop-shop bachelor party location for liquor nerds, history buffs, adventurous types and those who just plain love having a good time. But before you gather your crew and hop on a flight to Kentucky, whip up a mint julep or two and take a moment to plan your getaway with this indispensable guide to doing your bourbon bachelor party right.
What is the Kentucky Bourbon Trail?
Founded in 1999 by the Kentucky Distillers' Association, the Kentucky Bourbon Trail or KTB is an alliance of 18 bourbon distilleries located within a roughly 100-mile radius. Each one each offers their own unique distillery tours and tastings, and are located approximately 20 miles apart. There are six distilleries located in Louisville, five in the Lexington area, and seven spanning smaller surrounding towns Danville, Bardstown, and Owensboro. The point of the Bourbon Trail is to, of course, explore the history and craft of Kentucky's signature spirit—you can attempt to visit every distillery, or just chart out your favorites on your bourbon bachelor party. It's totally up to you!
How does the Kentucky Bourbon Trail work?
As mentioned above, taking on the KTB is a total choose-your-own adventure experience. But most tourists will try to hit every distillery, first picking up a Kentucky Bourbon Trail passport either at your first distillery stop, or at the Kentucky Bourbon Trail Welcome Center at the Frazier Museum in Louisville. At the Welcome Center, you can check out cool exhibits about Kentucky's history in bourbon distilling, work with a concierge to craft your adventure on the Trail, and even cheers to your trip in the speakeasy. If you don't wish to start at the Welcome Center, that's totally fine—all distilleries on the trail have passports, so just pick one up at your first stop. As you continue to each distillery, get a stamp on your passport. Upon completion, you can redeem your passport for a signature Kentucky Bourbon Trail tasting glass—a badge of honor reserved for only the hardiest of trail visitors who make it to all 18 distilleries (and an amazing souvenir from your bourbon bachelor party!).
Kentucky Bourbon Trail Highlights
Now it's time to start your journey! Most people take between 5 and 7 days to hit every distillery, but you can shorten your bachelor party to just a long weekend by pre-selecting the regions or distilleries you want to see most. With help from the official Kentucky Bourbon Trail website, we've compiled a list of what to see in which towns to maximize your bourbon bachelor party down the KBT!

Starting in Kentucky's liveliest city, Louisville, you'll find the aforementioned Welcome Center and Frazier Museum, the perfect place for you and your groomsmen to kick off your boozy trek. Head out within one mile of Whiskey Row, a stretch of four distilleries: Mitcher's Fort Nelson Distillery, the Evan Williams Bourbon Experience, the Old Forester Distilling Co., and finally, Angel's Envy. Going at a leisurely pace, with plenty of rest and refueling built into your schedule (necessary!), you can cover this district in about two days. The Seelbach Hilton hotel in hip downtown Louisville is a legendary place to sleep off your boozy day. Oh, and don't sleep on a visit to the historic Churchill Downs, where a small museum will teach you everything you need to know about the Kentucky Derby (and serve as a nice break from bourbon).
On day three, it's time to explore outer Louisville! Located just outside of town, Bulleit Distilling Co. offers customizable labels for your very own take-home bottle.

Next up, head to the Shepherdsville /Owensboro area to find the iconic Jim Beam American Stillhouse, where you can see how one of the most recognizable whiskeys in the world is made. Ever wanted to try dipping your own bottle of Knob Creek into that signature red wax? Now's your chance.

In Bardstown, you'll have finally made it to the official Bourbon Capital of the World! (You've been practicing for this!) Spoil your palate starting at the Heaven Hill Bourbon Heritage Center, where you can sample a range of sips from the nation's largest family-owned spirits producer. And don't miss Bardstown Bourbon Company, a bourbon-lover's Disneyland complete with cocktail classes, live music, patio dining and, yup, boozy milkshakes. Want to get even more learning in? Plan a trip to the Oscar Getz Museum of Whiskey History (you might even be able to qualify as a museum tour guide by this point!).
Make your way to Kentucky's charming central hamlet of Lebanon next, a small town with big headliners. Check out Maker's Mark Distillery, gaze at some authentic Chihuly artwork, and even get a look at how those barrels that hold all your precious bourbon are made at the Independent Stave Company.
In Danville, the birthplace of the Bluegrass state, you can check out the Wilderness Trail Distillery, Four Roses Distillery, and the famous Wild Turkey Distillery, located on the banks of the beautiful Kentucky River. And speaking of the river, if you have time, hop aboard the Bourbon Boat for a whiskey tour on water and some epic sightseeing.
Finally, journey to Lexington and Woodford County, where you can tour the hallowed Woodford Reserve Distillery and boutique Town Branch Distillery, famous for its small batch offerings. While you're here, stay at the Campbell House, a charming former horse farm. And if you have the time to tour one more distillery, head to Buffalo Trace Distillery in nearby Frankfort.

There are many more distilleries, sights, restaurants and attractions worth visiting not listed here, so if you and your bachelor party crew have the time, by all means, do the research, hitch a ride and go for it! And of course, don't forget to stamp your passports at every stop—that way you never forget your journey down the Kentucky Bourbon Trail, even if a few minor details end up a little hazy.