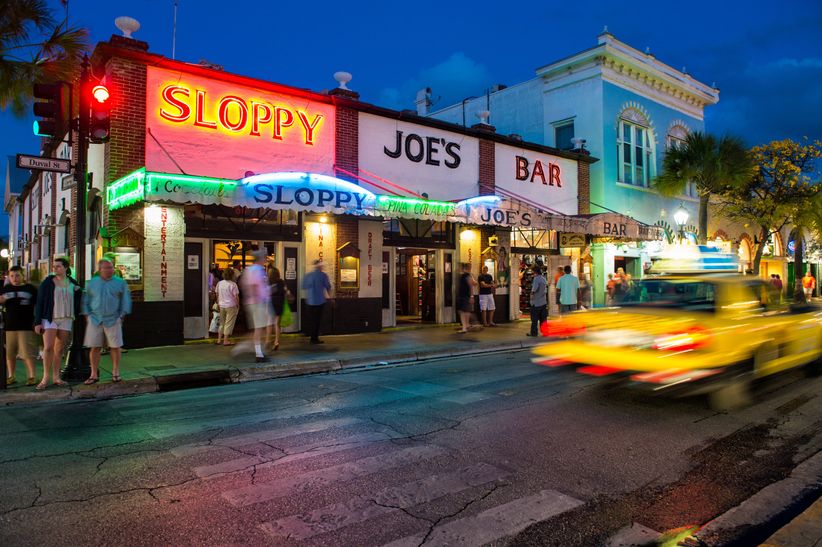 The southernmost city in the continental U.S. is also a top spot for a boys' weekend getaway. Planning a Key West bachelor party is easy—this place has tons of eccentric entertainment, good eating (hello fresh seafood), and plenty of opportunity for time in the sun.
Gear up for your amazing Key West bachelor party with this guide to everything to do and eat, plus where to stay.
What to Do
See everything Key West has to offer on a self-guided cycle tour. Rent bikes from spots like Eaton, and hit the streets. At just 4 miles long and 1 mile wide, it's not hard to see everything here by pedal. And of course, you can stop at some great bars and restaurants along the way.
If you want a tour of another color, book a Key West Jet Ski Tour—a thrilling 28-mile coastal trek along the water, where you might spot dolphins, sea turtles, and tropical birds while taking in the view.
But if you want to guarantee seeing some marine life, here you have some of the best snorkeling on the east coast. Your Key West bachelor party should include a day excursion on the water, where you'll board a sailboat to glide through the waters of the Key West National Wildlife Refuge, kayak through mangrove canopies, and dive into the water to see what's lying beneath the waves.
Adrenaline seekers will really love Key West's eco-friendly Shark Tour. You'll ply through the waters for two hours on the search of sharks and other wildlife aboard a 34-foot catamaran. Along with the apex predators, you'll also spot stingrays, dolphins, and turtles.
But don't think watersports are just for the daytime. Come night, rent LED paddle boards at Ibis Bay where you can get a view of the water from a whole other perspective. If you don't want to stand, the company also offers clear bottom kayaks for paddling.
Of course, what's a bachelor party without some culture. You shouldn't miss a visit to Ernest Hemmingway's House while you're here. Nestled in the heart of Old Town Key West, this was home to the Nobel Prize-winning writer in the 1930s and features the first in-ground pool in Key West, which cost nearly $20,000 to build. But more intriguingly—you'll meet a plethora of six-toed cats, descendants of Hemingway's own pets, who still live on property.
At night, Key West comes alive, especially on Duval Street, which runs from the Atlantic to the Gulf. We could tell you all the bars to hit, but you might as well sign your crew up for the Duval Crawl and let the experts take you to the best during a 2.5 hour guided tour that includes five cocktails.
If you're looking for a specific type of drink, you have a few options. Key West First Legal Rum Distillery offers tours and tastings every day, plus free mojito classes. Beer lovers should head to The Porch, where you'll find 18 rotating beers on tap and 20 big bottles to choose from. And for craft cocktails, head to Caroline's Other Side, which offers everything from Old Cubans to a Banana Bread Old Fashioned.
Where to Eat
If you wake up hungry, head to Two Friend's Patio Restaurant. The casual open-air restaurant is open all day, but breakfast shouldn't be missed, with six omelettes on the menu, as well as biscuits and sausage gravy, shrimp and crabmeat quiche, and key lime stuffed French toast. Don't forget an order of Stella's famous hash browns.
For a midday taste bud savior, head to the not-so-ordinary taco stand, Garbo's Grill. Fill up on Yum Yum Shrimp or Korean BBQ Tacos, or go for the Mango Dog—a quarter-pound all-beef hot dog wrapped in Applewood bacon and topped with mango, sautéed onion, jalapeño, and homemade Caribbean sauce. Also on offer: The Umamiburger—a half-pound angus patty topped with heirloom tomato, Applewood bacon, and chipotle gouda.
Key West is a great spot to try some authentic Cuban food, and there's no better place than El Meson de Pepe. Hop in here for tasty snacks like Cuban nachos (made with plantain chips, ropa vieja, picadillo, and guacamole) or the Conga Combo (the appetizer platter serves four and includes garlic chicken wings, conch fritters, croquettes, papa relleno, and yucca frita).
For dinner, Fogarty's on Duval Street is an Old Town favorite. The laid-back spot offers huge portions of nut-encrusted Mahi-Mahi, Baha Fish Tacos, and Smokey Joe's Ribs. Plus, it offers world famous frozen drinks from the Flying Monkey Saloon—add a floater if you dare.
At Louie's Backyard, you'll find Caribbean-American flare in an oceanfront setting. This spot is a bit more high-end (entrée prices are in the up $30s), but worth the fanfare. Dishes include grilled miso swordfish, sautéed gulf shrimp with bacon, mushrooms, and grits, and grilled double lamb chops.
For a true Key West bachelor party experience, you have to head to Willie T's, an island staple. On Duval Street, this spot has live usic at all hours, daily drink specials, and everything from steaks to seafood to pizza on the menu. Just be sure you're on your best behavior—the restaurant/bar has live webcams and the bride just might try to spot you in the crowd!
Conch Republic is the beach party you've been waiting for. At happy hour, you'll find two for one specials and live music at the bar and patio. Stay for dinner and dig into cracked conch (the signature tempura-battered shellfish served with an orange horseradish marmalade) or the lump crab-stuffed shrimp.
Where to Stay
If your Key West bachelor party is a smaller crew, book your stay at the Pier House Resort and Spa. The oceanfront hotel offers a private beach, suites, pool, and the famed Chart Room Bar.
Parrot Key is another waterfront property with plenty to offer, including no-fuss rooms and on-site water sports. On the Gulf side of things, the hotel is set on five acres and includes multiple pools, a private beach, and poolside dining.
And what's a visit to Key West without a little Jimmy Buffet flare. A stay at the star's Margaritaville Resort and Marina is almost a must here. Situated on the waterfront of Old Town Key West, you're steps away from Mallory Square and a block from Duval Street. The beachy and spacious rooms over a welcome respite from the heat and for those in need of R&R, and the Sunset Deck offers live music and dinner.