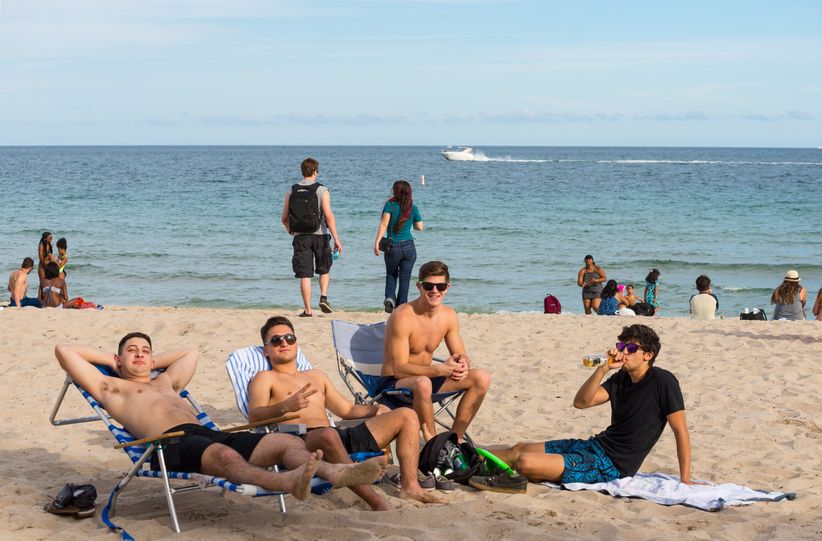 Just over 31 miles from Miami lies another perfect beach town ready for your bachelor party crew: Fort Lauderdale. Miami's more laid-back, free-spirited cousin (Jimmy Buffett has one of his signature hotels here), a Fort Lauderdale bachelor party has plenty to offer sun-and-sand lovers, from fantastic nightlife, world-class restaurants and bars, and great ways to enjoy the water.
Start planning your Fort Lauderdale bachelor party with this guide to the area.
What to Do
There's a reason you planned a Fort Lauderdale bachelor party: To go to the beach. And you couldn't have picked a better spot, with 23 miles of sandy shore and more than six beaches to choose from. Hollywood and Fort Lauderdale beaches are your best bet to be in the middle of things, with nearby bars and restaurants and decent crowds. On the other end is Hallandale, a great spot to book a fishing charter (see below), or spend some time at Gulfstream Park Racing and Casino—the home for thoroughbred racing (and the Florida Derby if you're there on the right day) and two casinos where you can carelessly bet your money away.
For a day on the water, you and your boys might want to charter a fishing boat, like the Lady Pamela 2, because there is plenty of good game in these waves. Your Fort Lauderdale bash could also include reeling in a 15+ pound tarpon or snook.
If clubs are more your style than rods, you're in the right place. Fort Lauderdale is home of epic golfing, with plenty of public and private courses to choose from. If you're coming in the winter months, book your tee time in advance, because courses can get crowded in the nice, balmy weather.
If you made Fort Lauderdale your beach of choice, make sure to stop into the Elbo Room, a local favorite dive bar and FL institution (it was founded in the 1930s) just steps from the beach. You'll find plenty of cheap beer to cool down from the sun.
For drinks on the water, consider booking a pub cruise—a six-hour boat ride that takes you from one waterfront bar to another. The best part? You can also BYOB on board so you can drink while you rock to the waves and your own favorite tunes.
Back on land, there is plenty of nightlife to choose from—you just have to pick your poison. For a wild outdoor party, head to America's Backyard. This popular spring break spot is best to visit after midnight, when hula hoop contests and sprinklers dousing the dance party are regular. A little more upscale but still an epic party, Exit 66 has 1960s-inspired décor on the inside, and a pool with cabanas for rent—plus a DJ blasting music—outside. Go for the night, or book a cabana for one of their Saturday or Sunday pool parties, which start at 1 p.m.
If you're looking for a more upscale night, American Social on Las Olas Boulevard (a swanky downtown area) offers craft beers and cocktails with fantastic people watching.
Mini Vegas awaits just on Hollywood Beach at the Hard Rock Hotel and Casino. Here you'll find Passion Nightclub, if you're looking for dancing and tableside bottle service, or Murphy's Law for cheap drinks. If you want to end the night in laughs, the Improv Comedy Club can also be visited here.
Where to Eat
For a weekend brunch, hit up Tap 42 where what's on the menu comes second to the craft kitchen's bottomless mimosas, Bloody Marys, and Funky Buddha Floridan beers, offered at just $15 a person. Wash your breakfast cocktails down with bacon and sweet corn guacamole, or if you're feeling the pain, The Hangover Sandwich—a sunnyside up egg, avocado, hash browns, white cheddar, crispy bacon, and truffle aioli loaded on a toasted challah bun.
For a nice night on the waterfront, head to Kaluz, where you can watch mega- yachts drive by on the canals as you enjoy your beer and food. Go for the fresh seafood here, with dishes like sweet ginger calamari, jumbo lump crab dip, and shrimp and goat cheese flatbread. Don't worry, there's plenty for landlubbers too, including Kansas City-style baby back ribs and a barrel-cut filet.
If you really want the meat sweats, head to Chima Brazilian Steakhouse on the aforementioned swanky Las Olas Boulevard. For $57.90 a person, you get all-you-can-eat meat (15 cuts!), and if that doesn't fill you up a gourmet salad bar and sides. You'll want to keep the filet wrapped in bacon, leg of lamb, barbecue ribs, and parmigiana pork coming!
Also on Las Olas is Rocco's Tacos, a casual spot for some fine Mexican dishes and more than 400 varieties of tequila. Don't skip the tableside guacamole (made fresh to your spice liking), and be warned—the tacos can fill you up fast!
You Only Live Once may be the motto of your Fort Lauderdale bachelor party, but it's also the name of the well-loved restaurant, made complete by its outdoor patio with firepits. You can go for dinner, but we recommend their happy hour, which has great drink deals and delicious snacks like fire-roasted corn dip and yellowfin tuna tostada.
Where to Stay
The oceanfront Marriott Harbor Beach Resort and Spa is a nice option for your Fort Lauderdale bachelor party if you're looking to treat your groom well. The quarter-mile private beach will be yours for the taking, as will the lagoon-style pool. You can also book jet skiing or snorkeling through the hotel—but keep in mind, this is a family friendly resort so if you're planning to go crazy, think about an Airbnb.
Close to Las Olas is B Ocean Resort, a cheaper option right on Fort Lauderdale Beach. The hotel offers beachside drink service (one of the few that do), private cabanas, and two pools.