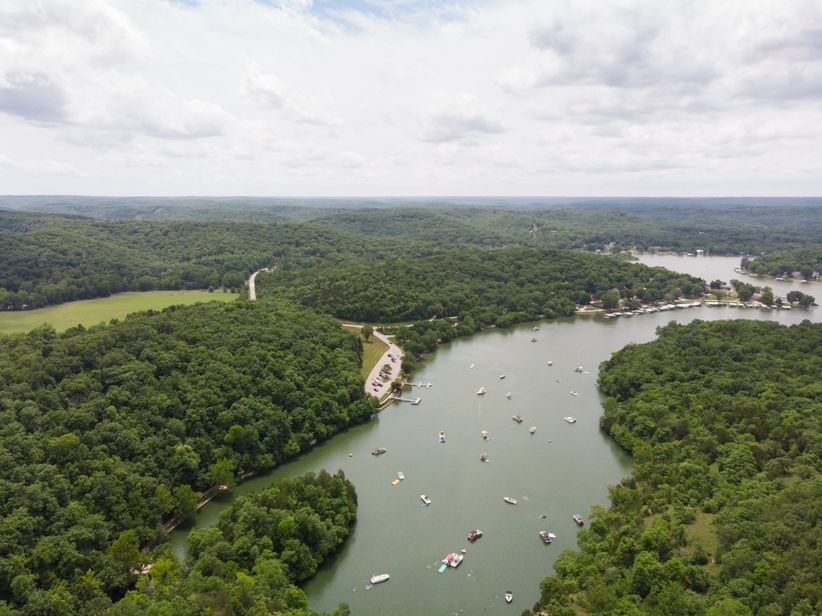 Lake of the Ozarks is a great choice for an outdoorsy bachelor party because of its premier lake resort location. The reservoir offers tons of boating activities, world-class golf courses and unique caves to explore for a totally unique trip. Whether you're hoping to check out the picturesque Bridal Cave or party it up out in Party Cove, you're sure to have a blast hosting your bachelor party in this scenic Missouri destination.
Plan an unforgettable Lake of the Ozarks bachelor party by following this trusty itinerary.
What to Do
Since Lake of the Ozarks is made up of almost 2,000 miles of shoreline, you definitely should spend some of your trip out on the Lake. There are plenty of marinas that offer pontoon, speed boat and other watercraft rentals that you can take to hang and cove out — like the infamous Party Cove. So, if you want to get rowdy out on the water during your Lake of the Ozarks bachelor party, check out Captain Mike Fink's Marina or Dirty Duck Boat Rentals for boat rental prices and more.
During your Lake of the Ozarks bachelor party you definitely should check out the scenic Bridal Cave and Thunder Mountain Park. The cave is filled with giant columns and stalactites, which create a one-of-a-kind experience. Just book a group tour where you and your groomsmen can explore the cavern and get a ton of Insta-worthy pics.
If you and your bros are big golfers and hope to get a few holes in during your Lake of the Ozarks bachelor party, then definitely spend some time at one of the Lake area's 16 golf courses. From the Old Kinderhook Golf Club, to the Arnold Palmer Signature course at Osage National Golf Resort to even the USA Today ranked Hidden Lakes, the Lake of the Ozarks golfing experience is definitely above par.
The Lake also has a sick nightlife since it's filled with bars that offer live music and entertainment. Check out Shorty Pants Lounge and Marina for live music and a New Orleans-Inspired aesthetic, Dog Days Bar and Grill for music and dancing or even look at Ozarks Amphitheater's schedule for an outdoor concert during your bach party.
Where to Eat
You definitely won't go hungry during your Lake of the Ozarks bachelor party either. The area has over 100 different restaurants to choose from with the majority of them located directly on the water. From barbecue to fresh-caught seafood to juicy steaks, Lake of the Ozarks cuisine hits the spot for any type of bachelor party.
Some of our favorite places to grab a bite to eat are Tucker's Shuckers, Franky & Louie's Beachfront Bar & Grill and Wobbly Boots Roadhouse.
If you're looking for an upscale dining experience we suggest making a reservation at either Baxter's Lakeside Grille, JB Hooks Steak and Seafood Restaurant or Bentley's Restaurant and Pub.
Where to Stay
There are tons of lodges, resorts and rentals to stay at during your Lake of the Ozarks bachelor party, which makes booking accommodations easy. The Lodge of Four Seasons is a four-star resort that includes a superb golf course, luxury rooms and suites and even a marina for water activities. The Camden on the Lake Resort is another luxe resort that's great for bachelor trips and even has a swim up bar you can check out during your stay. For a more laid-back or homey environment, Lake of Ozarks has plenty of Airbnb rentals that you book for your trip, too.