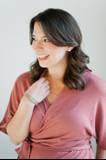 Stephanie Weers is a content writer and strategist who has worked with wedding and lifestyle brands across the web. Stephanie currently works as a copywriter through her own company, Stephanie Weers Editorial. Stephanie has also regularly contributed her wedding planning advice and expertise to WeddingWire. Prior to starting her own business, Stephanie wrote for Style Me Pretty and The Everygirl.
Experience
Stephanie started Stephanie Weers Editorial in 2017, and she has been helping brands behind the scenes as a copywriter and writing for digital media outlets ever since. She assists brands and business owners in developing website copy, newsletters, blog posts, and social media content. Stephanie worked as an Editor for Style Me Pretty from 2012 to 2017, where she wrote nearly 3,000 wedding-focused posts. Stephanie also contributed to The Everygirl as a writer at the start of this position. Prior to Style Me Pretty, Stephanie worked as a Fashion Editor and Contributing Writer for Verum Magazine and an Editorial Intern with Occasions Magazine.
Education
Stephanie graduated from the University of Iowa with a Bachelor of Arts degree in Journalism and Mass Communications.
Articles published by Stephanie Weers