16 Questions to Ask Your Wedding Officiant
It's time to find the perfect person to perform your ceremony.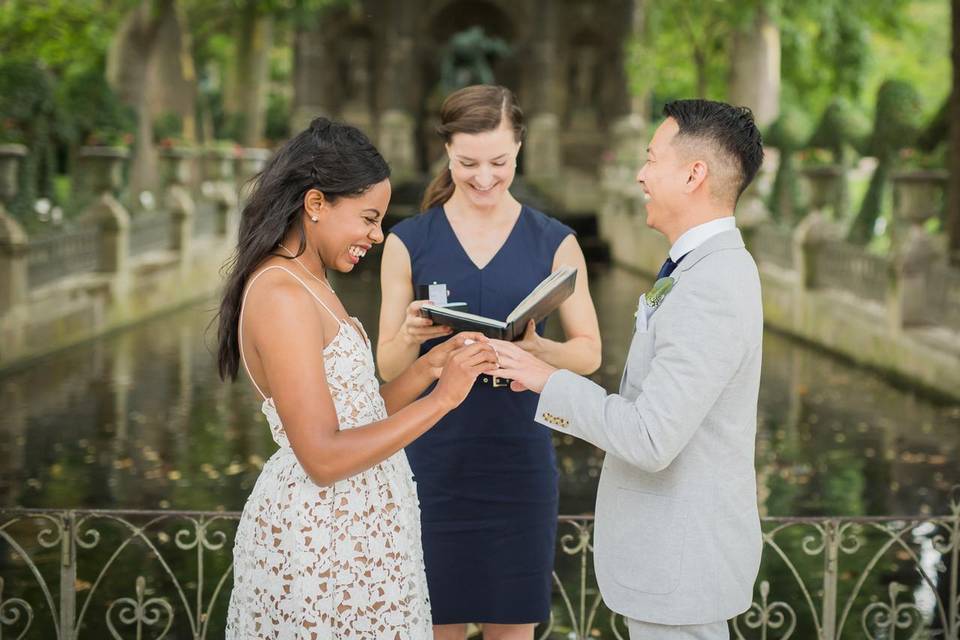 No matter what type of wedding ceremony you and your future spouse have planned, finding the right officiant is an important piece of the puzzle—and it's important to know the top questions to ask your wedding officiant before entrusting your nuptials to them. Beyond the basics of availability and fees, you probably want an officiant who can create a personalized ceremony experience and make it an event to remember. And of course, it's essential that you and your partner actually get along with your officiant—whether or not you're doing premarital counseling with them, you'll be spending a lot of time together. Here are 15 key questions to ask your wedding officiant or celebrant before you make things official. Keep in mind that this list of questions is a necessary starting point, but they aren't the only ones you should be asking before hiring a professional wedding officiant.
Are you available on our date and legally able to perform a marriage in our wedding location?
While this first question might sound obvious, it's important to double check a prospective officiant is available and legally able to marry you before diving into any further questions. Asking this wedding-planning query upfront will save everyone the hassle of back-and-forth communication if the officiant isn't able to perform the ceremony on your specific wedding date or in your location.
Can you perform a wedding that incorporates our religions/cultures?
Autumn Pappas of Happy Heart Ceremonies in Greenbank, Washington advises couples to inquire about the type of ceremony their officiant is able to perform, such as religious, non-denominational, interfaith, spiritual, or commitment. If you're hiring a religious officiant, this should be obvious, but if you're looking for a secular officiant, you'll want to bring up any religious or cultural traditions you'd like to include in your ceremony. And for those planning an interfaith ceremony, it's important to ask a potential officiant if they can blend your and your partner's cultures into one cohesive event.
Do you have a script or do you personalize the wedding ceremony for each couple?
Depending on if you're hosting a religious or non-religious ceremony, officiants will work from a particular wedding ceremony script, but it's essential to ask if they work to customize the details. "A ceremony should be a unique reflection of your love story and journey as a couple, rather than a cookie cutter draft with your names plugged into it," Emily Sterling of Rooted & Wild in Portland, Oregon said.
How will you create the ceremony and how much input will we have?
"The more information you give, the better your ceremony will be and the more you share of yourself, the more they know you and what is in your heart," Reverend Maureen Jeffries of Glen Rock, New Jersey said. "I would be wary of an officiant who says they don't need any input unless you are totally fine with a ceremony that is from the book."
Instead, she recommends couples share details of how they met, what they love about one another, and what they want to convey to family members and friends during this special time. Similarly, be sure to discuss any specific spiritual elements or rituals you may wish to include.
Can we write our own vows? Will you help us with that?
"Many couples want to speak from the heart at their ceremony. Your officiant should be able to help you put your feelings into words and guide you in crafting beautiful wedding vows for one another, Rev. Jeffries said. "Of course, if you don't want to write your own vows, they should also have an arsenal of choices and verbiage for your vows."
How long is a typical ceremony?
Each officiant will have a different time range their ceremonies last, but should also be able to accommodate your preferences. This is one of the most important questions to ask your wedding officiant, as your expectations of your ceremony length may be wildly different than your chosen officiant's.
How long have you been an officiant? How many weddings have you done?
Just as you would with any wedding vendor, make sure to inquire how long your prospective hire has been an officiant and what type of marriage ceremonies they've performed. You'll want an officiant who's an expert at logistics and can handle even the most unexpected situations. If you need additional reassurance, simply ask for a list of references to check in with past couples. This is a common question to ask a wedding officiant, so anyone you're considering should be happy to provide references—and you can read reviews and testimonials on a site like WeddingWire.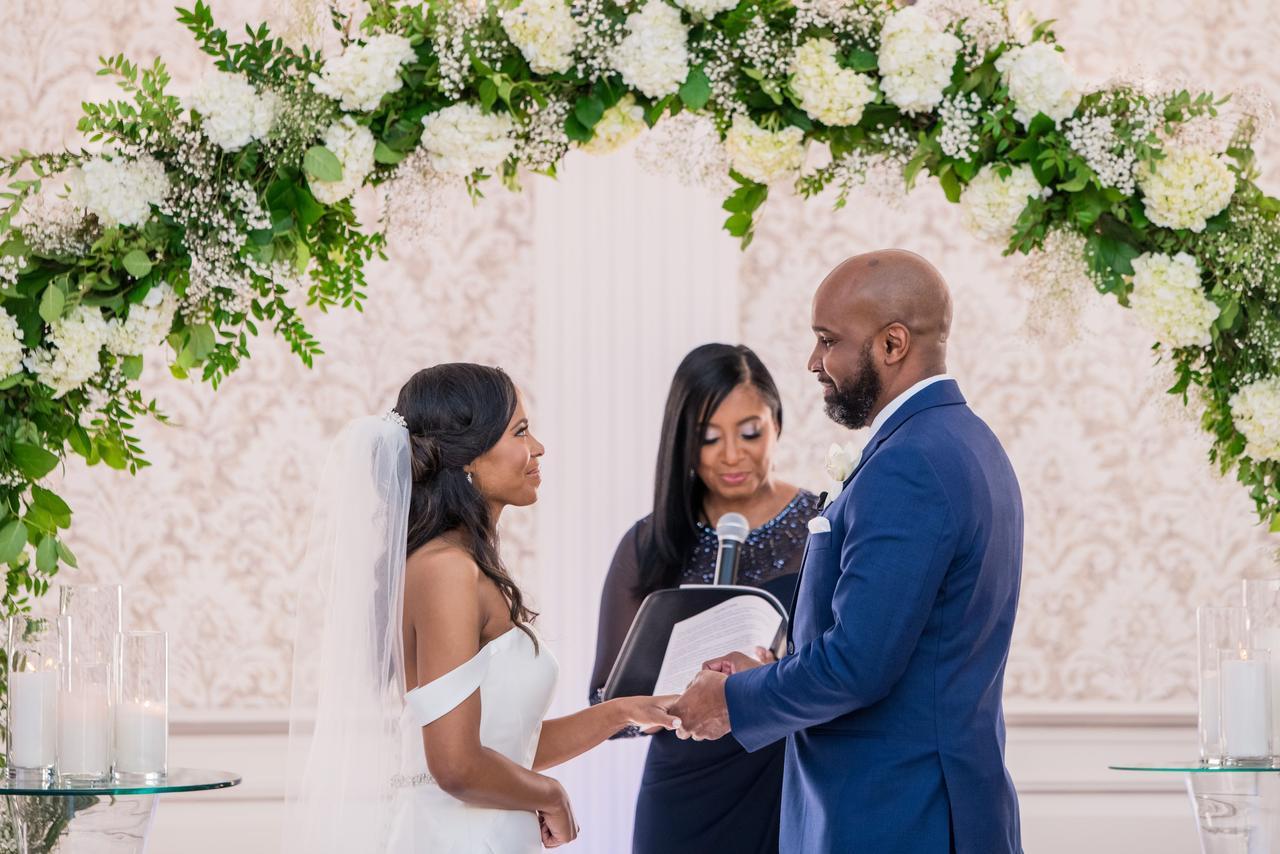 How many times will we meet?
The expectations for scheduled meetings should be clearly communicated upfront by your officiant. Some will require a particular number of meetings and others will let their couples take the lead. Even if meetings can't take place in-person, Emily Sterling recommends phone of video conversations to help build a good rapport before the wedding day. "I think it is most important to click with your officiant since they'll be witnessing your love story and standing up there with you as you pledge your love and commitment to one another"
Will you attend/lead our rehearsal?
If you're planning a wedding rehearsal, be sure to ask if your officiant will be able to attend and if they are comfortable taking the lead. While rehearsals are standard for some officiants, others prefer to leave logistics to the venue staff or a wedding planner and attend only on the day-of.
What do you wear?
Some wedding officiants will dress in a traditional robe and stole, while others will wear a suit or dress. Your officiant should communicate what they'll wear for your ceremony and in what color.
What time will you arrive?
Don't forget to discuss your officiant's scheduled arrival time on the big day and ensure it's included in their contract.
Do you offer premarital counseling?
Even if your particular wedding officiant doesn't offer premarital counseling sessions, they should be able to point you to a trusted counseling service.
Will you fill out and file our marriage license?
"Make sure this is settled up front and that the officiant is prepared to handle the legal side of the wedding. Each state's regulations differ so make sure you are also knowledgeable about what needs to be done with your paperwork," Rev. Jeffries said. "Your officiant should be a professional who is familiar with your state's laws on marriage licenses."
What does your contract contain?
Before signing the dotted line, have your officiant walk you through the contract in detail to thoroughly understand the service they're providing.
Do you have a back-up?
In case of illness or unforeseen circumstances, ask if your officiant is prepared with someone to take their place if need be.
What are your fees?
While it might feel more awkward to discuss pricing with an officiant than with other vendors, this is still one of the most important questions to ask your wedding officiant. "Fees will vary by state and by the experience of your officiant. Remember, your ceremony should be the most important part of the day, and it's what everyone is there to see," Rev. Jeffries said. "With meetings, planning, writing, and performing on the day of the wedding, the officiant works for more than just the 30 minutes allotted for the ceremony. If you hire a professional expect to treat them the same way you would treat any other professional."