Finding & Working with a Wedding Officiant amid COVID: Here's What to Know
You can still have the ceremony of your dreams—it's all about finding and working with the right wedding officiant.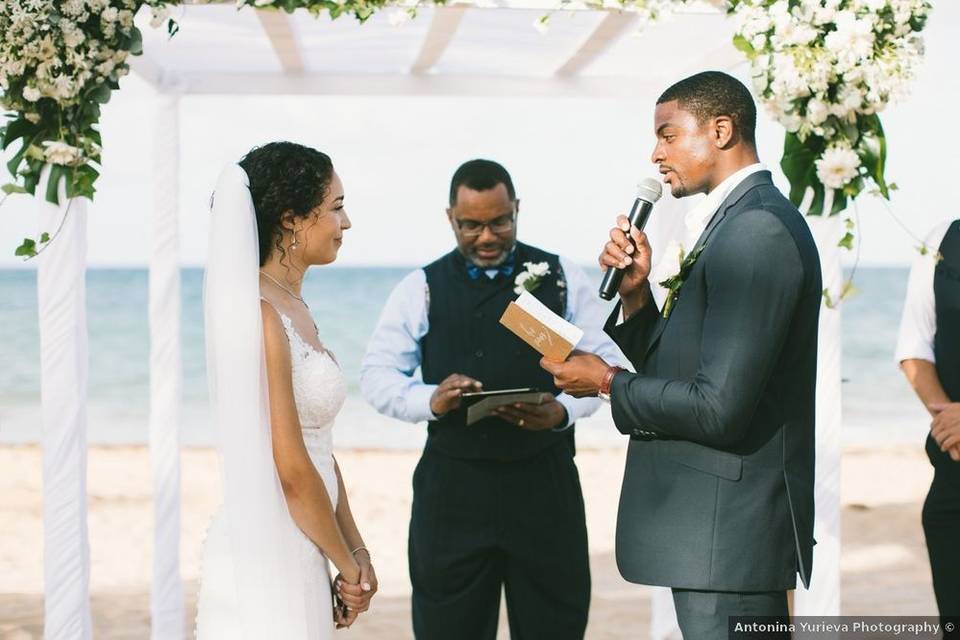 Whether you're planning a larger wedding, a minimony, or an elopement, an officiant is an essential member of your vendor team. Without a licensed officiant, you won't be legally married! In the past, in-person meetings were a big part of finding and working with a wedding officiant, but many couples and their officiants are finding alternative ways to plan their ceremonies. "COVID meant no in-person meetings before the big day, but there's a big focus on still making a couple's intimate, small wedding ceremony full of all the joyous emotion and excitement of a big event," says Saundra Anderson of IdoXtwo in Castro Valley, California. We spoke with several pros to find out how best to work with your wedding officiant in a virtual-only format.
Interview officiants first.
These days, you can find and book an officiant entirely online, without ever speaking with them. Our experts say that it's essential for you have a conversation—whether in person (keeping social distancing in mind, of course), or via phone or video chat—before booking an officiant, even if you're on a tight timeline. An officiant plays a major role at your wedding, and you want to make sure you feel comfortable with your chosen pro before signing on the dotted line.
Ask the "uncomfortable" questions.
There are quite a few questions you'll want to ask an officiant during an interview (and questions they'll likely ask you!). And if you're planning a wedding when COVID-related restrictions are still in place, there's a list of additional questions you'll want to ask, as well. According to Ronda Armstrong, a wedding officiant in Cleveland, Ohio, couples should ask about the officiant's policy on mask-wearing and social distancing, as well as his or her backup plan in case of an emergency. Given the current circumstances, you'll also want to know the officiant's policy on postponements and cancellations. You should be prepared to discuss how many guests you're hosting and any safety measures you're planning on implementing at your wedding.
Figure out how you'll work together.
While some officiants are offering in-person meetings, others are meeting with couples via video. Talk to your chosen officiant about how many times you'll meet before the wedding, and the format of those meetings. If you want or need to participate in premarital counseling before your wedding, know that many officiants are offering this service virtually—virtual Pre-Cana is also available for Catholic weddings.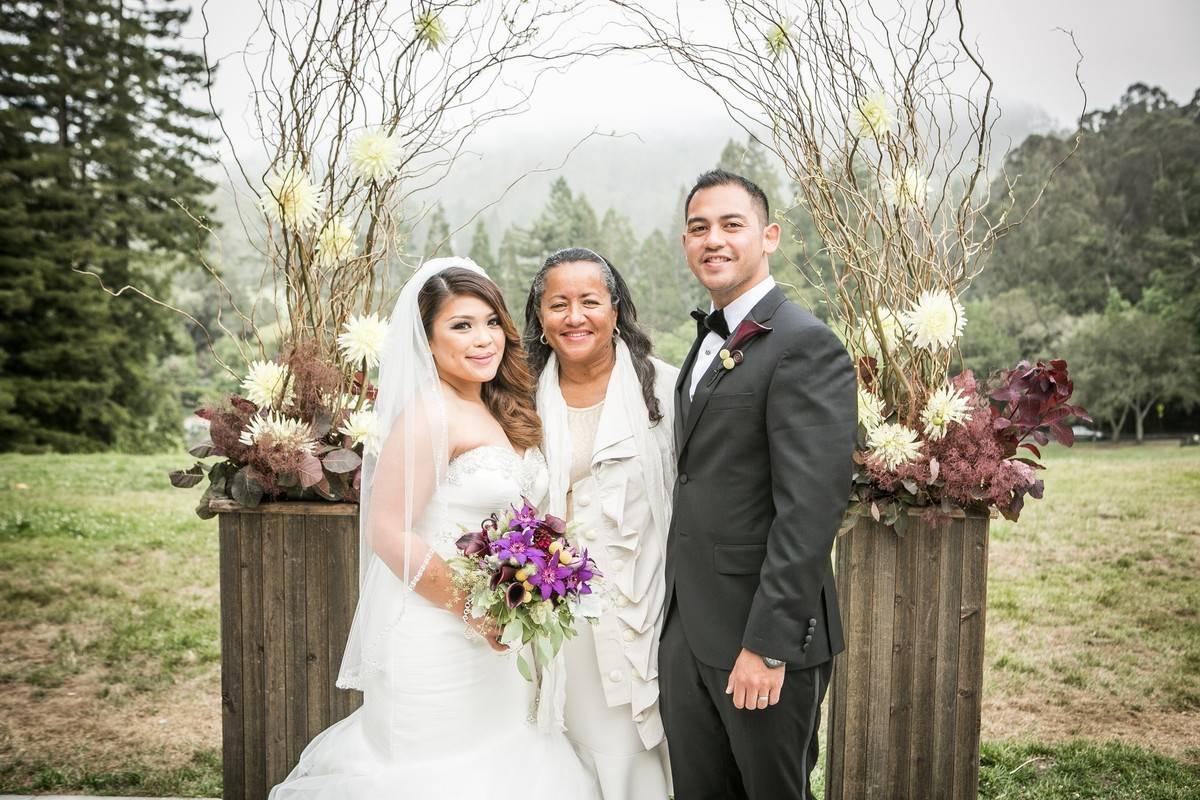 Put it in writing.
A big part of those premarital meetings is for your officiant to get to know you and your partner better, so that he or she can create a ceremony that feels personal and unique. While you can certainly accomplish this via Zoom, putting your thoughts and feelings in writing is another way for your officiant to learn more about your relationship and craft a personalized ceremony. "A lot can be done in writing, especially when creating a wedding ceremony," says Victoria Meyer of Marry Me in Indy! in Indianapolis, Indiana. "Having a bride or groom actually write personal things about themselves and their relationships is a great exercise while mentally and emotionally preparing for their ceremony as well as their marriage. It may even be something they can work on separately and send to me to be worked into their wedding ceremony script—very similar to writing their own vows."
One ceremony or two?
Many couples are altering their wedding plans due to the COVID pandemic—having a small ceremony (or minimony) this year, followed by a larger ceremony and/or anniversary reception in the future. Your officiant can help you craft unique ceremonies for each date. "Right now, I'm making suggestions to couples based on their current personal experience," says Victoria. "If they have postponed their formal wedding until next year but are having a very small, personal wedding this year on their wedding date, I'm suggesting different ceremonies for each."
Be aware of changes to the marriage license process.
Marriage laws vary depending on the state where you're marrying—and many states have changed their laws temporarily due to the current pandemic. For example, Zoom weddings are legal in some jurisdictions, while not in others. Your officiant can help you figure out how to get your marriage license, which is particularly important if you'd like to get married quickly. "Whether or not a couple has a marriage license already can make the difference as to whether or not the tight timeline can be met," says Saundra. Remember, however, that wedding officiants cannot obtain your license for you, but they will return it to your local county office once it's been signed at your ceremony.
You don't have to compromise.
Just because you're hosting a smaller wedding or elopement doesn't mean you can't include special rituals or traditions in your ceremony. You can still write your own vows, include cultural or religious traditions, special readings, and more—just let your officiant know! But whether you choose a minimony, elopement, traditional wedding, or even a drive-thru ceremony, a skilled and experienced officiant can ensure that it's a meaningful event. "COVID has not affected any aspect of how I tailor the ceremonies," says Ronda. "I am still, for most part, able to create and customize ceremonies based on each couples unique ideas, values, creativity, and traditions."