6 Steps to Finding the Right Wedding Officiant
To help you choose wisely, we talked to experts to uncover how to find a wedding officiant to marry you and your partner.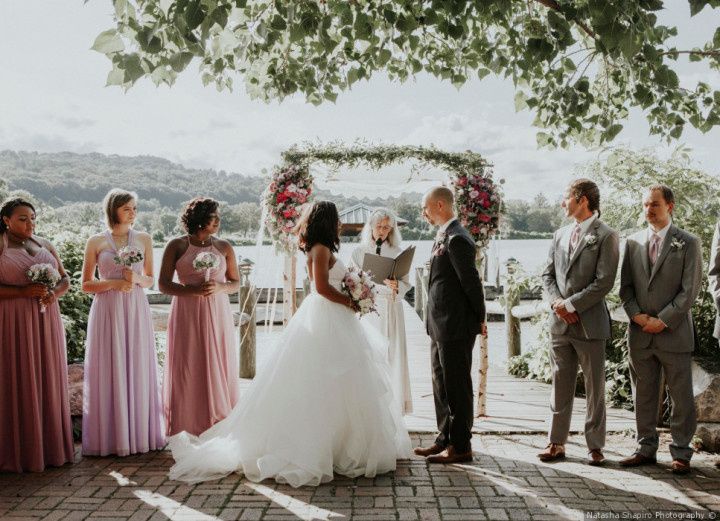 On the long, seemingly endless list of decisions to make about your big day, figuring out how to find a wedding officiant and choosing the right person for the job are pretty big ones. This person will not only officiate your wedding ceremony, but he or she will work with you in the months leading up to your nuptials to ensure that you're ready for those wedding bells to ring. Some officiants even take engaged couples through premarital counseling, which can be an important part of the path to "I do".

For many couples, finding the right wedding officiant (also called a celebrant) that will marry them, is a task that is often overlooked until the last moment, but as Kimberly Lehman of Love, Laughter & Elegance in Massillon, Ohio, points out, it's a decision that should be made early on—at least eight months before your wedding day. Doing so not only helps you plan for the kind of ceremony and wedding you will have, but also the kind of marriage you are both hoping to have. To help you choose wisely, we talked to experts to uncover how to find a wedding officiant. And while in many locations, a family member or friend can get ordained to officiate your wedding, we're focusing on booking a professional wedding officiant here.
Decide whether you're looking for a religious or secular officiant.
More and more weddings are taking place in non-religious or neutral venues, such as banquet halls or hotels. But this doesn't limit you in choosing to have your officiant be religion-based. "If you decide that a religious ceremony is right for you, the first step is to seek an officiant from the pool of people already in you lives," suggests Leah Weinberg of Color Pop Events in Long Island City, New York. This could be a rabbi or pastor at your place of worship, or perhaps someone you used to attend services with when you were younger. If a couple decides to have a non-religious ceremony, there are many professional wedding officiants who are not affiliated with a religious organization and can perform secular ceremonies. And if you and your partner are of different backgrounds, you might focus your search on interfaith ministers, who specialize in multicultural weddings.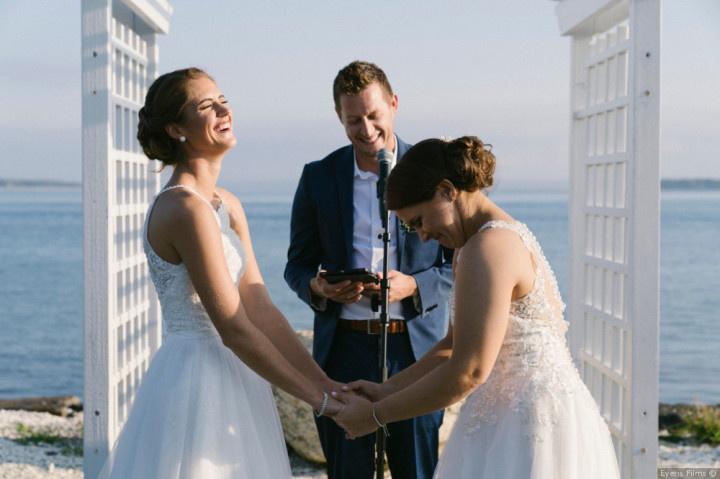 Do some research on potential officiants.
There are many ways to go about the process of how to find a wedding officiant. Unless you know your chosen officiant well, be sure to check out the credentials of those you may consider. Lehman suggests seeking out the references of other couples who's this person officiated. And remember that unlike other wedding vendors, your officiant has a legal role to play on your big day. "Make sure that they have the necessary licensing from their local community, and the state of residence," she adds. "Too often, I hear stories about how an officiant performed a ceremony, and then the marriage license was not considered valid by the clerk's office since the person was not legally registered in their state." Also, ask if the officiant has any advanced training or academic degrees in their field. The latter is not always necessary, but can be an asset. Be sure to use WeddingWire's wedding officiant finder to read reviews of officiants in your area.
Confirm that he or she is a confident speaker.
"A good officiant is a good orator," says Larissa Banting of Weddings Costa Rica in Santa Ana, Costa Rica. "They have confidence, speak clearly and understand how to create dramatic tension when necessary as well as levity, taking everyone on a journey with their words and voice." While your marriage ceremony is, indeed, about you and your spouse-to-be, and the love you share between the two of you, your officiant will be the de facto host or emcee. "You don't want someone who is overly dramatic, as they can drag everything down into the realms of parody," she says. "Try to see them 'in action' either at a service or in a video from another wedding to gauge how strong their presentation skills are."
Get to know your officiant on a more personal basis.
When thinking about how to find a wedding officiant, remember that this person is not only going to play an important role in your wedding, but the rest of your life, too. You will always remember the person who stood in front of you as you said your vows and put a ring on each other's finger. For this reason, as well as many more, it's wise to spend time getting to know this person if you do not already. "It's impossible for me to imagine officiating at a wedding without meeting with the couple at least four times," says Rabbi Robert Scheinberg, rabbi of the United Synagogue of Hoboken. "This is in part because of the large number of questions and issues that must be discussed when planning a Jewish wedding, but it is also because I want to make sure to really know the couple if I am going to be accompanying them at such a special and holy moment in their lives."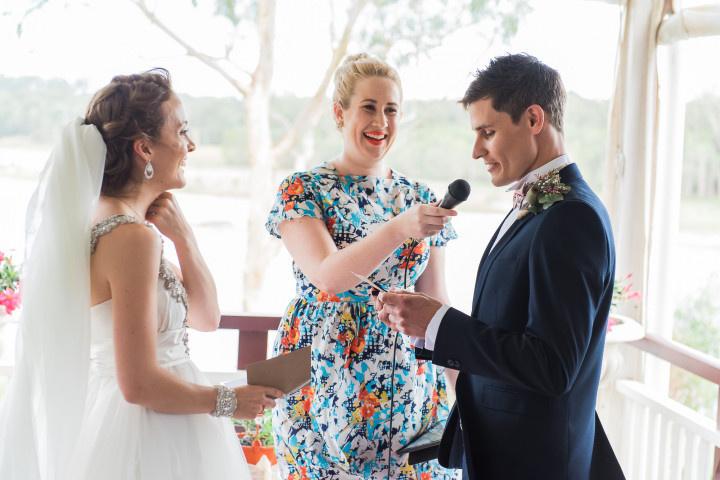 Figure out is any planning obligations are involved.
"Most officiants require couples to fulfill a certain set of requirements and planning obligations before they can tie the knot," explains Lauren Chitwood of Lauren Chitwood Events in Louisville, Kentucky. "The first, of course, is financial, but some officiants require premarital counseling, online training sessions or one-on-one meetings to determine if the couple is ready for marriage." For this reason, it's smart for couples to determine early on if they're able to attend all of the necessary premarital meetings and fulfill the officiant's requirements.

Rabbi Scheinberg, for example, requires that the couples he marries go through a sort of premarital counseling with him. "Considering that the marriage will last tens or hundreds of thousands of times longer than the wedding, it would make sense to devote much more time during the months leading up to the wedding to planning for the marriage in addition to planning for the wedding," he says.
Make sure their values line up with yours.
Especially when it comes to religious ceremonies, values and levels of conservative or orthodox policies can cause issues when not ironed out early on in the "how to find a wedding officiant" process. "A more conservative religious officiant may insist on including 'obey' in the bride's vows or readings that have the wife as a subordinate to the husband, which can make a more modern bride's blood pressure rise," notes Banting. "If you're a regular attendee of your house of worship, you likely will have an idea of what ideals your clergy holds and if they reflect yours, but if you're not familiar with your potential officiant, be sure to ask for their ceremony script, complete with vows and any readings they want included." If there are certain aspects of your wedding ceremony that are particularly important to you, like writing your own vows or including certain readings, make sure that your officiant is able to accommodate these.