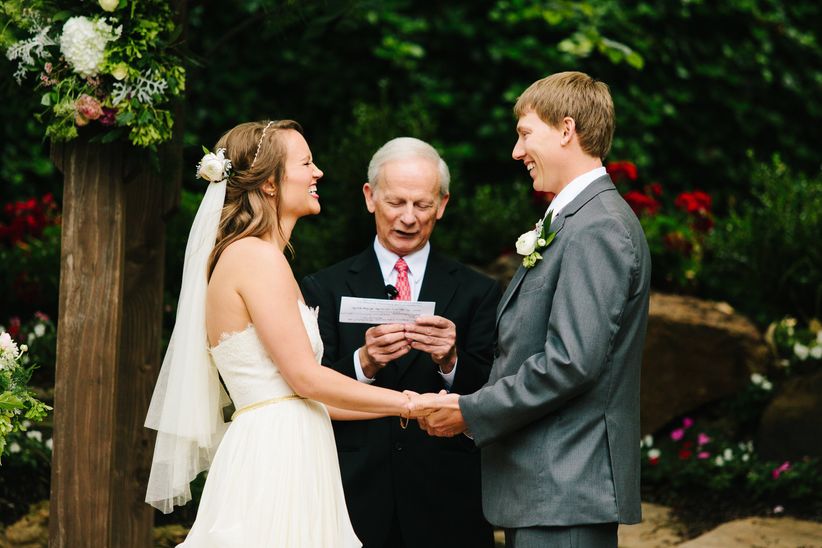 Photo: Sarah Libby Photography
Planning your wedding ceremony is just as important as the reception details, and finding a wedding officiant can often be one of the hardest decisions you'll make.
If you already have a strong feeling about who you want to perform your ceremony, this can be a bit of an easier task to check off your list. However, if you're getting married in a place where you do not have ties to a church, synagogue, or local judge, you will need to find a wedding officiant. It may be beneficial to search reviews and testimonials from other couples for advice and to help establish credibility.

Before you begin the search, be sure to look into the laws of the state or country where your wedding will be taking place, as this may affect who can and cannot marry you.

Whether you have known this person since you were little, or you just found him/her on WeddingWire, the most important thing is that you and your fiancé feel comfortable with your selection. Some may even ask for a number of counseling sessions before the wedding day which can also act as 'getting to know you' sessions for the two of you and the officiant. Give some back stories to your relationship, and little anecdotes that will make the ceremony a bit more personalized. Make sure everyone is on the same page and that you are comfortable with what he/she is saying, and vice versa.

If you are averse to finding someone new, you can always have a family member or friend become ordained online (but again you'll want to check local laws to make sure they can legally marry you).

Last but not least, don't forget to have him/her sign the marriage license on the wedding day!