8 Ways to Effectively Communicate With Wedding Vendors
To make your wedding planning process as smooth as possible, make sure you know how to talk with your vendors.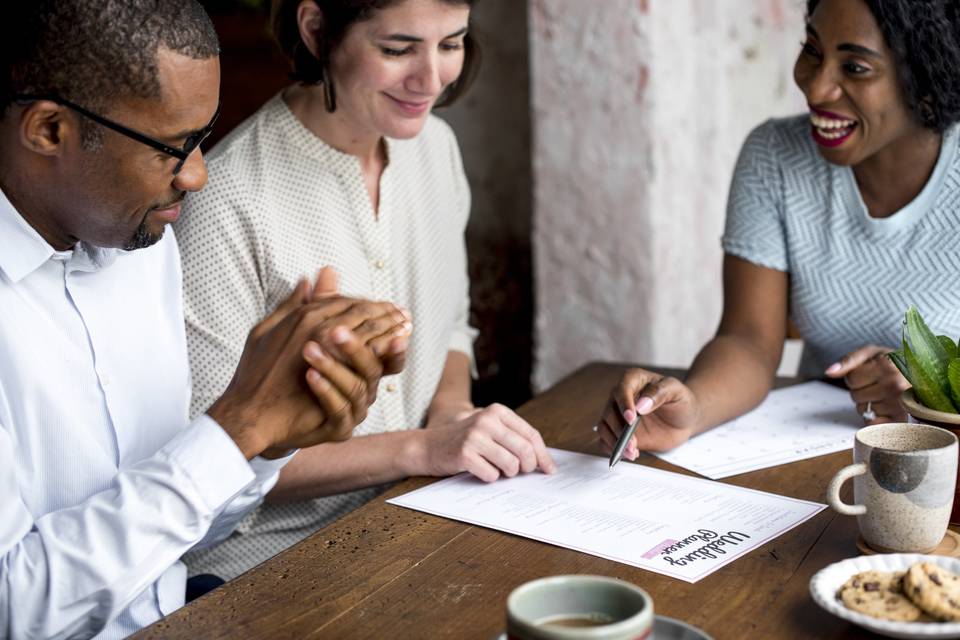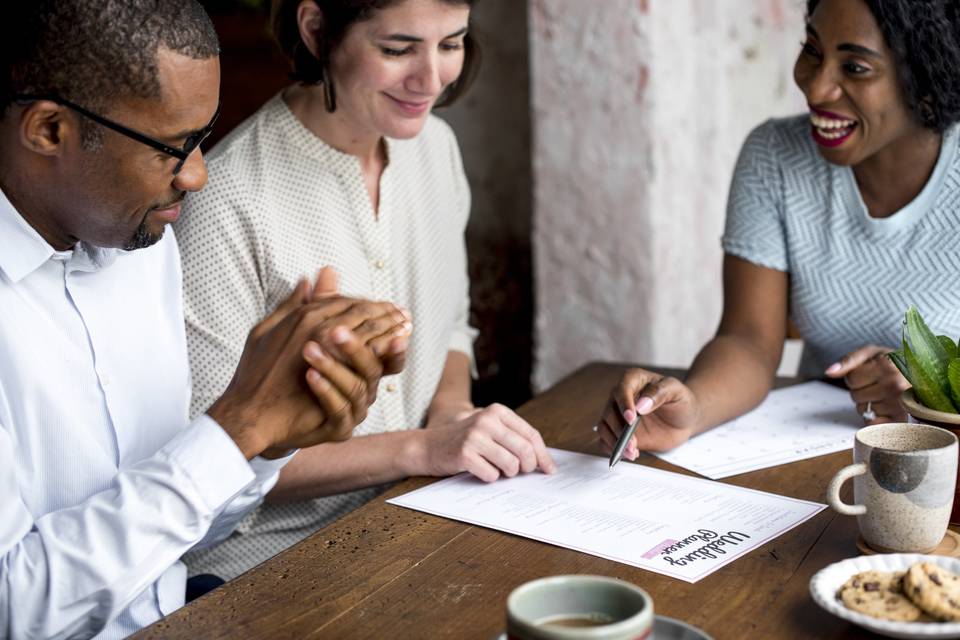 You're going to be in close contact with your wedding pros throughout your planning process—so it's super-important to know the best methods and proper etiquette when it comes to how to talk with your vendors. This way, you'll be able to maintain a positive and productive working relationship with these talented and experienced professionals. While you'll be talking with some of your pros, like your wedding planner and venue, quite often during your engagement, other vendors, like your music pros and transportation company, you'll only need to speak with closer to the big day. But no matter who the pro may be or how often you're chatting, knowing how to talk to your vendors is absolutely essential. Check out these tips:
Stay organized.
You'll probably be using email a great deal during your wedding planning experience—but if your wedding-related email gets mixed up with your personal email, it's likely to become a confusing and disorganized experience for everyone. That's why we recommend keeping your wedding-related messages separate from your personal or work email by using a system like Messages by WeddingWire—a communication hub for all of your conversations with vendors.
Manage expectations.
In this day and age, we are so used to instant feedback—from social media to texting and more. Remember that your vendors are often small business people who have other clients, families, and much more going on beyond your wedding day (important as it is!). When it comes to how to talk with vendors, be sure to ask prospective vendors about their preferred methods of communication (some prefer phone over email, others don't mind texting) and usual response times, as well as the best and worst times to reach them so that expectations are set at the beginning. If you send a vendor an email at 3 a.m., don't expect them to get back to your right away. And remember, your response time is important too—be polite and try to answer your vendors' queries and requests within one to two business days if possible.
Online vs. in-person
While we traditionally suggest meeting your wedding pros in person at least once, times certainly have changed and many couples are opting for video chats over in-person meetings for a wide variety of reasons. In fact, according to the 2021 WeddingWire Newlywed Report, 1 in 10 couples met 100% virtually with their vendors—not ever meeting them in person before their wedding day. If you'd prefer to stick to virtual meetings with your pros, be upfront with that from the get-go to make sure you're on the same page.
Be brief and honest.
When it comes to how to talk to your vendors, try to be concise and get to the point as quickly as possible. Your vendors will be able to assist you that much faster. And always be honest and upfront with your wedding pros, whether it relates to your expectations and your budget. Your vendors want to make your wedding a success, so it's important to give them a heads-up about any unique circumstances so that there aren't any surprises on the day of.
Show and tell.
Of course, using clear and effective language is important in any communication, but particularly when it comes to dealing with your wedding vendors. Putting requests or concerns in writing is a must so that you have documentation. And when it comes to working with creative professionals, like florists, hair stylists, cake bakers, etc., it's always a good idea to provide photos to help them visualize the look you're going for.
Choose a point of contact.
To make things easier for both yourself and your vendors, assign a single point of contact for each wedding vendor. Things will get confusing if you, your future spouse, your mom, and your maid of honor are all contacting a single vendor with different requests. This will be extremely helpful in keeping everyone organized.
What's your timeline?
If your wedding is still months away, you shouldn't be contacting most of your vendors that frequently—they likely have other clients and imminent weddings to handle first. As it gets closer to your wedding day, the communication can and should increase, but again, be mindful of your vendors' schedules as it pertains to their response time. It also depends on the type of vendor you're contacting—you'll have a lot more contact with your planner and venue, for example, than your DJ and cake baker in the early planning process, but as you get closer to the big day, you'll be talking with all of your pros much more often. Of course, if a vendor isn't getting back to you in a reasonably timely fashion you can speak up, but try to be understanding of their schedules.
Trust the pros.
Your wedding vendors are there to help you create the wedding of your dreams and to make the process easier for you, not more difficult. If you have concerns about their pricing, for example, ask for explanation of their services and see if there is a way you can work together—don't accuse them of trying to overcharge you. Communicate with a positive attitude and a desire to learn more, rather than complaining or accusatory. This will help foster a successful vendor-client relationship and ensure a successful wedding day.