15 Ceremony Readings from Literature for a Totally Romantic Wedding
There's nothing like an excerpt from a literary work to add a touch of elegance to your ceremony. Check out 15 wedding readings from literature that we totally love.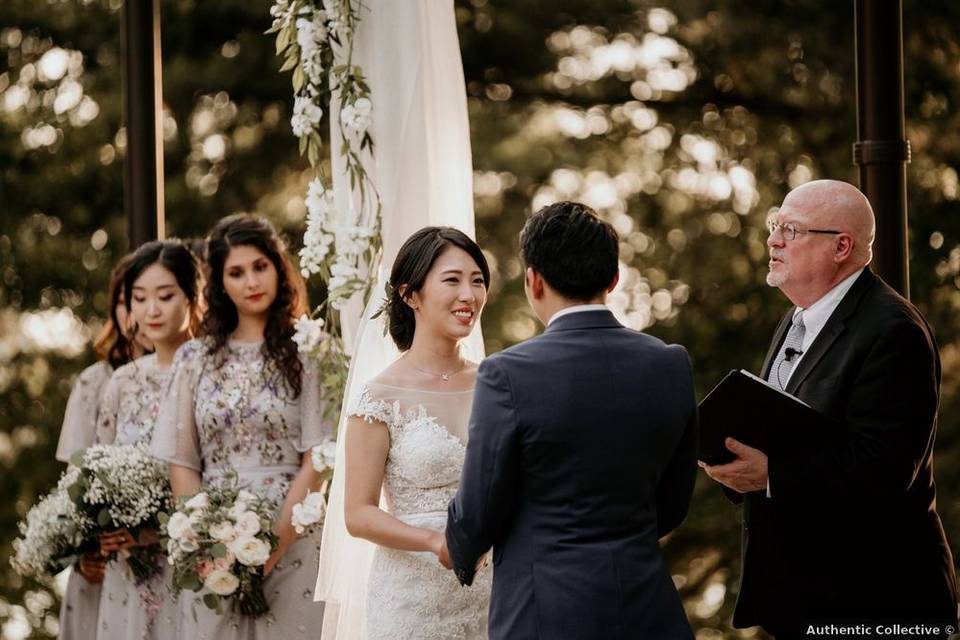 It's often said that books help us find the words for what we already know, which is most certainly true with love. Great literature moves us with emotion, so it's only natural to incorporate wedding readings from literature into your ceremony. While it can be overwhelming to sort through the endless words that have been written on the subject of marriage, commitment, and love, we've taken out all the legwork by curating our favorite wedding-approved excerpts.
Featuring a mix of both timeless and contemporary selections, we're highlighting our favorite wedding readings from literature to help personalize your special day.
A Natural History of Love by Diane Ackerman
These impactful words celebrate the vast greatness of love.
"Love. What a small word we use for an idea so immense and powerful. It has altered the flow of history, calmed monsters, kindled works of art, cheered the forlorn, turned tough guys to mush, consoled the enslaved, driven strong women mad, glorified the humble, fueled national scandals, bankrupted robber barons, and made mincemeat of kings. How can love's spaciousness be conveyed in the narrow confines of one syllable? Love is an ancient delirium, a desire older than civilization, with taproots spreading into deep and mysterious days. The heart is a living museum. In each of its galleries, no matter how narrow or dimly lit, preserved forever like wondrous diatoms, are our moments of loving, and being loved."
"100 Love Sonnets" by Pablo Neruda
Chilean poet, Pablo Neruda, wrote this lovely sonnet for his wife in 1959.
"I love you without knowing how, or when, or from where. I love you simply, without problems or pride: I love you in this way because I do not know any other way of loving but this, in which there is no I or you, so intimate that your hand upon my chest is my hand, so intimate that when I fall asleep your eyes close."
The Bridge Across Forever by Richard Bach
This wedding reading from literature thoughtfully explores what it means to be soulmates.
"A soulmate is someone who has locks that fit our keys, and keys to fit our locks. When we feel safe enough to open the locks, our truest selves step out and we can be completely and honestly who we are; we can be loved for who we are and not for who we're pretending to be. Each unveils the best part of the other. No matter what else goes wrong around us, with that one person we're safe in our own paradise. Our soulmate is someone who shares our deepest longings, our sense of direction. When we're two balloons, and together our direction is up, chances are we've found the right person. Our soul mate is the one who makes life come to life."
Les Misérables by Victor Hugo
As one of the most celebrated works of literature, Victor Hugo's words on love have a timeless appeal.
"The future belongs to hearts even more than it does to minds. Love, that is the only thing that can occupy and fill eternity. In the infinite, the inexhaustible is requisite.
Love participates of the soul itself. It is of the same nature. Like it, it is the divine spark; like it, it is incorruptible, indivisible, imperishable. It is a point of fire that exists within us, which is immortal and infinite, which nothing can confine, and which nothing can extinguish. We feel it burning even to the very marrow of our bones, and we see it beaming in the very depths of heaven."
Jane Eyre by Charlotte Brontë
This classic excerpt from Jane Eyre would make a beautiful reading at the opening of a ceremony.
"I have for the first time found what I can truly love – I have found you. You are my sympathy — my better self — my good angel — I am bound to you with a strong attachment. I think you good, gifted, lovely: a fervent, a solemn passion is conceived in my heart; it leans to you, draws you to my centre and spring of life, wrap my existence about you — and, kindling in pure, powerful flame, fuses you and me in one."
The Chaos of Stars by Kiersten White
A lovely wedding reading from literature to be read by a close friend or officiant just before the vows.
"I didn't fall in love with you. I walked into love with you, with my eyes wide open, choosing to take every step along the way. I do believe in fate and destiny, but I also believe we are only fated to do the things that we'd choose anyway. And I'd choose you; in a hundred lifetimes, in a hundred worlds, in any version of reality, I'd find you and I'd choose you."
This Lullaby by Sarah Dessen
For the down-to-earth couple who prefers a more realistic sense of romance.
"No relationship is perfect, ever. There are always some ways you have to bend, to compromise, to give something up in order to gain something greater … The love we have for each other is bigger than these small differences. And that's the key. It's like a big pie chart, and the love in a relationship has to be the biggest piece. Love can make up for a lot."
Paradise by Toni Morrison
"Let me tell you about love, that silly word you believe is about whether you like somebody or whether somebody likes you or whether you can put up with somebody in order to get something or someplace you want or you believe it has to do with how your body responds to another body like robins or bison or maybe you believe love is how forces or nature or luck is benign to you in particular not maiming or killing you but if so doing it for your own good. Love is none of that. There is nothing in nature like it. Not in robins or bison or in the banging tails of your hunting dogs and not in blossoms or suckling foal. Love is divine only and difficult always. If you think it is easy you are a fool. If you think it is natural you are blind. It is a learned application without reason or motive except that it is God. You do not deserve love regardless of the suffering you have endured. You do not deserve love because somebody did you wrong. You do not deserve love just because you want it. You can only earn – by practice and careful contemplations – the right to express it and you have to learn how to accept it."
The Alchemist by Paulo Coelho
Brazilian author, Paulo Coelho, wrote these impactful words on love that would be wonderful to be read by a friend or family member.
"When he looked into her eyes, he learned the most important part of the language that all the world spoke — the language that everyone on earth was capable of understanding in their heart. It was love.
Something older than humanity, more ancient than the desert. What the boy felt at that moment was that he was in the presence of the only woman in his life, and that, with no need for words, she recognized the same thing. Because when you know the language, it's easy to understand that someone in the world awaits you, whether it's in the middle of the desert or in some great city.
And when two such people encounter each other, the past and the future become unimportant. There is only that moment, and the incredible certainty that everything under the sun has been written by one hand only. It is the hand that evokes love, and creates a twin soul for every person in the world. Without such love, one's dreams would have no meaning."
The Amber Spyglass by Philip Pullman
A unique reading selection for couples who appreciate a contemporary literary reference.
"I will love you forever; whatever happens. Till I die and after I die, and when I find my way out of the land of the dead, I'll drift about forever, all my atoms, till I find you again… I'll be looking for you, every moment, every single moment. And when we do find each other again, we'll cling together so tight that nothing and no one'll ever tear us apart. Every atom of me and every atom of you… We'll live in birds and flowers and dragonflies and pine trees and in clouds and in those little specks of light you see floating in sunbeams… And when they use our atoms to make new lives, they won't just be able to take one, they'll have to take two, one of you and one of me."
The Four Loves by C.S. Lewis
Known as one of history's most beloved authors, C.S. Lewis explores the nature of love in this excerpt from his 1960's book.
"To love at all is to be vulnerable. Love anything and your heart will be wrung and possibly broken. If you want to make sure of keeping it intact you must give it to no one, not even an animal. Wrap it carefully round with hobbies and little luxuries; avoid all entanglements. Lock it up safe in the casket or coffin of your selfishness. But in that casket, safe, dark, motionless, airless, it will change. It will not be broken; it will become unbreakable, impenetrable, irredeemable. To love is to be vulnerable."
Every Day by David Levithan
In just a few sentences, this wedding reading from literature paints a picture of love's boundless power.
"This is what love does: It makes you want to rewrite the world. It makes you want to choose the characters, build the scenery, guide the plot. The person you love sits across from you, and you want to do everything in your power to make it possible, endlessly possible. And when it's just the two of you, alone in a room, you can pretend that this is how it is, this is how it will be."
Captain Corelli's Mandolin by Shawn Slovo
This popular literary ceremony reading incorporates both humor and heart.
"Love is a temporary madness, it erupts like volcanoes and then subsides. And when it subsides, you have to make a decision. You have to work out whether your roots have so entwined together that it is inconceivable that you should ever part. Because this is what love is. Love is not breathlessness, it is not excitement, it is not the promulgation of promises of eternal passion, it is not the desire to mate every second minute of the day, it is not lying awake at night imagining that he is kissing every cranny of your body. No, don't blush, I am telling you some truths. That is just being "in love", which any fool can do. Love itself is what is left over when being in love has burned away, and this is both an art and a fortunate accident."
A Farewell to Arms by Ernest Hemingway
The words of Hemingway would be a perfect addition anywhere in a ceremony.
"At night, there was the feeling that we had come home, feeling no longer alone, waking in the night to find the other one there, and not gone away; all other things were unreal. We slept when we were tired and if we woke the other one woke too so one was not alone. Often a man wishes to be alone and a woman wishes to be alone too and if they love each other they are jealous of that in each other, but I can truly say we never felt that. We could feel alone when we were together, alone against the others. We were never lonely and never afraid when we were together."
"Sonnet 116" by William Shakespeare
Shakespeare's words stand the test of time, including this familiar sonnet about love.
"Let me not to the marriage of true minds
Admit impediments. Love is not love
Which alters when it alteration finds,
Or bends with the remover to remove:
O no; it is an ever-fixed mark,
That looks on tempests, and is never shaken;
It is the star to every wandering bark,
Whose worth's unknown, although his height be taken.
Love's not Time's fool, though rosy lips and cheeks
Within his bending sickle's compass come;
Love alters not with his brief hours and weeks,
But bears it out even to the edge of doom.
If this be error and upon me proved,
I never writ, nor no man ever loved."