17 Unique Wedding Ceremony Readings Your Guests Will Love
Looking to personalize your wedding ceremony? Here are some unique wedding readings for your wedding.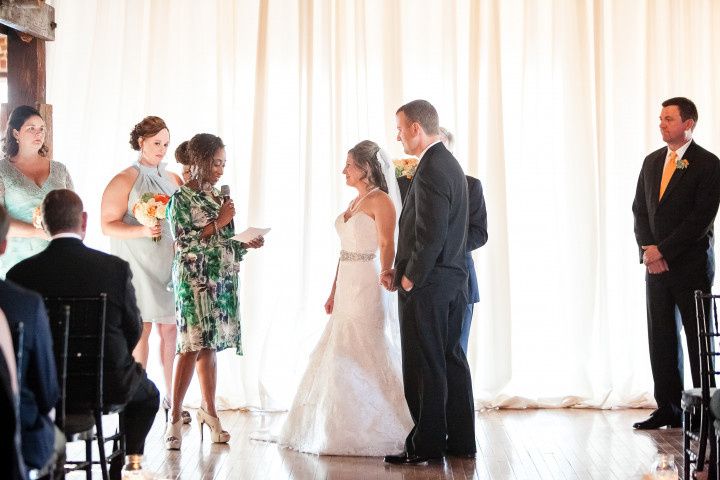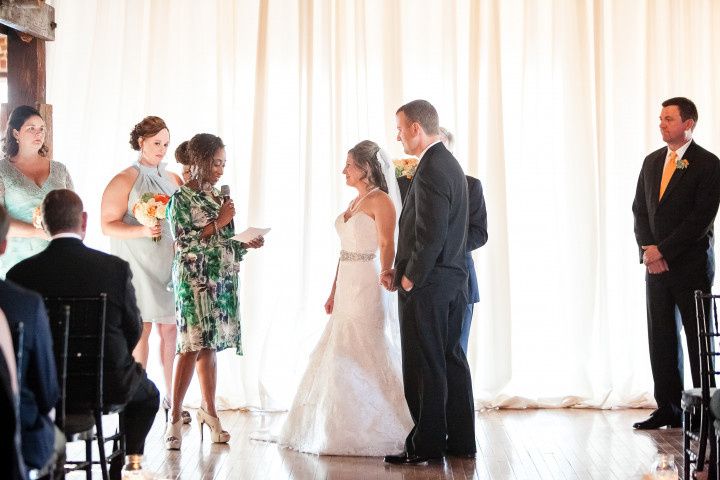 Your wedding ceremony is the most meaningful part of the wedding, when you declare your love for each other and promise to support one another. Special touches, like unique wedding readings, can help make your ceremony even more personal. "My philosophy is that the ceremony needs to reflect the couple," says Wisconsin-based Rev. Carol Saunders.

Before deciding on what unique wedding readings to include, first decide how many you want to have. New York-based Rev. Annie Lawrence suggests two readings, one placed before you recite your vows and exchange rings, and one after. "The first should be about love and romance," she says, "what made them a couple, how they became a couple. The second, about marriage and partnership, including how love will grow over the years and what will happen down the road."

"In my experience, the reading serves three purposes," explains Rev. Saunders. "It breaks up the ceremony so it's not just the officiant talking. It conveys a message about love or marriage, reflecting the couple or immediate family members. And finally, it gives someone close to the couple the opportunity to participate in the ceremony."

While researching readings, choose something that speaks to both of you. "The reading should add imagery and heightened emotion, in both laughter and sentiment, to the story of the coupe's love," says New Jersey-based officiant Gerald Fierst, author of The Heart of the Wedding.

As for where to look for unique wedding readings, Gerald says he has used everything from Corinthians to Bob Dylan. Passages from the Bible, poems, children's stories, novels, song lyrics, and even a family story, can all be excellent resources. You can also ask family or friends for recommendations. You may be surprised at what readings they think represent your relationship, as well as love and marriage.

You can choose a classic reading, something found in scripture, spirituality focused, or relates to merging your backgrounds, cultures or faiths. A classic reading may have multiple versions or translations, including shorter and more enhanced styles. "If one family or many guests are not fluent in the main language the officiant is using, you can have a reading done in their native language, and have it translated in the program so everyone comprehends it," suggests Rev. Annie Lawrence. "If the ceremony will all be in one language, you can translate the readings in the program to help guests understand both wedding ceremony readings, as well as other parts of the service."

More modern reading selections are found in pop culture, including movies, TV shows and song lyrics. "More and more couples are choosing unique wedding ceremony readings from joint interests, such as a favorite TV show," Rev. Annie Lawrence explains. "I had one couple whose readings came from Game of Thrones, and another had lyrics from a Ne-Yo song read."

But don't wait to the last minute warns Rev. Pam Swider of PS I Love You Ceremonies in Ferndale, Michigan. "I tell couples to do some searches online, but warn them that it can be overwhelming and to not wait until the last minute." Many officiants have an ever-growing list of both religious and non-religious wedding ceremony readings to help couples find the right ones for their ceremony. Ask your officiant to share his or her suggestions with you soon after hiring him or her so you're not rushed into a decision the week or two before the wedding.
Here are some unique wedding readings to make your ceremony even more unique.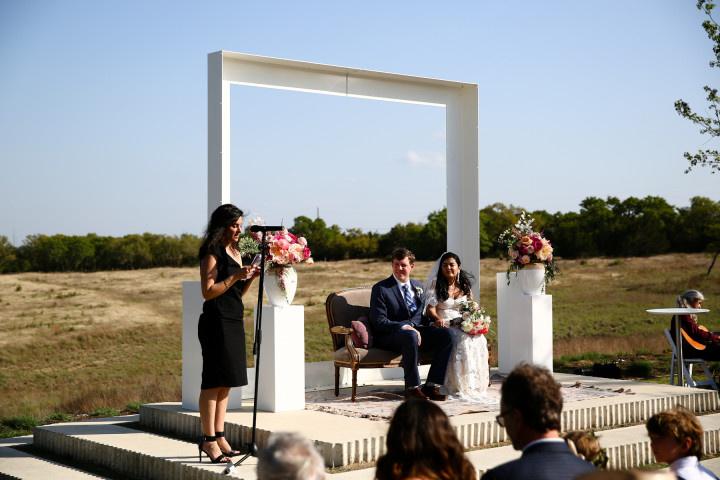 Classic Wedding Readings:

The First Letter of Saint John 4:7-12
Beloved, let us love one another,
because love is of God;
everyone who loves is begotten by God and knows God.
Whoever is without love does not know God, for God is love….

Prayer of Saint Francis of Assisi
Lord, make us instruments of your peace.
Where there is hatred, let us sow love;…

Song of Solomon 6:3
I am my beloved's and my beloved is mine.
My beloved speaks and says to me: Arise, my love, my fair one, and come away; for lo, the winter is past, the rain is over and gone. The flowers appear on the earth, the time of singing has come, and the voice of the turtledove is heard in our land…

Song of Solomon 8:6-7
Place me like a seal over your heart, like a seal on your arm.
For love is as strong as death, its jealousy as enduring as the grave.
Love flashes like fire, the brightest kind of flame…

Blessing of the Hands by Rev. Daniel L. Harris
These are the hands of your best friend, young and strong and full of love for you, that are holding yours on your wedding day, as you promise to love each other today, tomorrow, and forever…

Ecclesiastes 4:9-12
Two are better than one, because they have a good reward for their toil. For if they fall, one will lift up his fellow…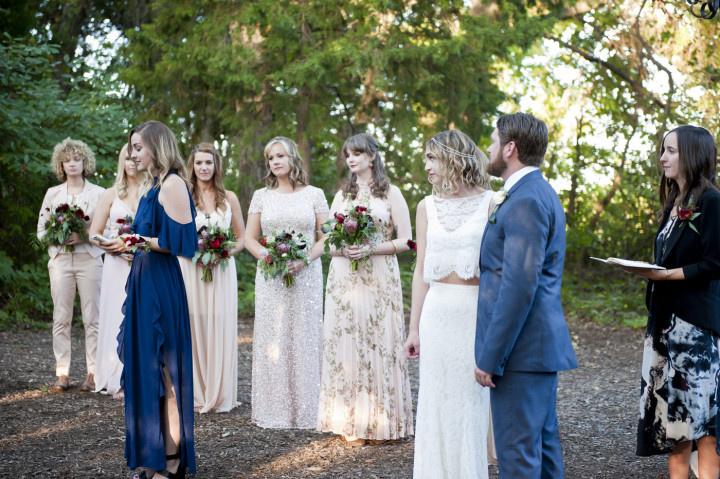 Contemporary and Unique Wedding Readings:
"I Choose You" by Sara Bareilles
Let the bough break, let it come down crashing
Let the sun fade out to a dark sky
I can't say I'd even notice it was absent
'Cause I could live by the light in your eyes…

Jane Eyre by Charlotte Brontë
I have for the first time found what I can truly love — I have found you. You are my sympathy — my better self — my good angel — I am bound to you with a strong attachment…

Everything is Illuminated by Jonathan Safran Foer
I love you also means I love you more than anyone loves you, or has loved you, or will love you, and also, I love you in a way that no one loves you, or has loved you, or will love you, and also, I love you in a way that I love no one else, and never have loved anyone else, and never will love anyone else.

"He's Not Perfect" by Bob Marley
He's not perfect. You aren't either, and the two of you will never be perfect. But if he can make you laugh at least once, causes you to think twice, and if he admits to being human and making mistakes, hold onto him and give him the most you can….

Captain Corelli's Mandolin by Louis De Bernieres
Love is a temporary madness, it erupts like volcanoes and then subsides. And when it subsides, you have to make a decision. You have to work out whether your roots have so entwined together that it is inconceivable that you should ever part. Because this is what love is…

The Art of Marriage by William A. Peterson
The little things are the big things. It is never being too old to hold hands. It is remembering to say "I love you" at least once a day.
It is never going to sleep angry. It is at no time taking the other for granted; the courtship should not end with the honeymoon, it should continue through all the years…

Cinderella
So this is love
So this is what makes life divine
I'm all aglow
And now I know
The key to all heaven is mine
My heart has wings…

The Wedding Singer
I want to make you smile whenever you're sad.
Carry you around when your arthritis is bad.
All I want to do is grow old with you…

"Mirrors" by Justin Timberlake
Aren't you something to admire, 'cause your shine is something like a mirror
And I can't help but notice, you reflect in this heart of mine
If you ever feel alone and the glare makes me hard to find
Just know that I'm always parallel on the other side…

A Year With C.S. Lewis: Daily Readings from His Classic Works
If the old fairy-tale ending 'They lived happily ever after' is taken to mean 'They felt for the next fifty years exactly as they felt the day before they were married,' then it says what probably never was nor ever would be true, and would be highly undesirable if it were…

"Never Knew I Needed" by Ne-Yo from Disney's The Princess and the Frog
For the way you changed my plans
For being the perfect distraction
For the way you took the idea that I have
Of everything that I wanted to have
And made me see there was something missing…