How to Choose Wedding Ceremony Readings
Personalize your ceremony by selecting meaningful readings. Here's how to get started.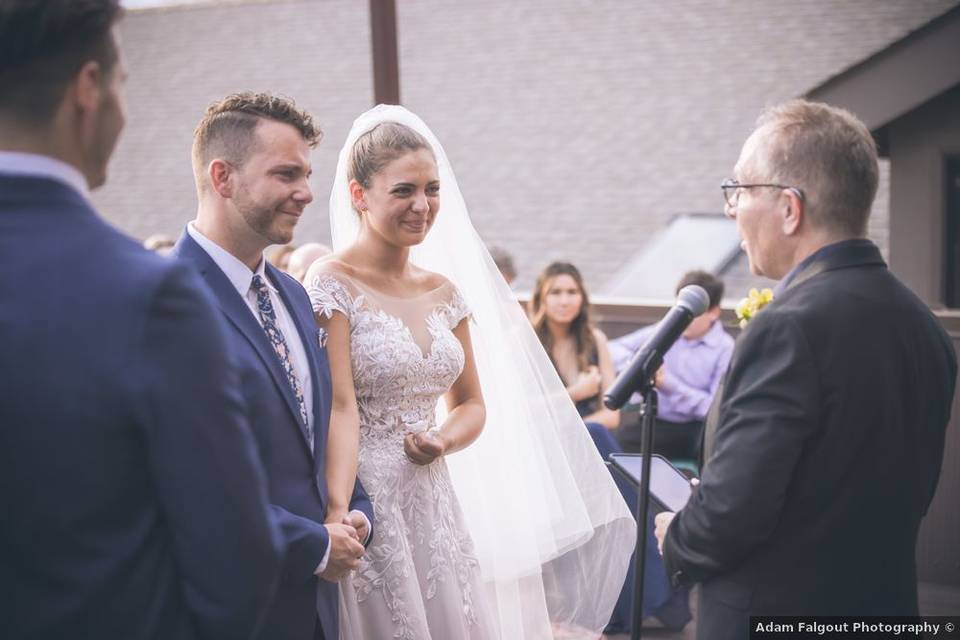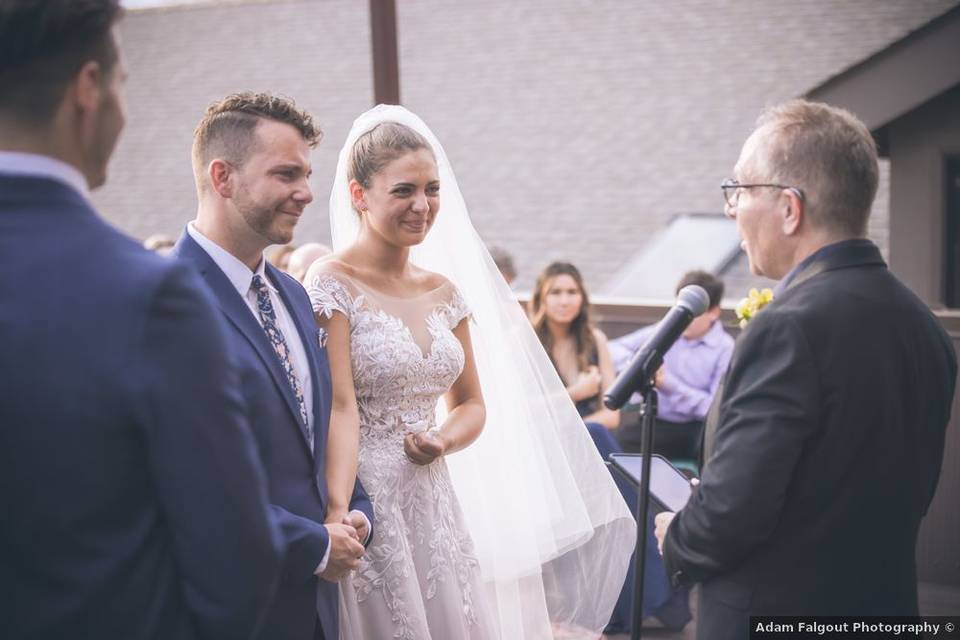 If you're looking to have a wedding ceremony that's super-personalized, readings are a great way to do it. Wedding ceremony readings also allow you to give loved ones (particularly those who may not be in the wedding party) a special role in your big day, and share your and your partner's feelings for each other in a unique way. Interested in including readings in your ceremony but stumped on where to begin? Here are some tips to help you get started choosing the right wedding ceremony readings.
Talk with your officiant.
If you're already selected your wedding officiant, talk to him or her about including readings in your ceremony. Some religious ceremonies might not be conducive to additional readings, so it's important to make sure that your officiant is onboard with the idea. If so, he or she can be a great resource to provide suggestions for readings that will enhance your ceremony, ones that will match your personality and style. Your officiant can also determine when the most appropriate time would be during the ceremony to include readings so they feel natural and seamless.
When do readings take place during the ceremony?
Typically, readings take place toward the beginning of the ceremony, after the officiant has made their introduction and before the wedding vows. However, depending on your ceremony style, your officiant may have suggestions for other appropriate times for ceremony readings.
How many wedding ceremony readings do you need?
We usually recommend limiting the number of wedding ceremony readings to one or two. Too many readings may cause your ceremony to drag on, and your guests to get a bit bored (not ideal!). If you have a lot of loved ones who you'd like to be readers, remember that multiple loved ones can perform a single reading, each person reading a short portion.
Religious or secular?
You, your future spouse, and your officiant will need to discuss if a religious or secular reading would be best for your ceremony. If you choose a religious wedding ceremony reading, you'll likely select a passage or verse from a sacred text, or a religious poem or blessing. A secular reading can be a poem, book excerpt, song lyrics, or even lines from a movie or television show.
Think about your readers.
If you're having trouble choosing wedding ceremony readings, it might help to think about the people who will be speaking at your ceremony. If you've selected a young child to speak, a passage from a children's book would be appropriate. Or your best friend who's a Shakespeare buff might enjoy reading a passage from the Bard. Obviously it's most important that the readings reflect you and your spouse, but tailoring the readings to your readers can help you sort through the options—and help your readers feel even more comfortable speaking in front of a crowd.
How long should a wedding ceremony reading be?
The readings portion of your ceremony should last no more than five minutes, and each individual reading should be one to three minutes each. Before selecting a wedding ceremony reading, time yourself reading it very slowly and clearly to see how long it will take to present at your ceremony. Any individual reading longer than three minutes should be edited down or you might want to consider a different passage.
Read carefully.
Make sure you read the text of any potential wedding ceremony reading very closely—and ask others to read it as well. You want to make sure that the words are meaningful of course, but also that they feel appropriate for the occasion. Don't include readings that contain unsavory language or would make your guests uncomfortable for any reason. Your readings should be uplifting and while they can be emotional and sentimental, have a generally positive message.
Pick a classic.
There are many popular religious and secular readings that are frequently read at wedding ceremonies. These include 1 Corinthians 13 (which starts with "Love is patient, love is kind…"), "How Do I Love Thee" by Elizabeth Barrett Browning, William Shakespeare's Sonnet 116, "On Marriage" from The Prophet by Khalil Gibran, "I Carry Your Heart With Me" by e.e. cummings, and excerpts from The Velveteen Rabbit by Margery Williams. Obviously there are many more, but these are some tried and true examples.
Choose your favorites.
An easy way to choose a wedding ceremony reading that reflects your personality is to select an excerpt from a poem, book, or song lyrics that you and your future spouse already enjoy. Think about your favorite writers, and passages that might be ideal for a wedding. Usually, wedding ceremony readings focus on love—but there's a wide range of what's appropriate. Readings can be emotional, sweet, romantic, or even funny—as long as they feel true to you and the style of your ceremony.
Think outside the box.
Don't be afraid to choose a nontraditional wedding ceremony reading, particularly if you're having a more casual ceremony. Check out such readings as "Falling in Love is Like Owning a Dog" by Taylor Mali and "A Lovely Love Story" by Edward Monkton (this one includes dinosaurs!). Lyrics from favorite songs can make for unique ceremony readings, as can quotes from movies—you can even have several guests recite lines of dialogue.
Get personal.
If you and your future spouse have a history of writing to one another, you can have your loved ones read your love letters aloud at your ceremony. Yes, we know this may enter the realm of "oversharing," but it can be super-sweet and personal. Of course, you'll have to make sure that the letters are wedding-appropriate (let's not get too intimate here!), and that they are a reasonable length. We've even seen couples' emails or Google chats used as readings to great effect!
Include the whole crew.
You don't have to choose just one or two readers—you can have all of your guests read together. Include a reading's text in your program, and have your officiant ask all of your guests to stand and read it together at a particular point in the ceremony. This can unite all of your and your future spouse's loved ones in a very symbolic way. You'll truly feel surrounded by love.
Display wedding ceremony readings in other ways.
If there are a lot of readings that you want to include in your ceremony but can't for time purposes, there are other ways that you can share them with your guests. Print the reading in your ceremony programs, quote them on signage, or even include a passage from a reading in your thank-you speech at the reception.
Remember: Wedding readings are optional.
If you're really stumped on finding the right reading for your ceremony, it's important to remember that wedding ceremony readings are completely optional. Don't include a reading in your ceremony just for the heck of it—make sure that it's something that fits the tone and style of your wedding day. Your guests will be thrilled to be present for your wedding ceremony, whether or not you include a reading.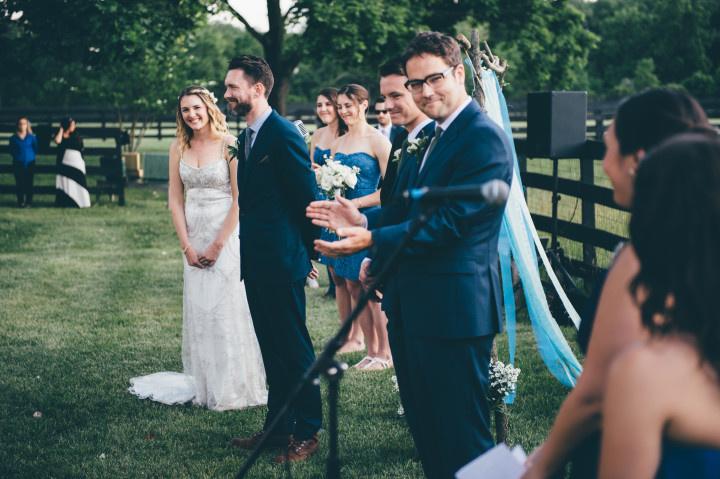 A few popular wedding readings:
We've compiled a list of a few of the most popular non-religious wedding ceremony readings, including those from movies, literature, and more.
Captain Corelli's Mandolin by Shawn Slovo
"Love is a temporary madness, it erupts like volcanoes and then subsides. And when it subsides, you have to make a decision. You have to work out whether your roots have so entwined together that it is inconceivable that you should ever part. Because this is what love is. Love is not breathlessness, it is not excitement, it is not the promulgation of promises of eternal passion, it is not the desire to mate every second minute of the day, it is not lying awake at night imagining that he is kissing every cranny of your body. No, don't blush, I am telling you some truths. That is just being "in love", which any fool can do. Love itself is what is left over when being in love has burned away, and this is both an art and a fortunate accident."
"Union" by Robert Fulghum
"You have known each other from the first glance of acquaintance to this point of commitment. At some point, you decided to marry. From that moment of yes, to this moment of yes, indeed, you have been making commitments in an informal way. All of those conversations that were held in a car, or over a meal, or during long walks – all those conversations that began with, "When we're married", and continued with "I will" and "you will" and "we will" – all those late night talks that included "someday" and "somehow" and "maybe" – and all those promises that are unspoken matters of the heart. All these common things, and more, are the real process of a wedding.
The symbolic vows that you are about to make are a way of saying to one another, "You know all those things that we've promised, and hoped, and dreamed – well, I meant it all, every word."
Look at one another and remember this moment in time. Before this moment you have been many things to one another – acquaintance, friend, companion, lover, dancing partner, even teacher, for you have learned much from one another these past few years. Shortly you shall say a few words that will take you across a threshold of life, and things between you will never quite be the same. For after today you shall say to the world –
This is my husband. This is my wife."
The Bridge Across Forever by Richard Bach
This wedding reading from literature thoughtfully explores what it means to be soulmates.
"A soul mate is someone who has locks that fit our keys, and keys to fit our locks. When we feel safe enough to open the locks, our truest selves step out and we can be completely and honestly who we are; we can be loved for who we are and not for who we're pretending to be. Each unveils the best part of the other. No matter what else goes wrong around us, with that one person we're safe in our own paradise. Our soul mate is someone who shares our deepest longings, our sense of direction. When we're two balloons, and together our direction is up, chances are we've found the right person. Our soul mate is the one who makes life come to life."
Paradise by Toni Morrison
"Let me tell you about love, that silly word you believe is about whether you like somebody or whether somebody likes you or whether you can put up with somebody in order to get something or someplace you want or you believe it has to do with how your body responds to another body like robins or bison or maybe you believe love is how forces or nature or luck is benign to you in particular not maiming or killing you but if so doing it for your own good. Love is none of that. There is nothing in nature like it. Not in robins or bison or in the banging tails of your hunting dogs and not in blossoms or suckling foal. Love is divine only and difficult always. If you think it is easy you are a fool. If you think it is natural you are blind. It is a learned application without reason or motive except that it is God. You do not deserve love regardless of the suffering you have endured. You do not deserve love because somebody did you wrong. You do not deserve love just because you want it. You can only earn – by practice and careful contemplations – the right to express it and you have to learn how to accept it."
100 Love Sonnets by Pablo Neruda
"I love you without knowing how, or when, or from where. I love you simply, without problems or pride: I love you in this way because I do not know any other way of loving but this, in which there is no I or you, so intimate that your hand upon my chest is my hand, so intimate that when I fall asleep your eyes close."
Every Day by David Levithan
"This is what love does: It makes you want to rewrite the world. It makes you want to choose the characters, build the scenery, guide the plot. The person you love sits across from you, and you want to do everything in your power to make it possible, endlessly possible. And when it's just the two of you, alone in a room, you can pretend that this is how it is, this is how it will be."
"Marriage is Like My Old Car" by Marie April Gismondi
"The way I see it, marriage is like my old car.
When I bought it new from the dealership,
everyone around me was saying; "Wow that's a nice car!"
It was all bright and shiny and worthy of admiration.
And then as the years went by…
there were places where the paint was starting to peel off.
It got a little dent and a scratch or two here and there…
and once it was over a decade old…
People started saying; "Why are you still driving that old thing?"
But my car ran like a top and would never leave me high and dry.
Every time something sounded a little off, or needed attention,
I got to work on it and fixed whatever needed fixing immediately,
knowing that you get what you give.
And then, when she became "a classic",
it was off to the body shop she went for a new paint job.
People once again began saying; "Wow, that's a really nice car!"
But what they didn't know was that all the things that really matter,
were always things that nobody could see from the outside.
A marriage is like my old car.
It's the maintenance you do between the high of the wedding day,
and gaining the admiration your grandchildren
by being the couple who still laughs and shares secrets,
and still holds hands after all these years.
So don't worry so much about what people think or say.
Just do your oil changes, keep up with your maintenance,
get out and have fun,
don't be afraid to blow the dust off now and then,
and fix whatever breaks as soon as it happens.
This is my advice for a marriage
that will motor successfully on down the highway of life."
"How Falling in Love is like Owning a Dog" by Taylor Mali
"First of all, it's a big responsibility.
So think long and hard before deciding on love.
On the other hand, love gives you a sense of security:
when you're walking down the street late at night
On cold winter nights, love is warm.
It lies between you and lives and breathes
and makes funny noises.
Love wakes you up all hours of the night with its needs.
It needs to be fed so it will grow and stay healthy.
Love doesn't like being left alone for long.
But come home and love is always happy to see you.
It may break a few things accidentally in its passion for life,
but you can never be mad at love for long.
Is love good all the time? No! No!
Love can be bad. Bad, love, bad!
Love makes messes.
Love leaves you little surprises here and there.
Love needs lots of cleaning up after.
Sometimes you just want to get love fixed.
Sometimes you want to roll up a piece of newspaper
and swat love on the nose,
not so much to cause pain,
just to let love know Don't you ever do that again!
Sometimes love just wants to go out for a nice long walk.
Because love loves exercise. It will run you around the block
and leave you panting, breathless. Pull you in different directions
at once, or wind itself around and around you
until you're all wound up and you cannot move.
Throw things away and love will bring them back,
again, and again, and again.
But most of all, love needs love, lots of it.
And in return, love loves you and never stops."
"The Art of a Good Marriage" by Wilferd Arlan Peterson
"Happiness in marriage is not something that just happens.
A good marriage must be created. In marriage the little things are the big things.
It is never being too old to hold hands.
It is remembering to say "I love you" at least once a day.
It is never going to sleep angry.
It is at no time taking the other for granted; the courtship should not end with the honeymoon, it should continue through the years.
It is having a mutual sense of values and common objectives.
It is standing together facing the world. It is forming a circle of love that gathers the whole family.
It is doing things for each other, not in the attitude of duty or sacrifice, but in the spirit of joy.
It is speaking words of appreciation and demonstrating gratitude in thoughtful ways.
It is not looking for perfection in each other.
It is cultivating flexibility, patience, understanding and a sense of humour.
It is having the capacity to forgive and forget.
It is giving each other an atmosphere in which each can grow old.
It is a common search for the good and the beautiful.
It is establishing a relationship in which the independence is equal, dependence is mutual and the obligation is reciprocal.
It is not only marrying the right partner; it is being the right partner."
Les Misérables by Victor Hugo
"The future belongs to hearts even more than it does to minds. Love, that is the only thing that can occupy and fill eternity. In the infinite, the inexhaustible is requisite.
Love participates of the soul itself. It is of the same nature. Like it, it is the divine spark; like it, it is incorruptible, indivisible, imperishable. It is a point of fire that exists within us, which is immortal and infinite, which nothing can confine, and which nothing can extinguish. We feel it burning even to the very marrow of our bones, and we see it beaming in the very depths of heaven."
"I Carry Your Heart with Me" by e.e. cummings
"I carry your heart with me (I carry it in my heart) I am never without it (anywhere I go you go, my dear; and whatever is done by only me is your doing, my darling)
I fear no fate (for you are my fate, my sweet) I want no world (for beautiful you are my world, my true)
and it's you are whatever a moon has always meant and whatever a sun will always sing is you
Here is the deepest secret nobody knows
(here is the root of the root and the bud of the bud and the sky of the sky of a tree called life; which grows
higher than soul can hope or mind can hide)
and this is the wonder that's keeping the stars apart
I carry your heart (I carry it in my heart)"
"Us Two" from Now We Are Six by A.A. Milne
"Wherever I am, there's always Pooh,
There's always Pooh and Me.
Whatever I do, he wants to do.
"Where are you going today?" says Pooh.
"Well, that's very odd 'cos I was too.
Let's go together," says Pooh, says he.
"Let's go together," says Pooh…
"Let's look for dragons," I said to Pooh.
"Yes, let's," said Pooh to Me.
We crossed the river and found a few.
"Yes, those are dragons all right," said Pooh.
"As soon as I saw their beaks I knew.
That's what they are," said Pooh, said he.
"That's what they are," said Pooh.
"Let's frighten the dragons," I said to Pooh.
"That's right," said Pooh to Me.
"I'm not afraid," I said to Pooh,
And I held his paw and I shouted, "Shoo!
Silly old dragons!" – and off they flew.
"I wasn't afraid," said Pooh, said he,
"I'm never afraid with you."
So, wherever I am, there's always Pooh,
There's always Pooh and Me.
"What would I do?" I said to Pooh,
"If it wasn't for you," and Pooh said: "True,
it isn't much fun for one, but two,
Can stick together," says Pooh, says he. "That's how it is," says Pooh."
All I Really Need To Know I Learned in Kindergarten by Robert Fulghum
"All of what I really need to know about how to live, and what to do, and how to be, I learned in Kindergarten. Wisdom was not at the top of the graduate school mountain, but there in the sandbox at nursery school.
These are the things I learned…
Share everything.
Play fair.
Don't hit people.
Put things back where you found them.
Clean up your own mess.
Don't take things that aren't yours.
Say sorry when you hurt somebody.
Wash your hands before you eat.
Flush.
Warm cookies and cold milk are good for you. Give them to someone who feels sad.
Live a balanced life.
Learn some and think some and draw and paint and sing and dance and play and work every day.
Take a nap every afternoon.
Be aware of wonder.
Remember the little seed in the plastic cup? The roots go down and the plant goes up and nobody really knows how or why, but we are all like that.
Everything you need to know is in there somewhere.
And it is still true, no matter how old you are, when you go out into the world, it is best to hold hands and stick together."
Marriage Joins Two People in the Circle of its Love by Edmund O'Neill
"Marriage is a commitment to life, the best that two people can find and bring out in each other. It offers opportunities for sharing and growth that no other relationship can equal. It is a physical and an emotional joining that is promised for a lifetime.
Within the circle of its love, marriage encompasses all of life's most important relationships. A wife and a husband are each other's best friend, confidant, lover, teacher, listener, and critic. And there may come times when one partner is heartbroken or ailing, and the love of the other may resemble the tender caring of a parent for a child.
Marriage deepens and enriches every facet of life. Happiness is fuller, memories are fresher, commitment is stronger, even anger is felt more strongly, and passes away more quickly.
Marriage understands and forgives the mistakes life is unable to avoid. It encourages and nurtures new life, new experiences, and new ways of expressing a love that is deeper than life.
When two people pledge their love and care for each other in marriage, they create a spirit unique unto themselves which binds them closer than any spoken or written words. Marriage is a promise, a potential made in the hearts of two people who love each other and takes a lifetime to fulfill."
"Sonnet 116" by William Shakespeare
"Let me not to the marriage of true minds
Admit impediments. Love is not love
Which alters when it alteration finds,
Or bends with the remover to remove:
O no; it is an ever-fixed mark,
That looks on tempests, and is never shaken;
It is the star to every wandering bark,
Whose worth's unknown, although his height be taken.
Love's not Time's fool, though rosy lips and cheeks
Within his bending sickle's compass come;
Love alters not with his brief hours and weeks,
But bears it out even to the edge of doom.
If this be error and upon me proved,
I never writ, nor no man ever loved."