16 Ceremony Readings from Movies for a Cinematic Wedding
Personalize your ceremony with one of these wedding readings from movies, from comedies to dramas and more.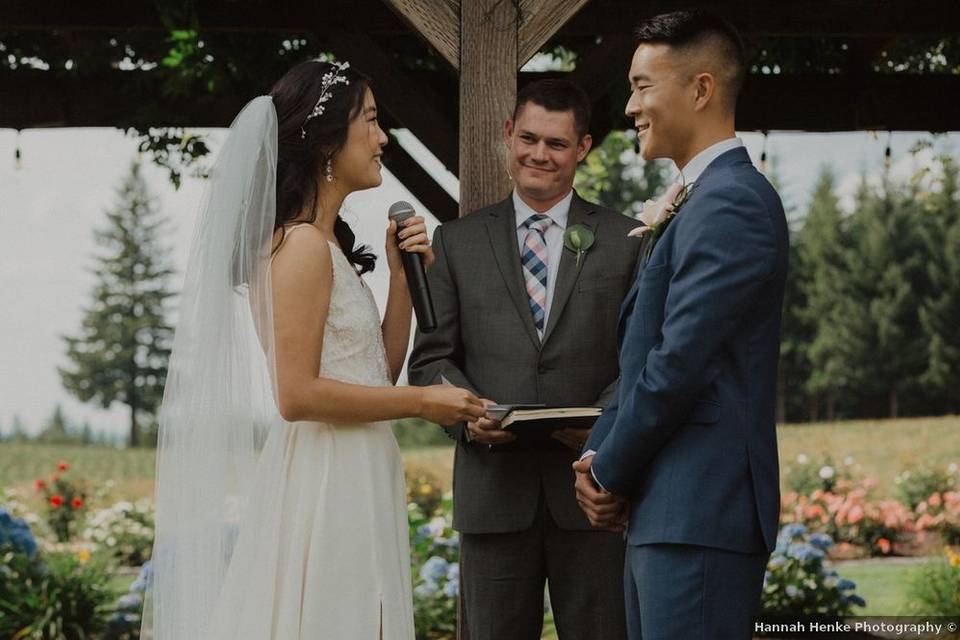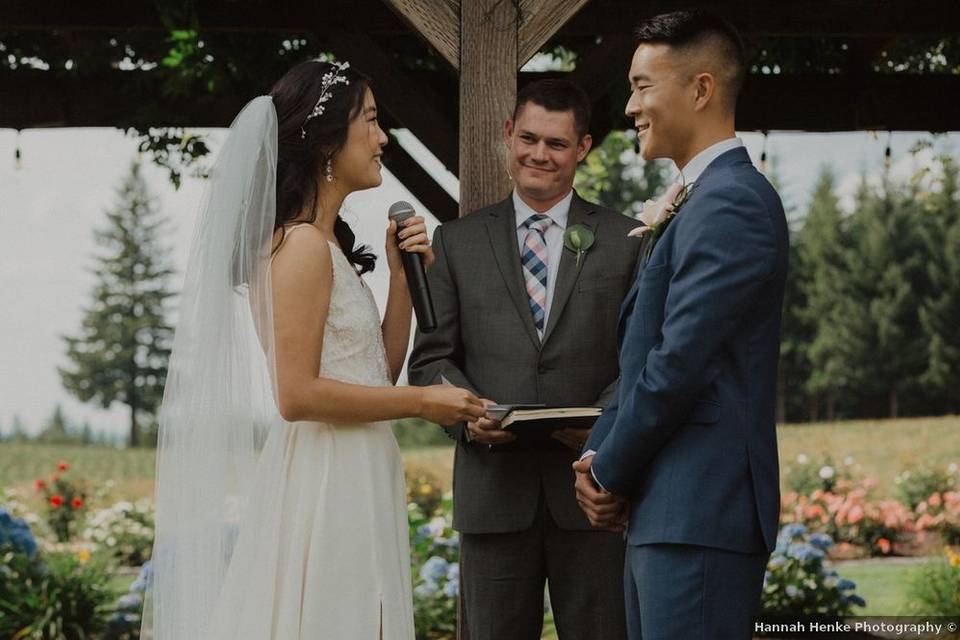 Designing a wedding ceremony is an opportunity to infuse moments of personality that showcase who you are as a couple. Along with your music selections and vow recitations, ceremony readings are a great way to share meaningful words that deeply resonate with you. While poetry and literature excerpts are always popular choices, don't overlook your favorite cinema moments as some of the best sources for wedding readings from movies.
For couples looking to incorporate wedding readings from movies, we're sharing the sweetest, funniest, and most romantic lines you'll want to be recited on your wedding day.
When Harry Met Sally
This classic movie line is certain to make everyone smile.
"I love that you get cold when it's 71 degrees out. I love that it takes you an hour and a half to order a sandwich. I love that you get a little crinkle above your nose when you're looking at me like I'm nuts. I love that after I spend the day with you, I can still smell your perfume on my clothes. And I love that you are the last person I want to talk to before I go to sleep at night. And it's not because I'm lonely, and it's not because it's New Year's Eve. I came here tonight because when you realize you want to spend the rest of your life with somebody, you want the rest of your life to start as soon as possible." —Harry Burns
Twilight: Breaking Dawn
"Twihards" will swoon over these incredibly romantic words spoken by Edward.
"It's an extraordinary thing to meet someone who you can bare your soul to, and who will accept you for what you are. I've been waiting, what seems like a very long time, to get beyond what I am. And now…I feel like I can finally begin…No measure of time with you will be long enough. But let's start with forever." —Edward Cullen
If Beale Street Could Talk
This short yet impactful line would work perfectly when read by a close friend or family member.
"Remember love is what brought you here. And if you trusted love this far, don't panic now. Trust it all the way." —Sharon Rivers
Frida
This wedding reading from a movie highlights the profound courage in love and sharing your life with another.
"At best, it's a happy delusion — these two people who truly love each other and have no idea how truly miserable they're about to make each other. But, but, when two people know that, and they decide with eyes wide open to face each other and get married anyway, then I don't think it's conservative or delusional. I think it's radical and courageous and very romantic." —Tina Modotti
The Notebook
A wildly romantic monologue that can easily bring a room to tears. Every Nicholas Sparks fan will recognize this as Noah's most moving words.
"Poets often describe love as an emotion that we can't control, one that overwhelms logic and common sense. That's what it was like for me. I didn't plan on falling in love with you, and I doubt if you planned on falling in love with me. But once we met, it was clear that neither of us could control what was happening to us. We fell in love, despite our differences, and once we did, something rare and beautiful was created. For me, love like that has happened only once, and that's why every minute we spent together has been seared in my memory." —Noah
Star Trek
Whether you're a "Trekkie" or not, this wedding reading from the movie perfectly summarizes the power of love.
"Commander, I don't think you can analyze love.
It's the greatest mystery of all.
No one knows why it happens or doesn't.
Love is a chance combination of elements.
Any one thing might be enough to keep it from igniting—a mood, a glance…A remark.
And if we could define love…predict it…it would probably lose its power." —Neelix
About Time
This line would be wonderful when read by the father of a groom.
"I'd only give one piece of advice to anyone marrying. We're all quite similar in the end. We all get old and tell the same tales too many times. But try and marry someone kind. And this is a kind man with a good heart." —Tim's Father
The Princess Bride
Hands-down the most quotable line from everyone's favorite wedding movie—and a very funny wedding reading from a movie.
"Mawwiage. Mawwiage is wat bwings us togeder today. Mawwiage, that bwessed awwangement, that dweam wifin a dream…
And wuv, twue wuv, will fowwow you foweva…" —The Impressive Clergyman
Diary of a Mad Black Woman
We love these beautifully written words from Tyler Perry.
"If I'm away from you for more than an hour, I can't stop thinking about you. I carry you in my spirit. I pray for you more than I pray for myself. And see? And that...that smile...when you smile like that, my world... It's all right. I am in love with you."—Orlando
"I know you don't believe in fairy tales. But, if you did, I'd want to be your knight in shining armor. You've been through so much. I don't want to see you hurt anymore. Now I may not be able to give you all that you're used to. But I do know I can love you past your pain. I don't want you to worry about anything. You just wake up in the morning, that's all you have to do and I'll take it from there. There's one condition. You have to be my wife."—Orlando
The Vow
Whether used as inspiration for your vows or as a ceremony reading beforehand, this wedding reading from a movie is just the right balance of lighthearted and meaningful.
"I vow to help you love life, to always hold you with tenderness and to have the patience that love demands. To speak when words are needed and to share the silence when they are not. To agree to disagree on red velvet cake, and to live within the warmth of your heart and always call it home." —Paige
"I vow to fiercely love you in all of your forms, no and forever. I promise to never forget this is a once in a lifetime love. And to always know in the deepest part of my soul that no matter what challenges might carry us apart, we will always find our way back to each other." —Leo
P.S. I Love You
Holly's mom shares some of the wisest words on love that could easily fit into any ceremony.
"Finding someone you love and who loves you back is a wonderful, wonderful feeling. But finding a true soul mate is an even better feeling. A soulmate is someone who understands you like no other, loves you like no other, will be there for you forever, no matter what. They say that nothing lasts forever, but I am a firm believer in the fact that for some, love lives on even after we're gone." —Patricia
The Fault in Our Stars
A powerful wedding reading from a movie that resonates with anyone who has fallen in love.
"I am in love with you. You heard me. I am in love with you. And I know that love is just a shout into the void, and that oblivion is inevitable, and that we're all doomed. And that one day all our labor will be returned to dust. And I know that the sun will swallow the only earth we will ever have. And I am in love with you." —Augustus Waters
Meet Joe Black
This great movie line would fit beautifully at the beginning of a ceremony.
"Love is passion, obsession, someone you can't live without. I say, fall head over heels. Find someone you can love like crazy and who will love you the same way back. How do you find him? Well, you forget your head, and you listen to your heart…Cause the truth is, honey, there's no sense living your life without this. To make the journey and not fall deeply in love, well, you haven't lived a life at all. But you have to try, cause if you haven't tried, you haven't lived." —William Parrish
Stardust
A movie quote that explains the vast, unknowable mystery of love.
"So, yes, I know that love is unconditional. But I also know that it can also be unpredictable, unexpected, uncontrollable, unbearable and, well, strangely easy to mistake for loathing. And, what I'm trying to say, Tristan, is I think I love you! My heart, it feels like my chest can barely contain it. Like it doesn't belong to me anymore. It belongs to you. And if you wanted it, I'd wish for nothing in exchange. No gifts, no goods, no demonstrations of devotion. Nothing but knowing that you love me, too. Just your heart in exchange for mine." —Yvaine
Love Actually
Romantic-comedy fans will love this movie line that never goes out of style.
"Whenever I get gloomy with the state of the world, I think about the arrivals gate at Heathrow Airport. General opinion's starting to make out that we live in a world of hatred and greed, but I don't see that. It seems to me that love is everywhere. Often it's not particularly dignified or newsworthy, but it's always there - fathers and sons, mothers and daughters, husbands and wives, boyfriends, girlfriends, old friends. When the planes hit the Twin Towers, as far as I know none of the phone calls from the people on board were messages of hate or revenge - they were all messages of love. If you look for it, I've got a sneaking suspicion love actually is all around." —The Prime Minister
Shakespeare in Love
This romantic movie quote could be read by a friend, relative or even an officiant.
"I will have poetry in my life. And adventure. And love. Love above all. No… not the artful postures of love, not playful and poetical games of love for the amusement of an evening. but love that…overthrows life. Unbiddable, ungovernable, like a riot in the heart, and nothing to be done, come ruin or rapture." —Viola