The Wedding Vows Template You Totally Need (Admit It)
We know that finding the right words to recite is NOT the easiest feat, so we've put together a wedding vows template to help you write the most memorable words.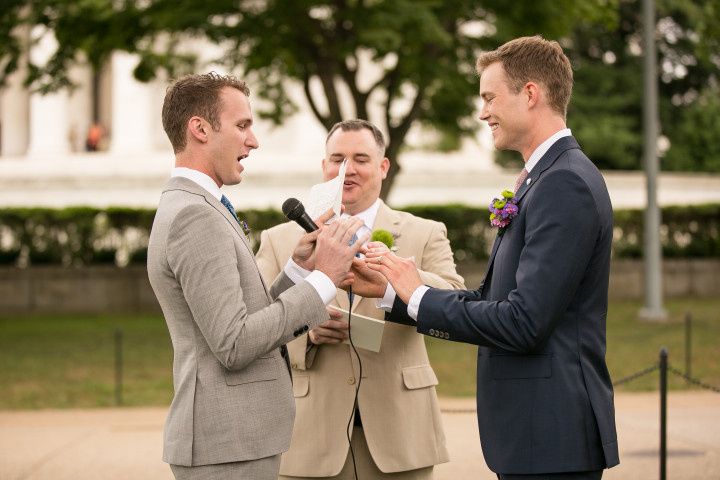 With over one-third of couples writing their own wedding vows, it's something you and your partner should consider. If you're not the best at writing your deepest feelings (who is?) you might need a wedding vows template to help get you started—and that's totally okay. Using guidelines for your wedding vow structure isn't cheating—it's just helping you organize your thoughts in an effective way, so that you'll be comfortable and confident in front your family members and friends on the big day.
Check out our easy, five-step wedding vows template to get started creating something meaningful and personal for your ceremony.
Step One: Be Timeless With A Twist
When it comes to this wedding vows template, we recommend starting out by talking about what marriage means to you. Consider including one of your favorite lines from a book, poem, or song as part of your wedding vow structure. Keep this part short, but allow it to introduce the fact that you're here to marry your beloved.

Example: I, Brian, take you, Caitlin, to be my wife. "You and you alone make me feel that I am alive. Other men it is said have seen angels, but I have seen thee and thou art enough." - George Moore
Step Two: Reference Some Relationship Highlights
Now it's time to take a look back at your relationship. How long have you been together? Three years, six years, maybe even more? Try to recall all of those relationship "firsts" you experienced together as a team: the first time you got the courage to call, the first time you went on a dinner date, the first time you held hands, the first time you brought your better half home to meet your folks, the first time you actually argued (and apologized), and the first time you talked about forever. A wedding vows template is not complete without sharing some memorable moments from throughout your relationship.

Example: I know this is true because the moment you walked up to me on the beach during Memorial Day, you brought butterflies to my stomach that never left—literally!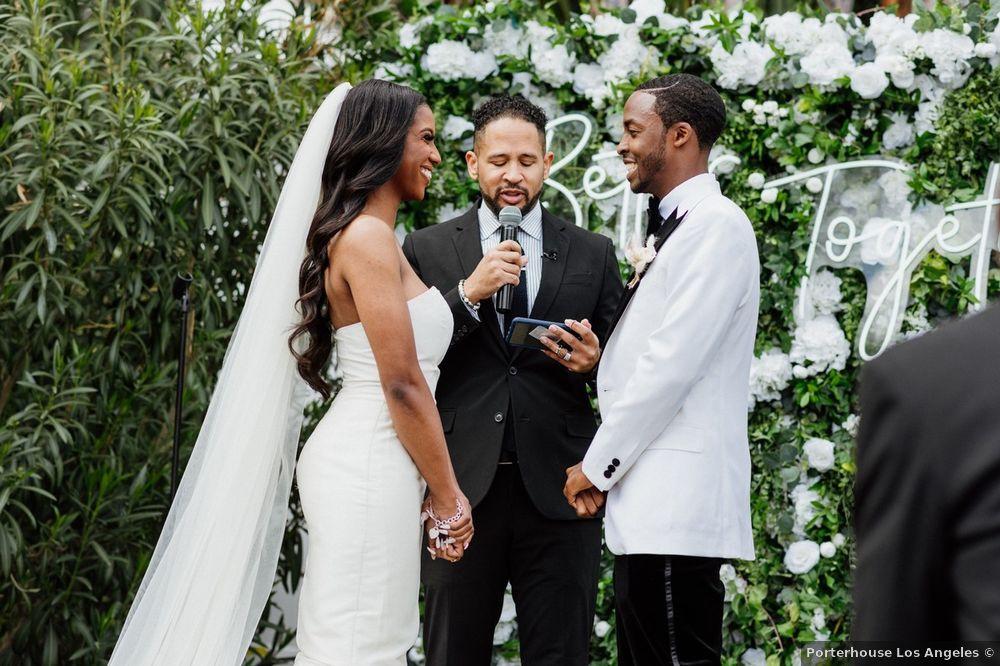 Step Three: Share Sentimental Qualities
If you're writing your wedding vows, talk about how your partner brings out the best in you, and vice versa (you can brag a bit here if you desire!). For example, one person might possess a quiet, shy demeanor, while the other might possess a louder, outgoing demeanor. Compliment your beloved on all the ways they have made you who you are in this world.

Example: There are too many qualities that come to my mind. One, you are extremely thoughtful. You treat every day like it is a special occasion to celebrate with cake and cupcakes. Two, you are extremely faithful. You would not hurt a fly. And three, you are extremely adventurous. You keep me on my toes with your happy-go-lucky attitude.
Step Four: Include "I Love You Because..."
You could shout these three words from the rooftop a lot: "I LOVE YOU!"—so it's a must in this wedding vows template. If you are searching for a little inspiration, we recommend picking up a copy of What I Love About You By Me by Knock Knock. It contains fun fill-in-the-blank lines to help you describe your affection at the altar.

Example: I love you because you make me laugh when you clean. Despite my messiness, I am thankful that you keep our home lemon-breeze scented. You are always prepared to whip out a Lysol wipe in times of need.
Step Five: Make Your Promises
Before you seal the deal will a smooch, make a few promises for the future. You might be (barely) holding back tears by the end of your exchange, so feel free to add a bit of humor to your wedding vow structure if you'd like!

Example: I promise to give you the remote on the days you want to watch The Real Housewives of New York, I promise to let you sneak a box of Cheez-Its as a late-night snack, and I promise to let you go to bed early like a grandma, even on the weekends.