How to Survive Meeting the In-Laws for the First Time
Ready to meet the in-laws? Get ready to convince them you're the best candidate for the biggest job they've likely ever interviewed someone for: marrying their child.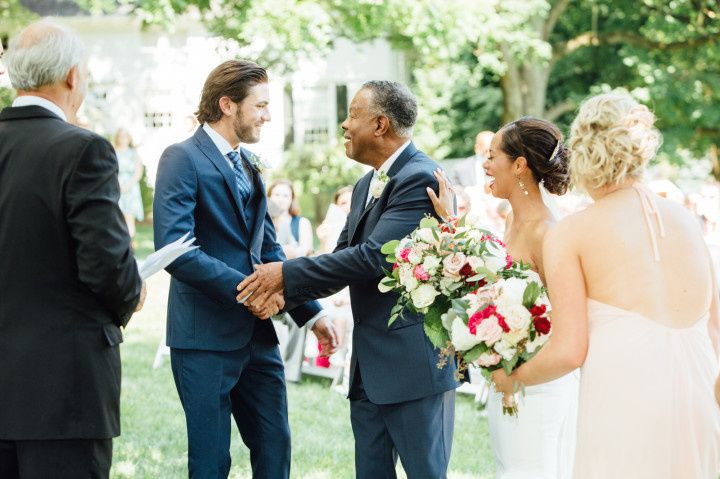 You've finally found "the one." Congrats! But it's not time to breathe a sigh of relief quite yet. First, you've got to get through another challenge: meeting the in-laws. Yikes! Clearly, this is more than just another meet-and-greet. You'll have to convince your partner's parents that out of all the "fish in the sea," you're the right person to marry their child and make him or her happy for the rest of your life together. While meeting the in-laws can be nerve-wracking, remember that your partner adores you and chose you for a reason, so his or her parents are more likely than not to follow suit!
To help you navigate meeting the in-laws, we asked top relationship experts how to score a rave review.
Know the odds are in your favor.
Despite the exaggerated scenes in movies like Meet the Parents or Monster-in-Law, your S.O.'s parents are actually rooting for you—they understand that marriage is meant to be a life-long commitment, so they truly want to like you. "They want what's best for their child, and if that means you, they want to love you," says Celeste Holbrook, Ph.D., sexual health consultant and educator. "They'll be looking for reasons to think you're the bee's knees, so just show up and shine!' In other words, be yourself when meeting the in-laws, and let your partner's decision to be with you make them proud.
Feel confident about how you look.
When it comes to what to wear, take your cues from what you know about your future in laws. Are they super casual? If so, dressing up too much could make both them and you uncomfortable. Do they tend to dress a bit fancier? If so, dressing too casually could cause you to seem dismissive of this important event. Remember, first impressions stick, so take the time to select an outfit that's appropriate for the occasion, but still in line with who you really are. "Showing up a bit manicured, comfortable, and pulled together is going to come across as thoughtful and impressive," says Carmel Jones, a relationship expert and writer for the website thebigfling.com.
Offer a small gift or goodie.
Though you won't need to do this each and every time you see his 'rents, it's a nice gesture to bring something small when you're meeting them for the first time. "Just a little something as a token of respect is fine," says Diana Anzaldua, a licensed clinical therapist in Austin, Texas. "If you meet at a restaurant, there's really no need to bring anything. But if you go to their home, consider bringing along a nice bouquet of seasonal cheerful flowers or a fresh-baked dessert like scones or cookies to show off your baking skills."
Prepare in advance.
Before meeting the in-laws for the first time, make an effort to learn a bit about them. Ask your partner questions like where their parents and family are from, what type of activities they enjoy, and what topics of conversation they like to engage in. This can also help forewarn you about certain hot topics you might want to steer clear of mentioning. "For the first meeting, avoid controversial issues like religion and politics. If your in-laws bring it up, it's okay to have an opinion, just make sure to read the room. You're about to know these people for a very long time," says Jones.
Find common ground.
As topics arise in conversation, feel free to talk about yourself when meeting the in-laws, as well. For example, if his mom says she loves Zumba, feel free to chime in and tell her about your own love of dance. And if his father mentions he loves handmade furniture, feel free to let him know your father shares a similar interest, and maybe even that he made some of the furniture in your home.
Center the conversation around them.
Don't get too caught up in having your in-laws learn about you: this is your chance to learn about them, too! That's why it's important to avoid the temptation to ramble on about yourself all night, and instead, direct the conversation to things they want to talk about. "Ask them how they met and they'll probably give you tons of information that might provoke follow-up questions," says Jones. "Or, ask about childhood stories related to your partner. Anything that requires a bit of family history or personal stories is going to show that you are interested in who they are as people, and how you fit into their idea of family. It's much more interesting than asking a question about their day or work life."
Avoid checking email or answering text messages.
In our technologically saturated world it's hard to unplug, but if there's one time you should stay tech-free and focused it's when meeting the in-laws for the first time. Jones warns, "Too much time on the phone is going to make your in-laws feel that you don't appreciate their time. It also shows a lack of maturity. Make sure to make eye contact, stay in the room, and put your phone down."
Let them know you love their son or daughter.
While it might seem forward to gush to them about the love of your life right off the bat, most of the time, it's what they're hoping to hear. But, warns Jones, while your partner's parents want to know that you love their child, they definitely do not want to imagine the two of you getting intimate. So shelf the PDA when meeting the in-laws. "A kiss on the cheek is okay, holding hands or putting an arm around your partner on the couch is okay. But making out or heavy touching is not appropriate," says Jones.
Follow up.
After you meet the in-laws for the first time, consider sending a follow-up thank-you text or note. "Little moments like this show the family that you appreciate the time they've given you, and that you look forward to spending more time together as a family," says Jones. And of course, it will also bode well for the next big event—introducing your future in-laws to your own family!