A Guide to Unique Wedding Vows: Examples & Tips for Your Own
Professional wordsmiths share their best tips for how to write unique wedding vows and examples for penning the perfect handwritten vows.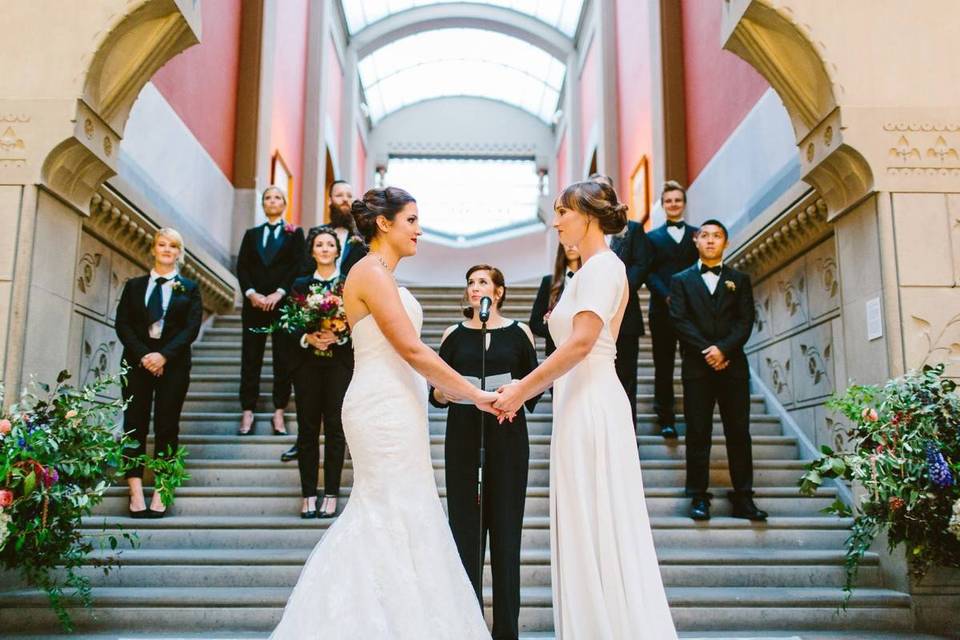 Exchanging personal and unique wedding vows can be an intimate, sacred, and incredibly special moment shared between a couple during their wedding ceremony. It allows each partner to share a more vulnerable and emotional side to themselves and speak about the relationship and union from their own perspective. Though a sentimental choice, it can also prove tremendous and overwhelming. The pressure to say the right thing or the funny thing on your wedding day may build and leave a soon-to-be spouse with writer's block.
Working with a professional wedding officiant can provide a great deal of assistance throughout this process—and you may decide that you'd prefer to go with traditional wedding vows and/or religious wedding vows instead of writing your own. But if your goal is to create your own wedding vows, the majority of the work falls on you. If your heart's vision is to put pen to paper, there's hope and help on the way. We spoke with several wedded writers across all mediums to learn how we can write unique wedding vows. Here is what they recommend.
Share small details.
When thinking about all that we want to say, it can feel almost intuitive to start with sweeping statements and grand proclamations of your undying love as part of your wedding ceremony script. Though it can be heartfelt and right for many, writer Kristin Wong (Elle, CNN Travel, Glamour, The New York Times) shares this about her now-husband's memorable vows.
"My husband and I wrote our own vows at our wedding, and his were really good. He still gets compliments. What made them so good was detail. He told the story of the first time we met, and the details – the balcony where we first saw each other, the giant bottle of sake we shared – it really made the story engaging and let people experience it along with us."
Not sure about which details to mention? Consider the following writing prompts:
What is the #1 "pet peeve" you would never change about your partner?
Why is your partner your best friend?
What are some of your partner's favorite quirks?
What was your first thought when you met and/or on your first official date?
What is your favorite memory with this person, and why?
When you imagine your partner, what image comes to mind? What are they wearing; what do they smell like; are they smiling or doing an activity?
Why is it so impossible to imagine your life without them?
Unique Real Wedding Vow Example
Here's an example of real vows, shared between a couple — Chelsea and Neal — that shared small details in a sweet and loving way.
"I remember the first time I was driving home, I think from my dad's, and I got a text. It said, 'I love you', for the first time. Being the responsible driver I am, I didn't respond. About three minutes later, I got another text that said, 'Nevermind.' So then it was, 'I love you, baby,' and 'I love you, too.' That was one of the happiest nights of my life when you sent me that night. And I vow to you that I will always love as much as I did that night."
Stay authentic to how you speak.
A well-intentioned misstep people can make is trying too hard to sound poetic or romantic if that's not their natural speaking style. Jared*, an environmental technical writer who wrote his own vows in 2017, shares this anecdote.
"I think the best vows I've heard have always been the vows that sounded natural coming out of the person's mouths. If you're funny, be funny. If you're sweet, be sweet. Otherwise, it can sound weird, forced, or contrived. You want to not only look forward to saying your vows — that will help with the pressure! — but you want to be proud of them and remember them when you look back on the day."
One idea could be to talk to your partner, loved ones, or even yourself and ask about your communication style and what would be most honest to your everyday speech pattern. Alternatively, comedy writer of the viral improv troupe (that his wife is also in!), Comedy For The Internet Danny Neely offered the following exercise, "Writing from the heart is some cliche, rom-com advice, but it comes from a good place. To give you something more actionable, try writing about your partner extemporaneously for 10 minutes. Write about memories you have of them, the things you like best about them, and why you like those things. See where your stream of consciousness takes you, and then edit down or refine those ideas."
Unique Real Wedding Vow Example
Here's an example of how one groom, Deshaun, expressed his love for his bride, Jasmine, with unique and modern wedding vows that were authentic to him and their relationship.
"After that night, and a couple real conversations, and going on a couple of dates, I knew that you were a woman I would want a future with. I have a few things I remember about the beginning. I remember when you started coming to the games, and I remember you didn't know a damn thing about basketball.[...] I remember how I was pissed off not getting to play as a freshman, but you were there to keep me positive about my end goals with your words and love. [...] Over the last ten years, we have had our ups and downs, but we have found a way to overcome."
Think about your partner's love languages.
If you're saying your marriage vows in front of a crowd, it can be tempting to think about how your words will be interpreted by loved ones. And though no one can blame you for wanting to "wow the crowd" and leave not a dry eye in sight, the focus of your personal wedding vows is ultimately on your partner. Jared adds, "It was helpful for me to think about what my wife would want to hear. She's also a writer but is also the goofiest person I know. I knew she would appreciate nods to pop-culture, something more honest and vulnerable, and dad jokes. I tried to write something that she would remember. It wasn't a tear-jerker, but I think it was perfect for her."
Here are some writing prompts when thinking about your partner's love languages:
How do you cheer them up after they've had a bad day?
What is their guilty pleasure?
What unconventional thing makes them smile most?
What is their favorite gift they've received from you?
What acts of service mean the most to them?
How does your partner make you a better person?
How do you plan to show up for your partner day after day, especially during hard seasons?
Choosing to write your own unique wedding vows is a meaningful gesture sure to make the big day all the more special. Stay focused on your soulmate, the things you love about them, and how you plan to recommit to them day after day for a lifetime, and the words will pour out of you.
Unique Real Wedding Vow Example
Guests at Devern and Jerilyn's North Carolina wedding heard the following vows from the bride:
"Devern, loving you has been like listening to my favorite love song on repeat. You are my security blanket in the middle of winter; my favorite Starbucks drink in the fall; my favorite jazz melody in the spring, and my safe haven in the summer. I don't know if you'll ever know how much I adore you, but I vow to spend the rest of my life trying to show you."
He returned her sentiments in long, sweeping statements that ended with, "I say it all the time to you, 'You'll never know how much I love you.' But because I know love is an action, and not a feeling, until my last breath on this side of Heaven, I plan to always show you. I vow to you to be your peace when in chaos; your light when in darkness; your shield from any harm. I vow to you my forever love."