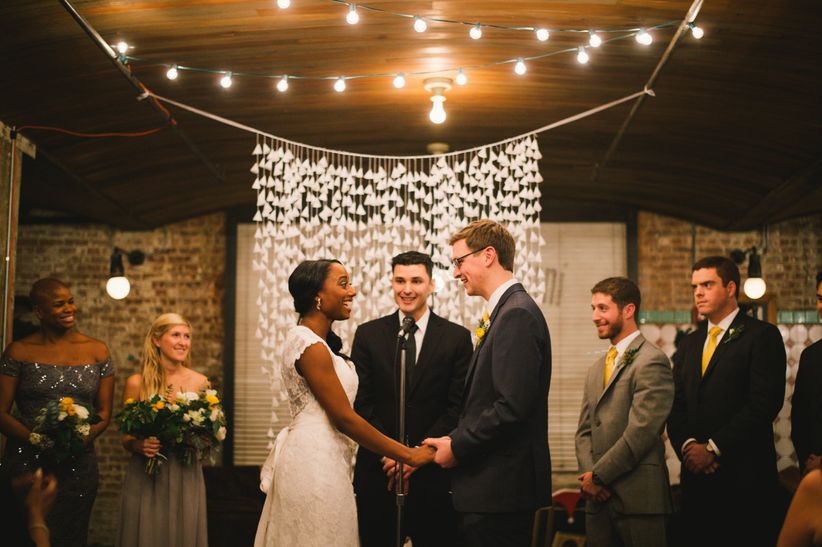 Photo: Bryan Sargent Photography
Including a reading in your wedding ceremony can be a great way to personalize the proceedings, as well as include family members or friends into your day. But, with all of the options available, how do you go about finding a wedding ceremony reading that's appropriate for you and your future spouse?
To inspire you, here are some unique and moving wedding ceremony reading excerpts, straight from expert officiants themselves.
From Les Miserables by Victor Hugo
"You can give without loving, but you can never love without giving..." (read more)

"This is one reading I've only used one or twice but I really like it a lot. It's short, sweet and very touching:" – Betty J. Coram of NJ Beautiful Weddings in Somerset, New Jersey

--

"Real Love" by Daphne Rose Kingma
"…In the end, nothing we do or say in this lifetime will matter as much as the way we have loved one another."

"This is one of my favorite readings. The last line sums up life." – Wanda Tracey of Weddings by Wanda in Las Vegas, Nevada

--

From A Gift from the Sea by Anne Morrow Lindbergh
"…Security in a relationship lies neither in looking back to what it was in nostalgia, nor forward to what it might be in dread or anticipation, but living in the present relationship and accepting it as it is now…" (read more)

"I like this reading because it is honest and true, the words visualize a relationship, and it touches our hearts." – Carolyn Burke of Carolyn Burke Wedding Coordinator/Officiant in St. Louis, Missouri

--

"How Falling in Love is Like Owning a Dog" by Taylor Mali
"…Love doesn't like being left alone for long,
But come home and love is always happy to see you.
It may break a few things accidentally in its passion for life,
But you can never be mad at love for long…" (read more)

"I often have couples who love their dogs so much they want to include them in the ceremony in some way. Yet as cute as their dog might be trotting down the aisle as the ring bearer; it's not always practical. A reading like this is a great way to personalize a ceremony for dog-lovers without the added complications that having Fido in the wedding party presents" – Rev. Laura Cannon of Ceremony Officiants

--

From The Princess Bride by William Goldman
"…Every time you said 'Farm Boy, do this,' you thought I was answering, 'As you wish,' but that's only because you were hearing wrong. 'I love you' was what it was, but you never heard." (read more)

"This reading is great for the romantic poetic man. The guy who was so in love with his bride before she even knew his name. Think, nerd in high school in love with the captain of the cheerleaders. His world is his bride and he has fought long and hard to win her heart." – Rev. Shawn Miller of Young, Hip & Married in Vancouver, Canada

--

From The Bridge Across Forever by Richard Bach
"A soul mate is someone who has locks that fit our keys, and keys that fit our locks…" (read more)

"A bride and groom who were giving skeleton keys as favors used this excerpt during their ceremony." – Nancy J. Taussig of Barefoot Weddings in Sarasota, Florida

--

"The Invitation" by Oriah Mountain Dreamer
"It doesn't interest me/what you do for a living
I want to know/what you ache for
and if you dare to dream
of meeting your heart's longing…" (read more)

"This reading is ideal for a couple who wants to emphasize their hope to make a positive impact on the world," - Carolyn Germaine of Grand Avenue Wedding Officiants in St. Paul, Minnesota
--

"You Are My Home" by Alex DuKaten
"I have learned that I can trust your constant presence
and that even in the hustle and bustle of life
in times of sorrow or uncertainty
there can be great joy…"

"This reading is a favorite of mine to offer to couples who feel that for the first time they are at peace, feel safe, and have finally found their home." – LisaAnn DuKaten of Ceremonies From the Heart in Newton, Massachusetts

--

"Now I Sing For You" by Ryan Adams
"Now I sing my life for you
I will not be leaving; going anywhere without you…" (read more)

"I like this reading because it is fresh, it speaks from the heart and it exemplifies the love a couple has for one another." – Maureen Thomson of Lyssabeth's Wedding Officiants in Denver, Colorado

--

Quote from Bob Marley
"Only once in your life, I truly believe, you find someone who can completely turn your world around…" (read more)

"This untitled reading is best used in a short ceremony for the bulk of the address, but wow does Bob Marley ever get what finding the right person is all about!" – Marie April Gismondi of Church of Ancient Ways in Kings Park, New York

--
From The Velveteen Rabbit by Margery Williams
"Real isn't how you are made," said the Skin Horse. "It's a thing that happens to you. When a child loves you for a long, long time, not just to play with, but Really loves you, then you become Real."

This is my number one-favorite reading, as it talks about love making you real, and being shabby, hairless and loose in the joints. It is one of the very best ways of describing true love!" – Rev. Judith L. Guasch in Gettysburg, Pennsylvania

--
Quote from Barbara Cage
"Love is a partnership of two unique people who bring out the very best in each other, and who know that even though they are wonderful as individuals, they are even better together."

"This quote that was mentioned was inspired by marriage equality, which is very important to us as individuals and as a company. It is appropriate for all couples, and it comes from a very powerful time in history." – Elysa Skye and Arielle Haze of LA Wedding Woman in Los Angeles, California

--