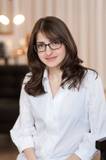 Anne Chertoff is one of the most sought after consultants in the wedding industry with years of media experience. Anne has an extensive database of business and media connections in the lifestyle and wedding industries. Anne currently works as the Chief Operating Officer of Beaumont Etiquette. Throughout her career, Anne has worked as a Wedding Trends Expert and Contributing Wedding Editor for WeddingWire. Anne also co-founded multiple wedding-related businesses. Through her boutique agency, Anne Chertoff Media, Anne consulted for various businesses across multiple lifestyle categories.
Experience
Anne began her career as an Assistant Editor at Modern Bride Magazine, and she has been focusing on weddings ever since. Anne has contributed her writing talents and wedding expertise to brands like the New York Post, Vera Wang, Four Seasons Magazine, Yahoo Style, New York Magazine, EquallyWed, GigMasters.com, and FashionEtc. Anne has worked as a Senior Editor for Brides.com, creating wedding planning and style content, and has also assumed Editor in Chief positions launching AOL's AisleDash.com and RoyalWedding.Aol.com. Anne served as a Contributing Wedding Editor for WeddingWire for over two years as well as a Spokesperson and Wedding Trends Expert for the brand.
Anne is also an entrepreneur, having co-founded The B-List agency, Twirl Weddings/Twirl New York, and The Plaza Hotel's Finishing Program with Beaumont Etiquette. Anne is currently the Chief Operating Officer of Beaumont Etiquette, where she manages and executes corporate client training.
Education
Anne attended the Fashion Institute of Technology, where she received a Bachelor of Science degree in Advertising and Marketing Communications.
Articles published by Anne Chertoff