A Complete Guide to Planning a Backyard Wedding Reception
Want to have a backyard wedding reception of your dreams? Here is everything to get you started on planning an unforgettable and unique backyard wedding.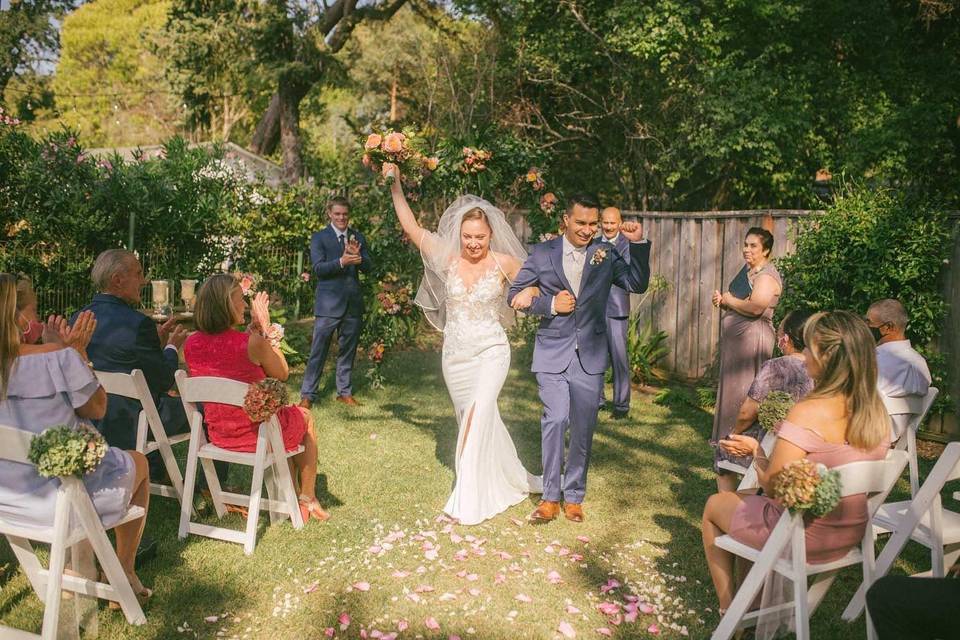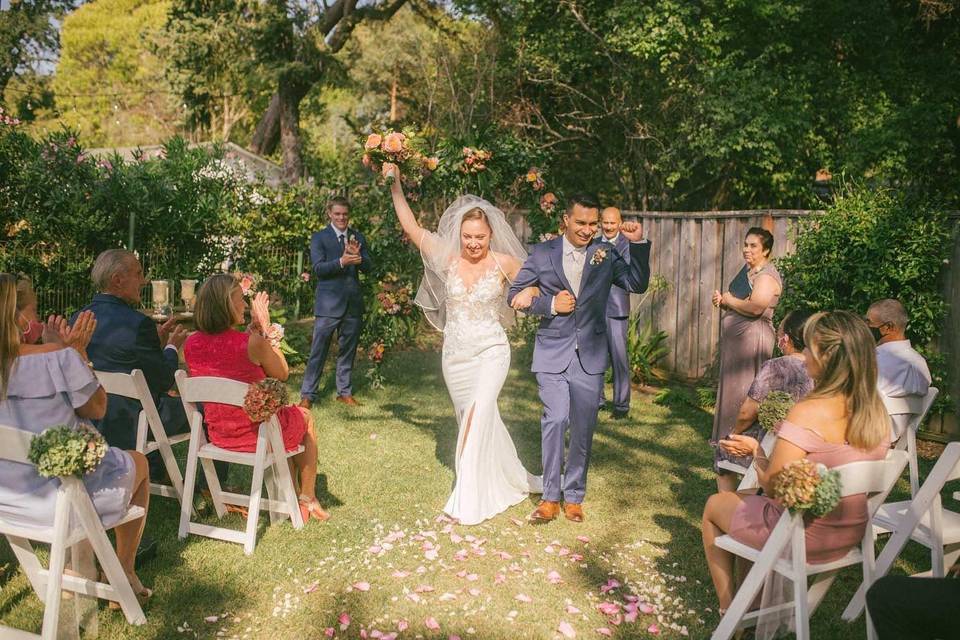 Having a backyard wedding reception at home can be very sentimental and comfortable. But it can also be a logistical nightmare if you don't carefully plan all the details in advance and hire a team of vendors who can execute your vision. It's unlikely that your home has been host to a grand affair with hundreds—or even dozens—of people, a large wait staff, and numerous cars to find parking for. Can the kitchen cook up enough food for all of your guests? Can the bathrooms handle all those people over four to six hours? Can you fit everyone in your dining room or living room? These are all questions you'll want to ask yourself before choosing and planning a backyard wedding. Keep reading for even more details that you'll need to consider, plus backyard wedding ideas that will help inspire you if you're wondering how to start planning.
What is a backyard wedding reception?
A backyard wedding is any wedding (big or small) that takes place at your home or at the home of a relative or friend. Planning a backyard wedding has long been favored by couples who are looking to maximize flexibility in terms of the wedding date, vendor selections, and decorative options—since it's your house, you can make your own rules! A backyard wedding reception is a great option if you're envisioning a somewhat casual event, or if you love being outdoors. They continue to trend amid COVID-19, since guest capacity is greatly reduced at most wedding venues across the country, and getting married outdoors at home is a safe alternative for your microwedding or Zoom ceremony.
Many couples who have backyard weddings still choose to hire a full vendor team to carry out the logistics and planning of the day. Ultimately, leaving it to the pros will help you stay more organized (and relaxed) in the long run! And even though having a backyard wedding reception is often considered to be a less costly option compared to renting a venue, it actually depends on the type of wedding you're hosting and how many guests are invited. The money you potentially save by avoiding standard venue rental fees might end up going toward your wedding reception expenses anyway, especially if you need decor rentals, lighting and sound equipment, or catering supplies.
Like any outdoor wedding, it's crucial to have a "Plan B" ready to go for your backyard wedding reception should there be inclement weather or another unexpected hiccup when the day arrives. If rain is in the forecast, you'll need to provide a place for everyone to safely shelter indoors—if your house can't accommodate that many guests, it could mean renting tents or other structures ahead of time so that you're well prepared. Umbrellas, sunglasses, bug spray, are other items you can supply to keep your guests comfortable.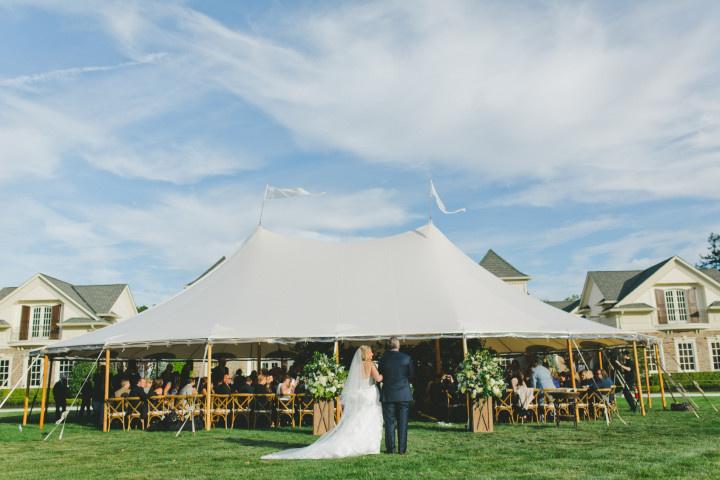 How to Plan a Backyard Wedding
Need help figuring out exactly where to start planning a backyard wedding? We've got it covered—here are 18 things you'll want to think about if you're hoping to get married at home.
Guest list
Before deciding on having a backyard wedding, take a good look at the yard and determine how many people you can comfortably fit in it. Will you be having a seated meal, buffet, or serve food cocktail-style? The format will help you configure the yard's layout—tables, chairs, and dance floor—which will aid you in planning a final headcount. If you plan on using some of the house too, figure out which part of the wedding will take place indoors, and if you can accommodate everyone. You don't want to pack them in, so to speak. It's your wedding, not a rock concert. If you think it may be tight, cut the guest list to make sure that everyone can fit.
Wedding planner
There are many logistics around how to plan a backyard wedding that are different from getting married at a banquet hall, hotel, or similar venue. Some of the additional to-dos will include removing everyday furniture and adding rentals, including a wide variety of items, from tables and chairs to tableware, lighting fixtures, generators, bathrooms and additional kitchen equipment for the catering staff. Having the assistance of a wedding planner ensures that your backyard wedding goes off without a hitch. Your planner will understand and manage all of the necessary logistics, on top of helping you find vendors to hire and ensuring that everyone has a great time without damaging your home.
Rentals
Unless you are having a very small backyard wedding reception where everyone can sit around one table, you'll most likely need to basic event rental items, such as plates, cutlery, glassware, napkins/table linens, tables, and chairs. You can work with a rental company directly or through your wedding planner or caterer. Before you sign the contract, make sure you have reviewed the meal in detail with the caterer so you know exactly which tableware pieces you will need—for example, salad plates, soup bowls, oyster forks, dinner plates, dining forks, knives, teaspoons, or other specialty utensils. Beyond the meal, you may want to rent lounge-style seating for cocktails or dessert on the lawn, standing umbrellas for shade if your wedding will take place the daytime, or specialty lighting, such as a chandelier or lanterns. If you plan on having guests in your home, you may want to store your own furniture and rent seating options that will comfortably fit everyone.
Landscaping and grounds
Call your gardener, or ask your florist, to clean the yard—front and back—to make sure the lawn is picture-perfect and update any shrubberies and bushes that have seen better days. If you want to replant, you will have to make a landscaping plan months in advance of the wedding date. If the ground is uneven or slopes, a floor may need to be erected so that dining tables and a dance floor can be placed safely.
Officiant
Some religious officiants insist on marrying couples in a house of worship. Have a conversation with your officiant about his or her feelings about performing a wedding at home. If he or she won't be able to perform your ceremony, ask if he can recommend someone who will. Or search for officiants (both religious and nonreligious) in the WeddingWire Vendor Directory to find someone in your area.
Security
Just because you're inviting friends and family to your home to celebrate your backyard wedding that doesn't mean you're okay with them giving themselves a private tour of the house. Place a decorative ribbon across entrances or staircases, with or without a friendly "Do Not Enter" message to discourage anyone from exploring. If you're hosting your wedding entirely outside (and are renting portable bathrooms), you can keep everyone out of the house by locking the doors or hiring security.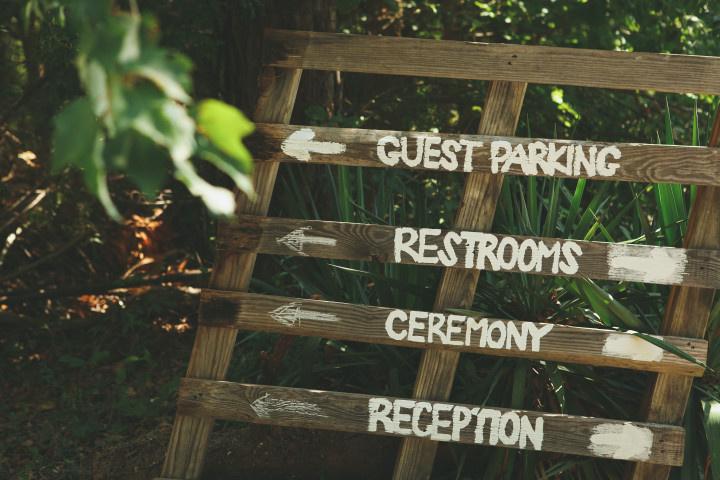 Bathrooms
It's unlikely that your bathrooms (or septic tank) can handle all of your wedding guests, so you should rent portable bathroom facilities for your wedding day. There are upscale bathrooms that come with vanities, private stalls with sinks, hot water and air conditioning. These are not the port-o-potties you'd find at a park. You can also add a personal—or homey—touches with decorative signage, small flowers on the vanity, framed photos and toiletries.
Parking
If you expect your guests to drive to your backyard wedding, check what the local laws are for parking on the street. You may want to hire a valet service so your family and friends aren't driving around the neighborhood looking for a spot. If there's a parking lot nearby, possibly one owned by a community center or a church, ask them if you can rent it (or make a donation) and use it for the hours of your wedding—either for guests to park themselves, or for the valet service to use. If there is a lot nearby you can also arrange for a shuttle service for guests to and from the wedding.
Tents
Rain or shine you should rent tents to protect guests from the weather. A sunny day can be unbearably hot, and rain or wind can be the uninvited guest that ruins your big day. There a variety of tents you can rent—with walls or without, clear tents, with windows—so do your research and find a style that fits both the grounds of your home and your vision. If you don't want to go the tent route, place one on hold anyway, in case the forecast calls for rain. You don't want to need one at the last minute and not be able to get it.
Permits
This is a super-important part of backyard wedding planning: Check with your homeowner's association and local government as to what permits you may need to have a backyard wedding, and ask about any ordinances too. There may be laws about how late you can have music blasting from the DJ's speakers, or parking regulations for commercial vehicles on your street. Apply for permits as soon as you decide to get married at home so that you don't plan most of it only to find out that a legal hiccup can cause you to change your plans at the last minute.
Generators and lighting
It's unlikely that your home's outlets can power up all the lights, AV equipment and appliances that will be in use on your wedding day. Make sure you rent generators to ensure that the power doesn't go out in the middle of the wedding's setup or during the festivities. You'll also need to bring in lighting if your celebration will go on past sunset. You can rent standard lights for service areas so your vendors can see what they're doing, and more stylized ones for the ceremony and wedding reception. Crystal chandeliers, string lighting, pin spots and custom fixtures are a few lighting options you can choose from. Candlelight may seem romantic but it's not always bright enough or safe. Some towns prohibit open flames. As your local officials what the rules are for open flames before buying dozens of candles.
Kitchen
Talk to your caterer and find out if they will cook the wedding menu off-site and warm dishes up at your home, or if they will need a full kitchen—complete with refrigerators, stoves, ovens, prep-tables, etc.—to be erected on site cook each course. If it's the latter, they'll need a tent to protect workers and the food from the elements and space on your property to prepare and cook everything.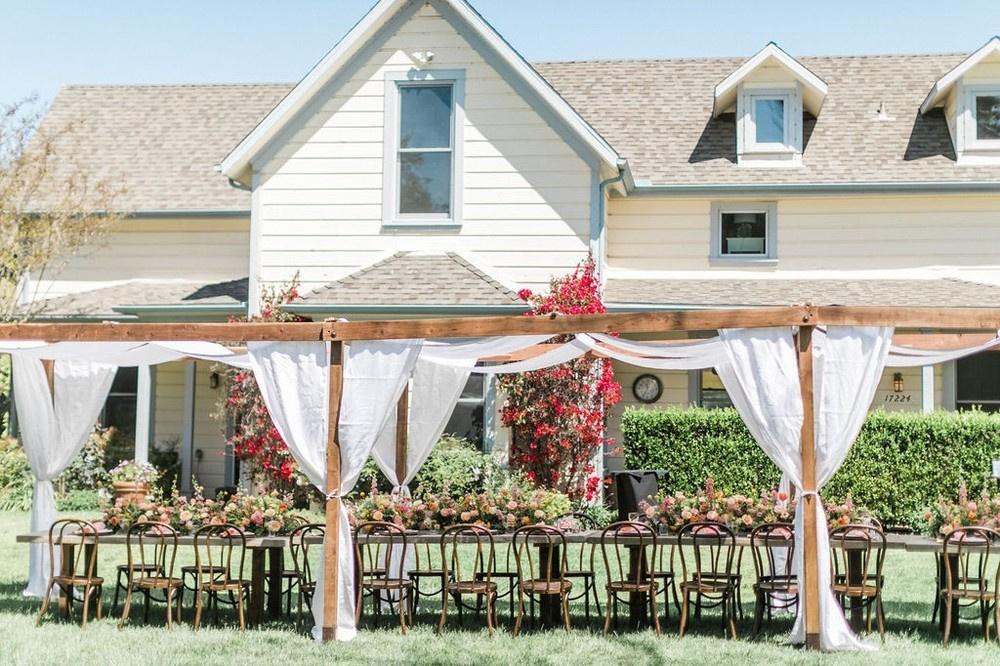 Wedding cake
Any style wedding cake will do for a backyard wedding, but remember that buttercream icing will sweat and even melt in the sun. If you opt for a buttercream-iced cake, keep it out of the sunlight, either under a tent or in the house until it's time to be cut.
Your neighbors
Take a page from Chelsea Clinton's backyard wedding ideas and send each of your neighbors a note, perhaps with a small gift, notifying them when your wedding will be held, and apologizing in advance for anything that may affect them. If you're friendly with your neighbors you can invite them to join in the fun, but regardless of your relationship, giving them a heads up will make them less likely to call the cops on your party.
Decor
Depending on how lush your backyard is, you can let nature be your wedding inspiration—whether you're planning a rustic backyard wedding or something more upscale and elegant. Recite your vows under an arbor that's already there, or you can wed in front of a favorite tree you perhaps climbed as a child. Based on the layout of the yard, your centerpieces can be minimal or elaborate, in your wedding's colors—ones that complement the flowers in the garden. You can also opt to forgo large floral arrangements and select dramatic lighting fixtures to make them the focal point of your outdoor wedding.
Garbage collection
Your two or three trash cans won't be able to contain all the garbage a backyard wedding produces, so ask your caterer and wedding planner what they would recommend for a pleasing-to-the-eye receptacle for guests and staff to toss their trash. Ask your garbage collection company if they can schedule a pick up the next morning, and find out if there will be any fees you'll need to pay since the amount of garbage will be a lot more than the usual pick up.
Insurance
You'll be taking on a lot of liability when you plan a backyard wedding so you may want to invest a few hundred dollars in wedding insurance. The liability coverage you purchase can protect you financially if someone gets hurt at your wedding or if your home gets damaged.
Your guests' comfort
In addition to a delicious meal and great music, you should ensure that your guests are not bothered by the elements. You can hand out sunscreen and bug spray in welcome bags, or have them on-site at the wedding for guests to use as needed. Keep mosquitos away with citronella candles and torches placed throughout the yard. And for female guests, pashmina wraps—in either a neutral hue or the colors of the wedding—can be available to stay warm if there's a chill in the air.