Who Will Need Transportation to My Wedding Ceremony?
You and your spouse will need to arrive at your ceremony and reception somehow, and there might be other important people who will require transportation.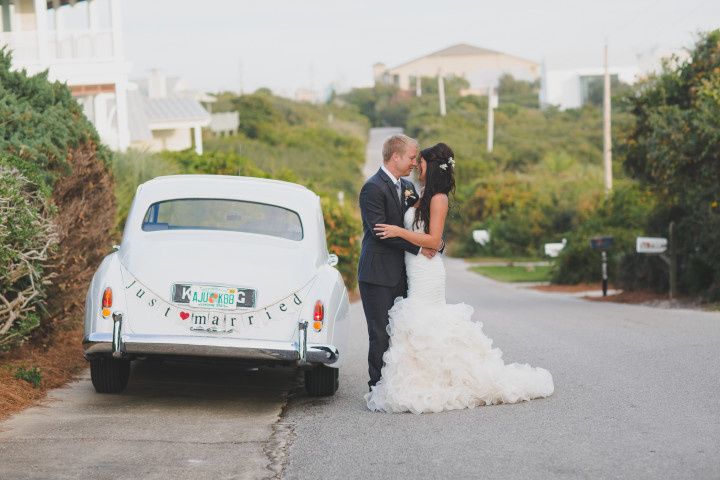 Depending on where your guests hail from, there are varying expectations regarding wedding-day transportation. How, or even whether, you provide transportation for your guests is another story entirely, but you and your spouse will need to arrive at your ceremony and reception somehow, so transportation is necessary. There might be other important people who will require transportation both for their own comfort and safety, but also to ensure that they arrive to the proceedings on time.
Here are ten ways to determine your wedding transportation.
Your Wedding Party
In many circles, it's expected, or at least customary, to offer transportation for your wedding party—bridesmaids, groomsmen, and the like, both out of courtesy, and for logistical reasons. Many wedding parties spend the morning of the wedding together getting ready at a hotel or someone's home, anyway so it's quite seamless to have them all pile into a limo, trolley, bus, etc. Not only that, but it'll give you peace of mind to have some of the more important people of your ceremony accounted for. Of course, if your crew is getting ready at your venue, transportation won't be necessary.
Your Photographer
If you want to have photos of you and your loved ones on your way to the wedding, you should definitely include your photographer in the ride. He or she will be invaluable in snapping the shots you crave—especially if you're taking a unique mode of transportation like a trolley or a bus. If you're taking vans without much room to move, it might be less critical for the photographer to be there.
Your Parents and In-Laws
It is tradition for the bride to ride with her father or parents to the ceremony, however these days, she may choose to ride with her wedding party. Either way, both sets of parents should be factored into any transportation plans for the wedding day.
Officiant
This is certainly not required, but because the officiant is arguably one of the most important puzzle pieces of your ceremony, it might give you peace of mind to know this person is accounted for. This is especially pertinent if you are having a less traditional wedding. If your wedding is being held at your hometown church, for example, your officiant is presumably your childhood priest, and he will hopefully not have much trouble finding the location. But if you're hiring an officiant who might not be familiar with the location, it's a good idea to ask about their transportation needs. It will ease your anxieties and is a kind move to make.
Guests
If you are having a destination wedding, or many of your wedding guests are coming from out of town, you may want to provide a bus from the hotel the majority of them are staying at. If this is a feasible possibility for you and your partner, both financially and logistically, it will be received well, and will hopefully discourage impaired driving at the end of the night. If you choose to do this, though, keep in mind that you will also probably want to provide transportation from the ceremony to the reception. It's not necessarily your responsibility to provide all of your guests with transportation. But, it also does not bode well if your guests arrive to your ceremony anxious and stressed out. If you provide your friends with a ride to your wedding, you (or your maid-of-honor) won't have to worry about dealing with day-of emergencies and frantic texts asking for directions. You should also consider elderly guests who may need a bit of assistance getting from one place to another, and see how you can assist with their transportation needs.
Other VIPs
There are no rules as to who you can and can't include in your transportation. Don't invite people along for the ride you know will stress you out simply in the name of politeness. Similarly, invite whoever you know will be an encouraging presence, regardless of what is customary. For example, you don't have to invite your father-in-law in your limo with you, but if you are really close with him, that might be a natural decision for you. If your grandparents are not comfortable driving and no one has offered to drive them, consider offering them a lift. Every wedding is different, but as long as everyone arrives to the ceremony safely, you'll have peace of mind.