How to Plan and Schedule Wedding Transportation
It's so important to book your wedding transportation well in advance of your big day to ensure your guests arrive safely and on time. Here's how to plan wedding transportation for your big day.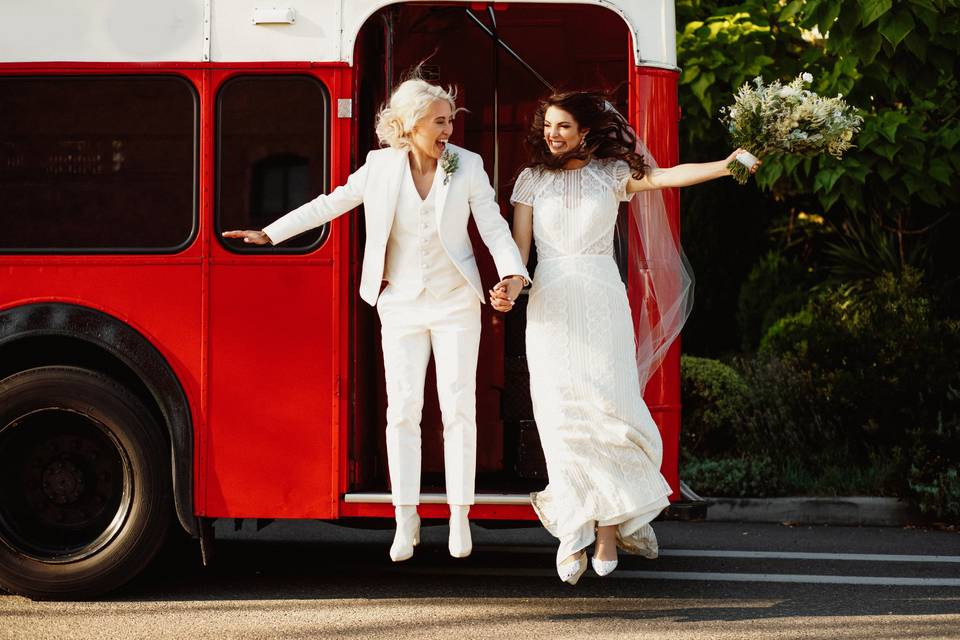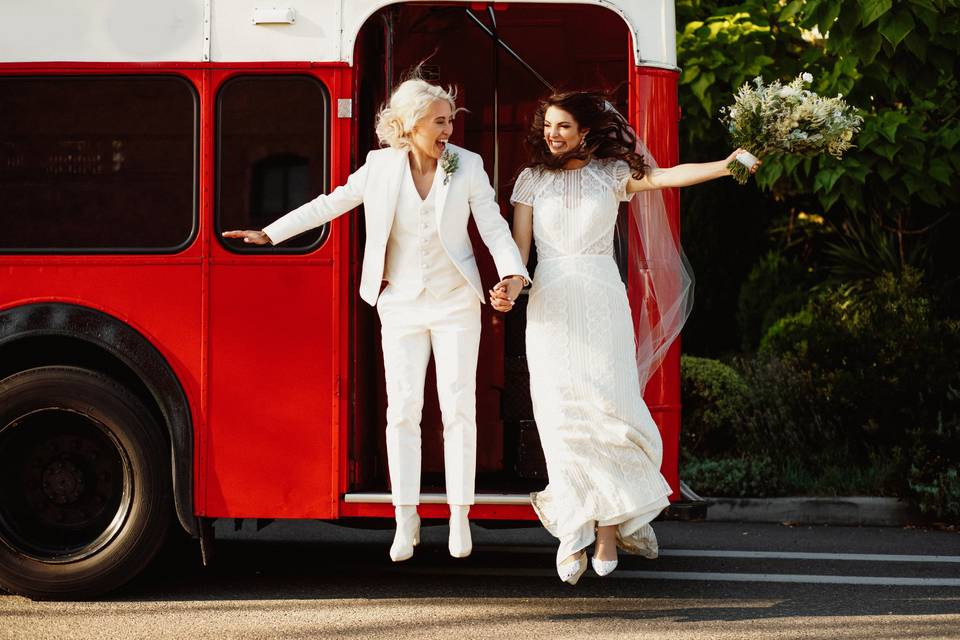 If you're thick in the throes of planning your big day, you've likely at least thought about how to plan wedding transportation—you know, how your guests will get from point A to point B, and perhaps even point C. While not all couples provide wedding weekend transportation for their guests, it's a very essential and appreciated service to offer. Not only does this prevent your guests from having to worry about drinking and driving, but it also comes in handy for guests flying from out of town who may not have to rent a car if the bulk of their transportation is provided for them. Providing wedding transportation is especially nice (and important) if your venue is hard to find or in the middle of nowhere or if there isn't easy parking, explains Jamie Chang, owner and destination wedding planner at Mango Muse Events in Los Altos, California. "Providing wedding transportation makes it easy on your guests and allows them to relax and not have to think or worry—all they need to do is show up, hop on board and have a good time," she says.
So how do you plan wedding transportation? Here, experts share their best-kept advice.
Hire professionals.
The last thing you want to do is get stuck without transportation or transportation that's running late. To minimize the risk of this, you want to thoroughly vet the company you hire. If you go the wedding-planner route, chances are he or she has established relationships with trusted transportation companies. "This company should be insured with properly maintained vehicles and professional licensed drivers," explains Joanna Sheppard, executive planner and designer at Valia Rose Events in Birmingham, Alabama. "The company should also have a vast knowledge on creating and establishing realistic transportation schedules that will make sense overall."
Book as in advance as possible.
Good wedding transportation companies will almost always book far in advance since they are higher in demand—and this is especially true if you're going the specialty route, as vintage trolleys and double decker busses will book sometimes a year in advance. "As soon as you determine the need, reserve your transportation to ensure availability and selection are prime for you," says Sheppard. "This also allows transportation schedules incorporated into your wedding website and details insert of your stationery to ensure guests are fully knowledgeable of the provided schedule."
Pad your travel time.
Timing is everything when it comes to your wedding weekend. With so many events lined up, even the slightest delay can throw each one off. "Most companies will provide an initial price that includes a window of time they will provide service for," explains Sheppard. Once the schedule is created, she recommends including a window of at least 30 minutes as a buffer pre- and post-event for unexpected delays. "In addition to traffic, accidents and weather, there will be that one person that needs to stop the bus before departing the parking lot because they left their cellphone and the return trip with drinking can always get quite interesting," she adds.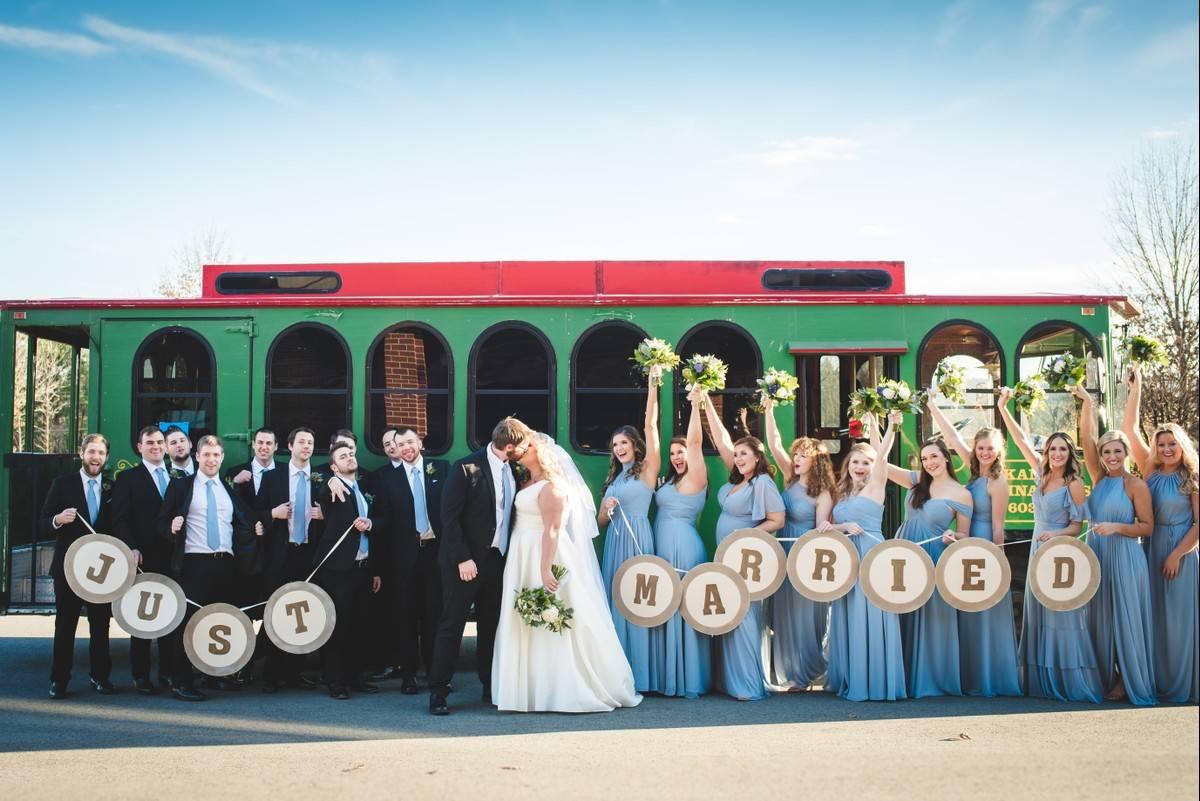 Check your city's party bus laws.
Some cities, such as Chicago, have party bus laws that require security guards, explains Kate Lerman, owner of Chicago Vintage Weddings in Chicago. "Guards are typically required when there is alcohol on board or when there is a stop in between the start of the route and the final destination, such as a portrait location for the wedding party before arriving at the venue," she says. "Be sure to budget for this!"
Include transportation on your invitation.
When sending out your invitations, Danielle Rothweiler of Rothweiler Event Design in Verona, New Jersey, recommends asking guests to check off whether or not they will be needing transportation on the reply card. "This will let guests know that they can't make a game-time decision when it comes to taking the shuttle or driving themselves," she says. "Keep a list of people that want to take the provided transportation, and give that to your wedding planner and/or transportation company so they have an idea of how many people to expect—and if there are any guests that you will need the shuttle to absolutely wait for, make sure to let them know so Grandma isn't left at the hotel while you're walking down the aisle."
You'll also want to update your wedding website with location and timing information and send out an email to remind guests when and where they should be, suggests Jamie Chang of Mango Muse Events. "Have signage printed out for the vehicles and the meeting points if possible to help your guests find the location and know they're in the right place."
Size vehicles up for comfort.
Don't be tempted to squeeze a ton of people in a small space, especially when your wedding weekend is concerned. Everyone is dressed to the nines and you want to make sure they stay that way along route. "If you have 18 guests do not rent an 18 passenger van and have your guests shoulder to shoulder," advises Sheppard. "Size up and give everyone a little breathing room especially during those unbearable summer months."
Don't forget about the drop off.
Figuring out how to plan your wedding transportation is not just about the pick up, but the drop off at the end of the night. "While your guests are all aiming to arrive at the same time, they may not all want to leave at the same time," says Chang. To make it easy on your guests, she recommends having your shuttles on standby a couple of hours before the end of the night. "This allows guests to leave when they want to and your shuttles will make multiple round trips to ensure everyone is taken care of," she adds.