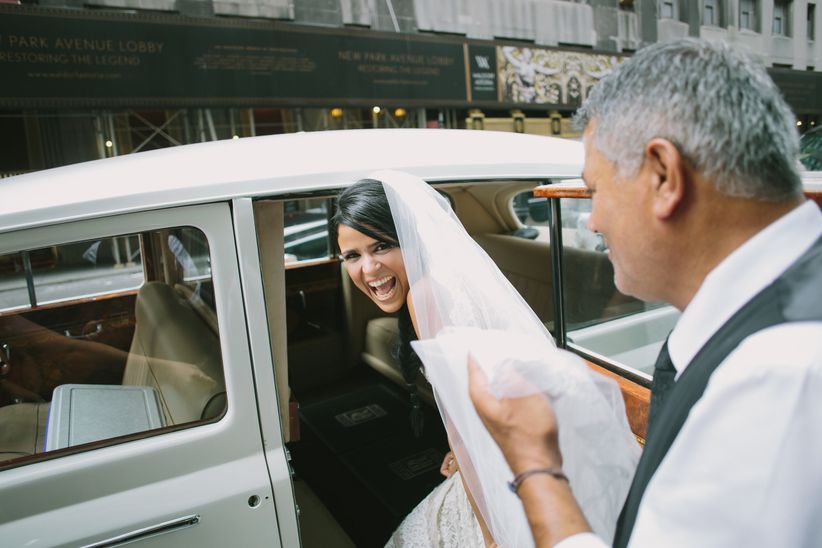 Photo: Olli Studio
If you and your guests are traveling any distance on your wedding day, you'll want to consider hiring a transportation vendor. Whether you're booking a classic limousine, a shuttle bus, or even an old-fashioned trolley, you'll need to ask a slew of questions before booking your wedding transportation pro.
Here are all the questions you need to ask a wedding transportation vendor.
What are the terms of the agreement?
You need to make sure before you pay any kind of deposit that you know the total cost, cancellation policy, drop-off and pick-up times, gratuity, etc.

What are the back-up options if a vehicle breaks down on the day of the wedding?
It is important to know what the options are if a vehicle is unable to get to the venue. Knowing your options if something were to happen will relieve stress and also make sure that there is a definite back-up plan.

Are the chauffeurs professionally hired and then trained?
You want to make sure that whoever is driving you on your big day has had a proper background check and also has gone through training.

Are the vehicles properly insured?
Accidents can happen and if they do, you want to make sure that your vendor is covered and it not be on you!

Will the vehicles have their own GPS system?
Make sure that the chauffeur will have directions to your venue. Nobody wants to get lost on the way to the venue, so make sure the directions are clear.

What is the maximum capacity for each vehicle?
Knowing how many people can fit into each vehicle is always a good idea, and make sure it works with your guest count.

Will beverages/food be provided?
If you are wanting to have a toast while you cruise to your venue then this is a great question. Talking with your vendor about what will be available/allowed will let you be able to plan ahead.

What do you recommend for timing?
Asking how long a service last is a great question, as well as discussing pick-up and drop-off times. This will help you avoid being late by making sure the driver knows and agrees to your itinerary.

What type of vehicles do you offer?
It is always a good idea to ask about the different kinds of vehicles your vendor provides. That way you can choose which works best for you and your guests.