6 Ways to Save Money on Wedding Transportation
Wedding transportation is an important expense that couples often forget to factor into their budget. Here are six creative ways to save money on wedding transportation.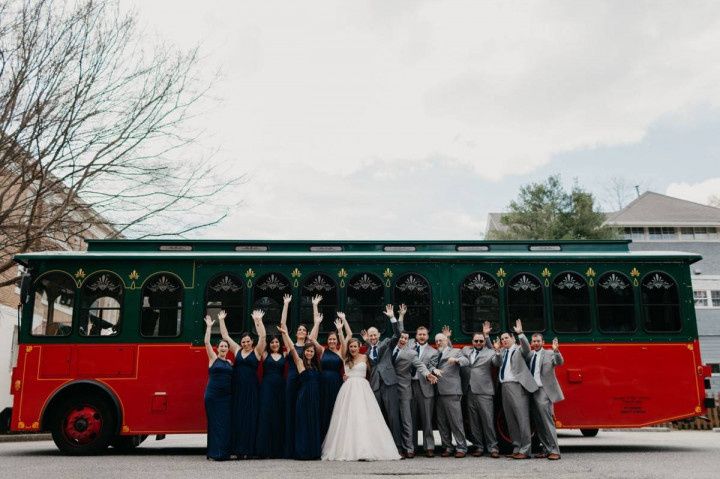 No one ever said planning a wedding was affordable, especially with hidden costs you may have skimmed over while planning your budget. Of course, you probably accounted for the prominent line items like the venue, food, and attire. However, you may have forgotten to factor in less obvious (yet logically necessary) expenses, including how to save money on wedding transportation. Between the ceremony to reception transport, late-night shuttles, and that impossibly cool getaway car, transportation costs can add up in a hurry. But, if your transportation wishlist doesn't seem to fit within your budget, we've got you covered.
We're walking through how to save money on your wedding transportation, all while working with the experienced pros who can help your dollar stretch further.
Think about proximity.
There are so many factors to consider when choosing your venue, and proximity should most definitely be one of them. To strategically save on transportation, try to select a ceremony site that's both close and convenient to your reception venue and guest accommodations. Or better yet, find a venue that offers space for the ceremony, reception, and accommodation all under one roof. If you're lucky enough to find an all-in-one space, you'll be able to eliminate a significant amount of transportation costs.
Pick your priorities.
When it comes to saving money on wedding transportation, don't be afraid to take a "less is more" approach. Rather than arranging transportation for your entire guest list, try booking a fun mode of transport for the wedding party. Large-scale options like a limo, party bus, or trolley are all just right for the job. Or, if you're working with an extra tight transportation budget, simply organize a special car for the two wedding day VIPs - you and your love, of course!
Skip pre-ceremony transport.
If you do plan to arrange transportation for everyone on the wedding day, don't feel added pressure to shuttle guests from hotels to the ceremony site. More than likely, many guests will be arriving from out of town or might be rushed and inclined to grab a cab or Uber for pure convenience. Just make sure to include clear directions and parking instructions at the ceremony location, so each one of your guests can arrive on-site without a hitch.
Bigger is (usually) better.
When booking wedding day transportation, keep in mind that, in general, the bigger the vehicle, the better the value. Larger vehicles that can hold a whole group of people will often save pretty penny over ordering many small cars that can only seat a few. While they may look impossibly cool, skip the two-seater sports cars and opt for more spacious options like a bus, van, or shuttle.
Think outside the box.
Every couple wants an epic getaway car, but if you're looking to trim costs, a Rolls Royce might not exactly be the most realistic choice for your budget. Instead, get creative with your grand exit strategy and consider other options that fit within your style, location, and venue. We love unique options like a vintage cab for city weddings, a golf cart for country club events, a boat for seaside celebrations, or a moped for destination affairs.
Consult with the pros.
While you may feel tempted to DIY the wedding transportation situation, you'll ultimately save money by working with professionals who really know their stuff. Not only will they eliminate all the headache of organization and logistics, but they can help identify travel solutions that offer the most value for your dollar. The pros can guide you to those cost-effective vehicles over the top-of-the-line models, and provide valuable insight every step of the way.