11 Factors to Consider Before Planning a Tented Wedding
Before you say yes to an outdoor tent wedding, be sure to consider these factors, from weather to utilities to, yes, your own stress level.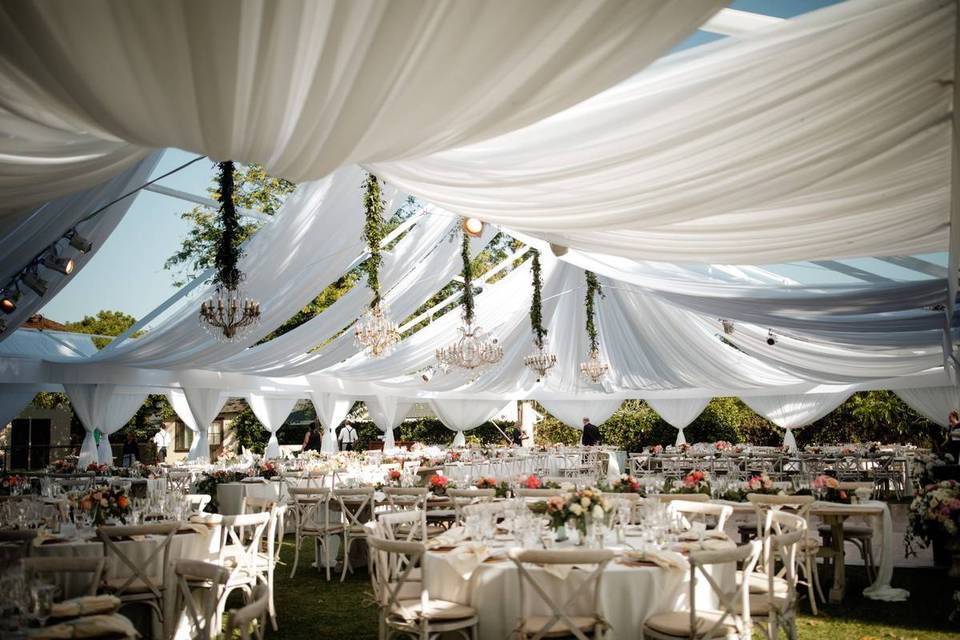 A wedding reception beneath a gorgeously decorated tent can provide the best of both worlds. You get the feel of an outdoor reception, yet you're protected from the elements. And during the COVID pandemic, there's been renewed interest in outdoor tent weddings, since there are safety benefits to hosting your event outside. Of course, planning an outdoor tent wedding is a bit more complicated than simply pitching a tent atop a picturesque green space. A wedding in a tent comes with its own set of unique challenges. Before you say yes to a tented wedding, take these considerations under advisement.
Weather
The number one consideration before booking a wedding tent should be the weather. Of course, there's no way to tell far in advance if it will rain on your wedding day, but you can take some other factors into consideration. Are you hosting a summer wedding in a location where it's sure to be sweltering? Do you want to get married on a mountaintop where snow could be drifting outside your tent? These factors aren't insurmountable, but it does mean you'll need to factor extra accessories into your budget – like air-conditioning units or fans in the summer or propane heaters in the winter.
Investing in sidewalls for your tent to block out potential rain is also a must. "Tents can withstand a lot of weather. If done right, you won't even know there is a storm outside," says wedding planner Elle Ellinghaus of Elle Ellinghaus Designs in Baltimore, Maryland. "Literally, I had a tented wedding during Hurricane Joaquin in 2015. Outside was miserable, but we arranged for special precautions that week and inside the tent was lovely!"
Budget
A wedding tent is basically a blank canvas, which is wonderful for making your wedding vision come to life. But it also means nearly everything has to be rented a la carte—and pricing varies widely. From tent size to lighting to a dance floor to furniture rentals, a tent rental and its attendant accoutrements can add up quickly—and the more luxe you go, the higher the cost. Another added expense? The set-up. "Professional companies for tent and lighting installment are highly recommended," says wedding planner Wendy Prindle of Life Styled Events in Austin, Texas. "They will be able to ensure proper set up so that wind, rain and power are taken into consideration and avoid big-day catastrophes."
Type of Tent
When planning an outdoor tent wedding, you'll first need to choose the type of tent or tents you'll be utilizing. Note that there are different types of wedding tent structures, as well as different types of materials (for example, sailcloth). Some venues, like country clubs or gardens, might have a specific type of tent they use or a permanent tent on site, while at other venues, like a backyard, you can have your choice of tents. Working with a reputable tent rental company will ensure that you choose the perfect tent for your event's location, size, and style. Here are the most common types of wedding tent structures available for rental:
Frame Tent
A frame tent is held up by a metal frame, and is among the most versatile of the structures for an outdoor tent wedding—meaning it can be set up on most types of ground, including harder surfaces like concrete or wood. Frame tents are popular because they are freestanding, with no poles to contend with when placing reception tables and other décor.
Pole Tent
This wedding tent is held up by poles, which create a unique peaked effect on tent's ceiling. While you'll have to work around the poles to figure out your floor plan, you can also decorate the poles in unique ways (adding greenery, for example). This type of tent structure can only be set up on a softer surface, like grass.
Marquee Tent
This tent structure features the peaked ceiling of a pole tent without the use of center poles. The framework of this tent is similar to that of a frame tent, so it can be used on both hard and soft surfaces. Marquee tents are typically smaller than frame or pole tents, and are often used as walkways or cocktail hour spaces, though they can be combined to form a larger reception tent.
Utilities
While a tent is supposed to mimic the feeling of an outdoor wedding, you'll most likely want some of the conveniences of an indoor reception – namely, you'll need electricity! Plan to include a generator in your budget for a tented reception. This allows you to reliably run a heating or cooling unit (depending on the season), light up the tent if your reception will extend into the evening and — if there's no indoor kitchen nearby — set up an outdoor catering space (likely in a separate tent) so that your guests can dine on properly prepared food. If you're hosting a backyard wedding, you might need to invest in restroom trailers so your guests don't crowd your home's bathrooms.
Décor
If you're considering an outdoor tent wedding, you've likely checked out Pinterest for design inspiration. Nearly any décor, theme, or color palette you're envisioning can be done in a tent, whether you want a country-inspired rustic wedding, a romantic garden wedding, or an over-the-top, chandelier-filled elegant wedding, but each comes with its own budget and logistical considerations. "Wedding and party tents are made in a variety of styles and materials. A basic white vinyl frame tent is probably the most common and cost efficient way to go, but other options include a clear top tent, sailcloth tent, and fabric tents," says Prindle. "Different materials are great depending on the vision of the wedding and the atmosphere that you are looking to create." Be sure to discuss your vision with your event planner or tent rental company before making the decision to wed beneath a big top. Your florist can help you choose the best decorations, including tablescapes, centerpieces, and more.
Draping
Turns out a tent is not always the most attractive structure on its own. Draping fabric to cover up a frame tent's metal frame and a pole tent's poles creates an elegant ambiance. Voile is probably the most popular fabric used for draping, though other materials such as chiffon, organza, and poly fabrics may be used as well. There are many creative ways to use fabric to dramatic effect, so work with your rental company, as well as your florist and event designer, to determine the best draping style for your needs.
Logistics
Keep your guests in mind when planning the layout of an outdoor wedding. If you're saying "I do" somewhere besides the tent, make sure guests don't have too far to walk between the wedding ceremony and reception. And remember your guests will need to use the restroom! Make sure portable toilets or indoor restrooms are nearby—and consider investing in walkway tent rentals. "If guests have to walk in the rain, cold weather or snow to use the bathroom, they will not be happy," says Ellinghaus. "This is why walkway tents are crucial if needed."
Dress Code
If you want your guests to dress up, remember that this means many female guests will be wearing high heels—with their stilettos sinking into the grass. And, if it rains, a muddy floor means the hems of pants and dresses (including a wedding dress!) could get stained – or worse, a guest could slip and fall. "If your wedding tent will be placed on grass, consider adding a subfloor," says Christine Terezakis or Dreamday Weddings & Events in Palm City, Florida. "While a tent will keep rain off your event, it won't keep rain water from running through the grass and under your tent which can create a muddy mess. A subfloor also gives a safer, more level foundation for furniture and for guest activity." With a number of subfloor options – wood, carpet, faux grass, clear acrylic – it's easy to select a subfloor that matches your décor. And consider providing heel stoppers at the reception. Your well-heeled guests can put them on to avoid sinking into the grass when they step away from the subflooring.
Venue Rules
Before signing on the dotted line, check your chosen wedding venue's rules and regulations. Is it possible to set the tent up several days in advance? This will protect the ground if it rains in the days leading up to your wedding. Are there any sound ordinances that prevent you from playing music after a certain hour? Is there a place for the caterers to set up an on-site kitchen? Make sure what you're dreaming of works with what your wedding venue allows.
Rain Plan
If you're planning to have a true outdoor ceremony and reception under the sun or stars and a tent is simply a backup in case of rain, make sure you book even the most basic tent far in advance. "We always suggest a Plan B be planned for well in advance of actually needing it," says Prindle. "When the weather starts to turn bad, tent companies are going to get bombarded with calls and inventory may be limited or nonexistent as you move closer to the wedding date. So, it's best to reserve a tent from the start or at least two or three months in advance."
Your Stress Level
Finally, remember that a tented reception may have some challenges, but in the end, it's your wedding day - so have fun! "If you are the person who will look up the history of the weather on your date for the past 20 years and then stalk the weather channel every hour leading up to the day, think about going a different way," says Ellinghaus. "Weddings are a plethora of emotion and stress and the last thing you want to worry about is weather. On the other hand, if you are the person who says, 'I would like sunshine, but if it rains I'll dance in the puddles!' then a tent is definitely for you!"