14 Backyard Wedding Ideas to Personalize Your At-Home Celebration
Planning to get married at home? These backyard wedding ideas will spark your creativity to help you plan the most memorable day.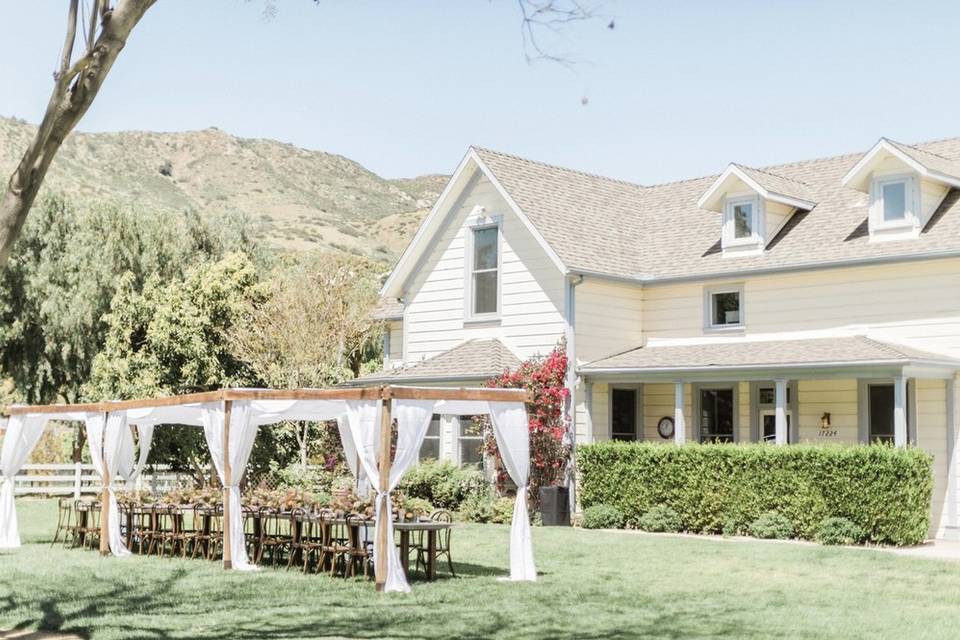 There are a lot of reasons to have a backyard wedding, whether you love the idea of getting married at your childhood home, you want total flexibility for your big day, or your original wedding plans have suddenly changed (if that's the case, read this). Since the spread of COVID-19 began, many couples have had to postpone or downsize their weddings, causing backyard celebrations to suddenly be on the rise. Marrying at home will make your wedding a truly one-of-a-kind event, and we're sharing some of our favorite backyard wedding ideas to help you pull it off. Keep in mind that backyard weddings still involve a fair amount of logistics—especially if you're hosting more than a couple dozen guests—so tap your wedding vendor team for their expertise to ensure that your celebration is one for the books.
Use these backyard wedding ideas as inspiration for your own celebration at home.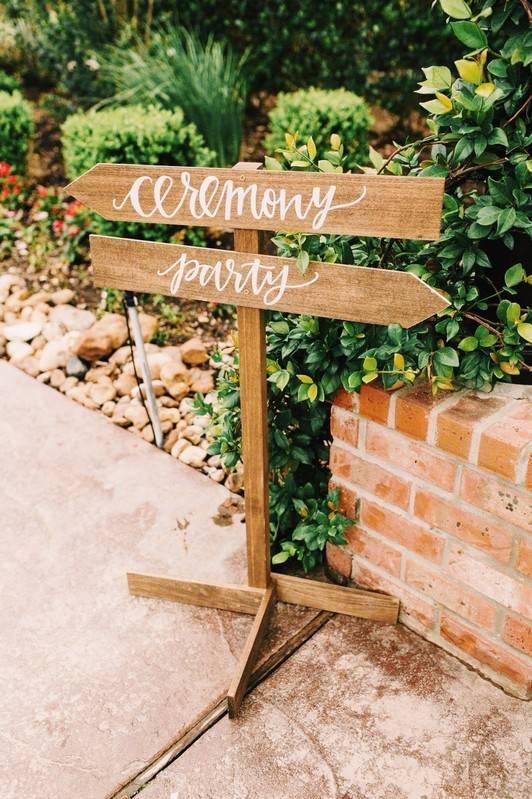 Welcome sign
A welcome sign is more important than ever if you're planning to marry at home, since guests will need to know whether they should enter through the house or head directly to the yard upon arriving. We like the idea of an arrow sign pointing the way to your ceremony, cocktail hour, reception, and other important locations, such as the restrooms or the dance floor.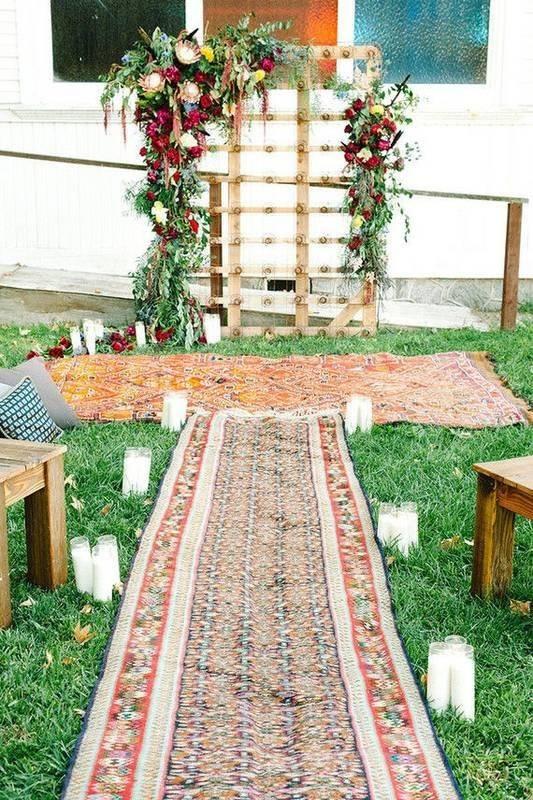 Rugs as aisle runners
Bring the indoors out by using runners to create a decorative aisle for your ceremony. This helps distinguish the space from the rest of your yard while also tapping into your wedding colors (and it keeps everyone's feet dirt-free). You can typically source rugs from local event rental and wedding design companies.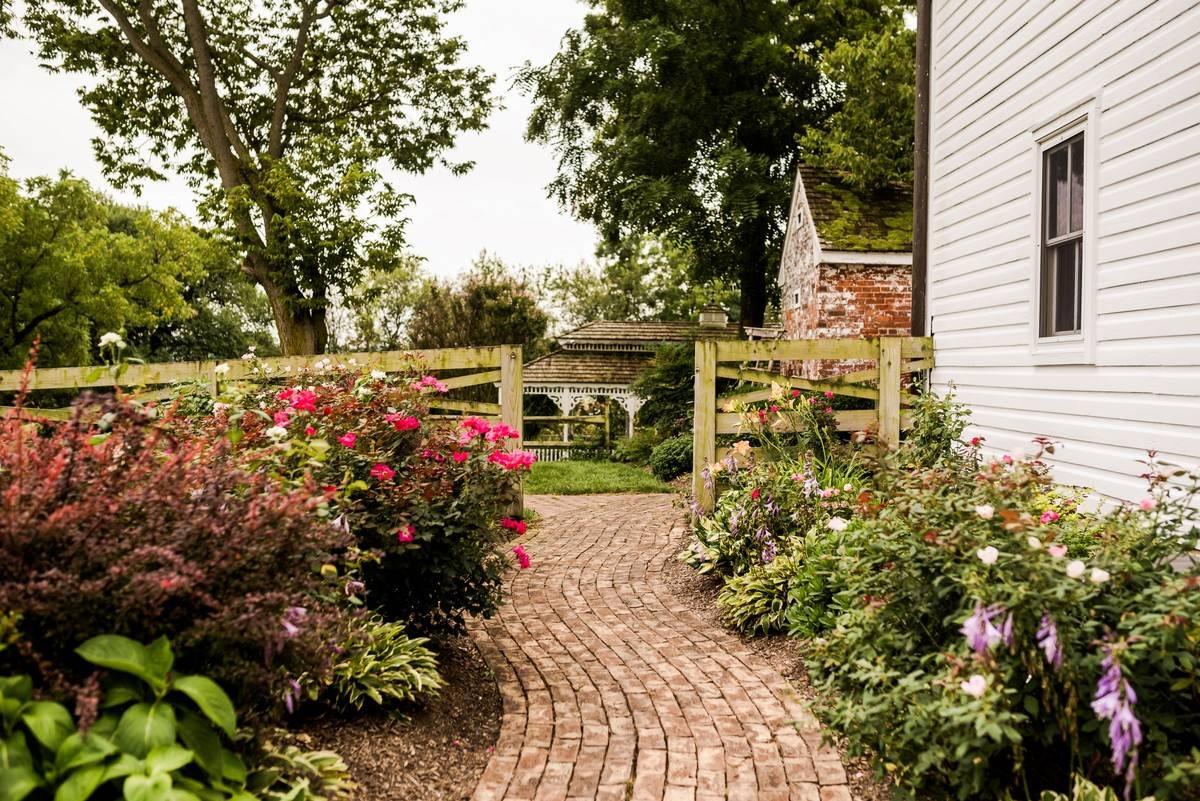 Landscaped gardens
You don't need to go all out when it comes to landscaping your yard or adding colorful plants, but a little pre-wedding gardening strategy is always worth it in the end. A few months before your wedding day, start working in the yard to make sure it's photo-ready. Actions such as clearing out dead plants, adding new mulch, and pruning bushes will help create the backdrop for a picture-perfect day.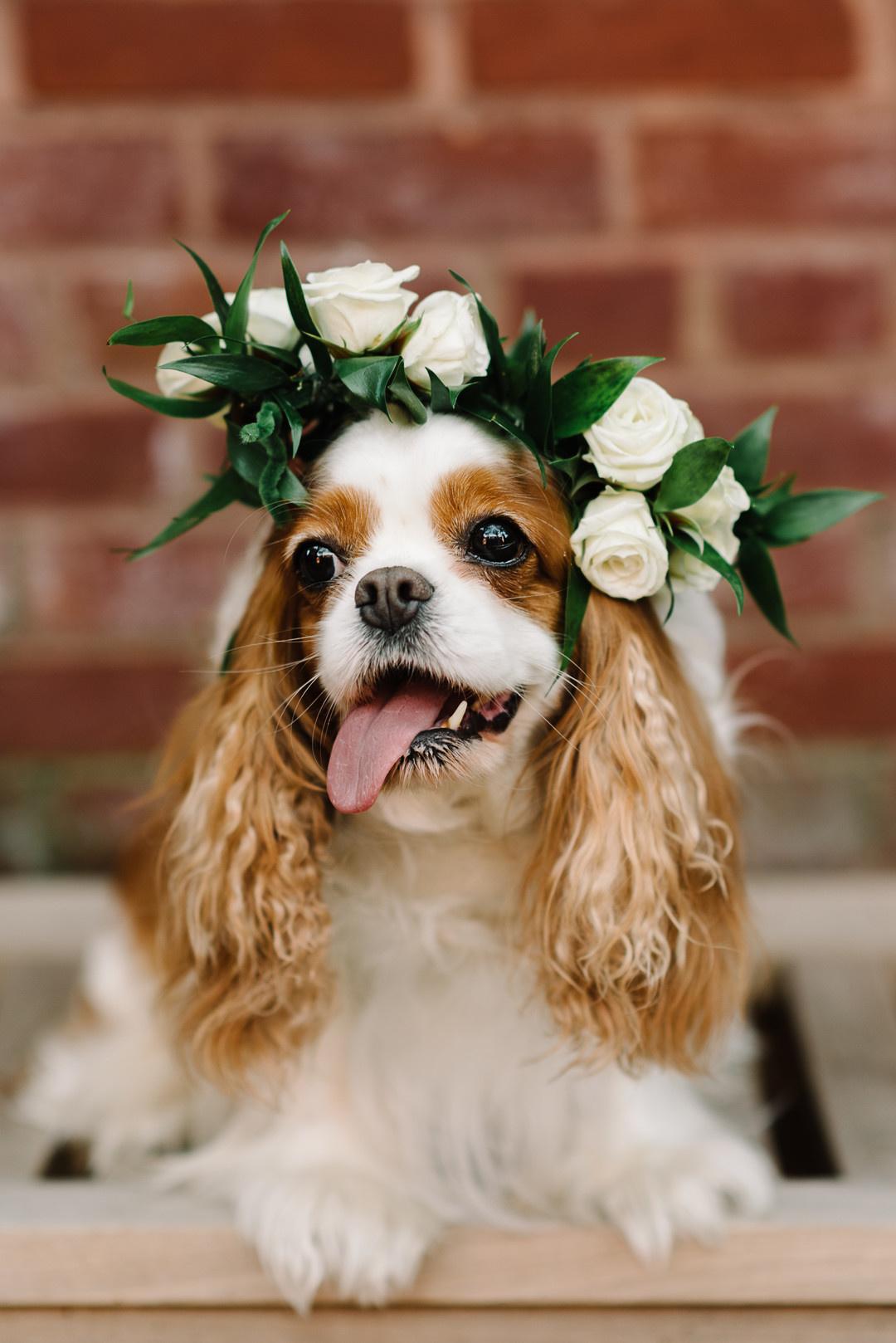 Pets
If you have furbabies that are going to be at your house on the wedding day, why not include them in the festivities? Have your dog serve as the pup of honor, take getting ready photos with your cat—the options are endless, but including a pet will help make your day even more memorable.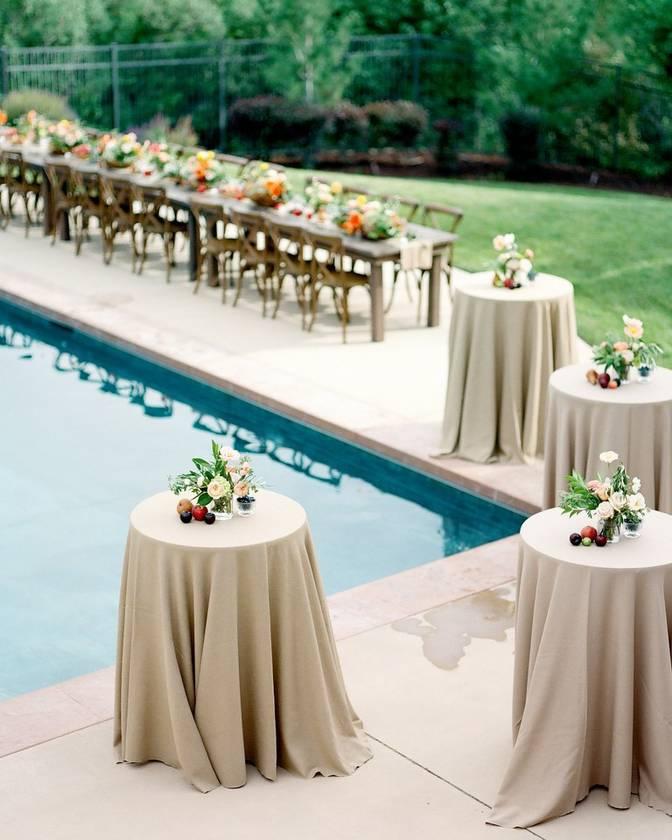 Cocktail area
Set up a cocktail or lounge area that can be used as transitory space throughout the day—for example, when guests are arriving, or waiting to be directed between the ceremony and reception. If you have an in-ground pool, the surrounding yard can double as a nice mingling space. Add floating candles or flower arrangements to the water for even more decorative flair.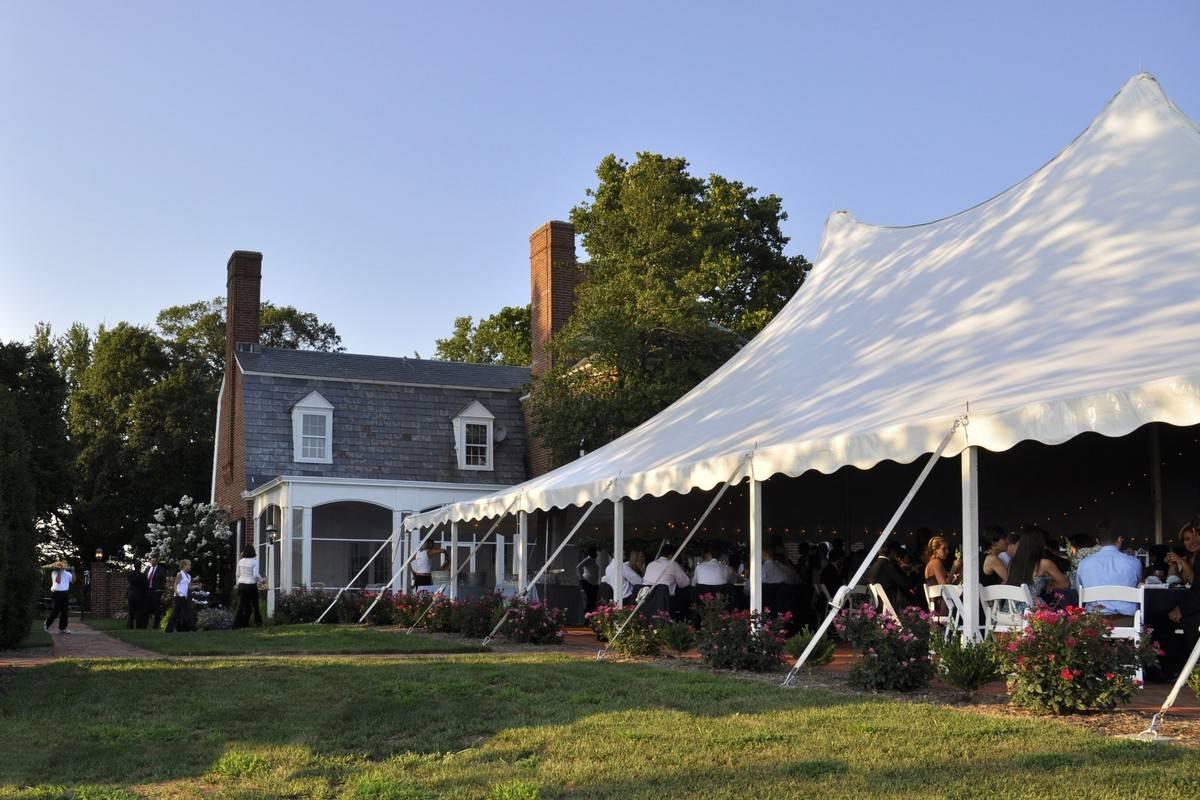 Reception tent
If you're getting married during the summer months, a marquee tent provides shade from the sun and a space for your guests to cool down. It's also a lifesaver in the event of inclement weather, or if you're having a fall wedding that might be affected by temperatures. Find a local tent rental company to ask about their options for backyard weddings, such as cloth tents, clear-top tents, and walled tents.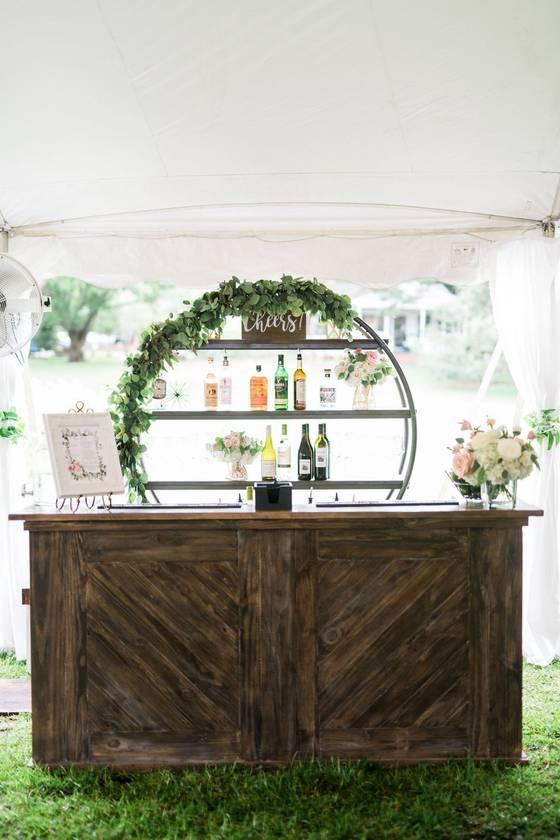 Bar station
Most wedding venues have built-in bars, but if you're getting married at home, you'll need an alternative option for serving beverages. You can easily rent a bar stand and decorate it to match your wedding theme. If you're inviting several hundred guests, consider setting up two bars with multiple bartenders to cut down on wait time for drinks.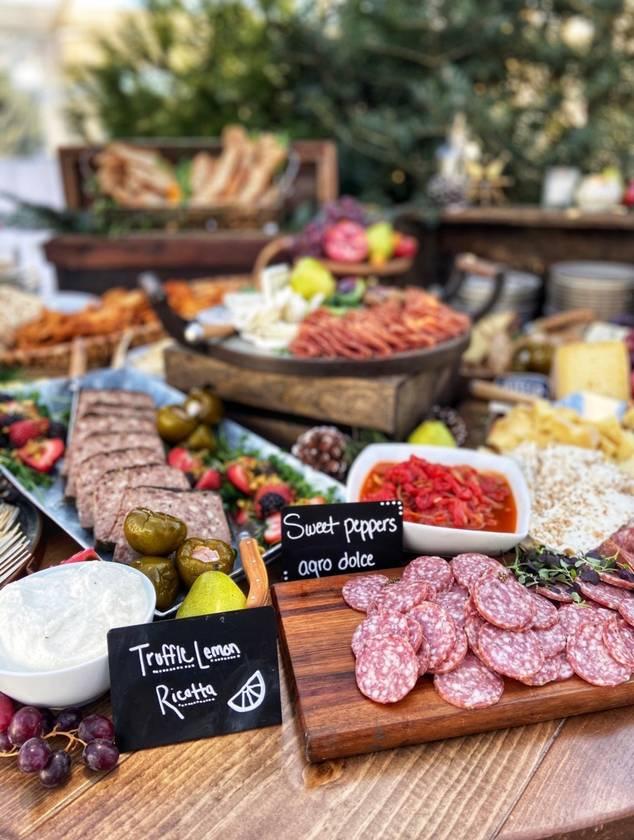 Charcuterie table
Charcuterie tables are an easy way to keep guests happy with snacks during cocktail hour, especially if you aren't planning to hire a full wait staff to serve hors d'oeuvres. Your catering company can design a colorful grazing table of fruit, meat, seafood, cheese, and other bite-sized nosh to entice guests' taste buds.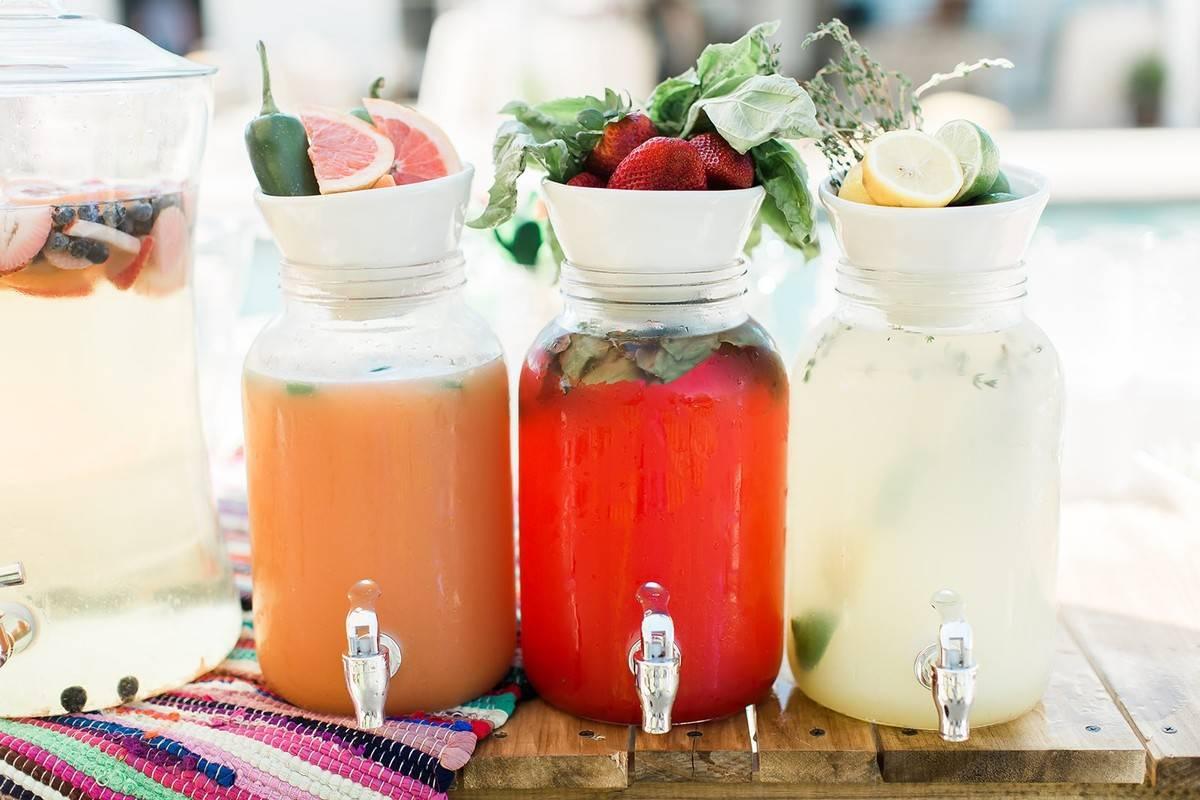 Self-serve drinks
Another way to cut down on beverage wait time is by using self-serve dispensers for some of the easiest drinks, like lemonade, iced tea, and infused water. You can also consider using these for your signature wedding cocktail while serving wine and beer from the bar.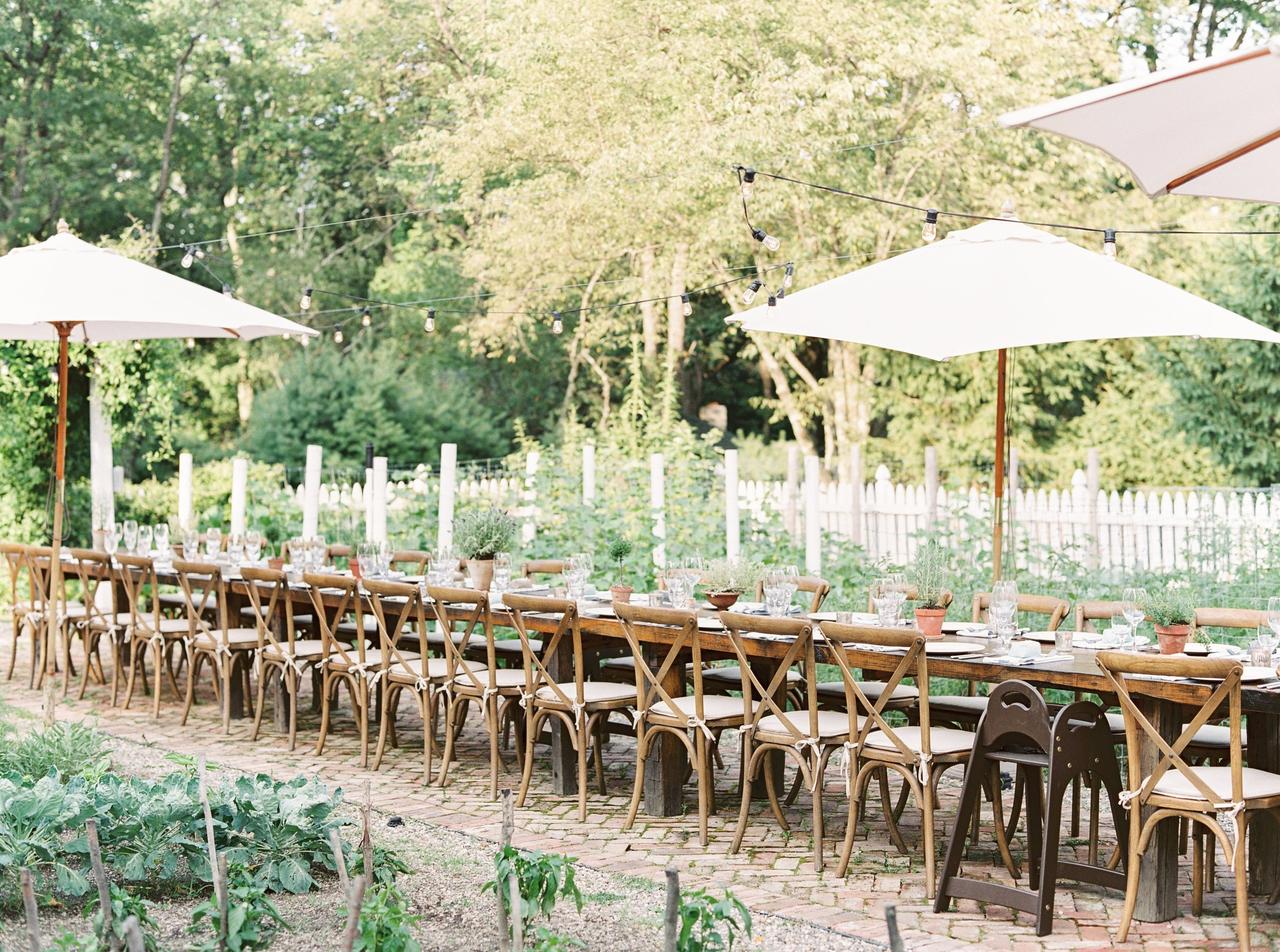 Family-style seating
Long banquet tables are one of the most popular backyard wedding ideas because they instantly encourage conversation and a laid-back vibe. This reception seating layout is a great choice if your backyard is longer than it is wide—you can fit more people into a smaller space by using neat rows of tables side-by-side.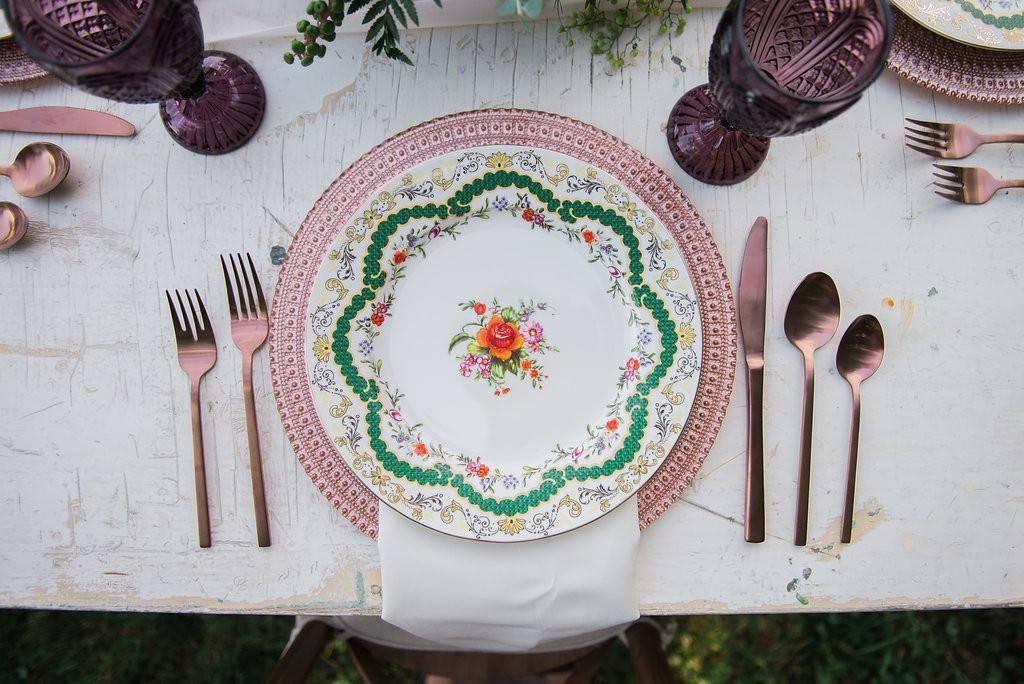 Decorative tabletop rentals
Unless you have place settings on hand for all of your guests, you'll most likely need to rent flatware, glassware, and dishes for your backyard wedding. You can source everything from local event rental companies—they'll deliver, set up, and handle the clean-up for all of the dishes on your wedding day. From vintage mis-matched plates to classic white bone china, the tabletop rentals will easily transform your wedding decor and make the event feel extra-special.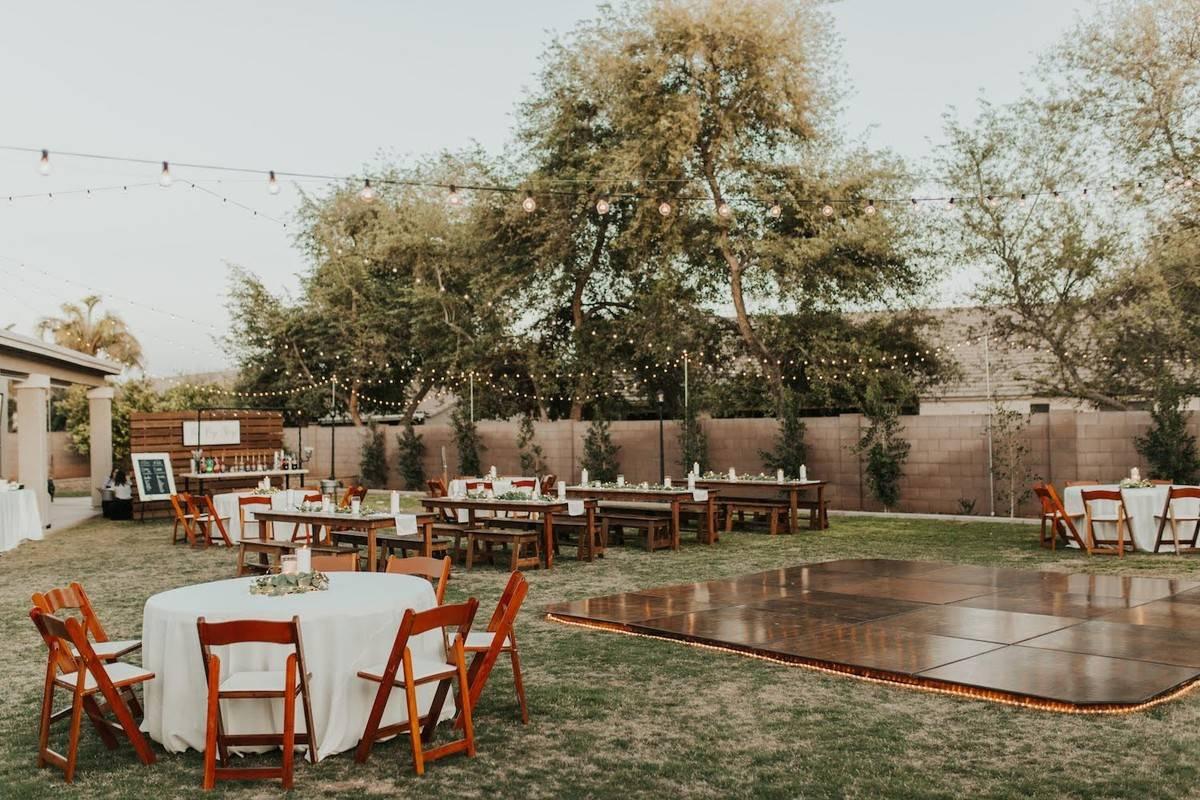 Wooden dance floor
If your yard doesn't have a patio or other paved space for dancing, adding a dance floor is one of the backyard wedding ideas we'd definitely recommend. You can choose from all different styles, including classic wood, retro checkerboard, or even colorful LED tiles for a disco-inspired effect.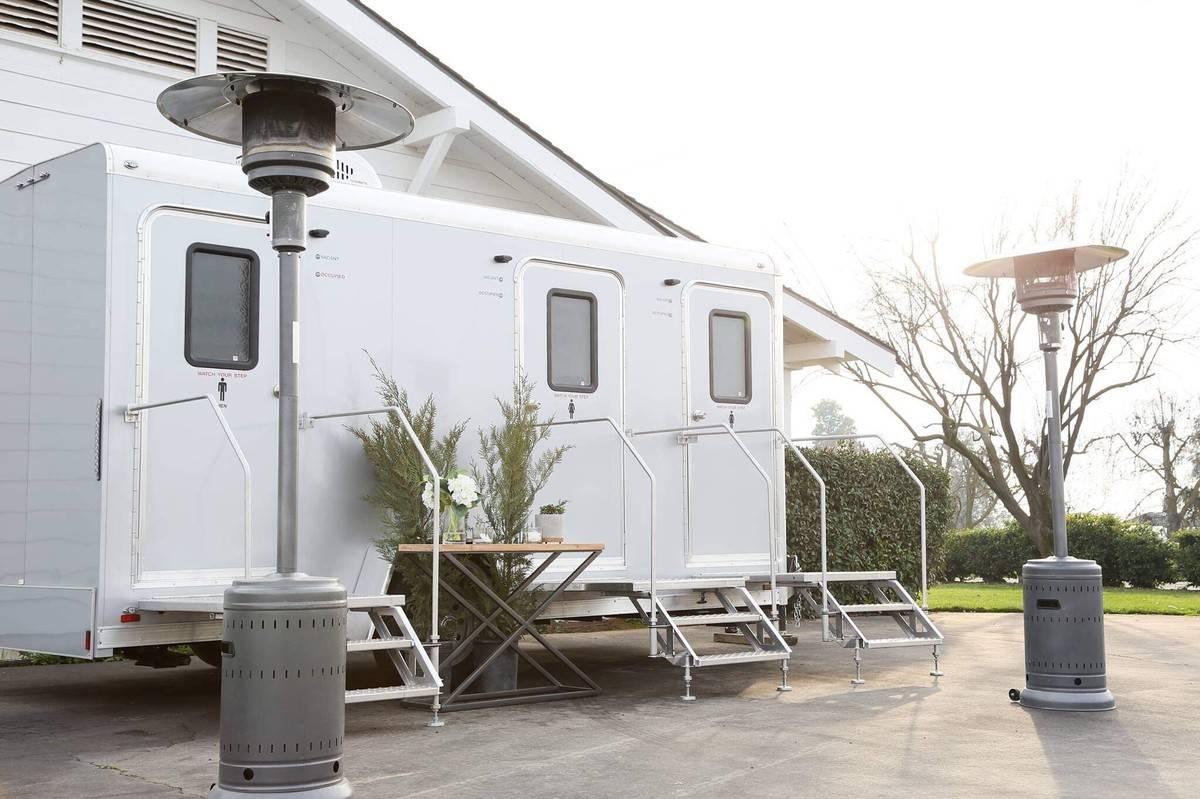 Portable restrooms
We're going to be completely candid for a minute: people will need to use the restroom throughout your wedding. Depending on your personal preference, you may or may not mind having guests trek through your home—you'll need to consider how many restrooms you have and which rooms (if any) you'd be comfortable with people using during the event. Portable restrooms are a good alternative option, and many rental companies offer trailers that have been specifically designed for weddings and feature cute interior decor with full amenities.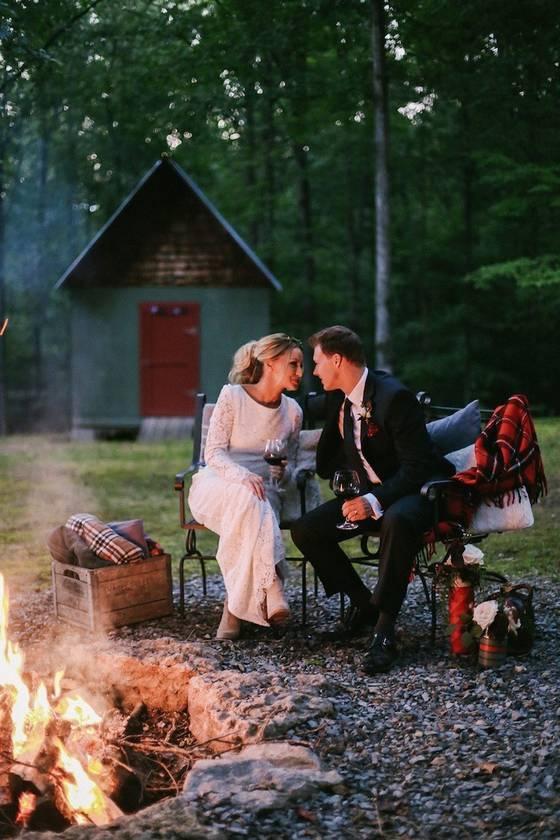 Campfire
A campfire is a fun backyard wedding idea to plan for after dusk or once dinner has concluded. Set up a s'mores station and provide cozy blankets to wind down the night.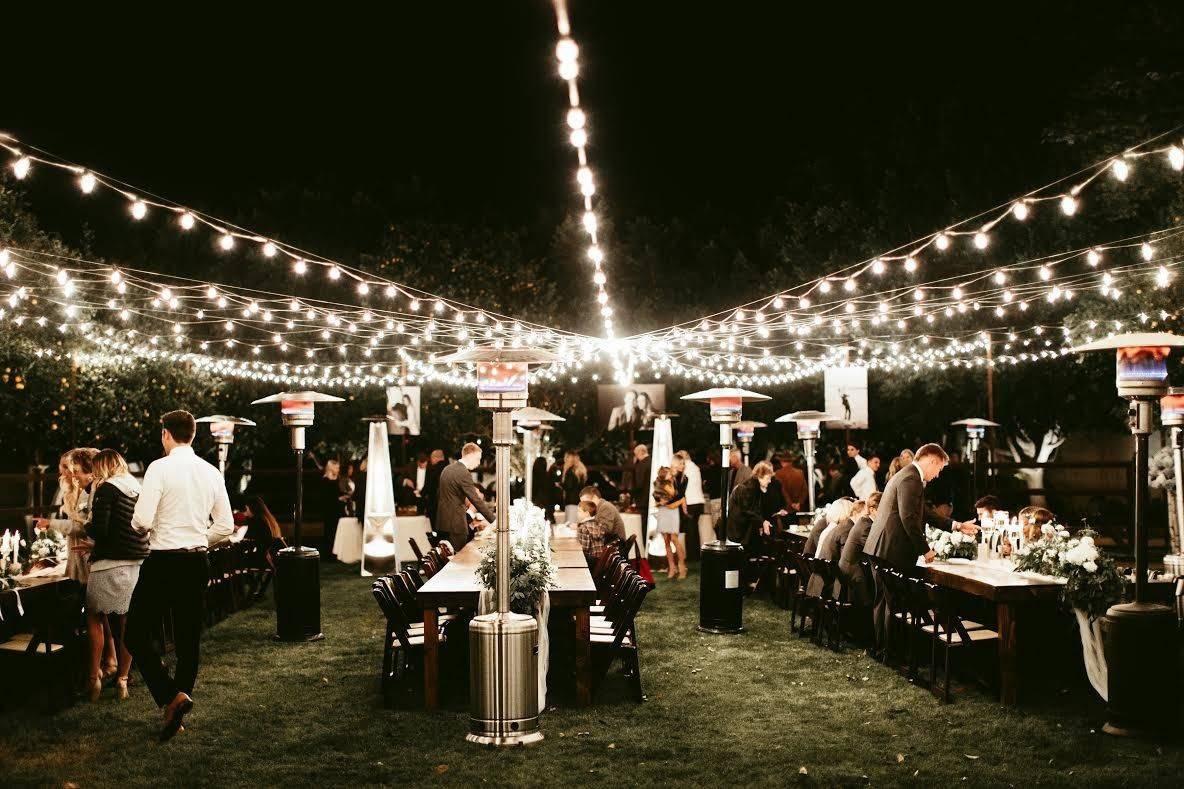 Strand lights
Plan ahead to ensure that your yard is well-lit even after dark. Charming bistro strand lights are decorative and functional—a win-win. Hang them from trees, along a fence, or from tentpoles throughout the yard.