12 Ways to Bring the Indoors Out at Your Wedding
Check out some of our favorite ways to bring the indoors out.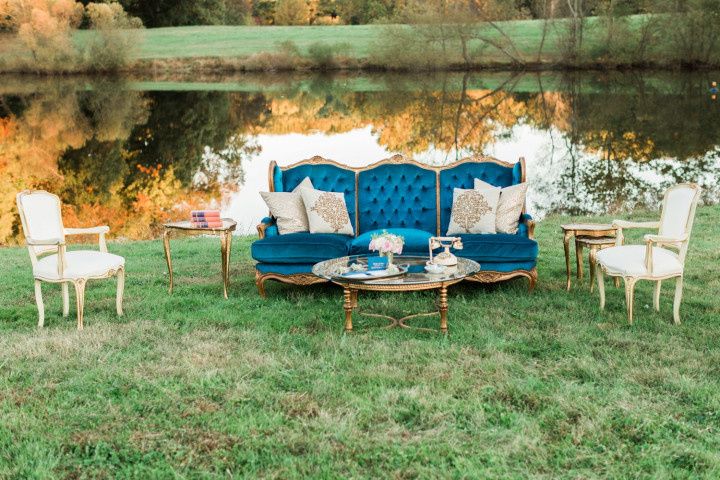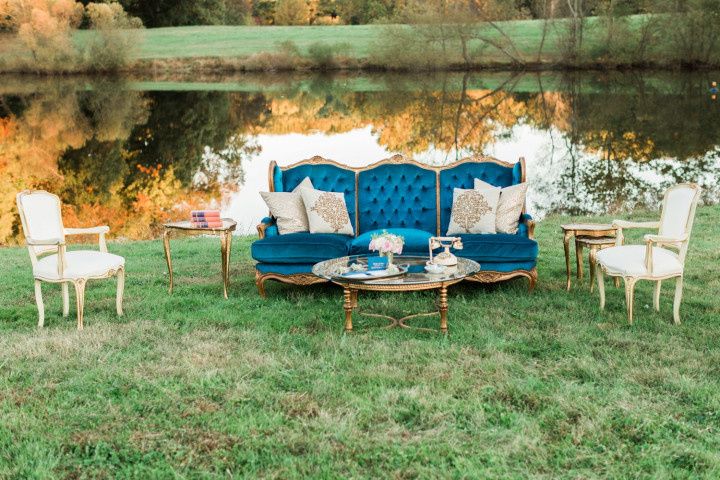 Photo: Alicia Wiley Photography
With outdoor weddings all the rage, we're noticing a trend of couples using indoor elements, like doors and furniture, to give outdoor venues an intimate, casual, "home-like" vibe. The use of these indoor elements is a bit unexpected and makes an outdoor wedding feel like a party at home, and encourages guests to relax, mix, and mingle. Want to include this type of décor at your wedding?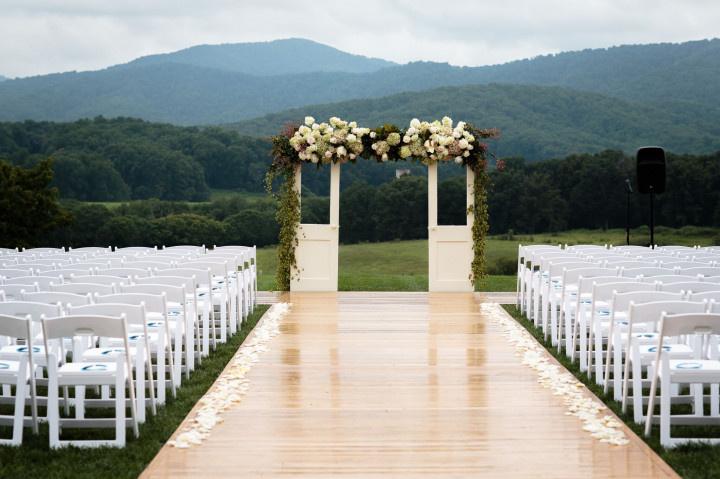 Photo: Hopkins Studio
Doors
One of best parts of getting married indoors is the symbolism of swinging open the doors to the ceremony space and crossing the threshold toward a new life. Now, doors are frequently used at the beginning of outdoor aisles so that couples can capture that same symbolism and emotion. We're seeing a wide variety of door types to reflect different wedding styles—from barn doors for rustic weddings to antique-style doors for vintage weddings.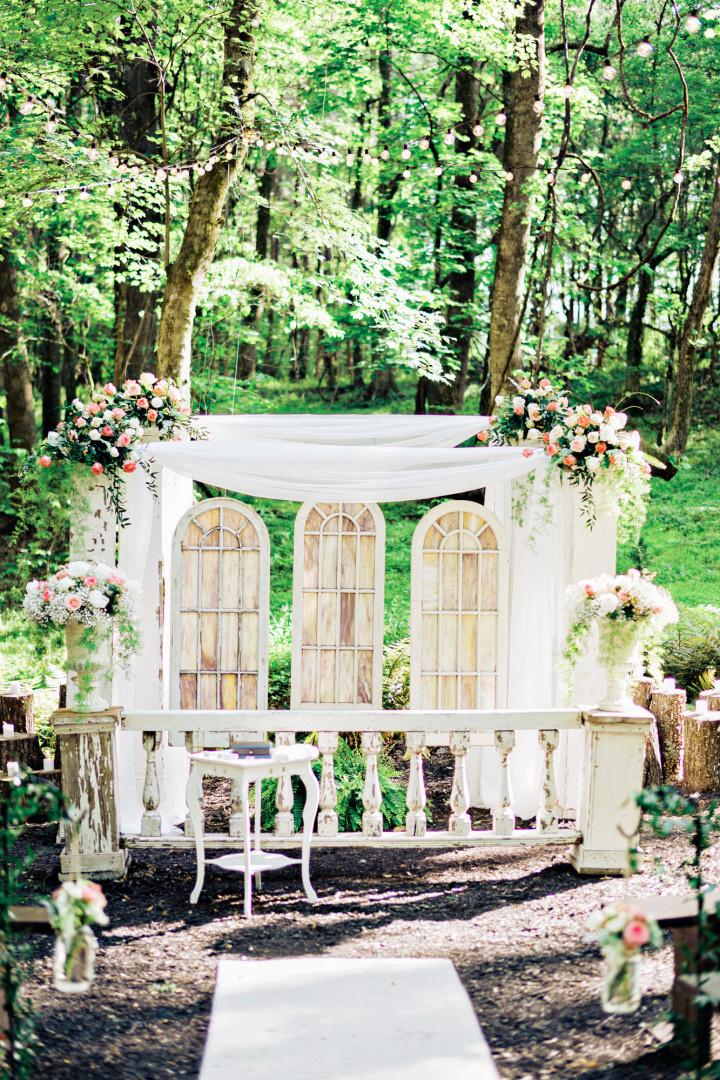 Photo: Andie Freeman Photography
Window Ceremony Backdrop
Many indoor ceremony spaces, particularly houses of worship, are known for their beautiful windows, which fill an indoor venue with gorgeous light. We're loving the use of windows as outdoor ceremony backdrops—providing the feel of a house of worship but surrounded by nature.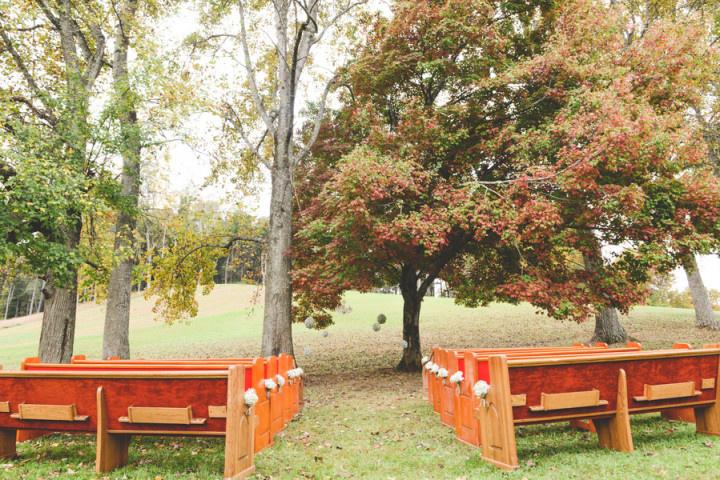 Photo: Katie Snyder Photography
Pews
These long benches are typically found in houses of worship, but many couples are using them as seating at outdoor ceremonies. Again, a beautiful juxtaposition of indoors and out.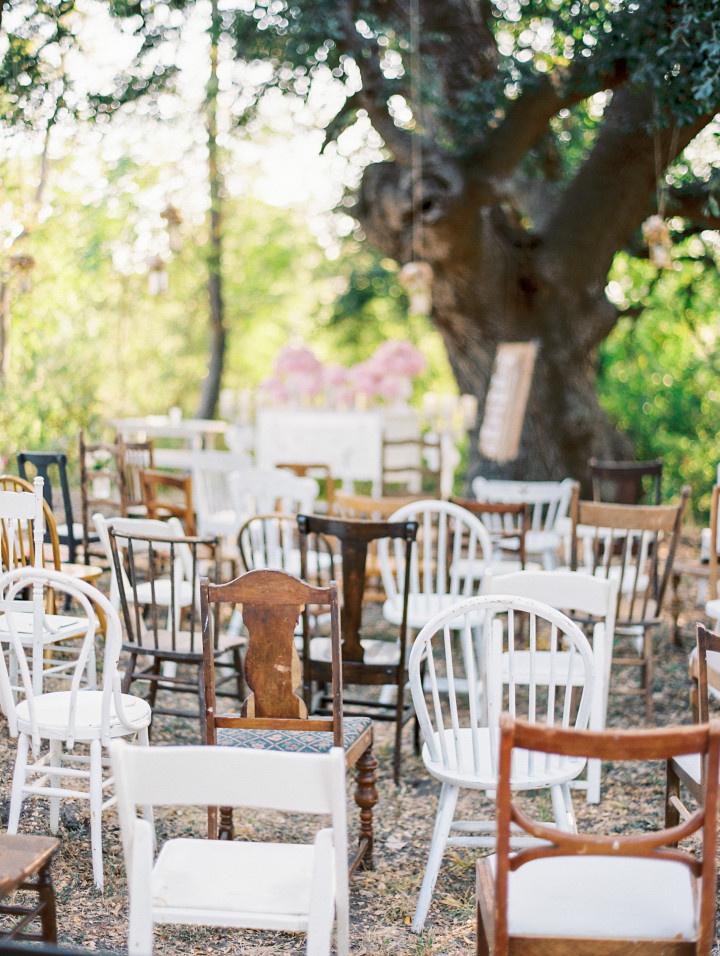 Photo: Stephanie Hunter Photography
Mix and Match Chairs
Another unique outdoor ceremony seating option—utilizing a variety of chairs, pews, and benches, typically found indoors. This mix and match seating provides visual interest and a vintage vibe.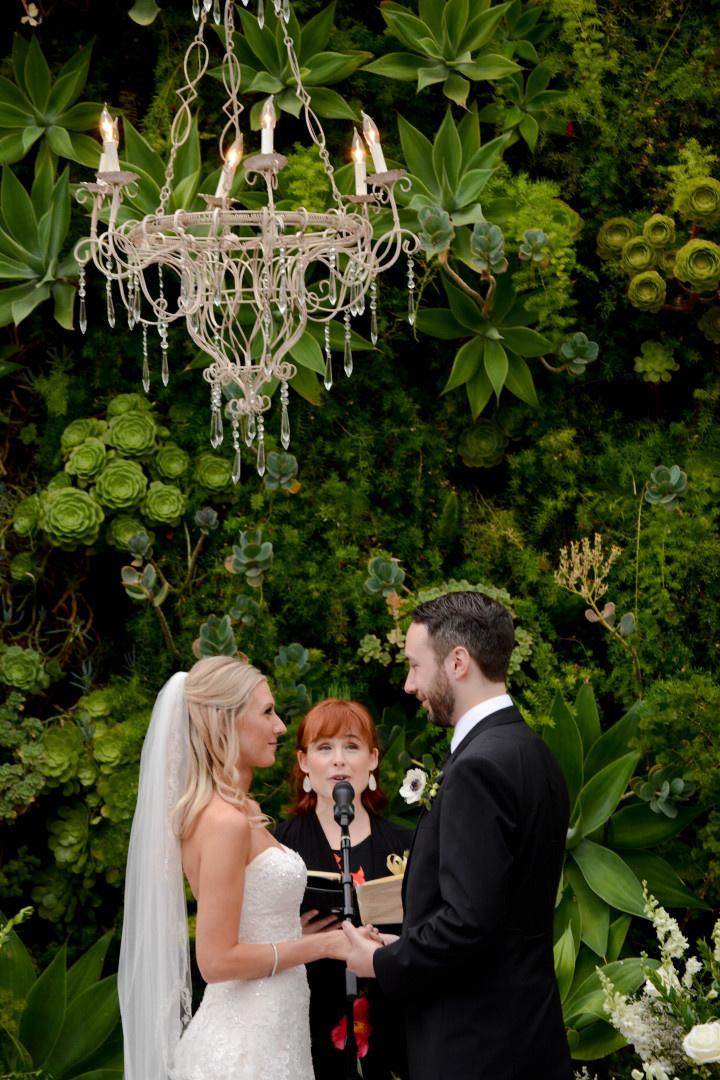 Photo: Brooke Lee Photography
Chandeliers
Add a touch of vintage glamour to an outdoor space by hanging chandeliers from tree branches—a very whimsical lighting element.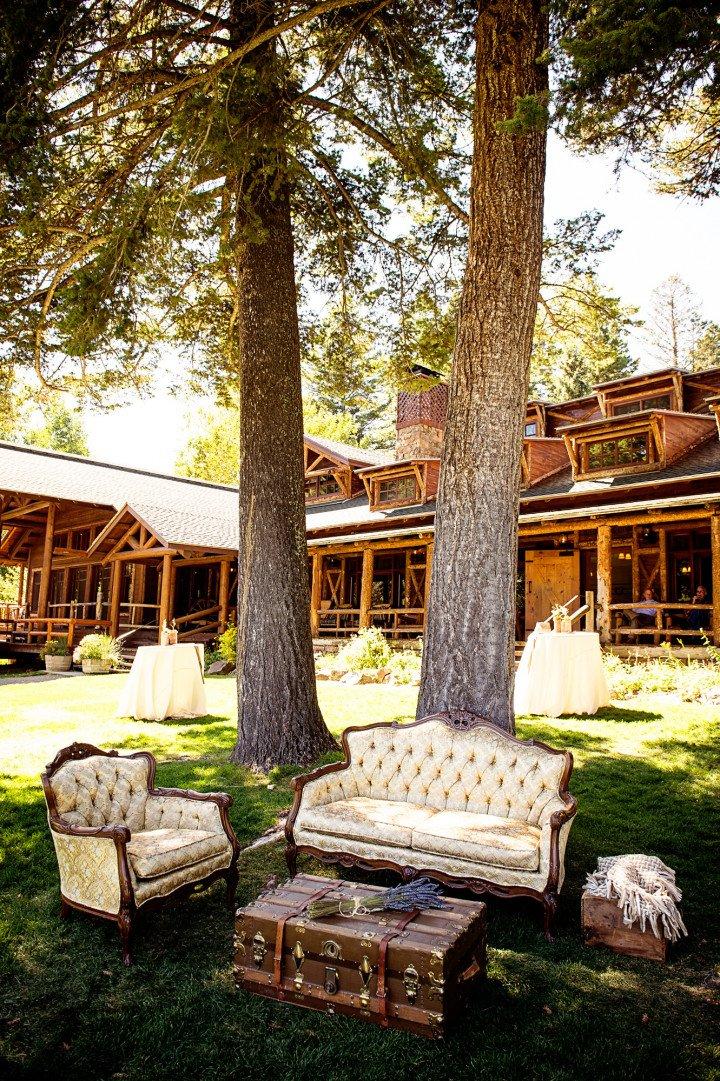 Photo: Lauren Brown Photography
Lounge Furniture
Using vintage furniture typically seen in living rooms to create mini lounges throughout an expansive outdoor wedding space is a great way to provide comfortable areas for guests to enjoy private conversation. From tufted sofas and chairs to coffee tables, these lounges add a sense of coziness and are sure to be a hit with guests.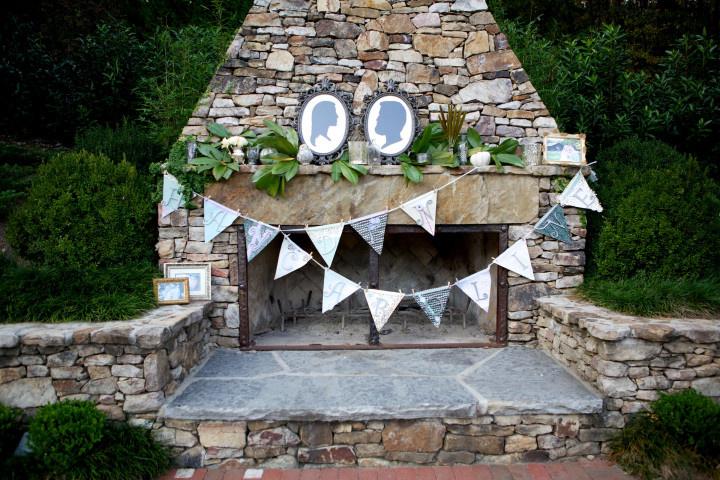 Photo: Arden Photography
Outdoor Fireplace
One of the coziest areas of a home is near the fireplace—so we're big fans of venues that feature outdoor fireplaces (like Windwood Equestrian in Alabama, pictured here). And, like an indoor fireplace, we love that you can personalize an outdoor fireplace's mantel with your own photos or décor.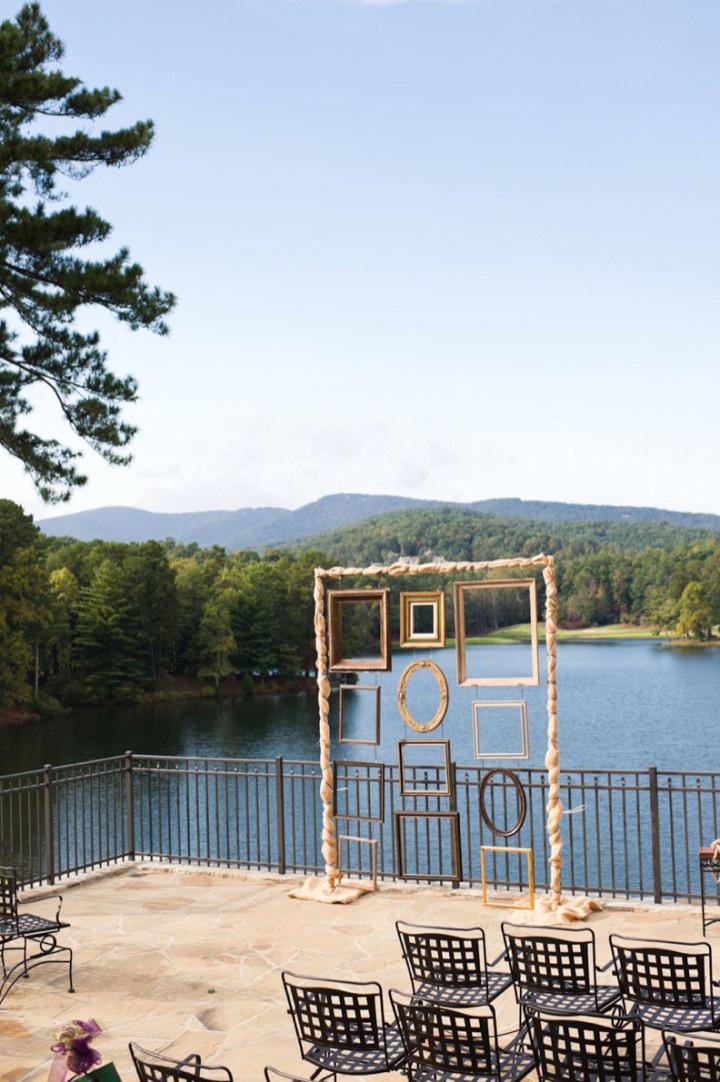 Photo: Brita Photography
Picture Frames
Using hanging picture frames as an outdoor ceremony backdrop gives the feel that you're marrying in your own living room. Truly "picture perfect" if you ask us!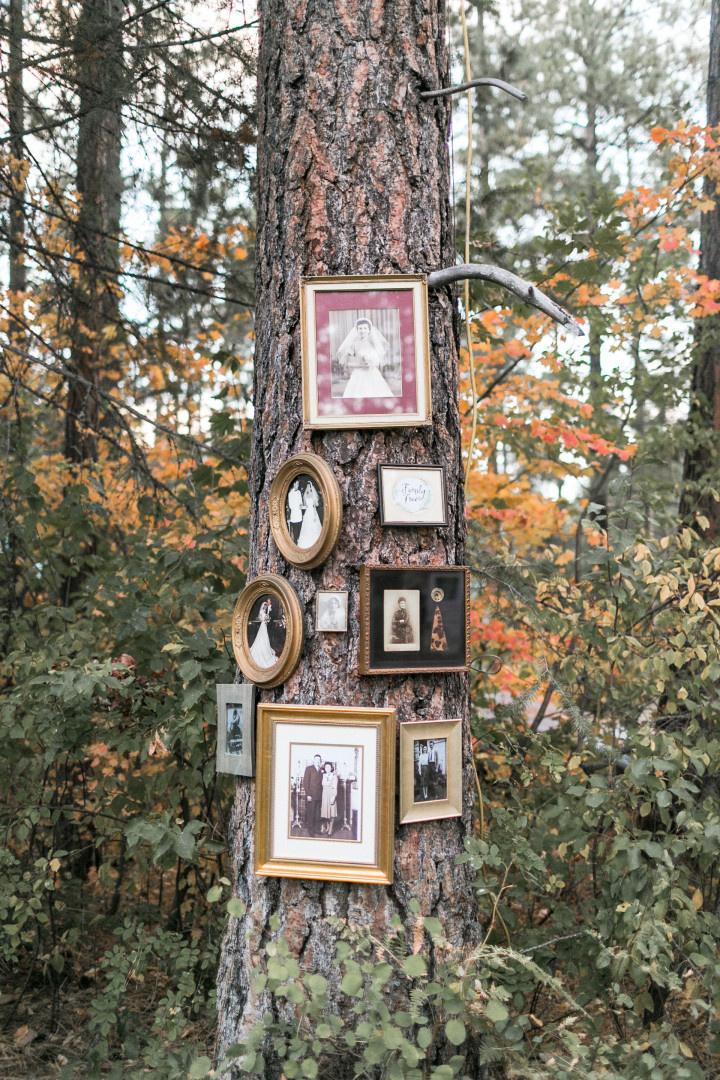 Photo: Jacquelynn Brynn Photography
Outdoor "Gallery Wall"
If you're the type who displays lots of photos around your home, we recommend this technique for creating a "gallery wall" outside—use a tree as your wall! We love how this couple used family wedding photos for a nostalgic touch.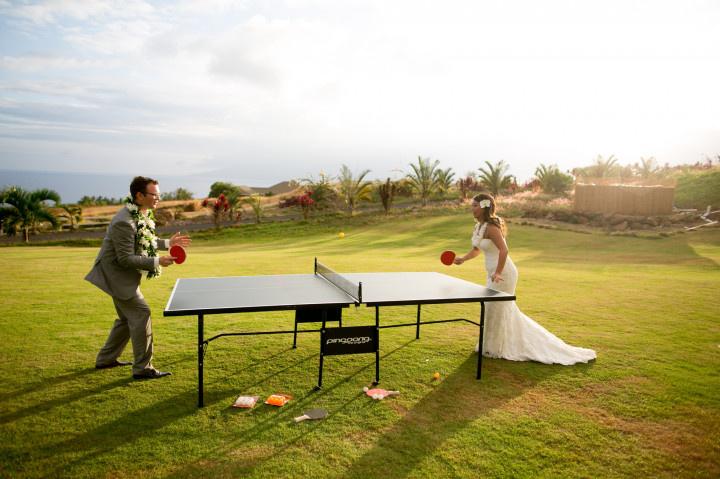 Photo: Joanna Tano Photography
Board Games
Board games, like Scrabble, Jenga, ping pong, or checkers, are typically played indoors on rainy days or chilly evenings, and are a great way to bond with family and friends. By placing board games around an outdoor cocktail hour or reception space, you're giving guests a unique opportunity for some friendly competition—plus, it's a great icebreaker if your guests don't all know each other!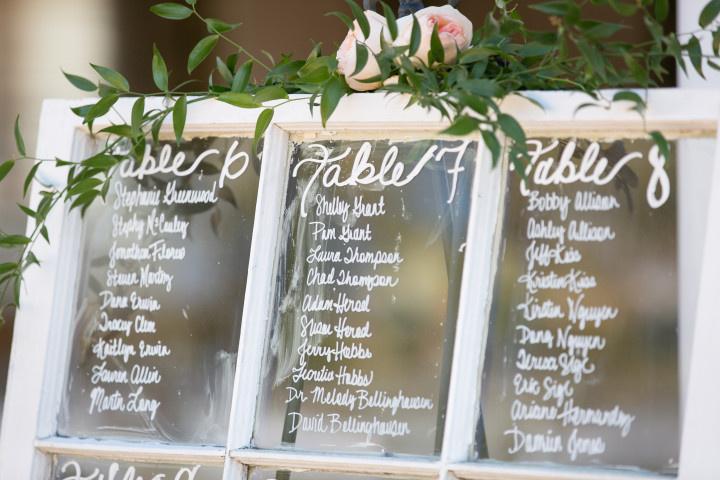 Photo: Tracy Autem & Lightly Photography
Window Seating Chart
Seating charts have become a popular alternative to escort cards. In particular, we've seen couples use windows to display handwritten table assignments for a vintage vibe.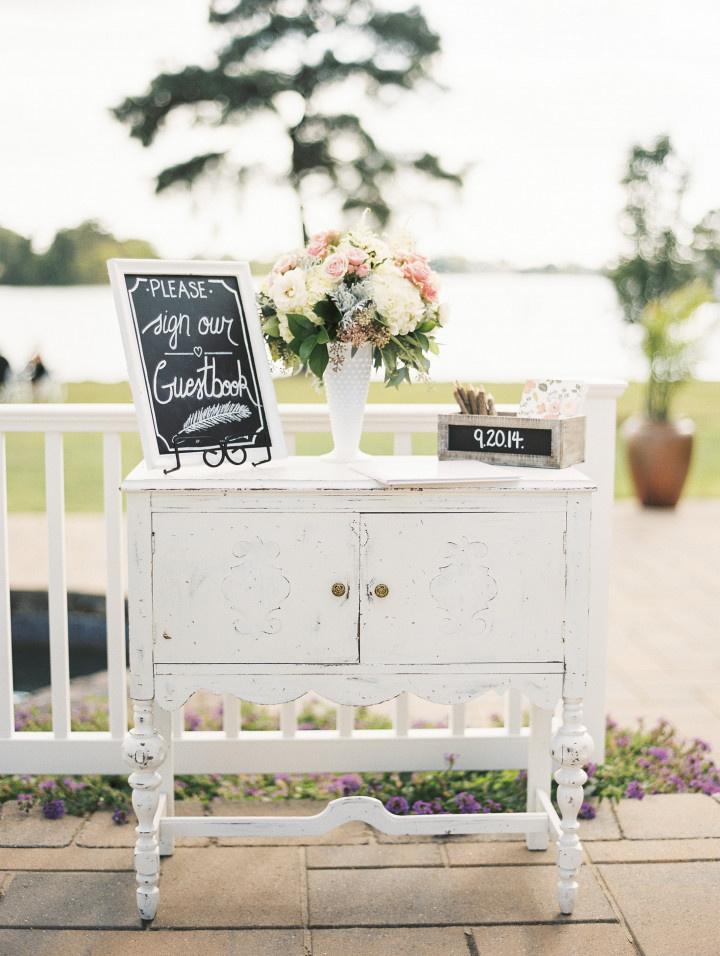 Photo: Krista A. Jones Photography
Vintage Dressers
Using slightly distressed vintage furniture, like dressers and nightstands in lieu of tables for guestbooks, escort cards, or décor elements, is hallmark of "shabby chic" style. Again, these types of details also provide a sense of history or nostalgia to your wedding décor. Pro tip: If you're featuring furniture with cabinets or drawers, fill them with flowers or other decor for a unique touch (check out this styled shoot for a pretty example).

You might be wondering—how do I get my hands on these "indoors out" elements, like vintage furniture, doors, or chairs? Well, you could spend days on end scouring flea markets and thrift shops, or you could take the easier route and call up a vintage furniture rental company! Visit WeddingWire to find a rental company near you to help make your "indoors out" vision a reality »