14 Ways to Use Metallic Wedding Colors on the Big Day
No matter your wedding style or season, metallic hues are a gorgeous way to add a hint of opulence to your attire and decor. Get inspired by these eye-catching (and simple) ways to incorporate metallic wedding colors.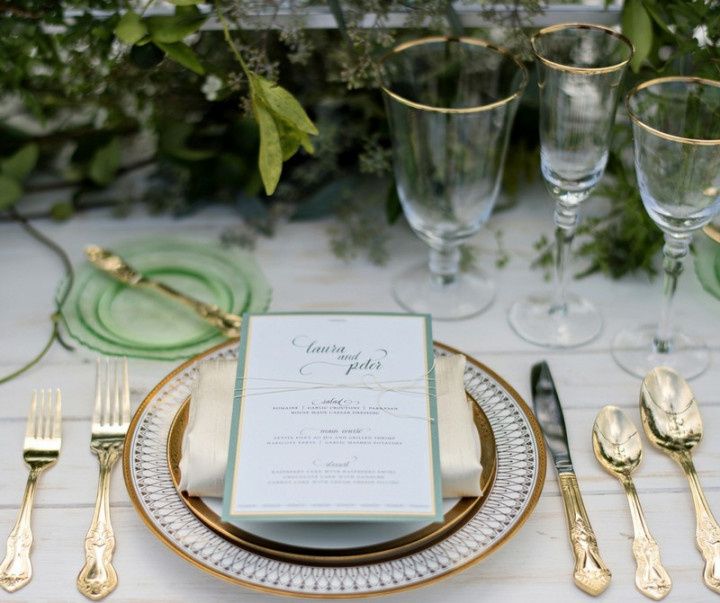 Whether you're going full-on glam for the big day or just want to add a glint of shimmer to your decor, metallic hues are an excellent way to complete your overall wedding aesthetic. From sparkly shoes and bow ties to luxurious sequined table linens and copper details, these metallic wedding ideas are sure to put a twinkle in your eye.
Check out some of our favorite ways to include metallic wedding colors on the big day.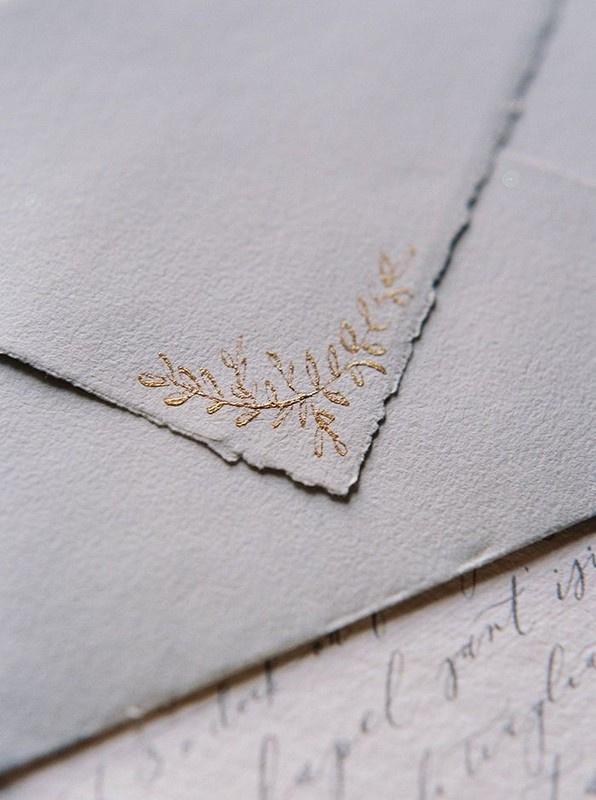 Stationery Details
Gold ink looks incredibly elegant against a dove gray invitation envelope. Have your wedding calligrapher address your guests' names in the gilded hue, or use it for a decorative motif, such as laurel leaves. A few other color combinations you could choose from: silver ink on black, rose gold ink on white, or white ink on shimmery gold paper.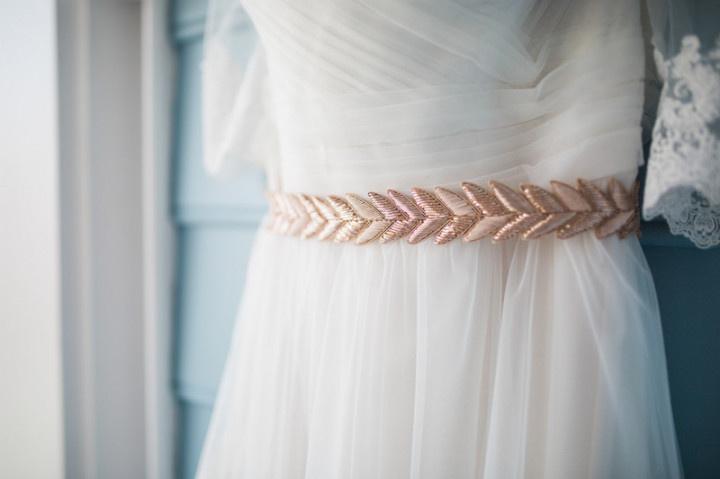 Dress Sash
Adorn your wedding dress with a metallic rose gold sash. This botanical-inspired sash would be lovely for a romantic garden wedding or outdoor bohemian fête.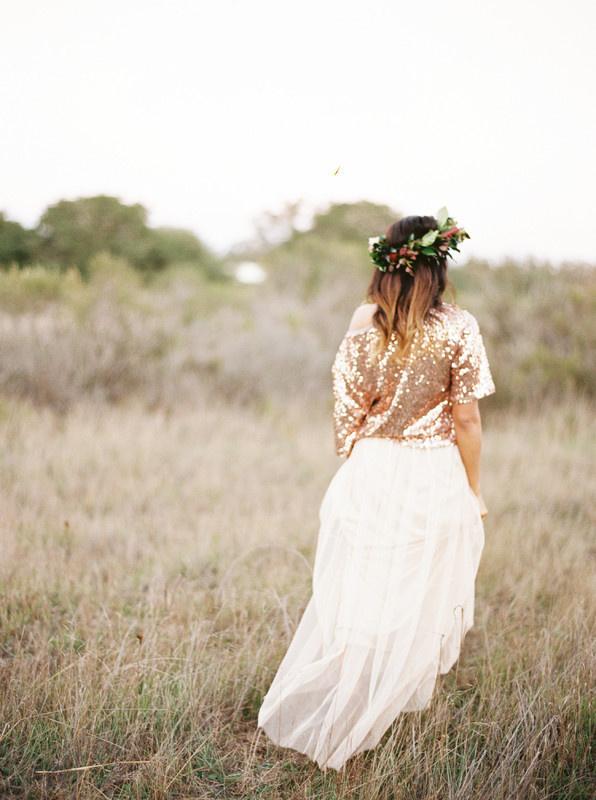 Sequined Top
Fearless brides can make a statement by rocking a bridal two-piece. This flowy skirt paired with a rose gold sequined top is total cool girl status.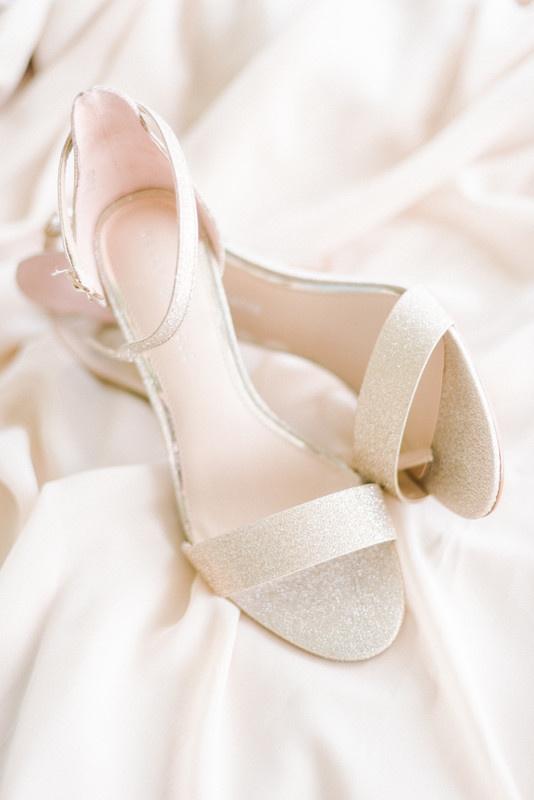 Wedding Shoes
Your feet are worthy of some sparkle, too! Go all-out with bold glitter shoes in a bright color, or keep your look simple and classic with a muted silver style like this.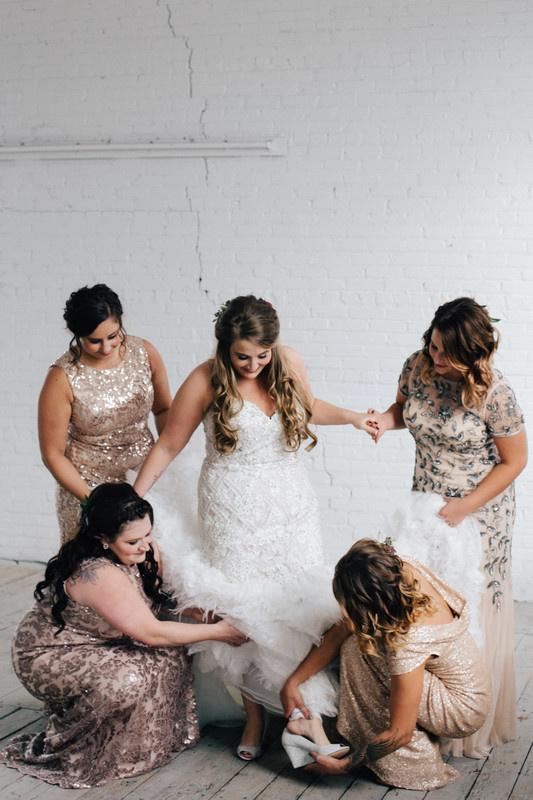 Bridesmaid Dresses
Sequined bridesmaid dresses are one of the most popular metallic wedding ideas, and they're a perfect choice if your dress code is on the more formal side. For the latest take on this trend, have your 'maids wear mix-and-match styles with varying types of sequins or embroidery. It's okay to mix colors, too!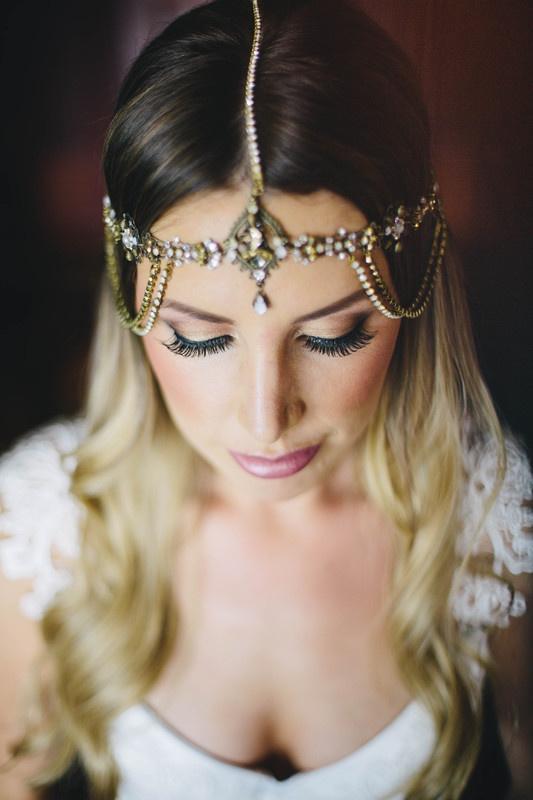 Hair Accessory
For ultimate glam factor, add a metallic hair accessory to your bridal look. A gold chain headpiece has vintage boho vibes, but you could also opt for something more subtle, such as a jeweled comb or barrette tucked into your tresses.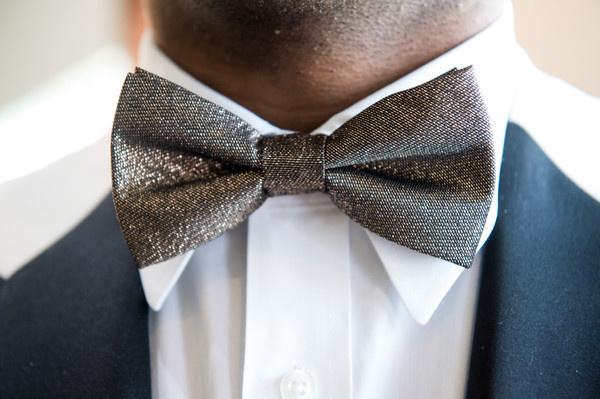 Bow Tie
Sporting a suit or tuxedo on the big day? Accessorize with a metallic bow tie! A black tie with gold threading is a fitting choice for fashion-forward grooms. This look would be great for a swanky evening wedding.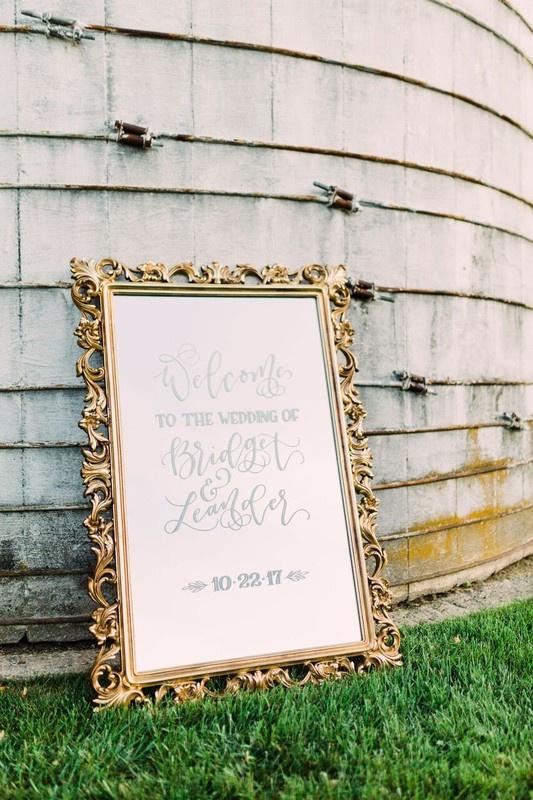 Welcome Sign
Showcase your wedding signage in metallic frames for a classic-meets-eclectic look. Don't worry about having multiple signs in different types of frames — as long as the frames are similar in color, the end result will feel like a cohesive collection.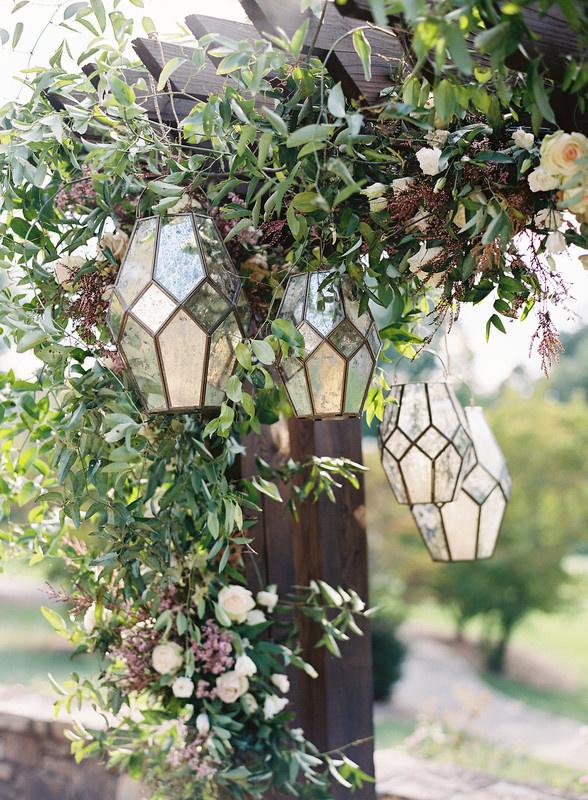 Mercury Glass Lanterns
Use glass lanterns to decorate your ceremony altar any other space at your venue that could use a bit of shimmer. We love these geometric mercury glass lanterns, which have both silver and gold hues for an "updated antique" feel.
Centerpiece Vessels
Geometric centerpiece vessels are one of our favorite wedding decor trends of the moment. Look for pieces with gold edges to add *just* the right amount of metallic detail to your tablescapes. The gold hue looks great with blush, but you could also use light blue or neutral tones for an ultra-modern effect.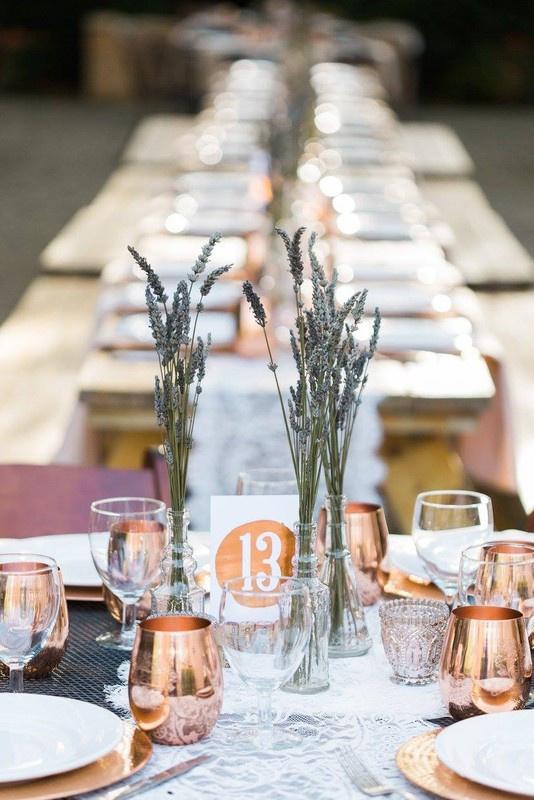 Copper Mugs
Instead of traditional glass, serve your signature cocktails or reception drinks in stylish copper mugs. They're traditionally used for Moscow mules, but they can technically work for any type of beverage (alcoholic or non-alcoholic!).
Sequined Tablecloth
If you're going for an ultra-romantic theme when it comes to your reception decor, sequin tablecloths are a must-have accent. Rose gold sequins are utterly luxurious and dreamy, especially when paired with gold accents and white floral arrangements.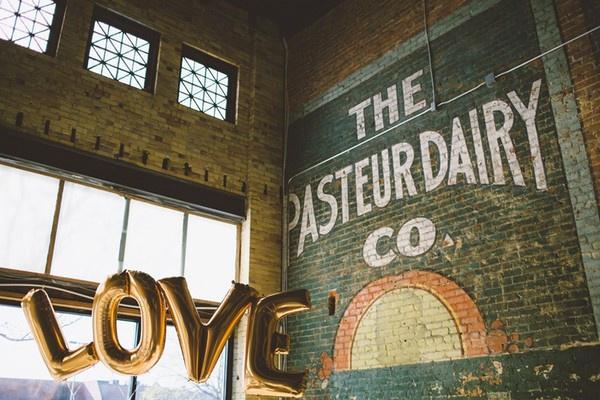 Letter Balloons
Oversized mylar balloons are a fun, whimsical way to incorporate metallic wedding colors into your decor. Spell out a short phrase or add extra personalization via your last name or initials.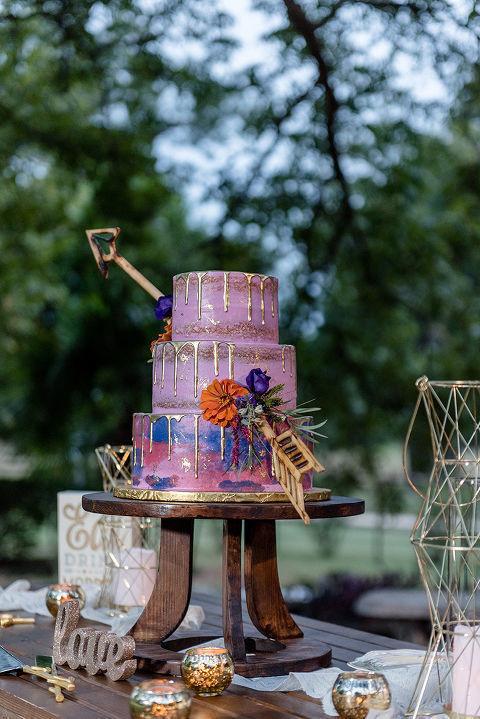 Wedding Cake
Drip cakes are a guaranteed statement piece, but metallic icing takes this trending dessert to the next level.