Your (Stress-Free!) Guide to Wedding Invitation Wording
Wedding invitation wording doesn't have to be complicated. With these line-by-line instructions (and examples), you'll have your invites done in no time.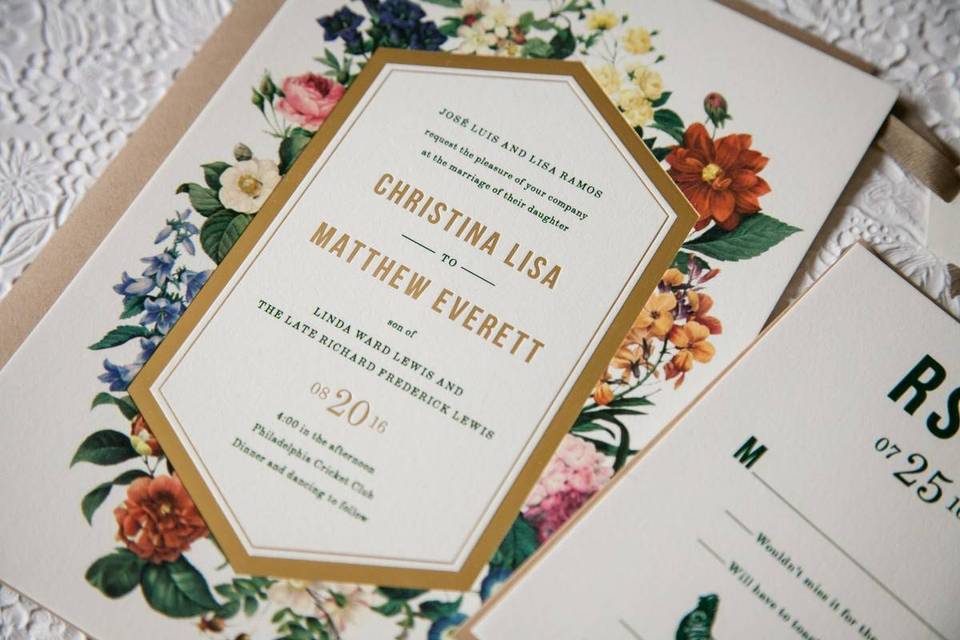 When it comes to your wedding invitations, the decision-making doesn't stop at choosing your design and paper colors. In fact, the biggest impression you'll make with your invites might not be how they look at all, but what they say! That's because, traditionally, wedding invitation wording reveals who was involved with paying for your wedding (or, in more delicate language, who is "hosting" it). If your wedding was a group effort and/or you're a non-traditionalist who doesn't feel like playing into these types of "wedding rules," that's totally ok! Feel free to word your invite however you like.
If you'd like to follow more traditional wedding invitation wording, here's how to work though every single line.
1. Name the hosts.
To begin your wedding invitation wording, you'll want to introduce the hosts of the event (aka the people who are paying). This lets all of your guests know—elegantly and subtly—who to thank when they're celebrating. If your or your partner's parents are paying for the wedding, this is a great way to extend thanks for covering the cost of your big day. And if you and your partner are paying for the wedding yourselves, you should highlight it as such. Here are a few examples of how to word the host line of your wedding invitations:
If one partner's parents are paying, formal: Mr. and Mrs. Brad Jones
If both sets of parents are paying, formal: Mr. and Mrs. Brad Jones and Mr. and Mrs. Barry Smith
If both sets of parents are paying, casual: John and Elise Smith and Barry and Lisa Jones
If one partner's parents are paying, casual: Barry and Lisa Jones
If parents are divorced, include both names on separate lines, not connected with the word "and". Stepparents may be listed on the same line as the parent to whom they are married (see below for examples).
If couple sharing the cost and hosting duties with parents: Together with their families or Together with their parents
If couple is paying: Simply start with a request like "please join us" (see step 2) or with the couples' names (see step 4). You might also begin on a celebratory note, with the words "with great joy".
If a parent is deceased and you'd like to include him or her on the invitation, you'll want to rearrange the wording a bit. In the part of the wedding invitation where the couples' names are stated, you can include "son of" or "daughter of" and add their parents' names, including "the late" in front of the deceased parent's name (see below for examples).
2. Make a request—as formally or as casually as you'd like.
Now it's time to actually do the inviting! Here, you're asking your guests to come to your event. There are a few ways to do this, whether you're sending out a formal wedding invitation or something more casual.
For a religious service: "request the honor of your presence"
For a formal wedding: "request the pleasure of your company", "joyfully request the pleasure of your company", or "request your presence"
For a casual wedding: "joyfully invite you", "cordially invite you", "invite you to celebrate", or "invite you to share in their joy"
3. Say it's a wedding.
The next line of traditional wedding invitation wording states the obvious: Your guests are being invited to a wedding. Here are some examples:
If both sets of parents are hosting: "at/to the wedding (or marriage) of their children"
If one set of parents is hosting: "at/to the wedding (or marriage) of their son/daughter"
If couple is hosting: "to celebrate the marriage of" or simply, "to the wedding of".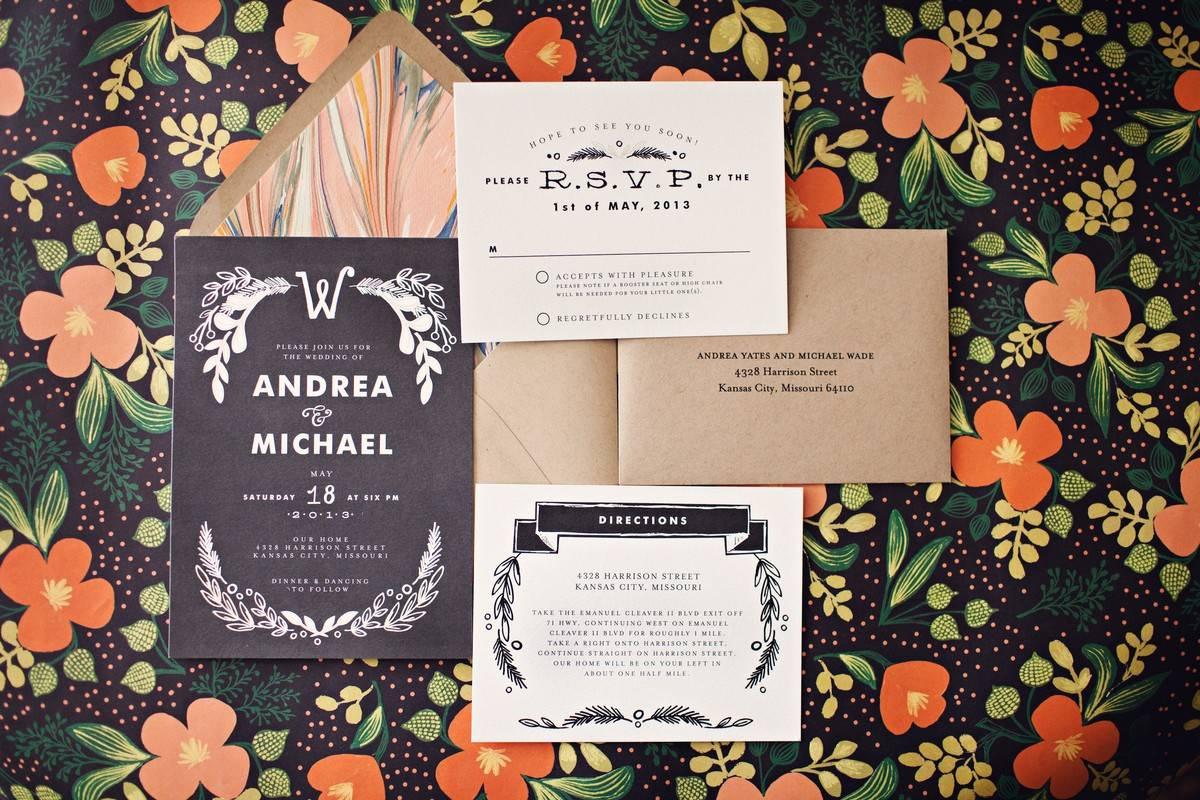 4. State the guests of honors' names.
Okay, so whose wedding is this? Based on the formality of your wedding, you can decide how you want to feature your and your partner's names. The only rule? Keep it consistent. You can't include a middle name for one partner, and not the other. In terms of the order, for different-sex couples, write the bride's name first. For same-sex couples, names may be listed alphabetically or really, arranged in any way you'd prefer.
5. Include date and time information.
Now that you've clarified who's hosting, what's going on, and who the guests of honor will be, it's time to spell out the important details: When is the event? Remember, that you're referring specifically to your ceremony here—we'll talk about the reception later on.
First you'll want to share the date, and there are a few ways you can do this, depending on the formality. For a more formal wedding invitation, the date should be fully written out: Saturday, the first of June, two thousand nineteen. For a more informal wedding, you can write the date numerically: Saturday, June 1st, 2021. Some informal invitation designs allow the date to be written out completely numerically—6-1-21—but only write it out this way if your invitation design permits.
In terms of stating the time of your event, you have a lot of options in terms of wedding invitation wording. Here are a few examples:
If your wedding takes place on the hour, the time can be listed more formally as "six o'clock" or "six o'clock in the afternoon", or more casually as "6:00 p.m."
If your wedding takes place on the half hour, you can write it out formally as "half past six o'clock" or "six-thirty in the evening" (if your wedding takes place before 5 p.m., you would say "in the afternoon" and before noon, "in the morning", or casually as "6:30 p.m."
6. Share the venue.
The next step of how to word wedding invitations is to name your venue and provide location information. After stating the date and time, write out the name of your venue on one line, followed by the city and state on the next. You don't have to write out the full address for your venue, unless you are getting married at a private home. If you do choose to list the address, you can choose whether or not to write out the state or use the abbreviation (California vs. CA), but don't include the zip code. A few examples:
Breaux Vineyards
Purcellville, Virginia
The Smith Residence
325 Wide Oak Lane
Longville, Tennessee
7. Add additional reception information, if necessary.
So, everything you just wrote referred to your ceremony. If your reception will take place immediately after your ceremony and at the same location, you can simply write "reception to follow," "festivities to follow" or "dinner and dancing to follow" (or something even more creative!) at the bottom of your invitation. If your reception will take place at a different time or at a different location, you'll probably want to include an additional printed card that spells out that information.
8. Attire instructions are optional.
If you'd like to provide your guests with a dress code, you can do so at the bottom of the invitation (traditionally, the lower right hand corner, but it depends on your invitation design). Most invitations these days do not include a dress code—it's really only necessary if you're hosting a formal or black tie wedding.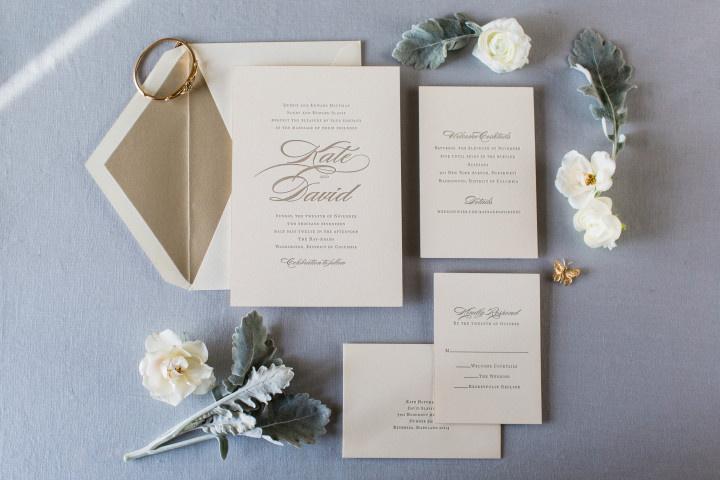 Wedding invitation wording examples
Wedding invitation wording if both sets of parents are paying (formal):
Mr. and Mrs. Randall Apple
and Dr. and Mrs. Charles Pear
request the honor of your presence
at the marriage of their children
Blake Riley
and
Avery Emerson
Saturday, the fourth of December, two thousand twenty-one
at five o'clock in the evening
Oheka Castle
Huntington, New York
Reception to follow
Wedding invitation wording if both sets of parents are paying (informal):
Randall and Tina Apple
and Charles and Melissa Pear
joyfully invite you
to the wedding of
Blake
and
Avery
Saturday, December 4th, 2021
at 4:30 p.m.
West Light Farm
High Springs, FL
Festivities to follow
Wedding invitation wording if one set of parents are paying (formal):
Mr. and Mrs. Randall Apple
request the honor of your presence
at the marriage of their daughter
Blake Riley
to
Avery Emerson
son of Dr. and Mrs. Charles Pear
Saturday, the fourth of December, two thousand twenty-one
at five o'clock in the evening
The Westin Denver Downtown
Denver, Colorado
Reception to follow
Wedding invitation wording if the couple and parents are paying together (casual):
Together with their families
Blake Riley Apple
and
Avery Emerson Pear
joyfully invite you to their wedding
Saturday, December 4th, 2021
at 5:30 p.m.
Corner Loft
Traverse City, MI
Celebration to follow
Wedding invitation wording if the couple is paying themselves:
Blake Riley Apple
and
Avery Emerson Pear
cordially invite you to their wedding
Saturday, December 4th, 2021
at 5:30 p.m.
Greenpoint Loft
Brooklyn, NY
Reception to follow
Wedding invitation wording if one set of parents is divorced:
Mr. and Mrs. Randall Apple
and
Ms. Melissa Johnson
Dr. Charles Pear
request the pleasure of your company
at the wedding of their children
Blake Riley
and
Avery Emerson
Saturday, the fourth of December, two thousand twenty-one
at five o'clock in the evening
Amarillo Botanical Gardens
Amarillo, Texas
Reception to follow
Wedding invitation wording if stepparents are included:
Julie and Randall Apple
Lisa and Barry Taylor
Melissa and Charles Pear
joyfully invite you
to the wedding of their children
Blake
and
Avery
Saturday, December 4th, 2021
at 4:30 p.m.
The Barn at Stoney Hills
Cushing, MN
Festivities to follow
Wedding invitation wording if there is a deceased parent:
Blake Riley Apple
son of Randall Apple and the late Julie Apple
and
Avery Emerson Pear
son of Dr. and Mrs. Charles Pear
joyfully request the pleasure of your company
at their wedding
Saturday, the fourth of December, two thousand twenty-one
at five o'clock in the evening
The Clayton on the Park
Scottsdale, Arizona
Reception to follow