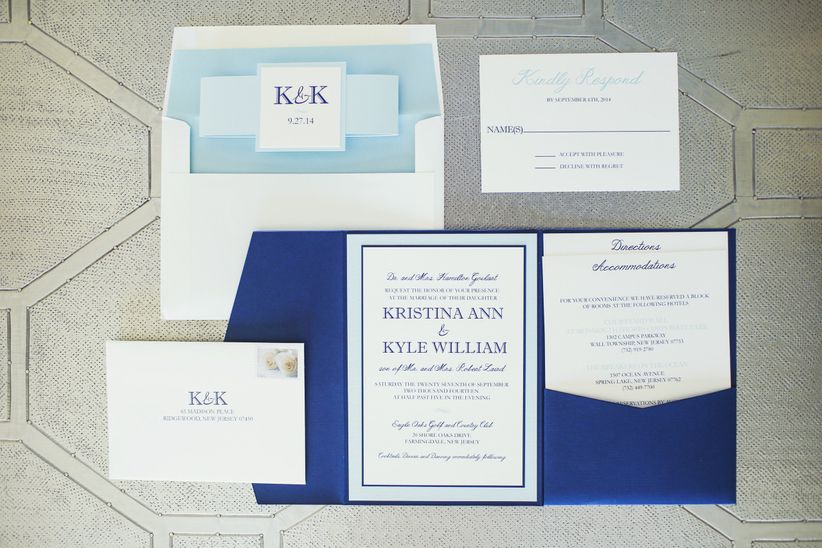 Photo: Vanessa Joy Photography
The goals of a wedding invitation can be summed up in two words: information and style. Indeed, you'll want to provide your guests with all of the details they'll need to attend your big day, with a presentation that matches the personality and feel of your wedding. The wording on your actual printed invitation card should be short and sweet, but if you need to share additional information, you can include inserts (also known as enclosures), or additional small cards.
Here is a list of the different types of wedding invitation enclosures that you can include with your wedding invitation.

The ones you'll probably need…

RSVP Card (and Envelope!)

There are various ways to format your response cards—some couples provide an almost-blank card where guests can write out their response and a message, while others provide a more fill-in-the-blank format, with spaces for the guests' names and check boxes where guests can mark off if they can or cannot attend. Some reply cards also allow guests to choose their entrée for the reception meal.

The most important thing to include on a response card is a deadline—usually two to three weeks before your wedding. And of course, be sure to self-address and stamp the response card's envelope. If you're concerned about the cost of providing postage, you might consider using postcards for your RSVPs—the postage for those will be cheaper!

Another note on response cards: You technically don't have to provide paper response cards. You can offer online RSVP through your wedding website, which can help save paper.

Wedding Website Card

Your wedding website is likely to be the hub for all of the important information about your big day—from travel and hotel information to directions and more. By including a card that shares your wedding website's address, you'll likely be able to forego additional invitation inserts because your guests will be able to find all of the extra information on your website.

The ones you might need…

Reception Card

If your reception is taking place at a different location from your ceremony or if there's a significant time break between the two events, you'll probably need to include a separate reception card with your invitation. A reception card includes important information about your reception—the time (or you can just saying "following the ceremony" if the reception is immediately after the ceremony) and venue (including the address). While reception cards might seem very formal, they'll help keep your actual invitation from looking overwhelmingly wordy.

Directions Card/Map

In the days before GPS, directions cards served an important purpose—to help guests find your venue easily and safely. Nowadays, as long as you provide your venue's address, most of your guests' won't need a separate directions card to find your wedding location. However, if you're a traditionalist, you can certainly include a directions card or cute map with your invitation. Another option is to include directions on your wedding website and provide a wedding website card (see above) to point your guests to your site.

Accommodations Card

If you've booked hotel room blocks for your guests, you can provide information about those accommodations on an invitation insert. However, this is another one of those inserts that can be eliminated if you include accommodations information on your website.

Pre-or Post-Wedding Events Card

If you're hosting wedding-related events (a post-wedding brunch, for example), that everyone is invited to; an insert can replace a separate invitation. Events that only certain guests are invited to, like your rehearsal dinner require a separate invitation to avoid any mix-ups.

The one you probably don't need…

Attire Card

It's becoming less and less common for weddings to have strict dress codes—many invitations don't include dress code instructions at all. And if you do have an easy-to-understand dress code (like "black tie" or "beach casual") you can likely fit that in the lower right-hand corner of your wedding invitation. A separate attire card would be used if you're having a dress code that requires more information—for example, if you're asking guests to wear certain cultural attire. You can also eliminate this card all together if you're including attire information on your wedding website.

The one you DEFINITELY don't need…

Registry Card

Including any mention of your wedding registry on an insert or as part of your invitation is a no-no. It looks like a direct plea for gifts, almost as though your guests are required to purchase a gift as the price of admission to your wedding—not the kind of sentiment you want to convey. A better way to share details about your registry is to include that info on your wedding website and share your website information on an invitation insert.

So...where do I put all of these inserts?

If your invitation includes lots of enclosures, an inner envelope, "belly band" (a sturdy paper band that wraps around the invitation suite), folder, or pocket-style invitation can help keep everything organized.
Disclosure: This post contains affiliate links, some of which may be sponsored by paying vendors.