28 Fairy-Themed Wedding Ideas to Nail the Woodland Aesthetic
Getting married in the forest or another mythical setting? Design a dreamy scene for your "happily ever after" with these fairy-themed wedding ideas.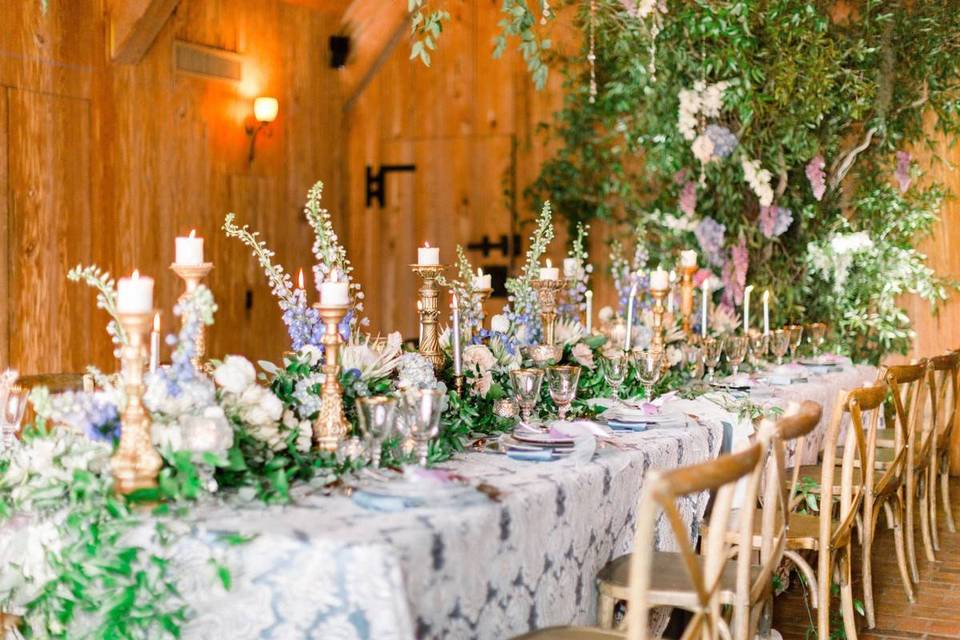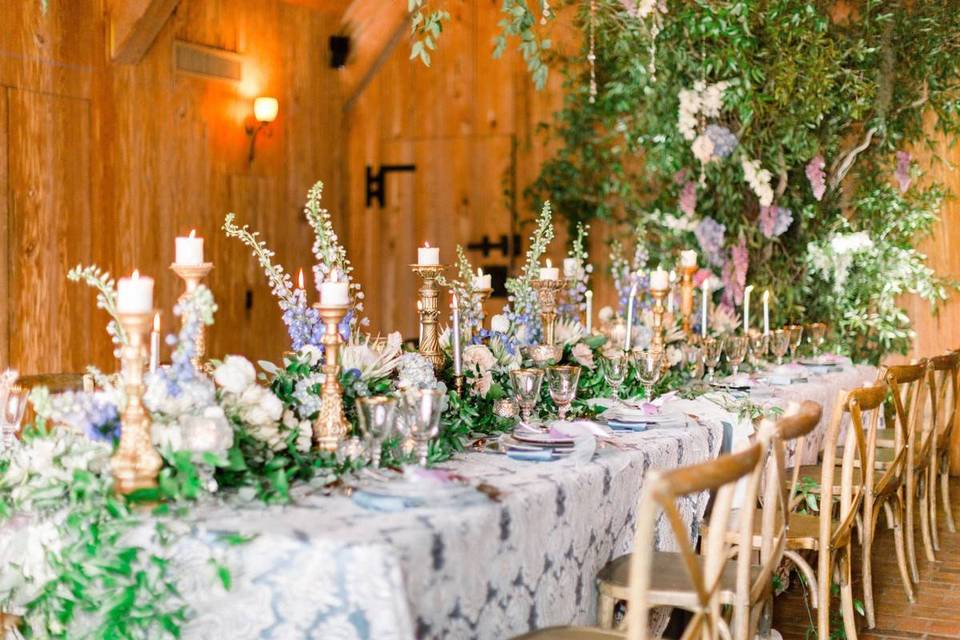 Maybe we're hopeless romantics, but there's something undeniably enchanting about tying the knot under a canopy of leaves, surrounded by the sunlight twinkling through the trees and the sounds of nature. Our latest crush? The fairy-themed wedding aesthetic: a combination of woodland elements, like moss, foraged branches, and feathers, layered with other bohemian, romantic, and whimsical wedding accents. This wedding theme is also big on magical undertones and anything that will add to the fantastical, storybook setting—think Twilight wedding meets Cinderella. Like what you hear? Keep reading for ways to pull off this style on your wedding day.
Fairy-Themed Wedding Ideas
You can't start planning your dream wedding without spending some time brushing up on gorgeous wedding inspiration. From woodland-inspired centerpieces to Here are some of our favorite wedding decorations and ideas for a fairytale-theme wedding.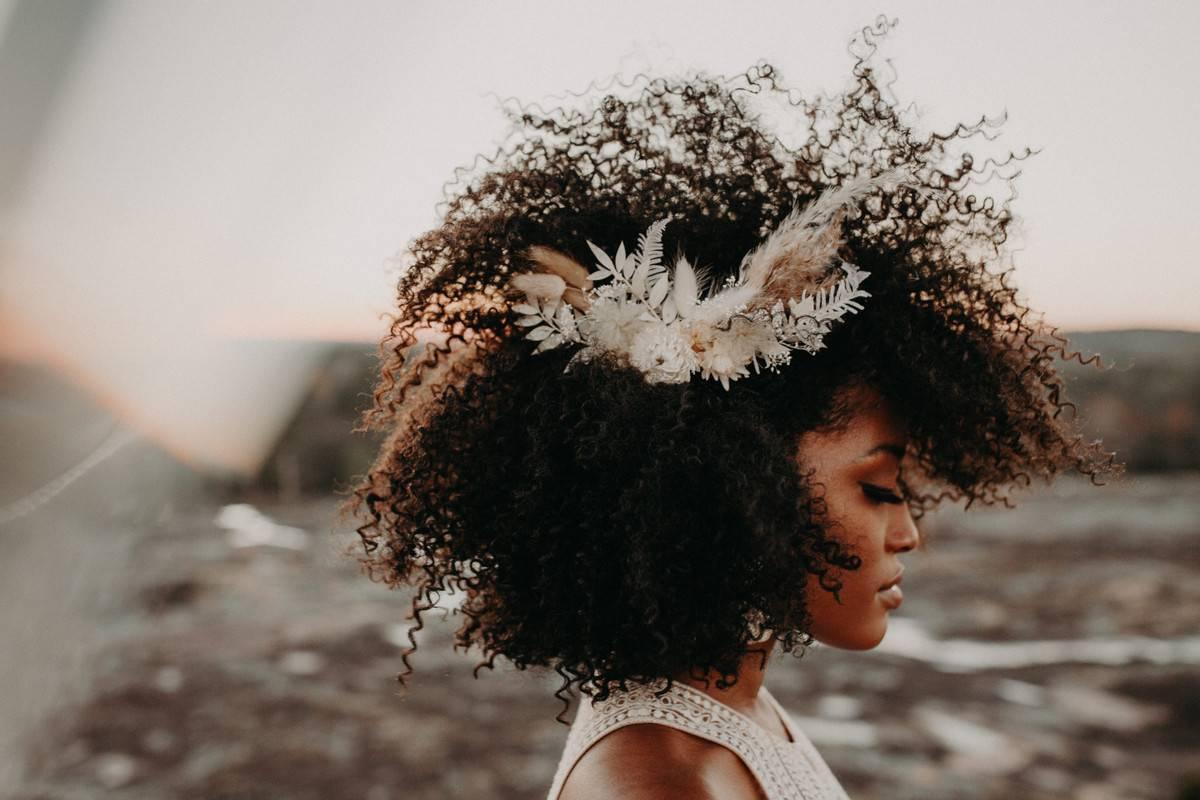 Dried flower hair accessory
We're always into floral hair accessories, but using dried flowers will give your wedding hairstyle an undeniable woodland fairy vibe. Choose elements in a mix of neutral colors, like this bleached fern and pampas grass barrette.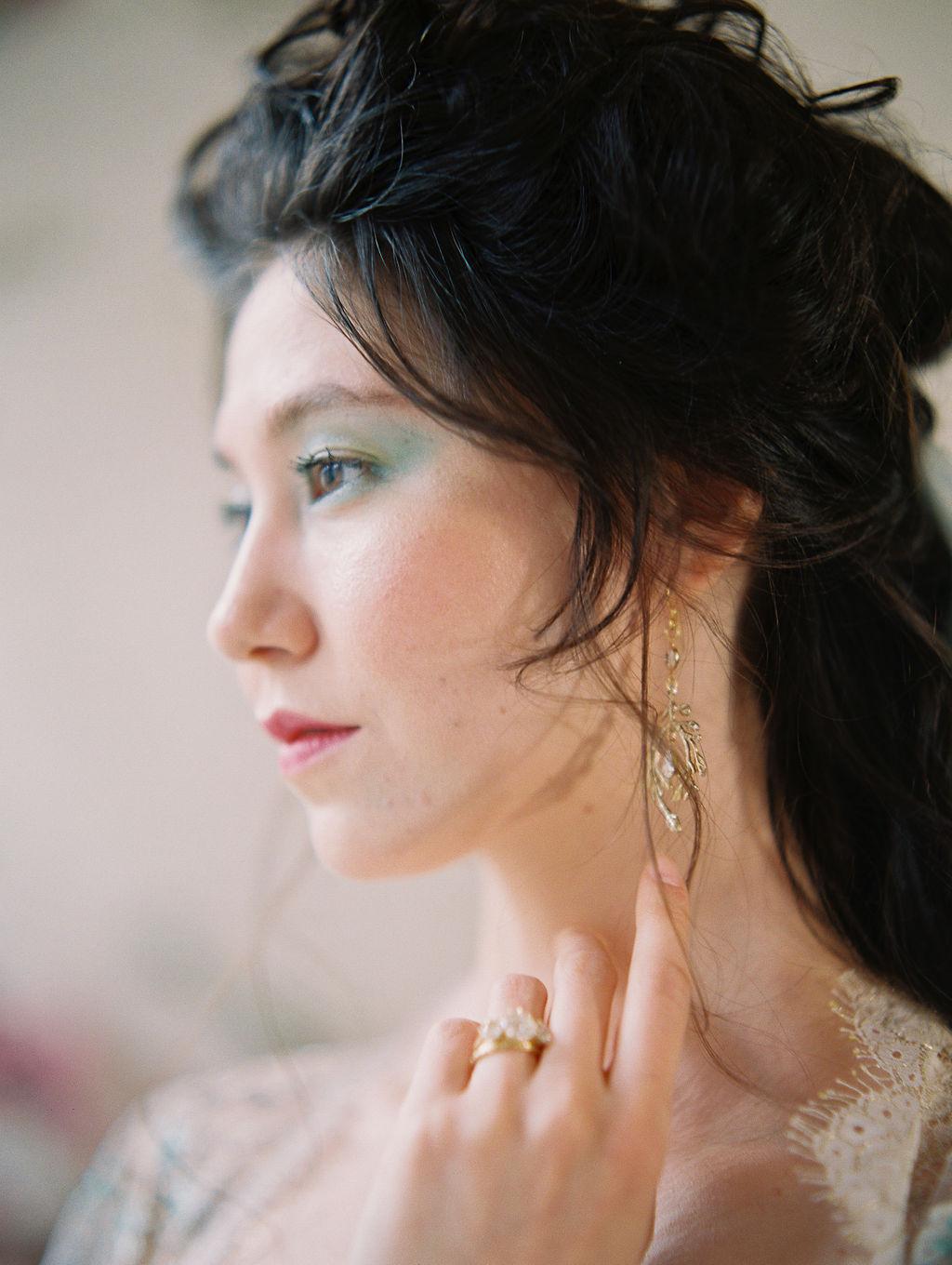 Event Design by East Made Co.; Makeup by Marcello Costa
Colorful bridal makeup
Play up the ethereal undertones of a fairy-themed wedding with colorful, whimsical makeup. Eyeshadow is one of the best ways to add a pop of color to your face—this pale teal hue feels so magical.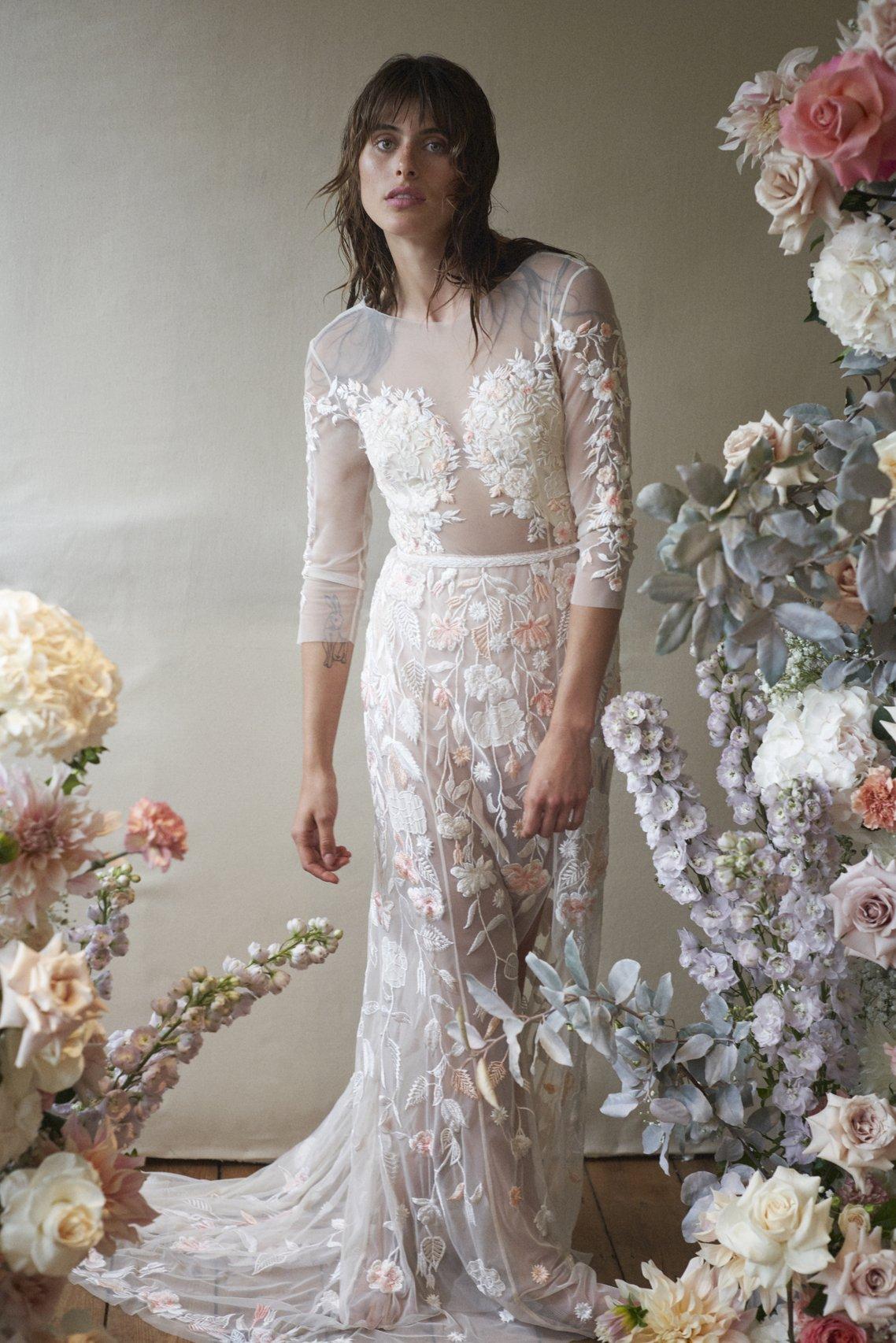 Dress by Hermione de Paula; Floral Design by BUD Flora
Embroidered wedding dress
For your woodland-themed wedding, no ordinary dress will do. Wear a sparkly tulle ball gown and tiara if you're channeling a Disney princess, or go for something unexpected yet totally on-theme by choosing a gown embroidered with colorful flowers and vines.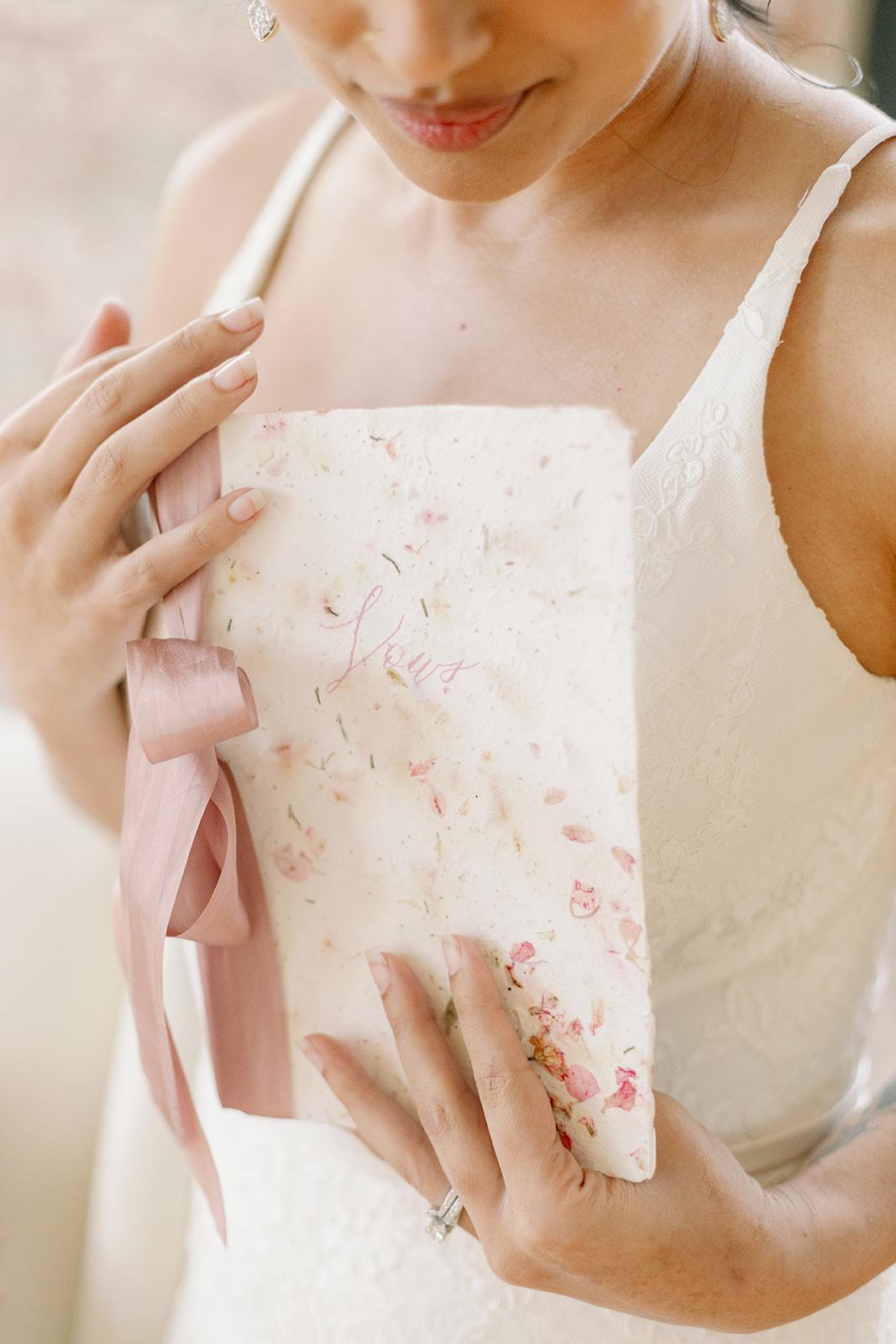 Plantable wedding stationery
When it comes to your wedding stationery, turn to Mother Nature for inspiration. Seeded paper gives your wedding invitations and other paper goods an artistic touch (and they can be planted or composted when you're done with them).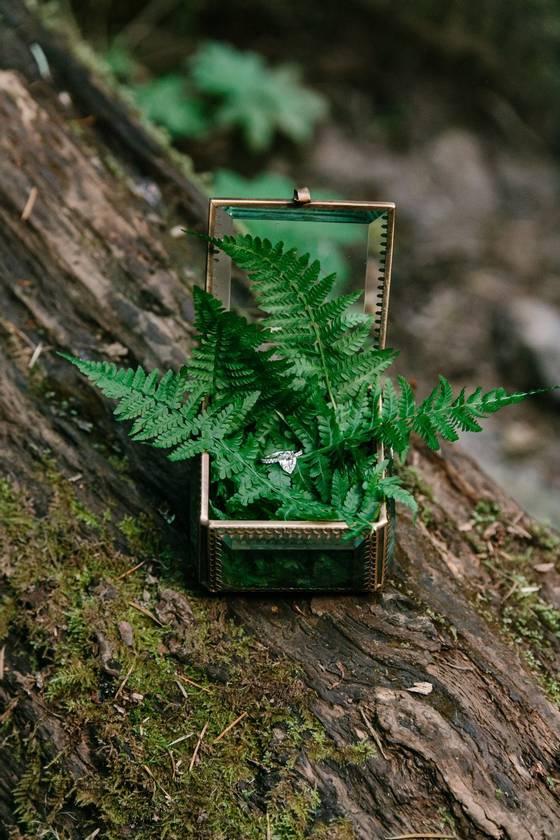 Fern wedding ring box
Don't forget about the little details! While your guests may not get an up-close view of your wedding ring box, your photographer will surely capture it in their detail photos, and a bed of ferns is perfectly suited for a fairy-themed wedding.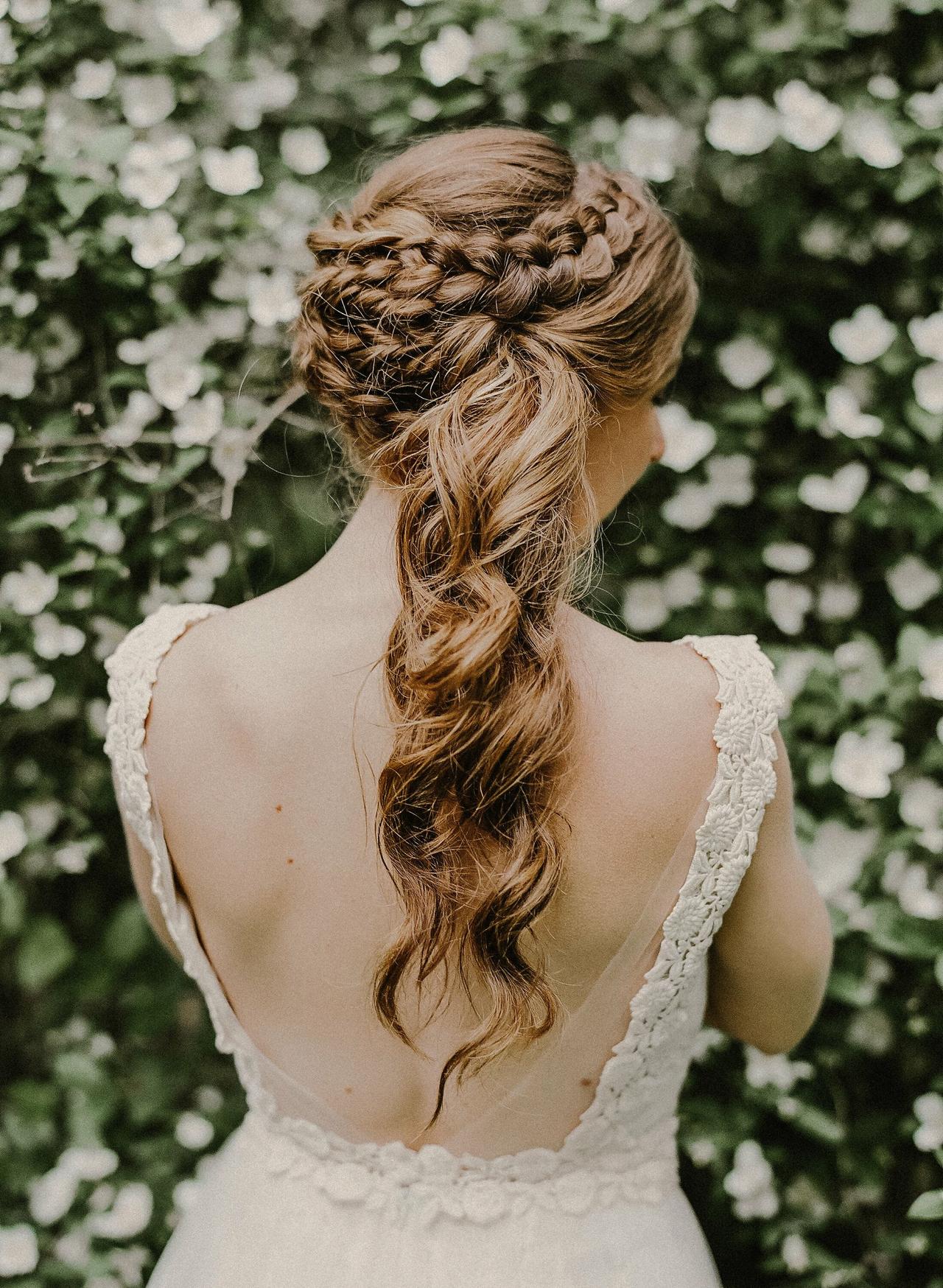 Crown braid wedding hairstyle
Keep your hair neatly out of your face while still showing off curls or length with a crown braid that leads into a ponytail.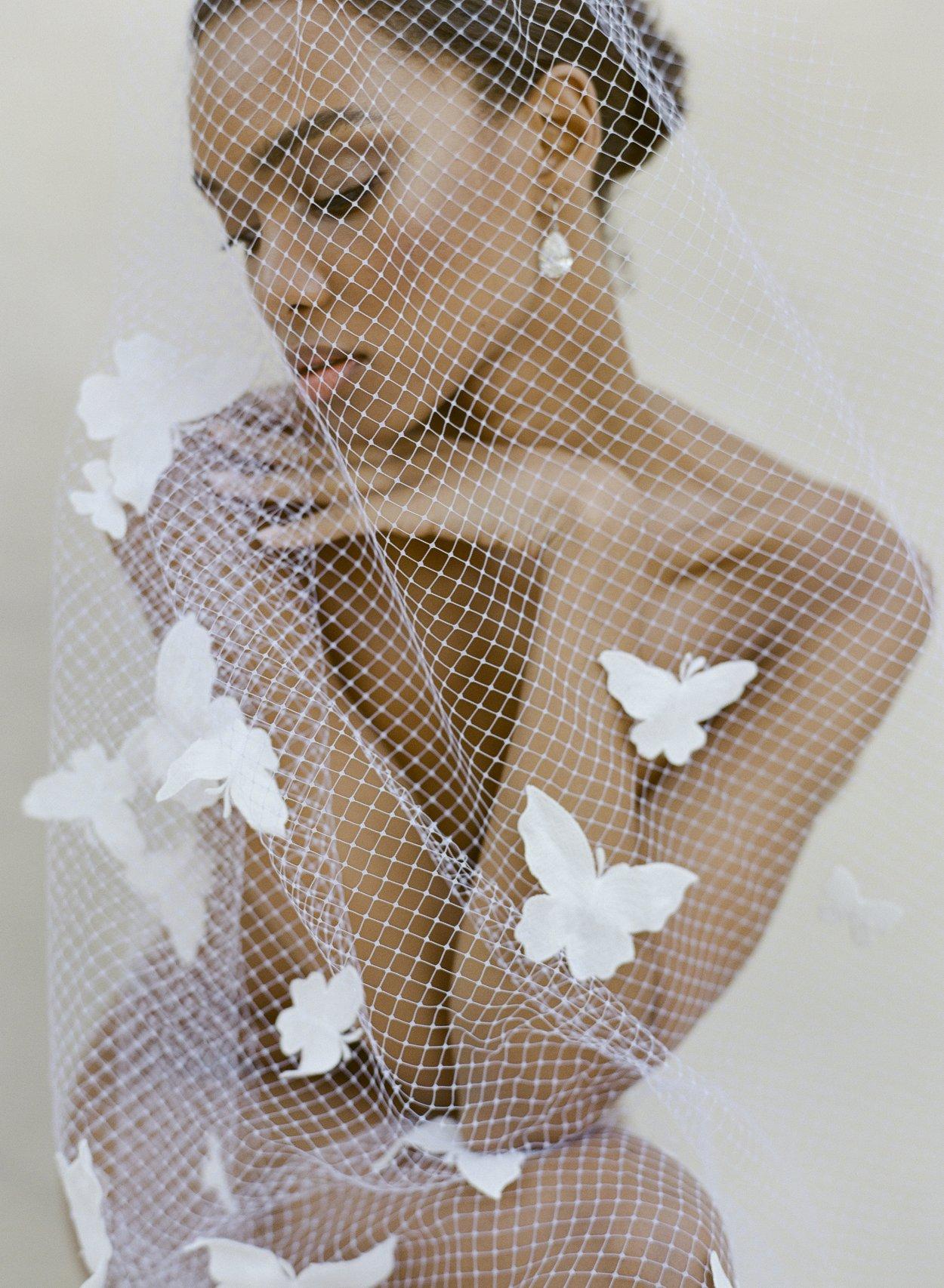 Veil by Made Bride by Antonea; Hair & Makeup by Liliya Mufalazova
Butterfly wedding veil
If you're planning to wear a wedding veil, why not wear one that's adorned with butterflies? Design your own by purchasing organza or silk butterflies and asking your wedding dress tailor to sew them onto the veil properly.
KT Merry/Courtesy of Bella Belle Shoes
Shoes by Bella Belle Shoes; Event Design & Styling by Joy Proctor
Butterfly wedding shoes
Not into veils? How about butterfly shoes instead. These exquisite high heels are adorned with intertwining floral embroidery and chiffon butterflies in pastel purple and blue tones.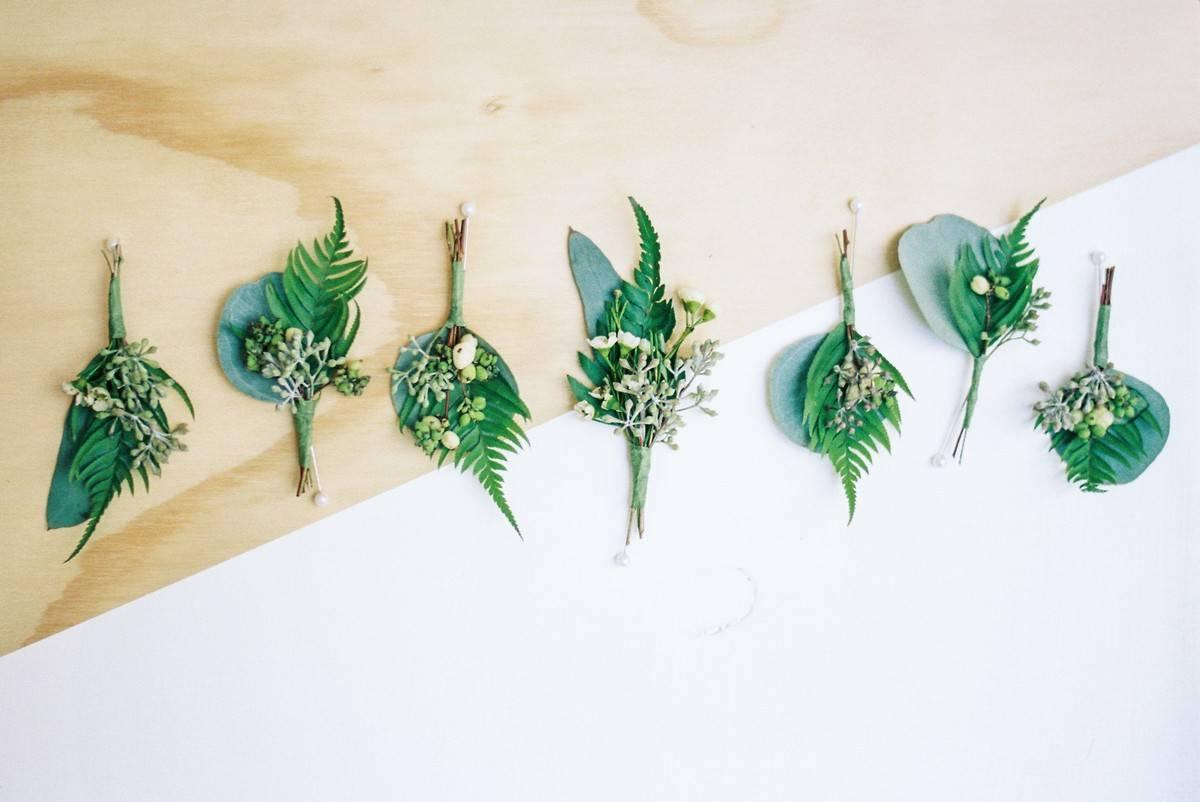 Greenery wedding boutonnieres
These fern and eucalyptus boutonnieres add just the right amount of woodland flair to a suit jacket or dress shirt.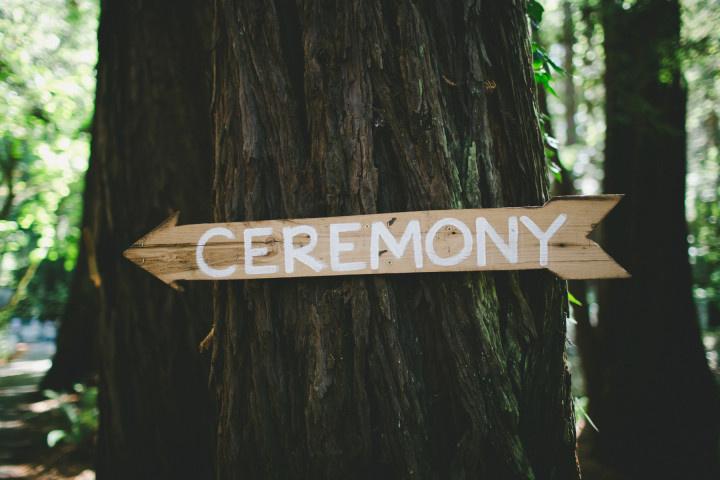 Wooden ceremony sign
Wooden arrow signs fit right in at an outdoor venue, adding a touch of rustic style and practicality.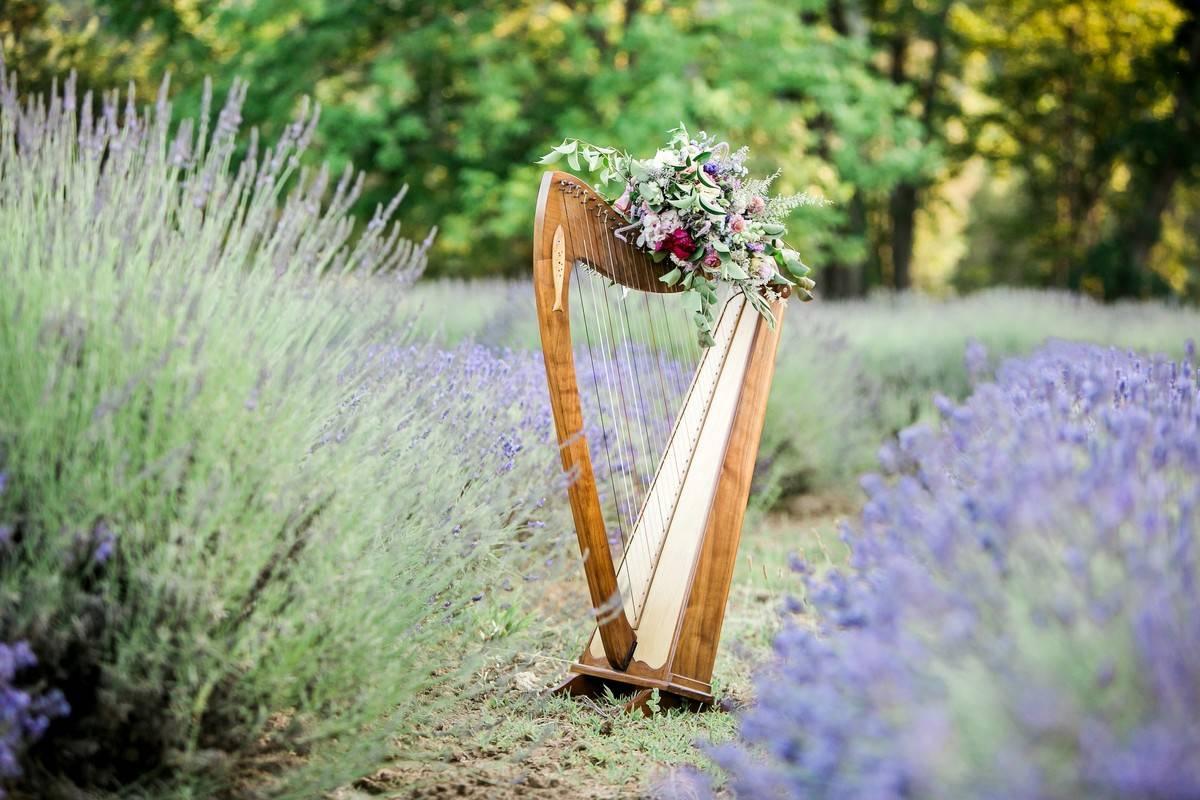 Harp ceremony music
Kick off your wedding ceremony or make your grand entrance with the help of harp music that will round out the fairytale aesthetic.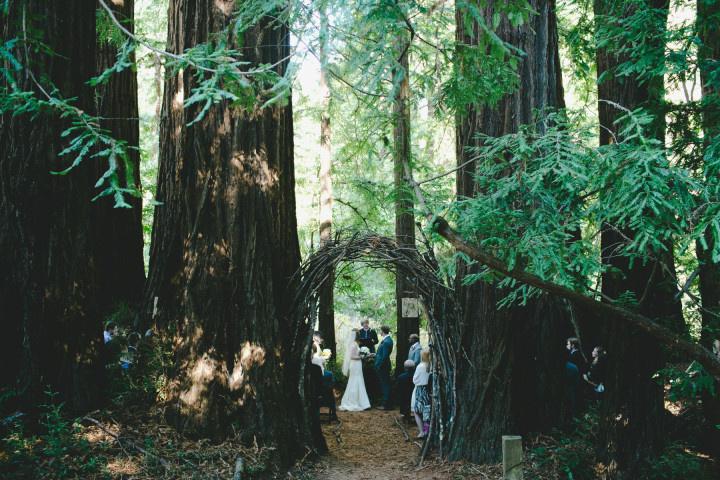 Wedding ceremony arch
Add to the rustic nature of a forest wedding by creating an entrance arch to your ceremony between two massive tree trunks. Instead of flowers, twigs and branches brings a wild look that blends seamlessly with the surroundings, perfectly framing your "I dos."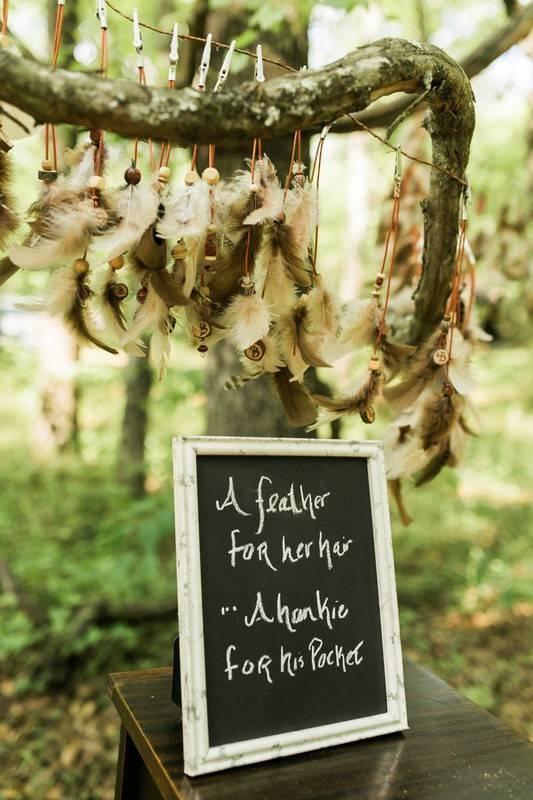 Chalkboard wedding favor sign
A simple chalkboard sign adds rustic flair to your wedding decor. These feather hair clips are just one idea if you're looking for boho or fairy-themed wedding favors!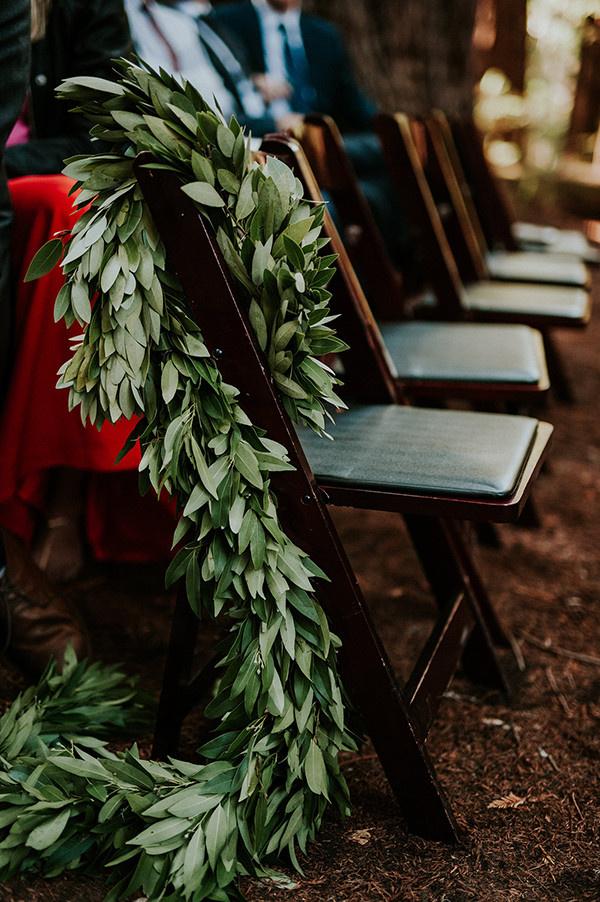 Greenery aisle markers
A garland of thick greenery hugging a ceremony chair brings simplicity to the aisle, complementing the surrounding nature without overpowering it.
Fairytale wedding portraits
The only thing that can make your woodland-themed wedding more mythical is a gorgeous white horse—that's the stuff straight out of fairytale dreams.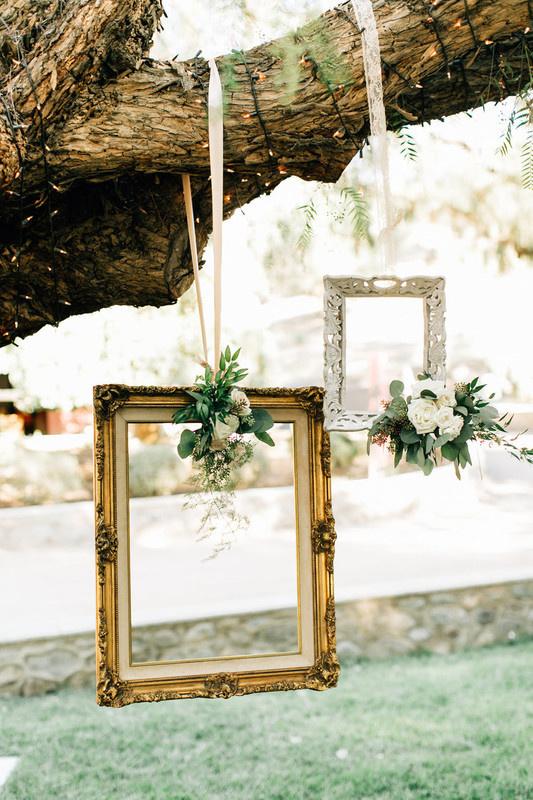 Vintage picture frame photo booth
Create a DIY wedding photo booth by tying empty picture frames to tree branches or wooden posts. Go on a treasure hunt at thrift stores to find vintage frames in assorted shapes and sizes.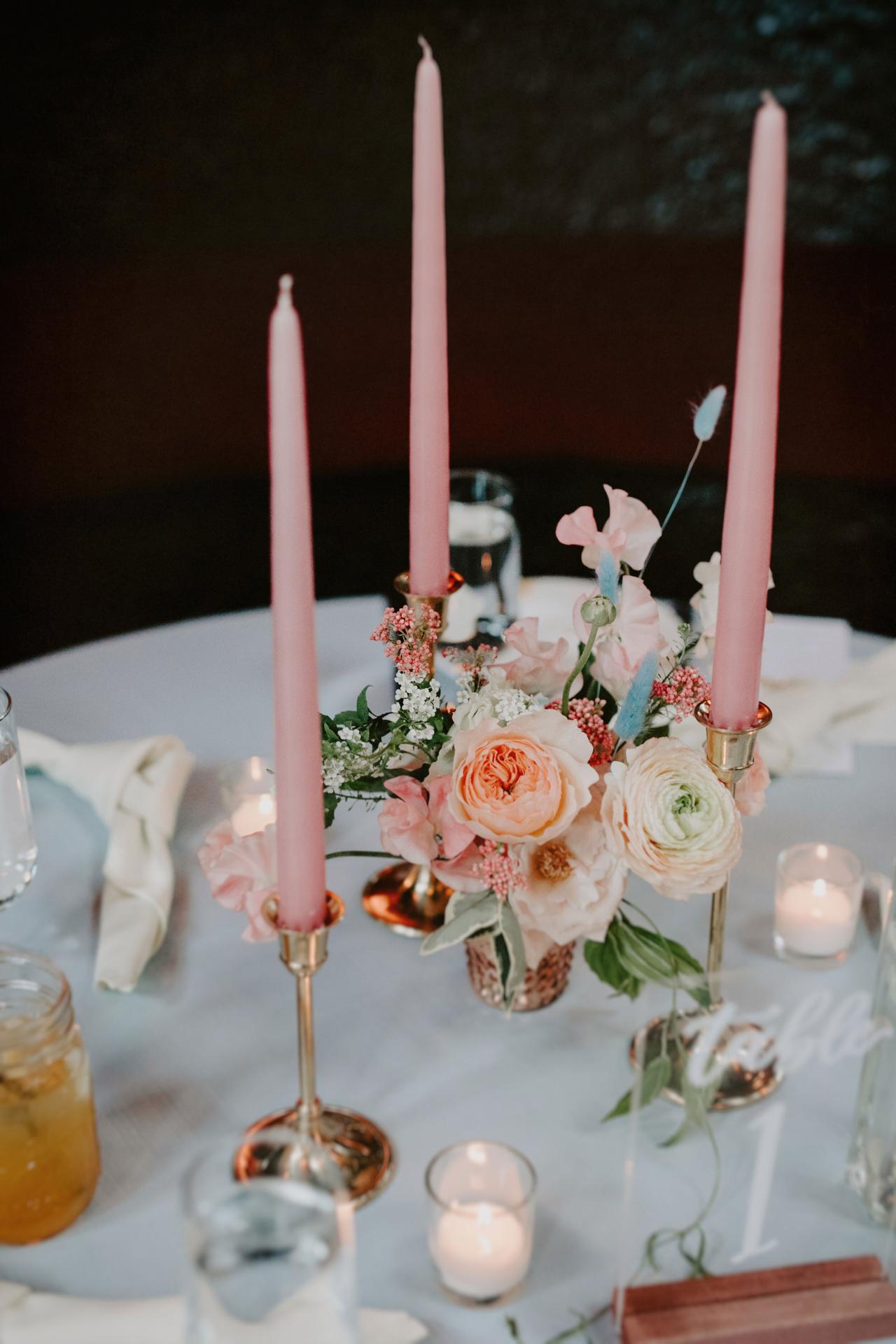 Taper candle wedding centerpiece
Tall taper candles in candlesticks or a candelabra will instantly give your fairy-themed wedding the storybook romance factor. These blush pink candles are so pretty even when they're not lit.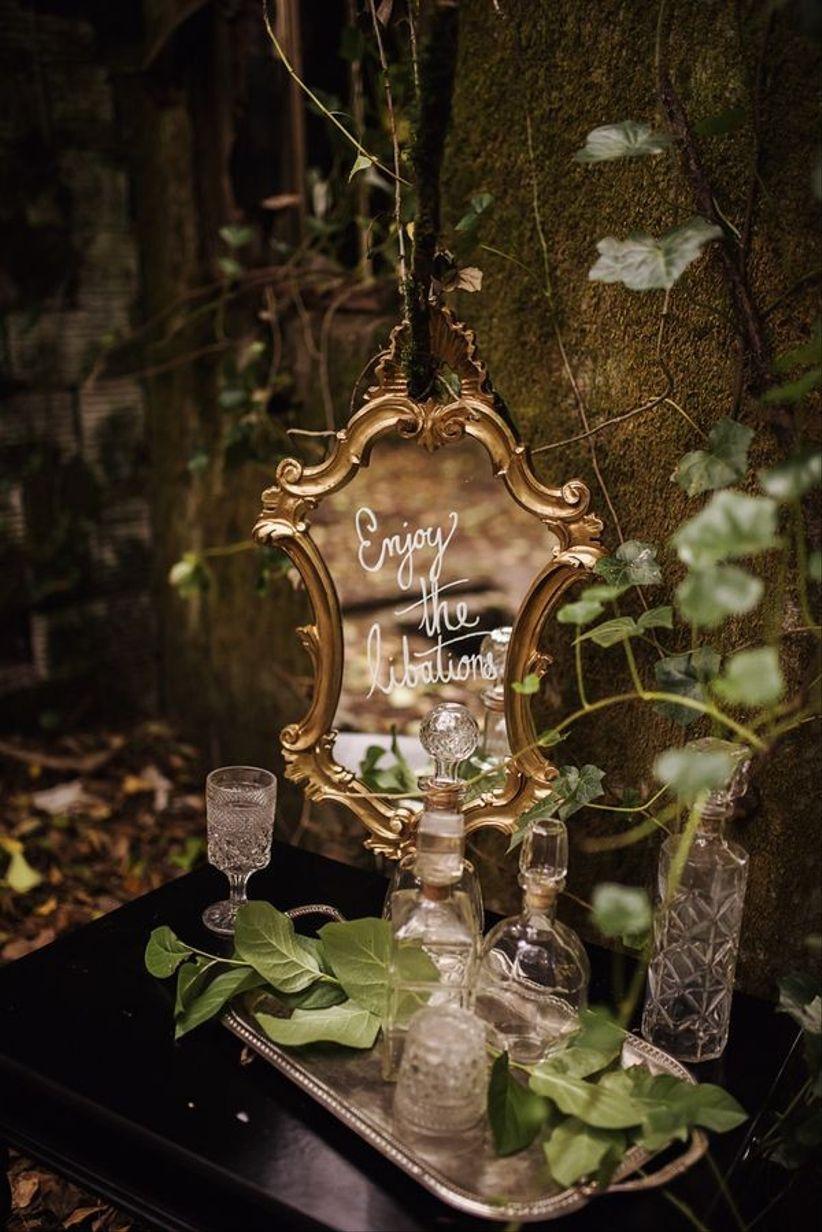 Wedding cocktail bar
Mirror, mirror on the wall, which libation is best of them all? A gilded mirror, crystal glassware, and climbing ivy create a mini bar with fairytale vibes.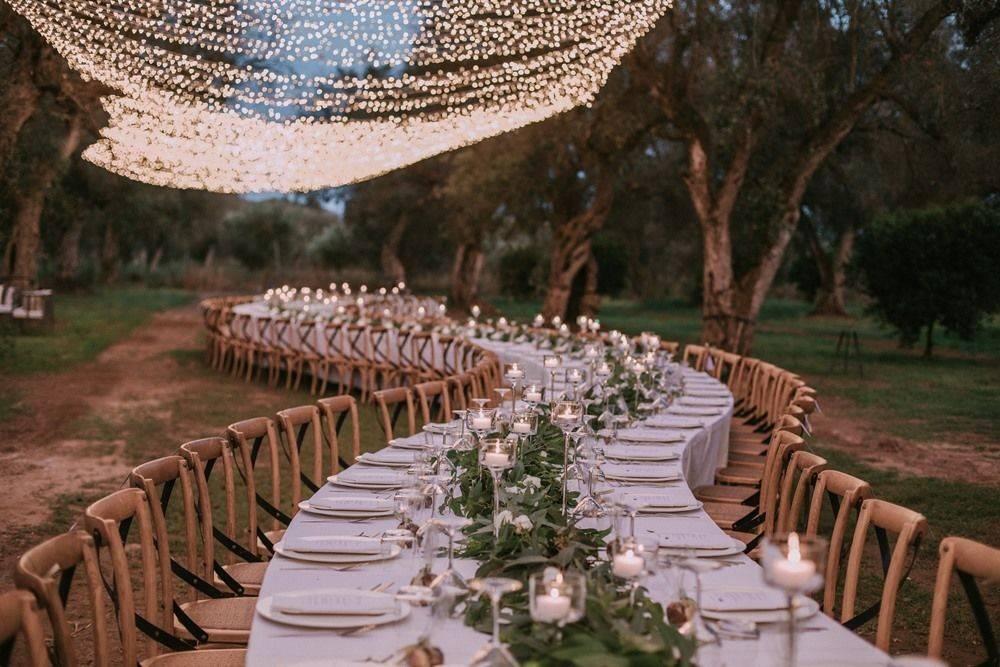 Twinkle light canopy
How's this for magical? Treat your guests to a magical dinner under the stars by hanging a string light canopy above a long, meandering reception table.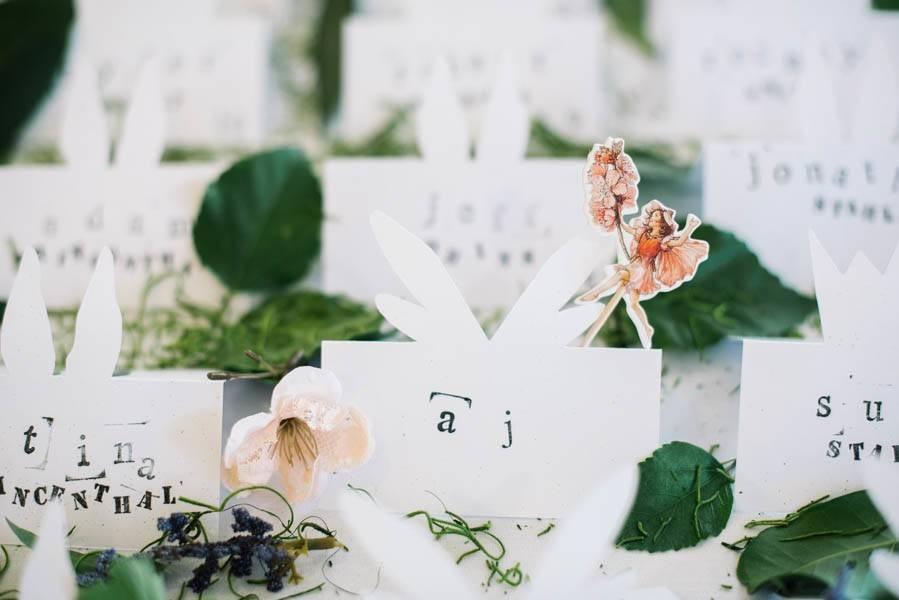 Handmade wedding escort cards
Imagine these hand-stamped escort cards being made by your very own group of fairy godmothers. The perfectly imperfect look is whimsical and crafty.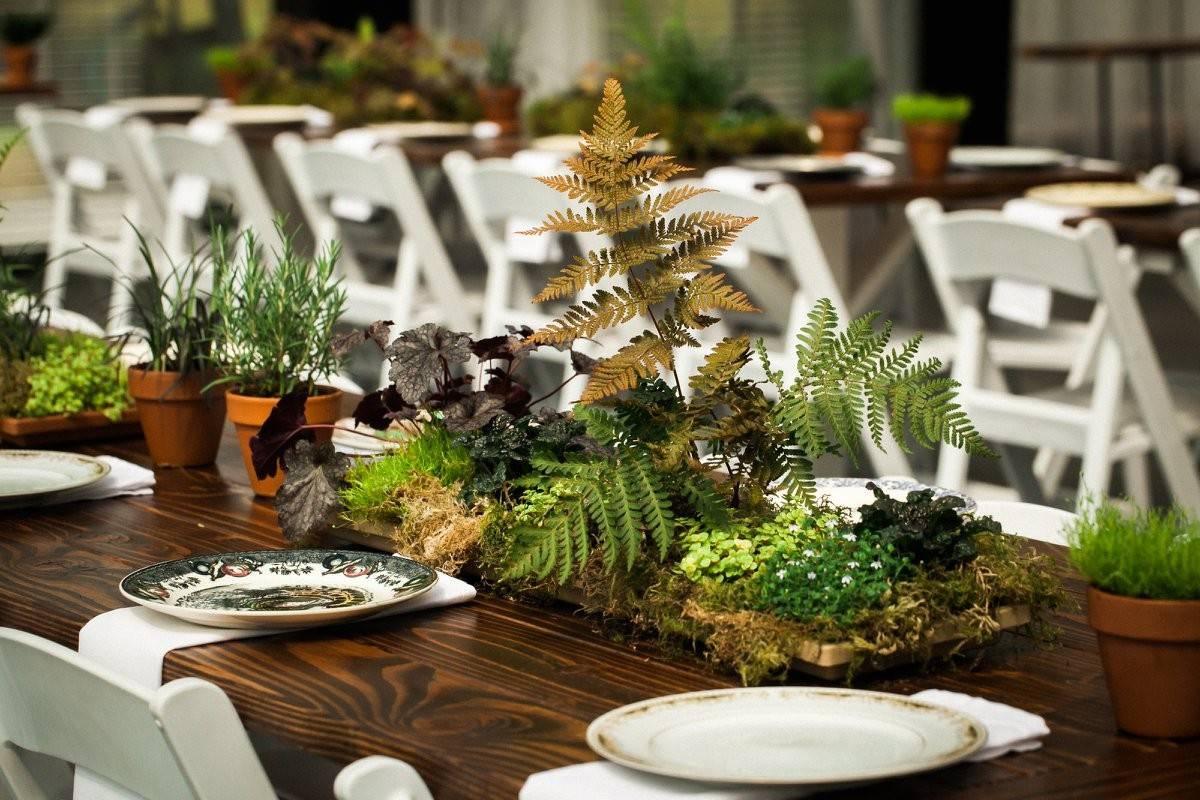 Mossy wedding centerpieces
Create forest-inspired centerpieces by swapping fresh flowers for moss and other greenery, like maidenhair ferns, clovers, and ivy.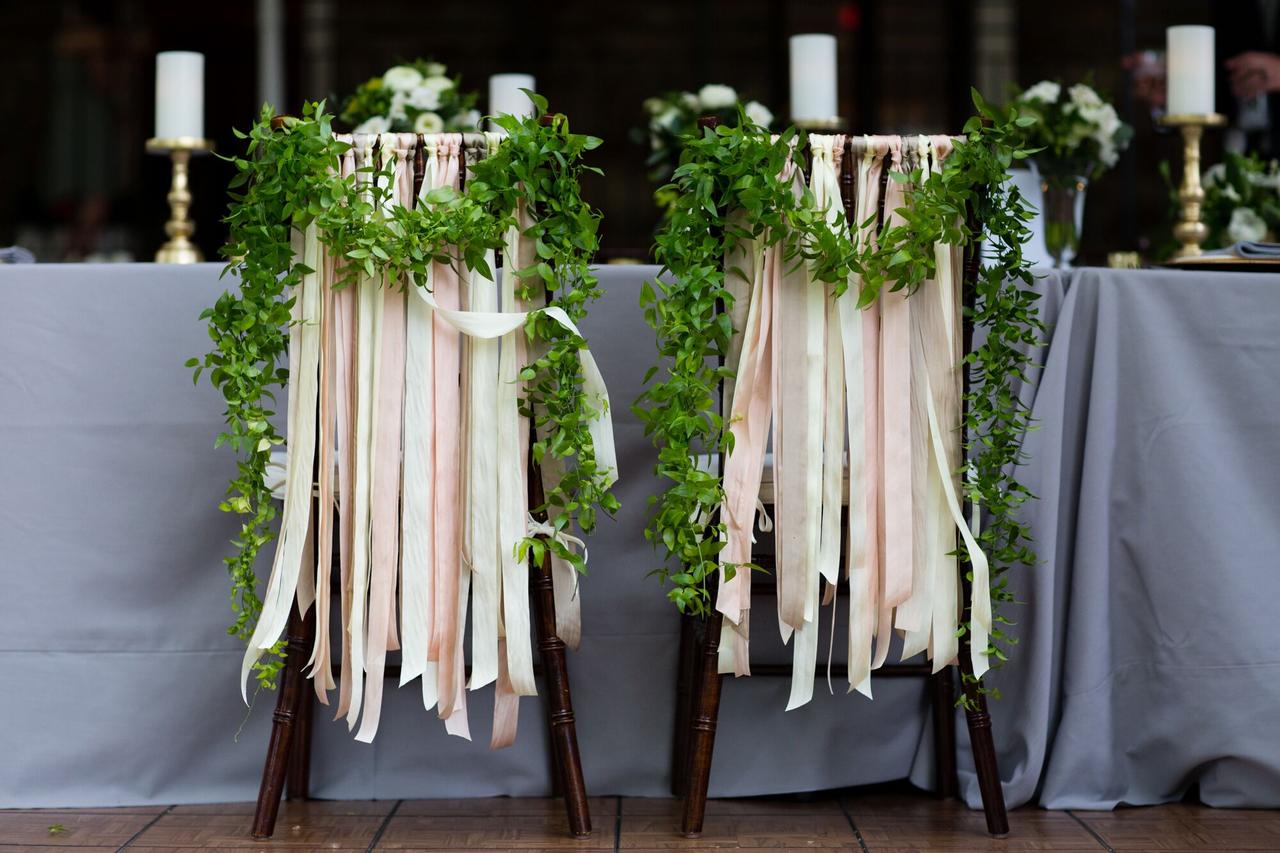 Ribbon wedding chair decor
Decorate the backs of your chairs with long satin ribbons and greenery garlands to make them feel extra-special for your wedding reception.
Macaron wedding place cards
An enchanting spell was cast on this place setting, with gilded accents and a macaron place card featuring a hand-painted fern and elegant calligraphy—all presented in a mossy bed to complete the fairy-inspired theme.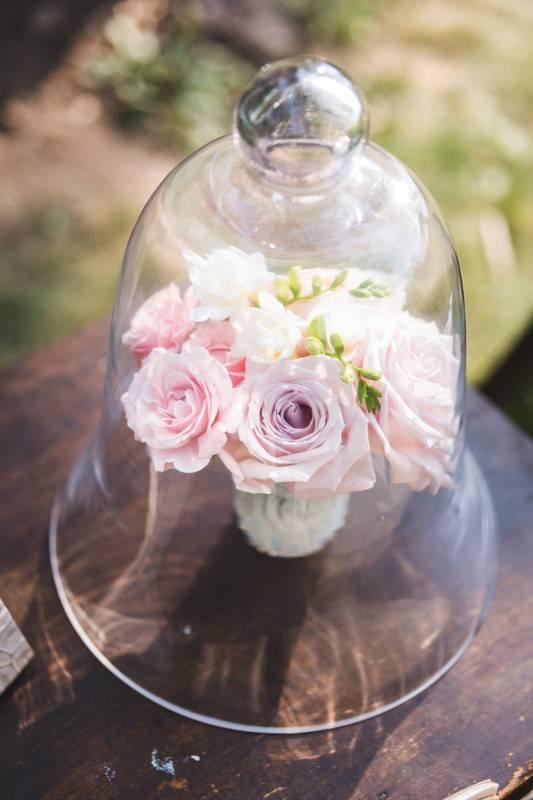 Bell jar floral displays
Take a cue from Beauty and the Beast and showcase small floral arrangements under glass bell jars to turn them into miniature works of art.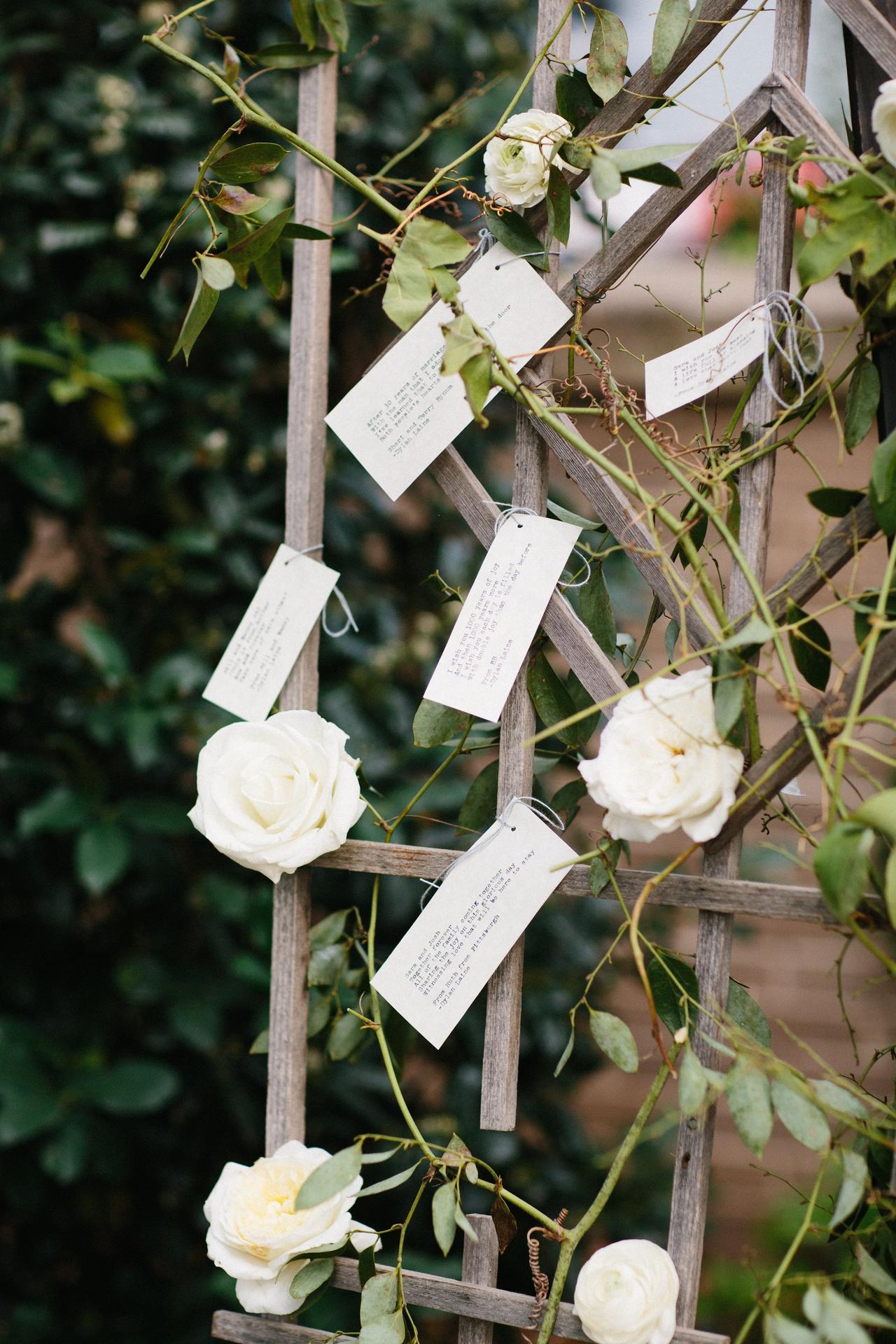 Trellis guest book
Not into the usual wedding guest books? Add a wooden trellis to a potted rose bush or other type of plant, then use it as venue decor and a place for guests to share their well wishes.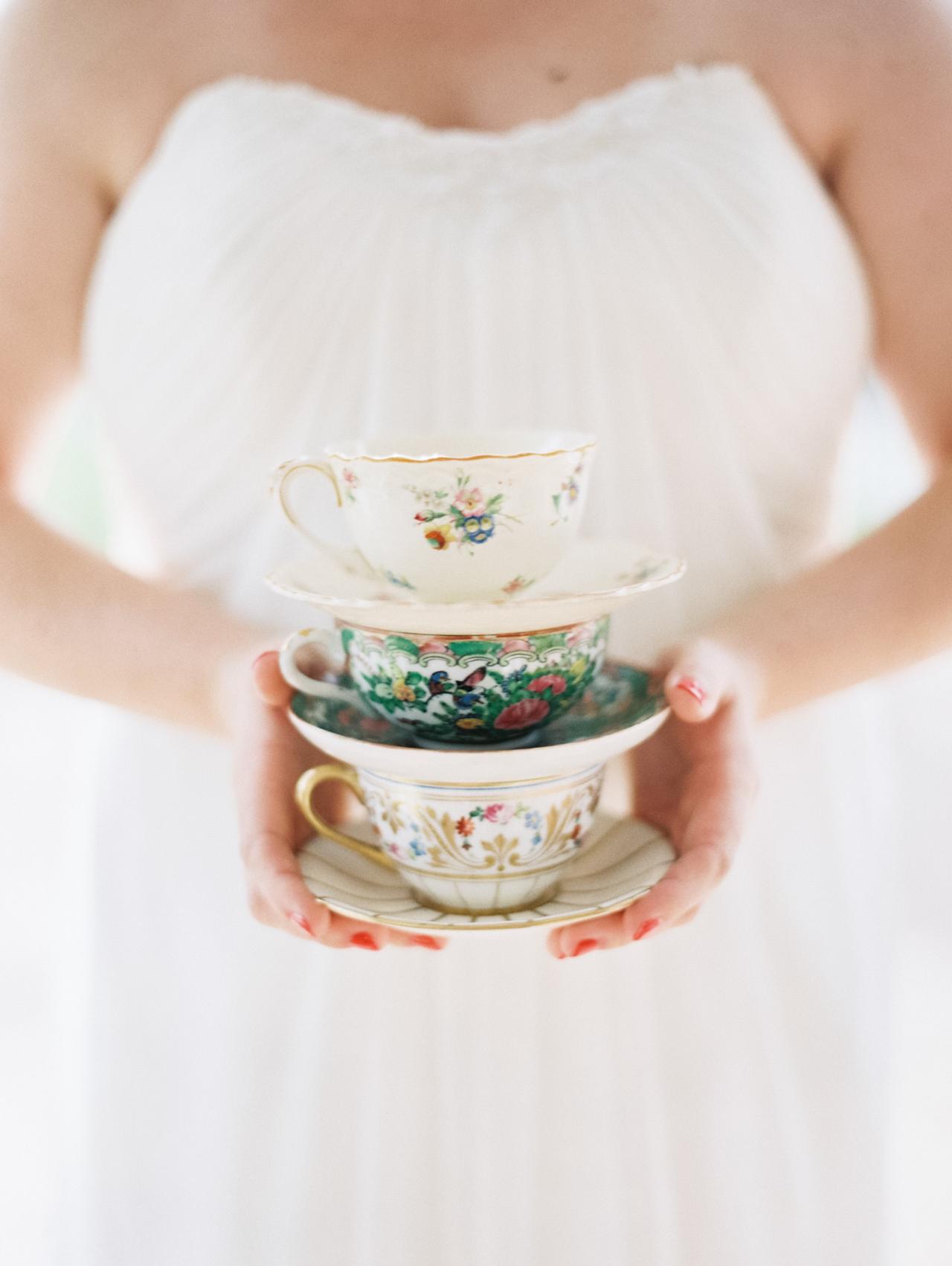 Vintage tea cups
Play up the shabby chic aspect of a fairy themed wedding by serving drinks in vintage mix-and-match tea cups (or simply using them as decorative accents in your tablescapes and centerpieces).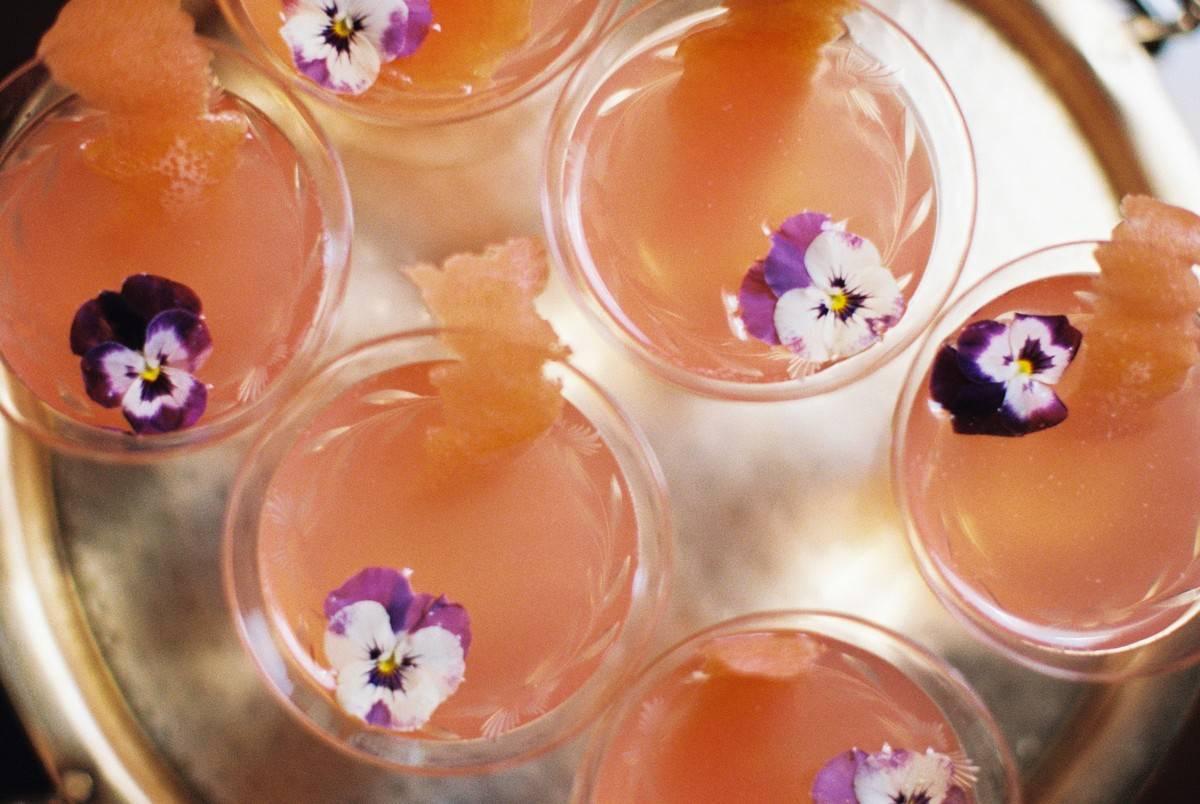 Floral wedding cocktails
Some flowers are more than just pretty things to look at—a few of them are even edible. Serve these pretty cocktails topped with miniature pansies for fairy-approved refreshments.
Event design by East Made Co.; Cake by Trouvaille Bakery
Sugar flower wedding cake
Turn your cake into an edible sculpture by decorating it with ornate details, like draped fondant, hand-painted sugar flowers, bas relief trim, and gold filigrees.