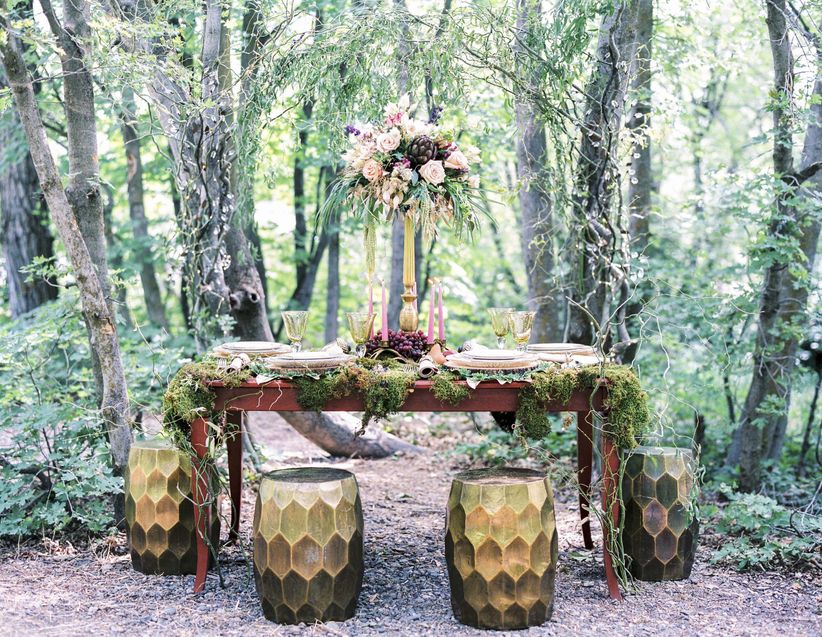 Photo: LeeYen Photography
Once upon a time…we couldn't think of a more magical wedding than one featuring woodland wedding ideas. Maybe we've read too many storybooks, but there's something undeniably enchanting about tying the knot under a canopy of leaves, surrounded by the dense foliage of towering trees. We've been cast under the forest fairy's spell, and you will be too with these woodland wedding ideas. Moody palettes, mossy accents, forest berries, lush greenery, wooden stumps — the combination is utterly alluring, especially when sprinkled with the fairytale love of a wedding day. The dreamy woodland-themed wedding look is often a charmed fusion of bohemian and rustic with underlying romance.
Which of these woodland wedding ideas will you fall for?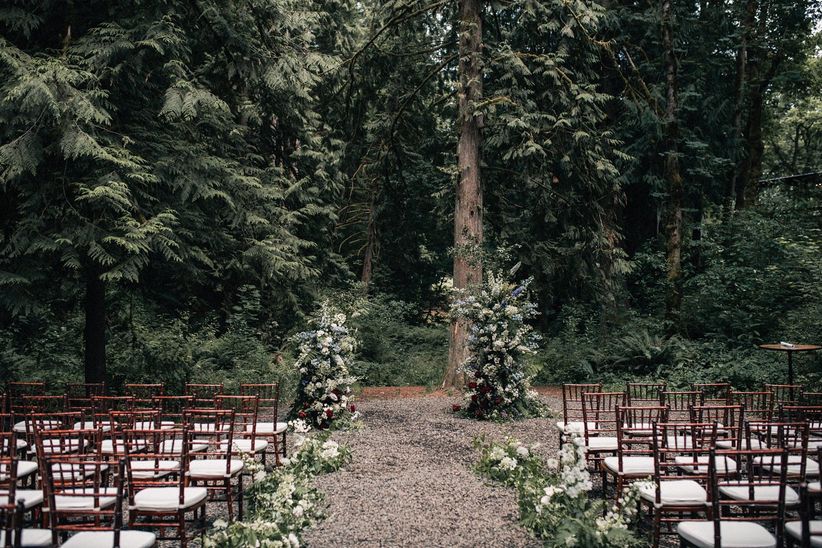 Photo: Chrissy Cassano Photography
Towering trees and lush vegetation provide all the magic in this stunning woodland ceremony. Not much décor is needed with surroundings like this; seating keeps it simple so as not to compete with the natural beauty, while an altar and aisle runners of flowers and greenery complement it.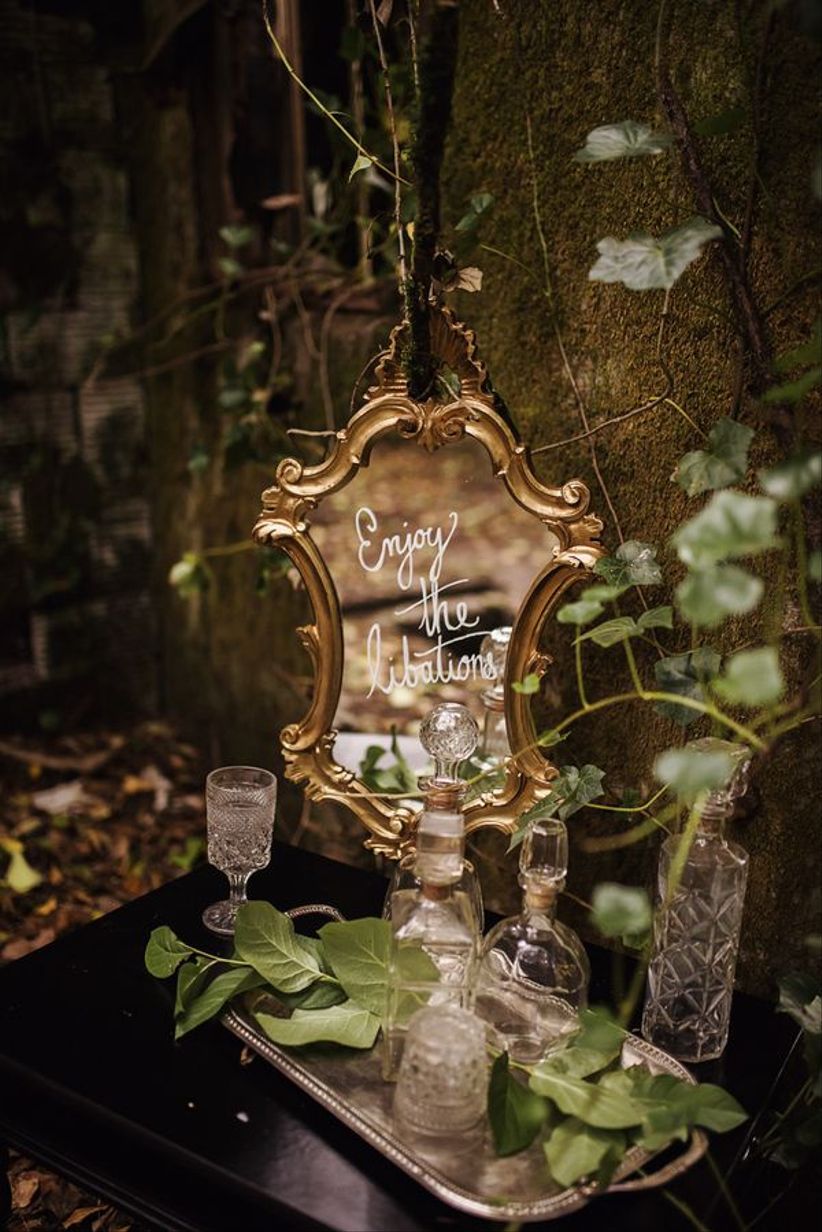 Photo: Tashana Klonius Designs
Mirror, mirror on the wall, which libation is best of them all? A gilded mirror, crystal glassware, and climbing ivy create a mini bar with fairytale vibes.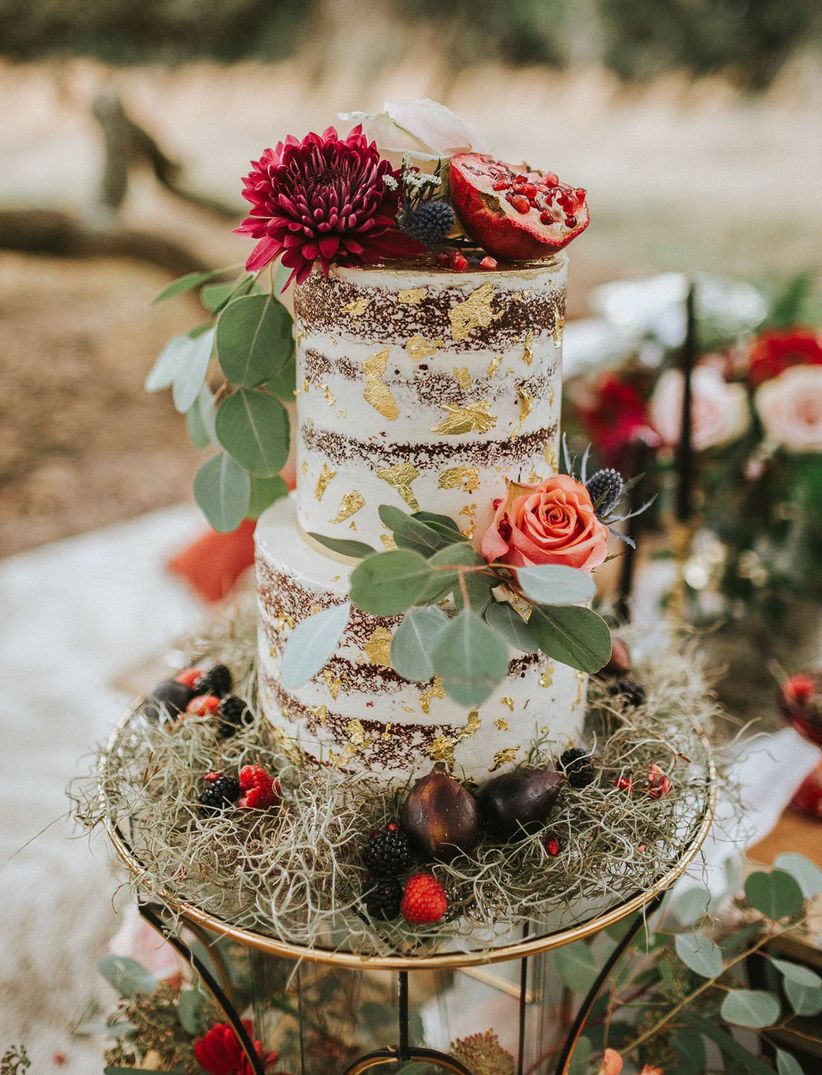 Photo: Rachel Lynn Photography
A rustic naked cake by Dolce Designs speckled with metallic gold is ripe with woodland romance, ringed with moss and adorned with succulent fruits and forest berries, nuts, and leaves, provided by florist Gypsy Blooms and styling by Rustic Chic Events.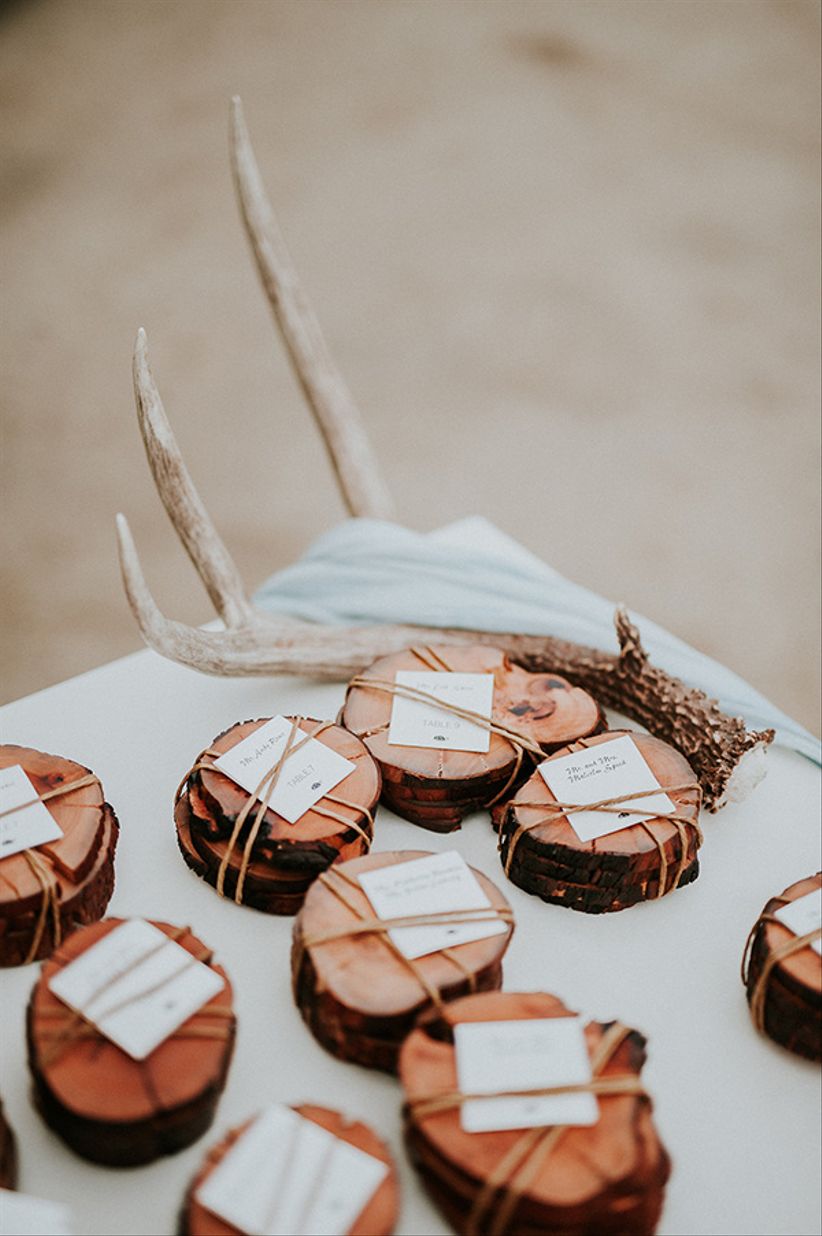 Photo: Greer Gattuso Photography
Miniature wood slabs bundled in twine bring a forest touch to escort cards.
Photo: LV Imagery
We could just lie in this lounge area all day! A warm leather couch with printed pillows and a faux fur throw creates a cozy, inviting feel, with birch tree stump bookends displaying romantic lighting.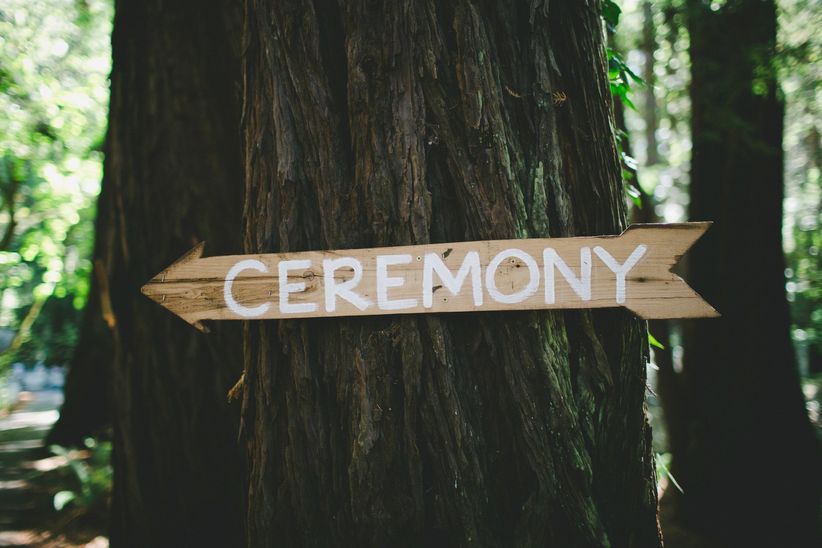 Photo: Bethany Carlson Photography
Wooden arrow signs fit right in the forest, bringing a touch of Robin Hood.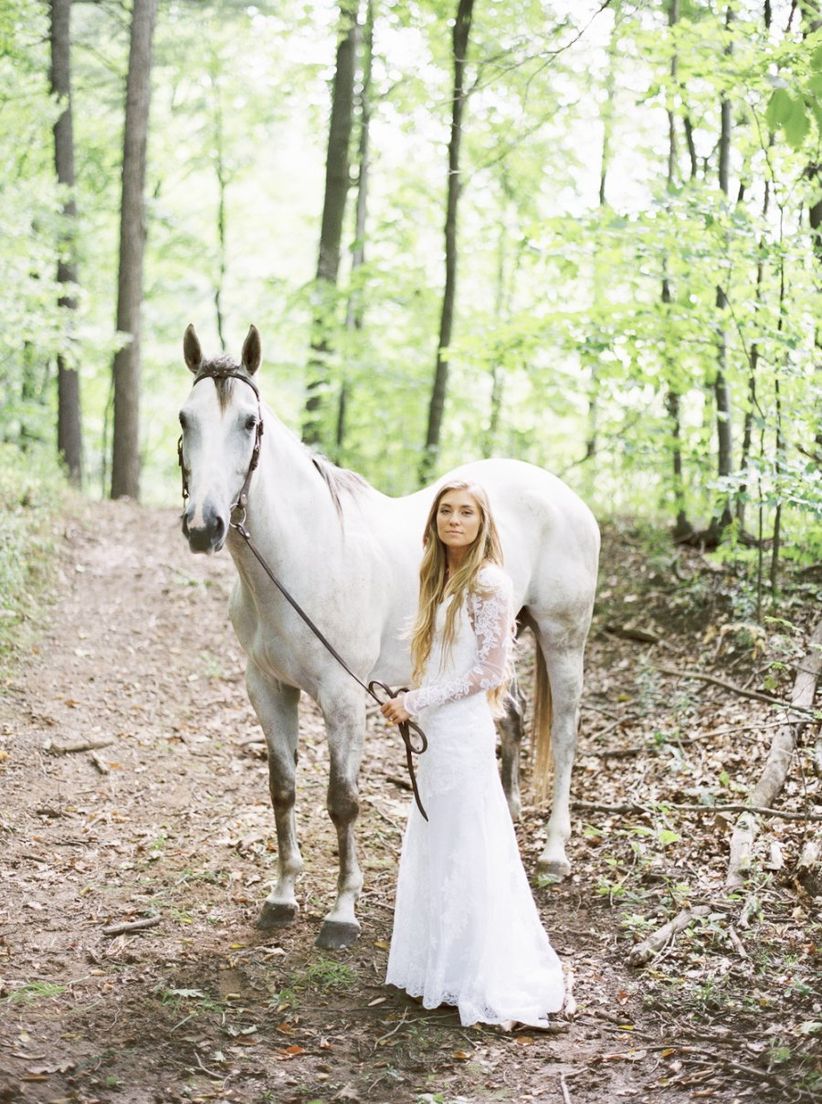 Photo: Andrew Mark Photography
The only thing that can make your woodland-themed wedding more magical is a gorgeous white horse. Now that's the stuff straight out of fairytale dreams.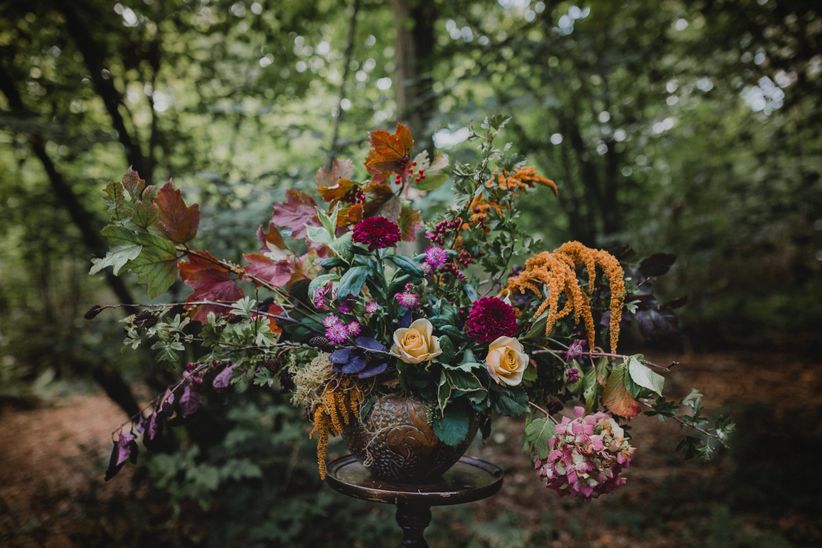 Photo: Kate Gray Photography
A decadent fall-hued floral arrangement of autumn leaves, spicy ginger amaranthus, and golden mustard roses creates a jewel-toned beauty as rich as the surrounding forest.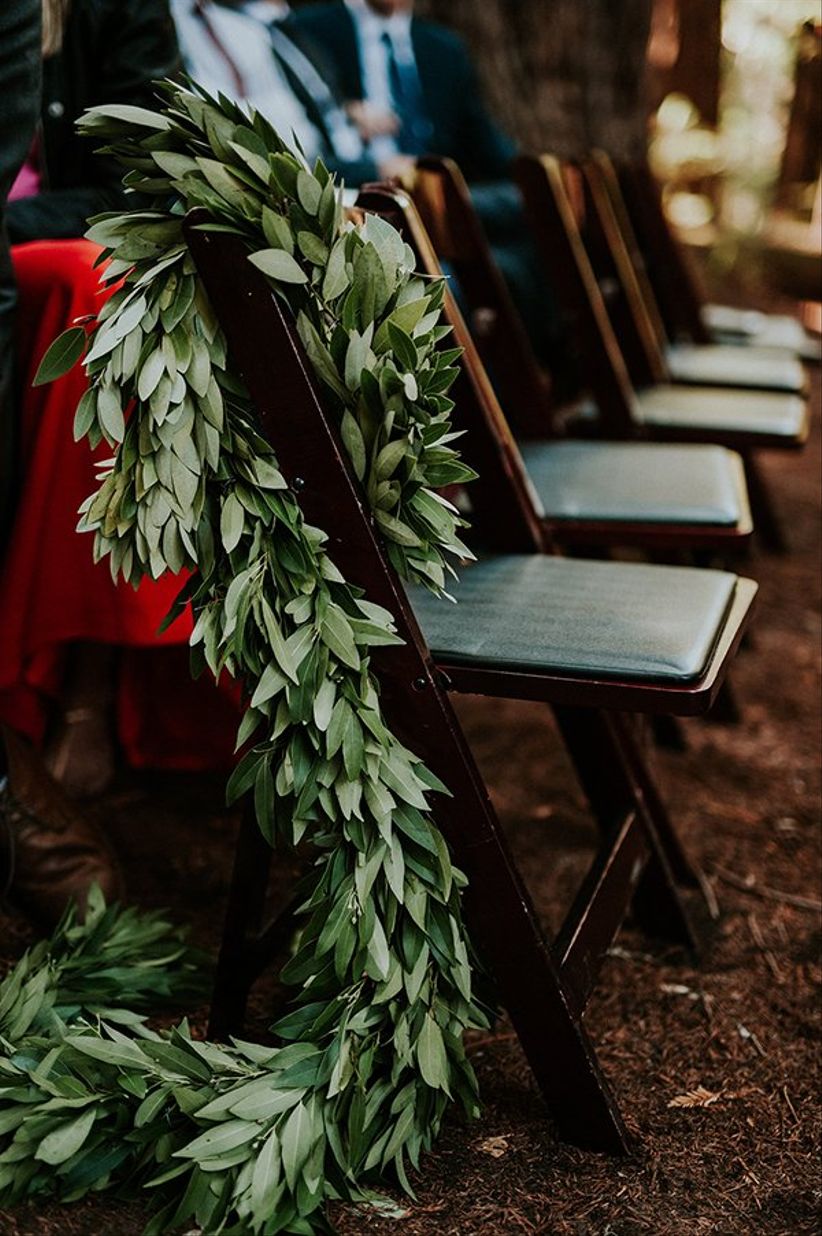 Photo: EPLove
A garland of thick greenery hugging a ceremony chair brings simplicity to the aisle, complementing the surrounding nature without overpowering it.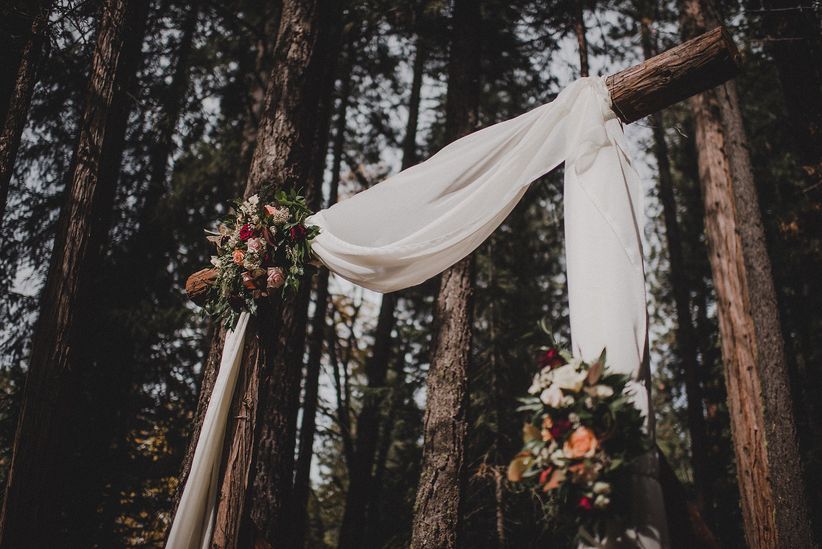 Photo: Raya Carlisle Photography
Deeply-hued blooms cluster around a branch structure with draped linens in a romantic look, creating a masterpiece of an arch.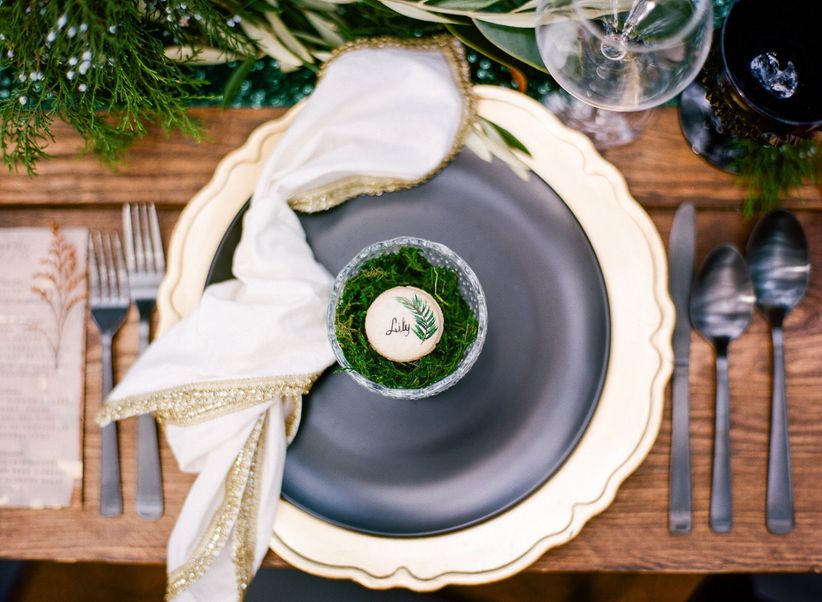 Photo: The Ganeys
An enchanting spell was cast on this place setting, with gilded accents and a macaroon place card featuring a hand-painted fern and elegant calligraphy. A mossy cup adds a whimsical touch to these woodland wedding ideas.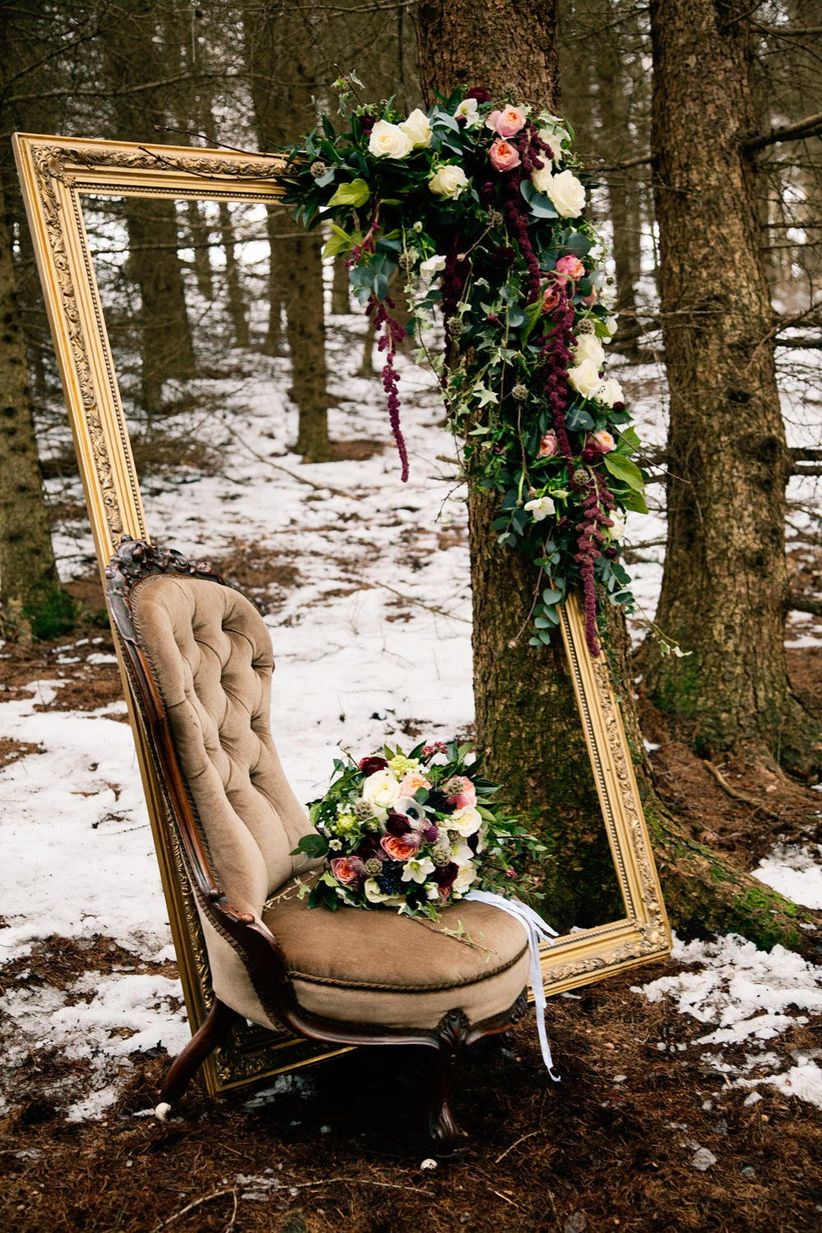 Photo: Jo Bradbury
An oversized gilded frame adorned with moody foliage and accented with a vintage chair brings old world romance vibes to this winter wonderland of a woodland. We love this pairing for an unexpected entrance to the reception.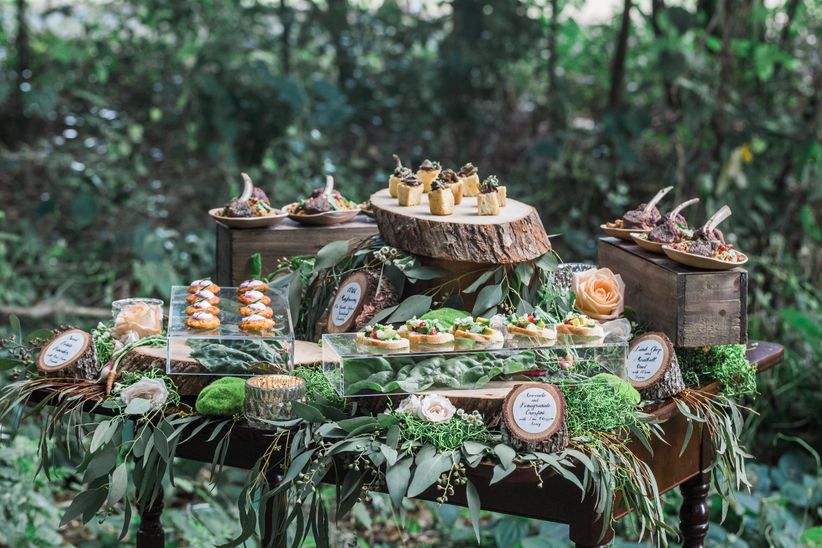 Photo: Rising Lotus Photography
Of all woodland wedding ideas, this kissed-by-nature food station has to be one of the most unique. Wood slabs and crates create different levels to display hors d'oeuvres atop a bed of trailing leaves and moss — perfect for cocktail hour.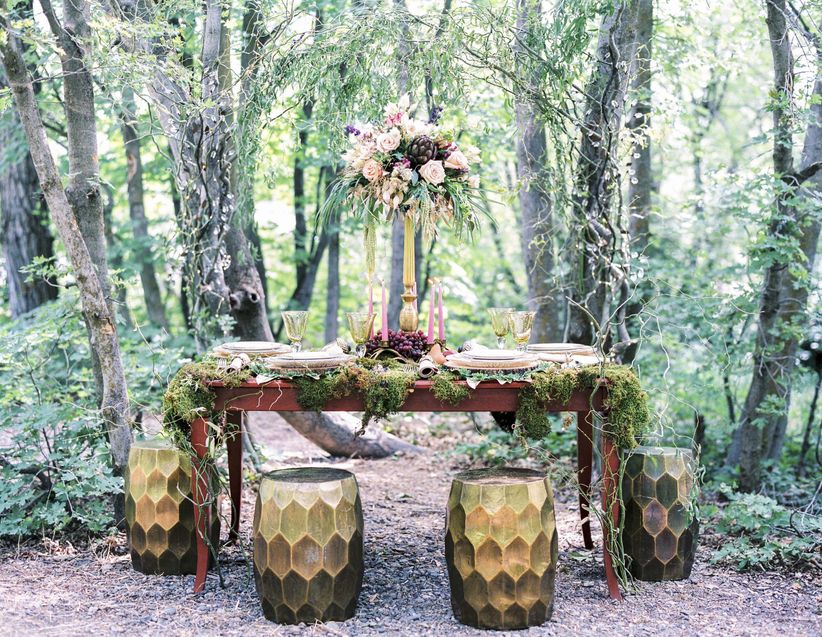 Photo: LeeYen Photography
Even a storybook couldn't dream up a more decadent tablescape in the middle of the woods. Covered in moss, laden with forest berries, and covered with an arched branch interweaved with crystals, it's fit for royalty.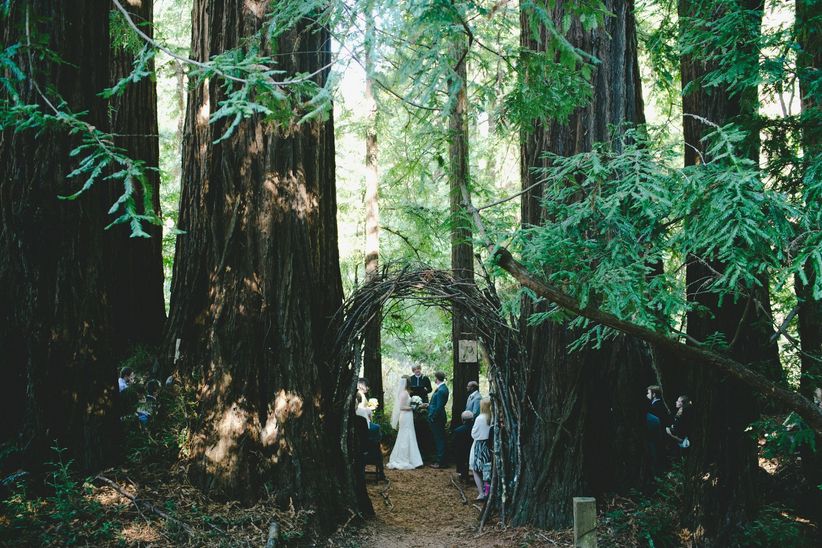 Photo: Bethany Carlson Photography
Add to the rustic nature of a woodland wedding by creating an entrance arch to your ceremony between two massive tree trunks. Instead of flowers, twigs and branches brings a wild look that blends seamlessly with the surroundings, perfectly framing "I dos."