How Harry and Meghan's Wedding Differed from Will and Kate's
Just over seven years apart, the two royal weddings were vastly different from one another. Here's how Harry and Meghan's wedding was set apart from Will and Kate's.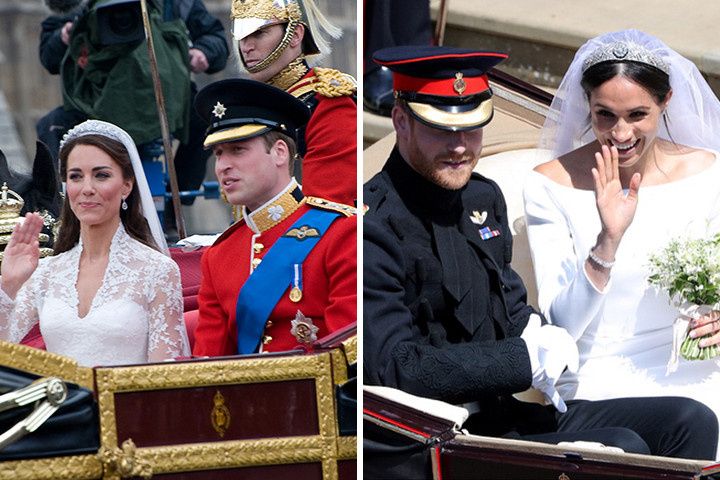 The big day finally arrived and millions of people around the world tuned in to watch the 2018 royal wedding, in which Prince Harry married Meghan Markle. This wedding was significant for several reasons. First, as the late Princess Diana's son, Prince Harry holds a special place in our hearts. Second, Meghan is an American citizen, raised in California. The last time an American tried to marry into the British Royal Family the King (Edward VIII) was forced to choose the crown or the woman he loved. He chose Wallis and abdicated to his younger brother, who became King George VI, Queen Elizabeth's father.
We took a look at both Prince Harry and Meghan Markle's wedding, and the royal wedding of the groom's brother, Prince William to Catherine Middleton to see how they were similar and different.
The Ceremony Dress
Kate Middleton's custom ball gown by Sarah Burton for Alexander McQueen was quite traditional with its long lace sleeves, full skirt and nine-foot train. The future Queen wore closed-toe pumps with the same lace on her regal wedding dress.
Meghan wore a white soft A-line wedding gown with bateau neckline and three-quarter length sleeves by Clare Waight Keller, the Artistic Director for Givenchy, a French fashion house. The minimalist gown was a fashion-forward choice with all the adornments on the 16' veil. Along the edge of the white silk veil were hand-embroidered flowers that represented the 53 countries in the Commonwealth, plus two of Meghan's favorite flowers: Wintersweet, which is found in Kensington Palace and the California Poppy as a nod to her home state.
Both Prince Harry and Prince William wore formal military uniforms.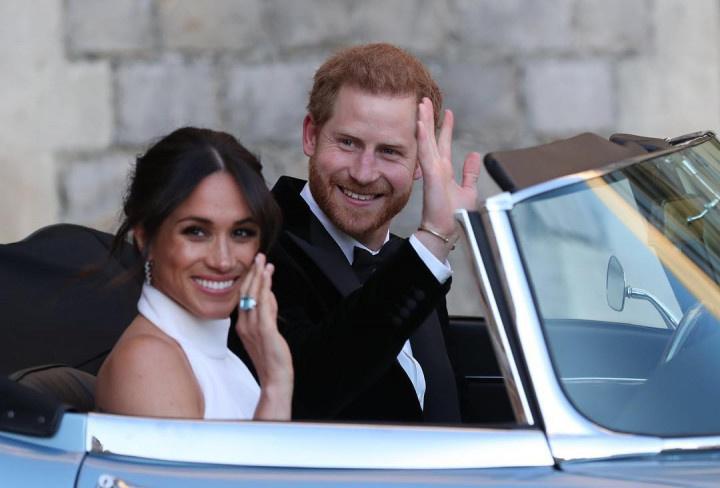 The Reception Dress
For Catherine Middleton's evening wedding reception at Buckingham Palace, she wore an ivory satin dress, also by Sarah Burton for Alexander McQueen. The gown had a sweetheart neckline, full skirt, diamanté detailing to accentuate at the waist and a warm shrug.
The Duchess of Sussex left Windsor Castle for the couple's wedding reception at Frogmore House changed into a white halter neckline gown by Stella McCartney.
Both grooms wore formal black tuxedos to the reception.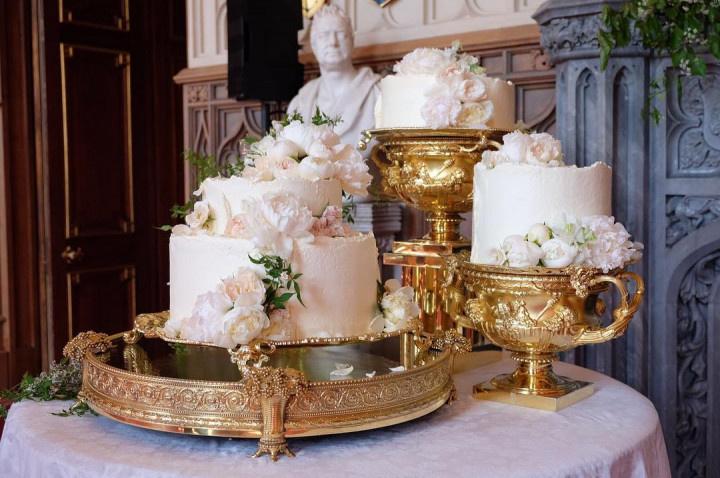 The Cake
Prince Harry and Meghan Markle opted for a more casual wedding cake design and flavor than his brother and his bride selected for their wedding breakfast in 2011. While the Duke and Duchess of Cambridge went with a traditional multi-tiered ivory design with sugar flowers and piped details and a fruit cake flavor, the new Duke and Duchess of Sussex decided on a lemon elderflower flavored cake with buttercream frosting adorned with fresh flowers for their wedding cake.
Both the flavor and design of Prince Harry and Meghan Markle's wedding cake broke with royal wedding tradition. The traditional fruitcake is sent home with guests or mailed to guests after the wedding as a wedding favor.
To feed hundreds and hundreds of guests, a royal wedding cake is usually many tiers tall or wide, but the Sussex's chose a four-tiered cake, deconstructively stacked in gilded cake stands and decorated with real flowers, instead of piped blooms. The baker may have sheet cakes available to cut enough slices for all of the guests to enjoy the wedding cake. The ingredients were locally sourced, which was an important detail to the couple.
Over two-thirds of UK couples will offer additional desserts at their reception, so it's likely that guests at Prince Harry and Meghan Markle's wedding will enjoy other treats as well.
The Carriage Ride
After royal weddings the newlyweds ride in a state carriage, open if it's not raining and glass enclosed if it is, to a palace or castle for their wedding reception.
As the future King of England, Prince William and Catherine Middleton rode in the Imperial State Landau from Westminster Abbey to Buckingham Palace for their wedding reception. Since Prince Harry and Meghan Markle's wedding is not a state affair, the couple selected the less formal Ascot Landau for the carriage processional to Windsor Castle following their ceremony at St. George's Chapel.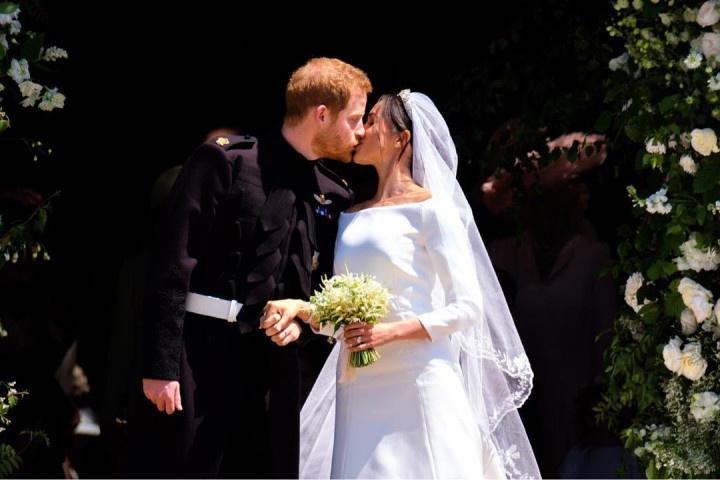 The Kiss
Since Queen Victoria's wedding, royal couples who celebrated their wedding at Buckingham Palace greeted cheering crowds from the building's iconic balcony. Prince William and Catherine Middleton kissed twice for the public as they stood with their family and wedding party on this historic spot.
Since Prince Harry and Meghan Markle wed at St. George's Chapel, and Windsor Castle doesn't have a balcony, the couple shared a kiss to the accompaniment of cheering crowds on the steps outside St. George's Chapel, framed by the green and white floral archway, before departing in the carriage ride to their reception at St. George's Hall.
The Flowers
Both brides of Prince William and Prince Harry selected white as the overall color scheme for their wedding ceremony's décor. Both couples decorated their ceremony venues with seasonal and locally-sourced flowers, working with the variety in the gardens at Windsor Castle.
Lilac, azaleas, wisteria, rhododendrons and euphorbias were in abundance at Westminster Abbey, while white garden roses, peonies and foxgloves were used at St. George's Chapel. Both couples used branches within the church's walls to create a garden setting for their guests.
Bridal Bouquets
Neither of Princess Diana's daughters-in-law carried a bridal bouquet in the cascading style of their groom's mother. They both opted for more modern bouquets that complemented their wedding-day look but were probably a lot easier to carry.
The Duchess of Cambridge chose a small shield-shaped bouquet with a selection of flowers that each had special meaning. Myrtle, a traditional royal wedding flower since Queen Victoria carried it at her wedding to Prince Albert, stands for love and marriage. She also carried Sweet William, hyacinth, ivy and lily of the valley, which stand for love, fidelity and trustworthiness.
Meghan's bridal bouquet was both traditional and sentimental. Prince Harry handpicked a few of the flowers from their private garden and Kensington Palace for his bride to carry on their wedding day. The bouquet includes Princess Diana's favorite, forget-me-nots, as well as sweet peas, lily of the valley, astilbe, jasmine and astrantia. Sticking with tradition, the new Duchess of Sussex also carried myrtle in her round bridal bouquet.
The Guests
Westminster Abbey can seat 2,000 guests and Prince William and Catherine Middleton invited 1,900 people to watch them recite their vows. Because their April 2011 wedding was a state occasion, the guest list included representatives from many countries and government officials, as well as family and friends of the couple, representatives of charities important to the couple, members of royal families from around the world, and members of the armed forces. Some celebrity guests included Elton John, David and Victoria Beckham, Rowan Atkinson and Mario Testino. Around 600 people were invited to the wedding breakfast after the ceremony. The evening reception at Buckingham Palace, hosted by Prince Charles that evening included a more intimate guest list of 300.
Though St. George's chapel can seat 800 people, Prince Harry and Meghan Markle decided to invite only 600 to their wedding ceremony and wedding breakfast at Windsor Castle. The guest was limited to friends and family of the couple, and representatives from charities and organizations the couple are involved with as well as members of the armed forces. A few celebrity guests included cast members from Suits, Oprah Winfrey, James Corden, Elton John (who performed at the wedding breakfast), Serena Williams, Priyanka Chopra, David and Victoria Beckham, and George and Amal Clooney. Prince Charles hosted an evening reception at Frogmore House the evening of the wedding for 200 friends and family of the newlyweds.
The Tiara
As a royal bride both Catherine Middleton and Meghan Markle were invited to choose a something borrowed from the Queen's jewelry collection. The Duchess of Cambridge chose the Cartier Halo Tiara, which was a gift from King George VI to Queen Elizabeth (also known as the Queen Mother) upon their ascension.
Meghan topped of her regal wedding-day look with a glittering tiara that once belonged to Queen Elizabeth's grandmother, Queen Mary. Queen Mary's diamond bandeau, also known as the Filigree Tiara, was made in 1932. The centerpiece of the tiara is a detachable diamond broach that Queen Mary received as a wedding present in 1893. It was designed a tiara in 1932.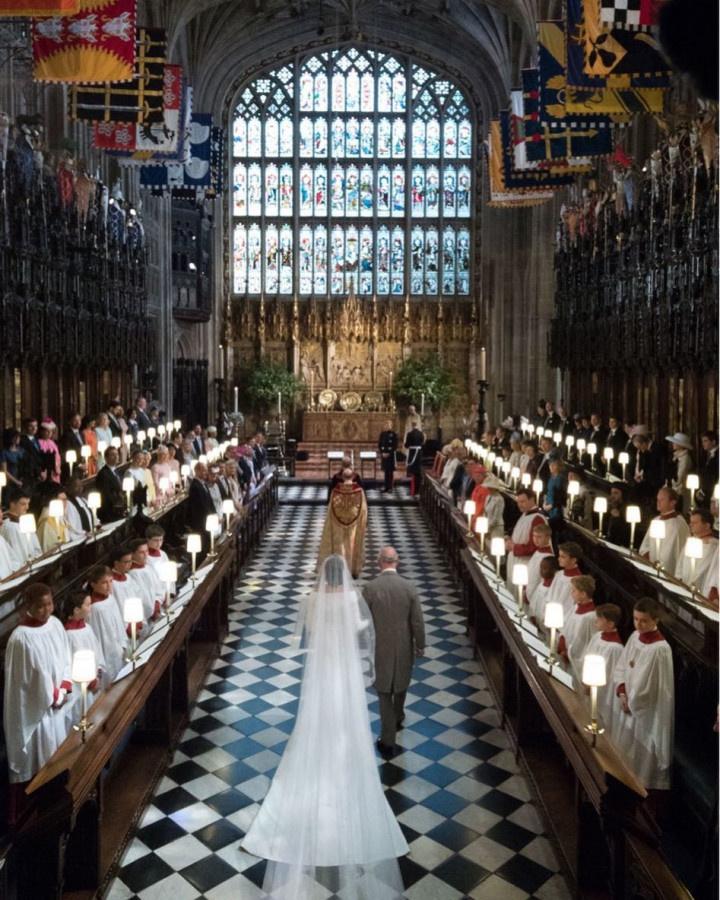 The Ceremony
Prince Harry and Meghan Markle's wedding, unlike his brother's wedding to Catherine Middleton, was not a state occasion, so they had more freedom to personalize and customize their wedding ceremony. The couple decided to include elements from the bride's American heritage to ensure that was a reflection of who they both are and the blending of two backgrounds.
The couple invited Episcopal Bishop Michael Curry to give the sermon at the ceremony and he quoted Martin Luther King Jr and recited lines from an African-American spiritual, There is a Balm in Gilead. Musical choices, sung by a gospel choir, included "Stand By Me" written by American singer Ben E. King and "This Little Light of Mine" sung by Etta James.
Kensington Palace announced before Prince William's wedding to Catherine Middleton that as a personal choice, Prince William would not receive a wedding ring at their wedding ceremony or wear one. His brother decided to wear a wedding ring, and Meghan gave him a platinum wedding band during the service.
Honoring Mom
Mothers of the bride at royal weddings do not take part in the wedding ceremony, but Meghan chose to honor her mother by having her ride with her to St. George's Chapel. Her mother took her seat before Meghan entered St. George's Chapel.
The Processional
When Meghan's dad announced that he would not be able to attend the wedding, Meghan asked Prince Charles to do the honors. But he would not be giving her away. He would escort her down the aisle.
Meghan entered St. George's Chapel with her wedding party and Prince Charles met her halfway to the altar to escort her to her groom. It's important to note that the palace used the language "escort" and not "will give the bride away." The officiant also changed the wording in the beginning of the ceremony and asked the couple of they knew of any reason they should not be lawfully married, instead of asking the congregation.