A modern Muslim wedding ceremony is filled with meaningful religious and cultural traditions. Still, that doesn't have to stop you from infusing your wedding flowers, attire and wedding reception with your personality and style.
Check out these modern Muslim wedding ideas for ultra-trendy couples.
Mandala floral arrangements for meaningful decor.
Although they are largely attribute to the Hindu and Buddhist religions, mandala-like geometric shapes can be found in all ancient religions, including Islam. These intricate patterns create gorgeous floral patterns and can serve as good-energy-inducing inspiration for a modern Muslim wedding. You can incorporate sacred symbols of Islam into your mandala, or use your creativity to create unique patterns and symbols that represent your wedding day.
Two wedding ceremonies for double the fun.
Indian-American Muslims are already familiar with the idea of a traditional, religious wedding ceremony and a second, separate Western wedding. Even if you're not Indian-American, you can totally steal this idea if you're struggling with how to merge traditions for your modern Muslim wedding. Or, if you just want another excuse to gather with your loved ones, wear gorgeous clothes and celebrate.
Halal wedding food trends and tasty signature mocktails.
This should come as no surprise, but the majority of your wedding guests will be judging you based on the food options you provide — it's the number one thing guests really care about. Local, fresh food that tells a story is one of the biggest wedding trends, so you can't go wrong with modern Muslim wedding dishes that represent your hometown, your heritage or even your favorite cities.
If you really want to delight your guests, surprise them with a halal food truck at the end of the night before your sendoff.
Keep the glasses clinking with fun signature mocktails named for you and your love. Your caterer might also have some recommendations for what will pair nicely with your meal, or go rogue and whip up something of your own.
Sups cute 'Nikahfied' cake topper.
What better way to celebrate your successful Nikah than a modern Muslim wedding cake topper? Go beyond "Mr. and Mrs." with cute sayings like "Just Nikahfied" or "Nikah Mubarak."
Zamzam water wedding favors.
Water from the Zamzam well is a super-sweet, significant and useful wedding favor for both your Muslim guests and non-Muslim guests. Select some on-theme packaging and consider adding a small card that tells the story of the Holy Water for guests who may not be familiar with the significance.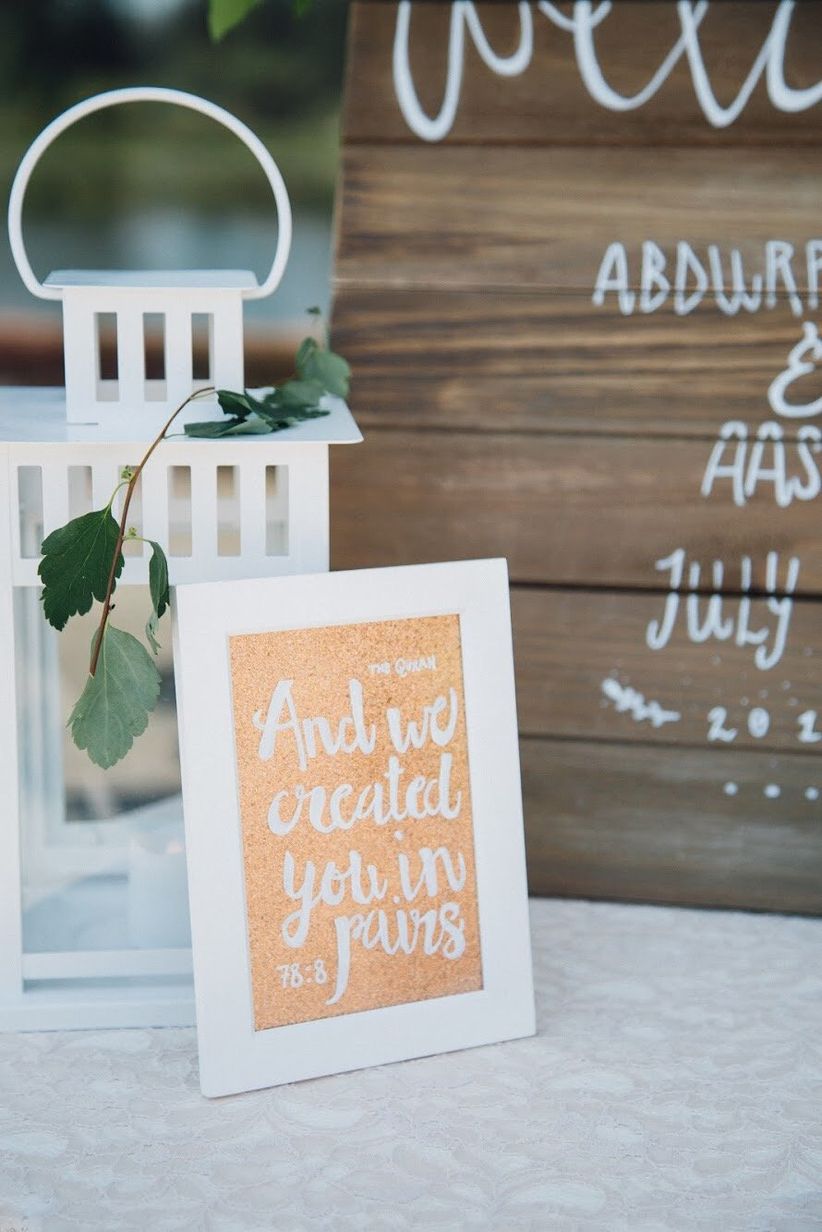 Framed Qur'an verses and love quotes for inspirational decor.
Modern couples are really loving unique signage to personalize their weddings. Trendy Muslim couples can look no further than some of the sweetest Holy verses for personal touches. Surah An-Naba 78:8, "and we created you in pairs," is a popular quote to include. You could also consider a love quote by a famous Muslim poet like Rumi or Warsan Shire.
Minimalist wedding bouquets.
Minimalism is a trendy wedding principle that focuses on fewer things, but each item has lots of meaning for the couple and their union. While you may not want to go full on minimalist wedding, you can incorporate this trend, which favors white and neutral colors, into other aspects of your wedding decor or your bouquet. If you'll be wearing a hijab, a less bulky bouquet might be a nice balance to your wedding look.