The Second Wedding Etiquette Questions Everyone Asks, Answered
Everything you need to know about getting married for the second time around, from what to wear to who pays.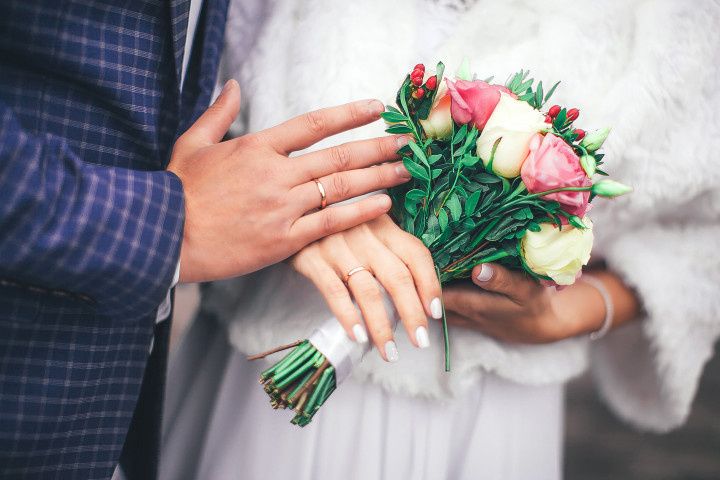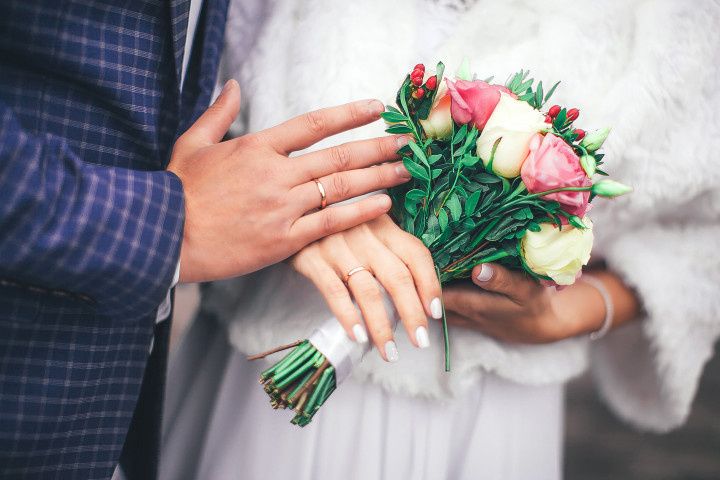 Planning a second wedding can be just as detail-oriented and stressful as planning your first. The couple needs to draft their wedding guest list, determine their wedding budget and decide on all the various wedding details from what they will wear to their vows to the music at the reception. There are also second wedding etiquette concerns that a couple wouldn't have addressed with their first wedding: Should a bride wear a white dress or a veil to a second wedding? How do you include your children in the wedding? And should the couple register for wedding gifts or not?
To help you plan for your big day, we've got the answers to your second wedding etiquette questions to help alleviate some wedding-planning stress.
Should I invite my ex-spouse to my wedding?
No, you do not have to invite your ex to your wedding, though you may if you have a close and cordial relationship with him or her. And in that case, you should ask your betrothed if he or she is okay if you invite your ex.
If your first spouse passed away, and you are still close to your in-laws, you may want to invite them to your wedding, but realize that it may be hard for them to attend, so they may send their regrets.
How can I include our children in the wedding?
Your children should be some of the first people you tell of your engagement, and when you tell them the exciting news you can ask them, or let them know, how you envision them participating in the wedding. Little kids may want to be a flower girl or ring bearer, while older ones may want to be a bridesmaid or groomsmen. Kids can also escort a parent down the aisle.
Discuss with your officiant how you can incorporate your children in the wedding ceremony. Can they exchange vows with you? Can they read a passage that evokes family? Is there a unity activity that all of you can do together at the altar?
You can also give kids responsibilities on the wedding day, such as passing out wedding programs when guests arrive or wedding favors at the end of the reception.
Don't pressure or force children to participate if they are reluctant to. It may take some kids time to accept that their parents aren't getting back together, if you're divorced.
Can I wear a white wedding dress and a veil?
The short answer to this common second wedding etiquette question is yes. A bride getting married for the second, third or even tenth time can wear white and a veil too! When choosing what to wear on your wedding day it's important to pick a style that you feel beautiful in, regardless of what color it is.
A veil, for some ceremonies is required, but if your officiant isn't requiring that you wear one, a bride should decide if she feels comfortable in a veil and if it complements her wedding-day look. Other options for a headpiece include a tiara, comb, hairpins, flowers and even a hat.
Can we have a large reception?
A second wedding can be as intimate or as grand as you want it to be. Nowadays, a second wedding reception can range from close family and friends at a restaurant to a seaside destination to a black-tie ballroom party. Create an atmosphere that is different from your first wedding(s) with different details and elements so it doesn't feel like déjà vu.
At the reception the newlyweds can take part in as many reception traditions they want to: first dance, parent dances, wedding party entrance, tossing the bouquet and cutting the cake.
Can we hold the wedding ceremony in a house of worship?
It will depend on your religion as to whether a divorced person can remarry in a house of worship. Have a discussion with your clergy and learn what the "rules" are for remarriage. Maybe he or she will gladly perform the ceremony, but not at their house of worship. Or you can have a civil ceremony and then a blessing at the church afterwards.
Should we expect our parents to help pay for the wedding?
According to second marriage wedding etiquette, a couple should not expect their parents to cover all wedding costs or contribute to the wedding, though the majority of parents will for a first wedding. Couples getting married for the second time are often older and financially secure and therefore tend to pay for their wedding themselves. Parents may contribute to the wedding's budget if they can afford and wish to do so.
Who should escort the bride down the aisle?
A second-time bride whose father or mother are still alive may be escorted down the aisle their parent(s). A second-time groom may opt to have his parents walk him down the aisle too. A couple may also ask a child or children to escort them down the aisle as a way to include them in the day and further show the joining of two families, not just two people.
Should we still register for gifts?
Couples planning a second wedding can register for wedding gifts if they want to. Pick one to two stores with a selection of items you want or need whether they're for your home (dishes, appliances, home improvement items) or for a hobby the two of you share, such as sporting equipment, books or wine.
Even if you tell guests that "their presence is present enough" there may be a few relatives and friends who want to buy you something to help celebrate the occasion. Having a registry for them to browse will make shopping easier and less stressful for them.
Can a second wedding have a traditional wedding party?
A traditional wedding party is a great way to honor close friends and family, and there's no reason you can't have bridesmaids and groomsmen or bridesmen and groomswomen at your second wedding. It can even be comprised of some or all of the people you chose for your first wedding's wedding party. You may want to add your children to the wedding party as a way to include them in the wedding day.
The responsibilities for the wedding party would remain the same, according to second wedding etiquette: host a shower, attend pre-wedding festivities, and wear a dress/suit that the couple selects or gives guidelines to select their own outfit. The couple may want to cover the costs of the wedding party's outfits, especially if you're selecting their looks, if they can afford to.
Can the couple have a shower and/or bachelor/ette parties?
A couple can be the guests of honor at a shower and bachelor/bachelorette parties if their loved ones decide to host one. Party hosts should follow the same guidelines when planning festivities, specifically only inviting people who are also invited to the wedding. The one exception is an office shower, where colleagues may host a party regardless of whether they're invited to the wedding.