The Most-Asked Parent Wedding Dance Questions, Answered
We asked some of the country's top music and entertainment companies for the answers to the most-asked parents wedding dance questions.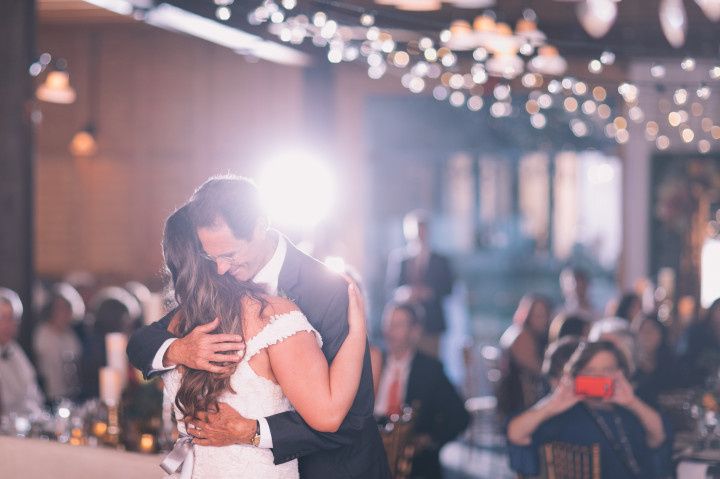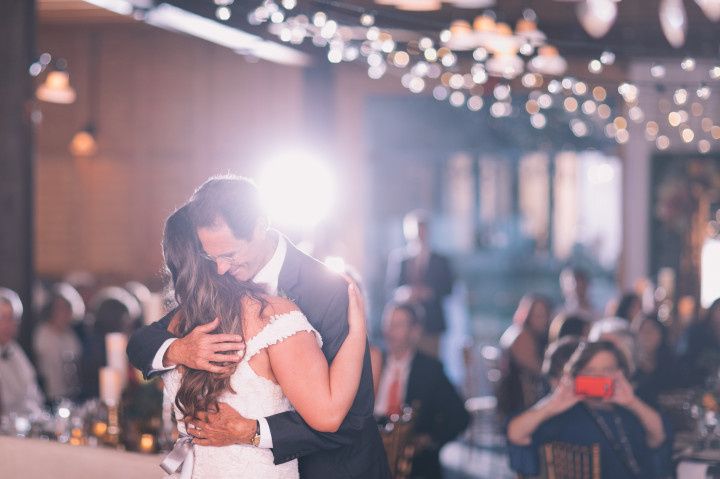 Photo: Black & Hue Photography
The father-of the-bride dancing with his daughter and the groom dancing with his mom are some of the most emotional and memorable moments from a wedding. But what should you do if you also want to honor a stepparent? Should you select a slow song or something upbeat for this wedding dance? And when do you schedule parent wedding dances during the reception? These are just a few of the questions that come up when discussing parent wedding dances with your parents and your bandleader or DJ.


To help make this must-have moment a little less stressful to plan, as well as touching, we asked some of the country's top music and entertainment companies for the answers to the most-asked parent wedding dance questions.
When should you schedule parent wedding dances?
You can have your parent dances at almost any point during your wedding reception. "The great thing about wedding timelines is that they are unique to every couple," says Brad Strouse of EastCoast Entertainment, which has offices around the country. "There is no hard and fast rule on where the dance should fall, but I always recommend going from the first dance into dinner, and as dinner winds down, use the parent dances to draw attention back to the dance floor."

For couples planning to announce their wedding party, having the newlyweds' first dance and parent dances right after will ensure that all the guests' attention is focused on the dance floor. "Another time is in between courses or as guests are eating since you have a captive audience," advises Lisa Ciampi of Élan Artists, another national entertainment company. Lisa also notes that most brides and grooms, and their parents, want to have this moment earlier in the evening before people drink and eat too much, or before older guests begin to leave.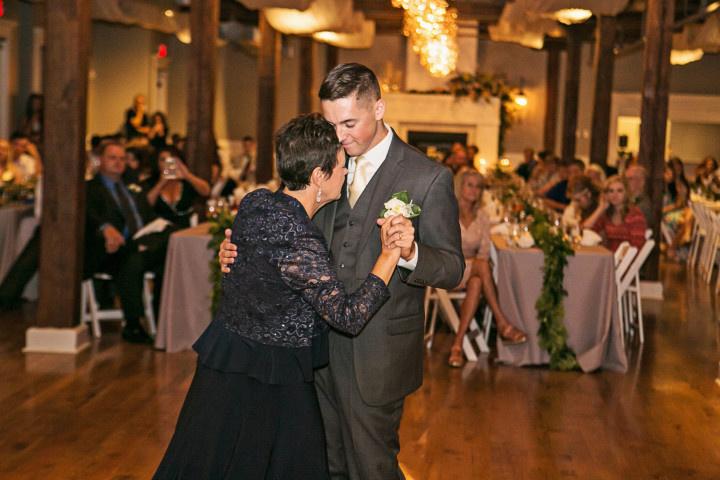 Photo: Michael Kaal Photography
What's the best way to honor stepparents?
"Be sure to discuss your family's dynamics as it relates to both introductions at the reception and parent dances well in advance of the wedding," Christian Meneses of Blanc Noir Event Group in Clifton, New Jersey says. "I find that this situation is very common and can be a bit touchy," he adds. Review all the options – everyone getting their own song, splitting dances, not having a wedding dance but honoring people in other ways – and determine what makes the most sense for your wedding reception and what would make everyone happy. If you're concerned that giving everyone their own song will take up too much time, Josh McClure of Harmony DJ Entertainment in Saint Paul, Minnesota has an alternative option: "There's nothing wrong with abbreviating or fading out of a song early, especially if there are multiple parent dances."


What type of songs should you choose for parents wedding dances?
Talk to your parents about what song they would like to dance to. You may not remember a song they sang to you as a baby, or maybe there's a song they've always envisioned dancing to on your wedding day. "A classic song is usually the go-to for parent dances because it is something both generations can relate to," Lisa says, "but there have definitely been those grooms who choose a rap song." "Choose a song that has a special meaning between the two of you," advises Aaron Broadus of BroadSound in the Washington, DC area. "It doesn't have to be a ballad or overly sentimental, but something that always makes you think of each other." It's important to choose a wedding dance song that will evoke the right emotions out of you and your parents as well as create a memorable moment. "The goal is to create a memory for you and your parents — not for anyone else," advises Fernando Valencia of The Events Guru in Carlstadt, New Jersey.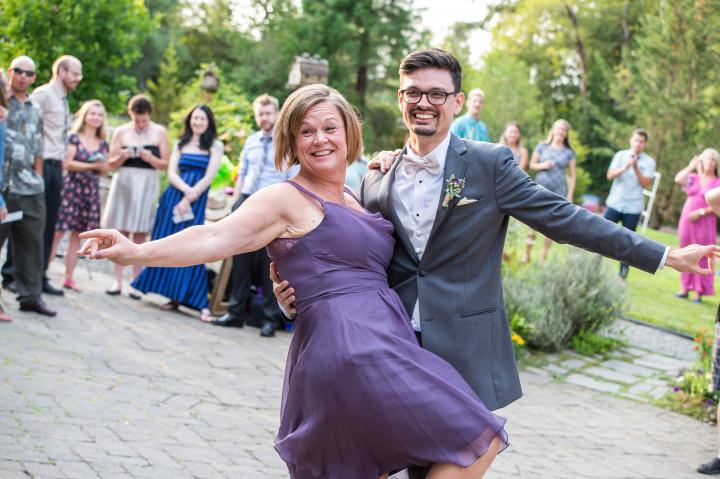 Photo: Red Letter Days Photography & Events
Should you choreograph your parent dances?
Five years ago there was a constant stream of choreographed dances by the newlyweds, wedding party and parents, but today the trend is starting to wane. "Large-scale choreographed dances are on their way out," says Brad, "but surprise dips and spins will always be timeless." If you have your heart set on surprising your guests when you dance with dad or mom, go for it! For those planning to do a choreographed dance keep the number of songs and the length of the dance in mind. Fernando advises that five minutes may be too long to keep people's attention.


What's the new trend in parents wedding dances?
For brides and grooms, and their parents, looking for something different that will surprise wedding guests then a mashup is the way to go. A mashup is a combination of two or more songs into one longer song. "A dance may start off slow with something like 'You'll Be in My Heart', and then transition to a classic mid-tempo song like 'My Girl', and wrap with an upbeat crowd-pleaser like 'Happy'," explains Brad.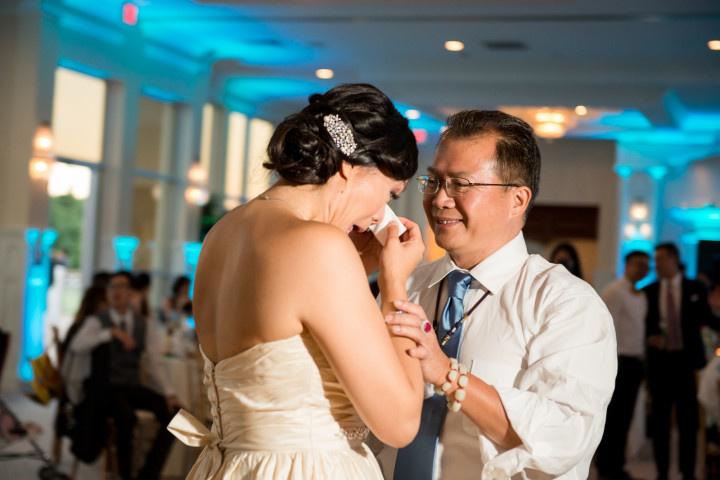 Photo: Bella Wang Photography
Should a song's lyrics matter?
How meaningful a song is to you and your parent is the most important detail when selecting a song for your parent dance. Christian advises couples to take the time to listen to the song to hear the lyrics. Amazon Prime Music, YouTube and Spotify are easy ways to read the lyrics. "I stress the importance of lyrics because we have all heard very nice and sweet sounding songs but when we really take the time to listen to the lyrics, the message can be a little romantic and sometimes inappropriate for that special moment between a parent and their child," he explains.

See all our favorite father-daughter dance songs here »

See all our favorite mother-son dance songs here »