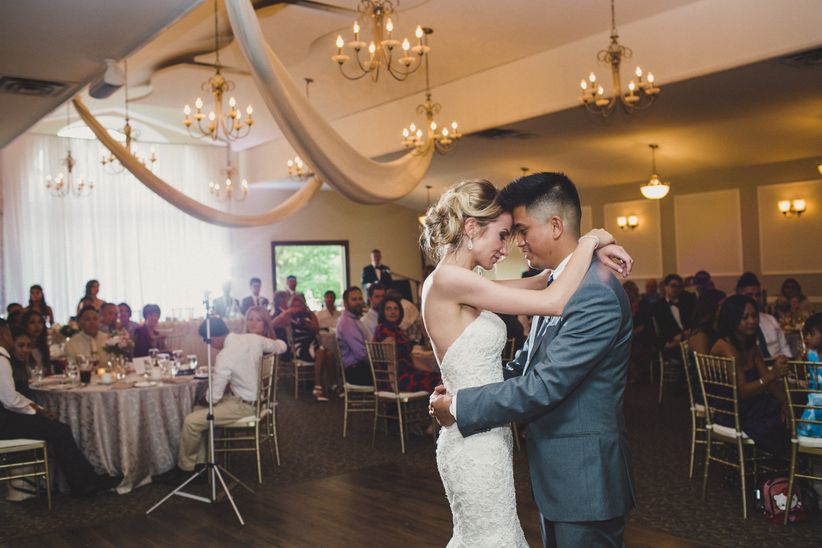 Photo: Sugar + Soul Photography
A packed dance floor is a key component to a fun and memorable wedding reception, so make sure you hire a pro who can get the party started! When on the hunt for a great wedding band or DJ, look out for someone whose energy, style, and music preferences are aligned with your own. There's a wide range of music and performance styles out there, and the goal is to find the best fit for your wedding.


Here are a few good questions to ask your prospective bands or DJs.
How would you describe your style?
Do they like to engage and interact with the crowd a lot? Are they high energy or more laid-back and relaxed? How will they dress on the big day? Ask them to describe their style in a few words. This will help you determine whether their tone is conducive to the atmosphere you're trying to create.
Can you show us your music library or song list?
A DJ will likely have a music database you can browse through, while a band will have a list of songs they can perform. Ask if you can take a look—you want to make sure there's a wide selection! Tip: some bands will be willing to learn a special song or two just for you. If you have something specific in mind but don't see it included on the playlist, don't automatically consider it a deal breaker. Ask if they would be willing to learn it for you—you might be pleasantly surprised!
How do you work with couples to come up with a playlist?
Ask your band or DJ how they can help you put together a great list of songs that will reflect your taste in music and get your guests out on that dance floor! Do they have a strategy for determining which songs will be best for your event? Will they allow you to choose some "must play" songs and some "do NOT play" songs? Will they take requests from you or your guests on the day of?
What are some of your favorite first dance songs?
The answer to this question can give you a great sense of whether their music preferences and overall style align with what you're looking for. If you're envisioning a night filled with old classics and your band/DJ suggests a bunch of "Top 10" hits, for example, that may be an indication that it's not the best match.
Have you worked at my reception venue in the past?
While it's certainly not a deal breaker if the answer is "no," experience with your venue is always a plus! If your band/DJ isn't familiar with the space, we recommend scheduling a walkthrough together. Even a quick site visit will help them get acquainted with the layout, acoustics, and any idiosyncrasies they may want to be aware of ahead of time.
What type of equipment do you use?
Ask about staging, lighting, and amplified sound. What does their equipment look like, how much space does it take up, and will special electrical outlets be needed?
What does setup and breakdown entail?
It's important to have a basic understanding of this to properly plan in terms of timing and communicating any specific needs or concerns to your venue.
Do you have a demo or a recording of a wedding you've done in the past that I can see?
When in doubt, watch them in action! Nothing will give you a better sense of whether a band or DJ is right for you. Note their energy, pacing, crowd interaction, and level of professionalism.
How many breaks do you require, and for how long?
Live bands will generally require at least one break during the night. It's best to know when, and for how long, they plan to be off the floor so you can mix in some other entertainment (like a fun
late night snack
) to keep the party going.
Do you work with an assistant or second DJ?
Depending on the size of your wedding, having an extra set of hands can be well worth it. This will help everything from setup to song requests run a lot more smoothly.
Do you offer any other services?
Some performers offer packages with additional services like video screens and lighting. Depending on the experience you're going for, having these options available from a single source could be beneficial.