The Ultimate Wedding Do-Not-Play List
These 21 songs should be kept far, far away from your big day. Check out our wedding do-not-play list. Warning: Some of these videos are NSFW.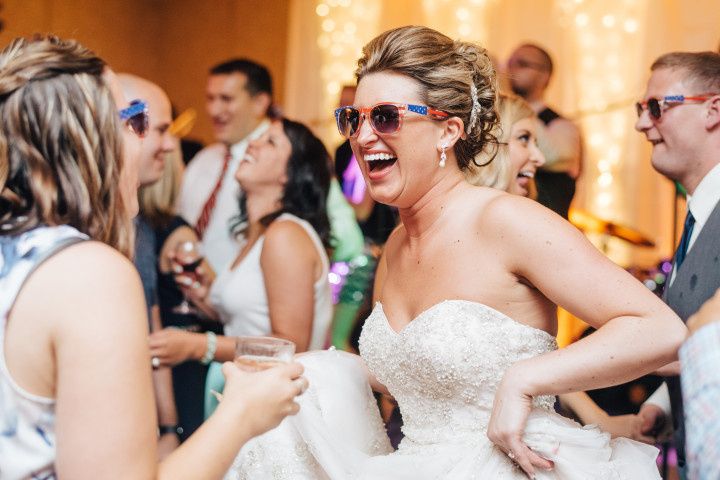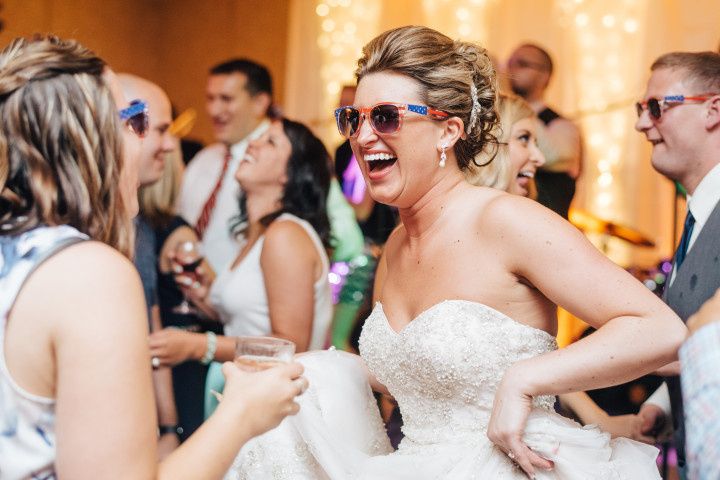 When it comes to choosing songs for your reception, your wedding do-not-play list can be just important as your absolutely-must-play list. Of course, there are cheesy songs like the "Macarena" that may make your guests groan, but there are also tunes that have lyrics that are totally inappropriate for a wedding—perhaps they're about breaking up, or death, or another subject that's less than ideal for a joyful event. Before you suggest a song to your bandleader or DJ, we recommend taking a good listen to the words—you want to keep your reception playlist upbeat and romantic rather than depressing and potentially offensive. Of course, your wedding playlist should fit your style, so if you really love a song (and think your guests will have a sense of humor about the lyrics), by all means, play it!
Check out our ultimate wedding do-not-play list, the 21 songs that you should probably avoid during your big day. Note: Some of these song videos may be NSFW.
"Blurred Lines" by Robin Thicke
While this song may have been popular on the dance floor when it first came out, the lyrics are quite controversial and overtly sexual, so it's best to keep this tune far, far away from your wedding.
"Macarena" by Los Del Rio
Play this song only if you want to clear your dance floor quickly. It's one of the top songs on every couple's wedding do-not-play list not only because of the high cheese-factor, but because of the repetitive nature of the song and dance.
"Candle in the Wind" by Elton John
Songs about death shouldn't be played during a wedding reception, and this tune is a pretty depressing one.
"If You Wanna Be Happy" by Jimmy Soul
Yes, this song sounds upbeat and fun, but with lyrics like "So from my personal point of view/Get an ugly girl to marry you" it should probably be on your wedding do-not-play list—unless you're playing it as a joke and everyone knows it.
"Keep on Loving You" by REO Speedwagon
While the chorus of this song is pretty romantic, the song is actually about a difficult and painful relationship. In fact, the lead singer of REO Speedwagon once implored couples to stop playing it at their weddings!
"Chicken Dance"
"The one song I refuse to play and have never played in my 20 years in the industry is the 'Chicken Dance.' In my opinion, it's a corny nursery rhyme type song that has no place at a wedding celebration. There's so much good music out there and I refuse to play this song. Luckily 99% of my clientele would never ask for this song anyways."—Ken Gueco of Love Rockers in Southern California.
"3" by Britney Spears
It's best to skip any songs that are overly sexual—and while there are lots of Britney songs that are fun to play at weddings ("(You Drive Me) Crazy" and "Baby One More Time" are two faves), this is not one of them.
"Every Breath You Take" by The Police
While it may be fun to shout-sing this song in the car or shower, don't play it at your wedding. The lyrics are super creepy.
"My Heart Will Go On" by Celine Dion
Yes, we know you saw Titanic 12 times, but this song does not belong at your wedding. It's another super-depressing tune about dying that may ruin the mood of your reception.
"I Touch Myself" by Divinyls
No explanation needed.
"Anaconda" by Nicki Minaj
Songs with overtly explicit lyrics belong on your wedding do-not-play list, and while this song does have a great beat, it's not the type of song your grandma will want to groove to.
"YMCA" by the Village People
Just because this song was a hit at your parents' wedding doesn't mean that it works today.
"Highway to Hell" by AC/DC
Your wedding is supposed to be a joyful and celebratory event, and songs with negative lyrics aren't ideal. Again, if your guests have a sense of humor and everyone knows you're playing it as a joke, that's okay (it can actually be a funny grand entrance song) but in most cases, it's on our wedding do-not-play list.
"Habits (Stay High)" by Tove Lo
We don't think it's too much of a stretch to say that a song that references sex clubs and throwing up has no place at a wedding. If that wasn't enough it's also not the easiest song to dance to.
"Suspicious Minds" by Elvis Presley
Yes, we know this song is a classic but tunes about cheating or thinking about cheating don't belong at your reception. If you truly love the King, play one of his more romantic or upbeat songs like "I Can't Help Falling in Love" or "All Shook Up."
"Tears in Heaven" by Eric Clapton
You want your guests to be in tears because of how romantic your wedding is, not because a song is making them depressed.
"Jessie's Girl" by Rick Springfield
This is indeed a great singalong song but save it for your favorite dive bar, not your wedding. Again, the lyrics are about wanting to get with your best friend's girl, so it's best to put it on your wedding do-not-play list.
"Who Let the Dogs Out" by Baha Men
You may be surprised to know that this song came out 20 years ago (yes, we feel old, too). It's the type of throwback your guests will not love so avoid at all costs.
"Back That Thang Up" by Juvenile
"Yes, sometimes it can be fun but it can be awkward when Grandma and Grandpa are staring at me shaking their heads with disapproval. I always remind my clients to think about their guest when making song!selections!"—Danny Garcia of DJ Danny Garcia LLC in Orlando, Florida.
"Love Shack" by The B-52s
"I'm never going to force a song on a crowd that is seriously overplayed, but if my client specifically asks for it, I will find a way to work it in."—Carl Brashears, Jr. of Classic Collective DJs in Bel Air, Maryland.
"Cupid Shuffle" by Cupid
"Songs on my wedding do-not-play list are the ones considered the most cliché. I've played them so many times, I can't stand to hear them again."—Mike Hongslo of Bellagala in St. Paul, Minnesota.