The 11 Types of Photo Booths: Which Style Is Right for You?
From selfie mirrors to campers, there are so many wedding photo booths to choose from.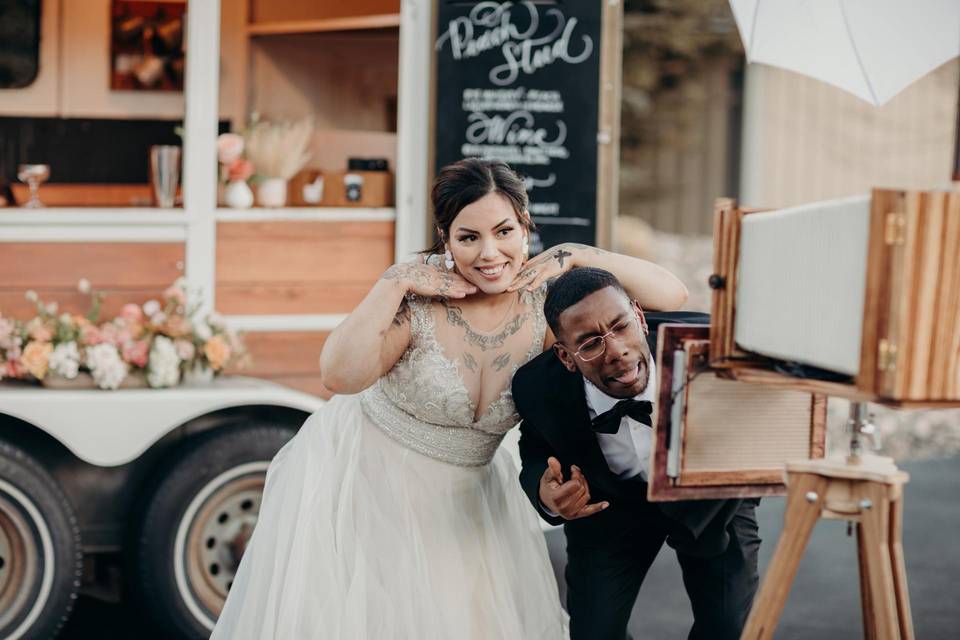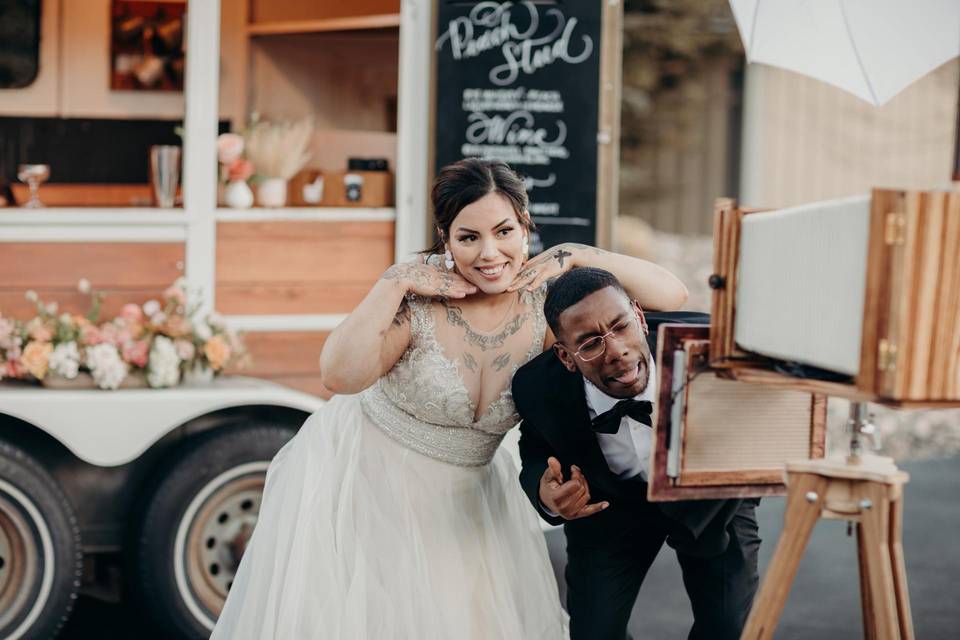 If there's one modern wedding tradition we love, it's the photo booth. Who among us hasn't woken up the morning after a wedding reception or party, rolled over, and smiled at the photo strips filled with the smiling faces of friends and relatives from the night before?

The great news is there are tons of new and innovative types of wedding photo booth rentals out there, some that print photo strips or singles, others that email or text digital pics to your guests on the spot, and others still that create GIFs and slow-motion videos! We also love how wedding photo booths do double-duty providing a unique activity for guests as well as a take-home keepsake. Keep reading to find out which of the many types of wedding photo booths is right for your big day.
Who can provide a wedding photo booth?
There are dedicated photo booth rental companies that offer different types of photo booths for your wedding day at a variety of price points. Some DJs and/or entertainment companies also provide this service, as do some wedding photographers and videographers. You may also want to work with your planner or florist to create a special backdrop or greenery/flower wall for a unique photo booth experience that complements your wedding decor.
How much does a wedding photo booth cost?
Pricing for a wedding photo booth rental varies based on the number of hours, the type of photo booth you're renting, and your wedding's location. According to the WeddingWire Cost Guide, the average photo booth rental costs $650, but it generally ranges from $425 to $1,000.
What are some questions to ask a wedding photo booth company?
When searching for a photo booth company in your wedding location, we recommend checking out a site like WeddingWire to read reviews from past clients. Once you've narrowed down the options to one or two, give them a call to gather more information. Here are some questions you might want to ask a wedding photo booth rental company before hiring:
Are you available on my wedding date?
What's included in your packages and what are the different costs?
How many hours is a typical rental?
Will there be an attendant present for my event?
What are the different photo booth styles available? What does each photo booth/backdrop look like?
What is the best photo booth for my event?
How many people can fit in one of your photo booths?
Do you provide props or should we buy our own?
How does set up and break down work?
Can I see some examples of how the photos will look? Are they high quality?
Have you worked at my wedding venue before?
What will you need from my reception venue (dedicated space, electrical outlet, etc.)?
Is there an online gallery or slideshow of the photos to view and share after the event?
Do you have insurance?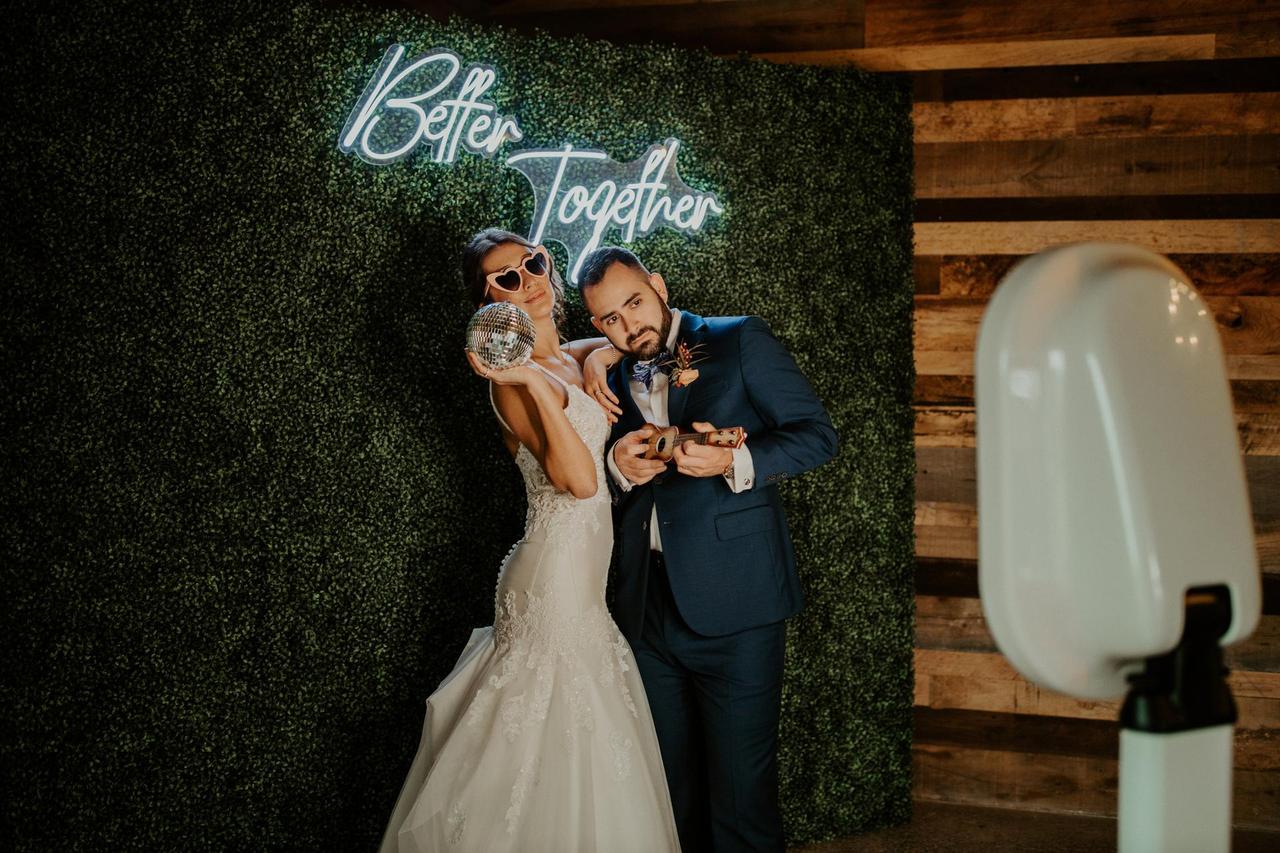 What are the different types of wedding photo booths available for rental?
Ready to pick a photo booth for your special day? There are lots to choose from! Read on for more information on the different types of photo booths available.
Open-Air Photo Booth
Among the most popular types of photo booths, this booth-less photo station will involve a camera on a tripod or table. It might come with a background and wedding photo booth props, or just the camera itself — then you can create your own custom backdrop. To use, your guest presses "start," the countdown begins, and a few photos are taken. Some photo booth companies offer on the spot printouts, while others invite wedding guests to input their phone numbers or email addresses to receive photos digitally.
Old-School Photo Booth
The classic mall photo booth, this one requires guests to get cozy in a booth and make a series of funny faces, then end up with a printout of their hilarious shenanigans. It always cracks us up to see way too many guests pile into a wedding photo booth—the shots are sure to be memorable! We also love when couples have the photo booth print multiple copies of the images, for the guests to keep and also to place in a guest book.
Slow-Motion Video Photo Booth
Want to ensure your guests have sore cheeks from smiling at your wedding? Opt for a slow-motion video booth that allows your guests to create short clips in hyper-slow motion. The results are always funny, no matter what happens in the booth.
GIF-Maker Photo Booth
Go one step beyond flat photography and hire a photo booth company that allows your guests to create animated GIFs that they can easily share on social media. Who needs GIF reaction shots from movies and TV shows when you can create them with your friends IRL? Definitely one of the coolest types of photo booths out there!
Flip Book Photo Booth
If GIFs and slo-mo videos are a bit too high-tech for your taste, why not hire a photo booth company that makes flip books instead? It's definitely one of the more nostalgic photo booth ideas, and there's nothing quite as delightfully old school as a tiny book that shows a mini movie when pinched and flipped at high speed.
360-Degree Photo Booth
One of the most unique photo booth ideas, let your guests see themselves from all sides with a 360-degree photo booth — it's an incredible way to freeze a moment in time, and then check it out from every angle. There are some photo booth companies that offer a multi-camera photo booth that will let you see your wedding from every angle.
Green Screen Photo Booth
Your guests can travel to far-off lands — without ever leaving your wedding venue — with a green screen photo booth for your wedding. The green photo booth backdrop will allow your friends to choose what's behind them in their photos, which is sure to be hilarious.
Selfie Mirror
This modern type of wedding photo booth looks like a full-length mirror, but with a swipe of the touch screen it turns into your very own selfie station! It's super straightforward to use and allows for easy sharing on social media.
Roaming Photo Booth
If you don't think your guests will want to leave the dance floor, a roaming photo booth may be the answer. With this photo booth style, a photographer strolls around your reception and gives guests an easy-to-use handheld device that takes still photos, as well as GIFs and boomerangs.
Camper Photo Booth
If your wedding theme leans more boho, then a camper-style photo booth might be the perfect finishing touch to your big day. A vintage camper is refurbished into a photo booth, creating a unique experience for your guests. This type of photo booth works particularly well at outdoor events—and makes for some fun wedding photos in and around the booth!
Print From a Hashtag—Without a Photo Booth
This kind of "photo booth" doesn't require a booth at all—you rent a printer instead! Choose a creative and unique hashtag from your wedding, and then ask your guests to tag and share their photos throughout your event. Then, using printer services, you can print out any photos tagged with your wedding hashtag.