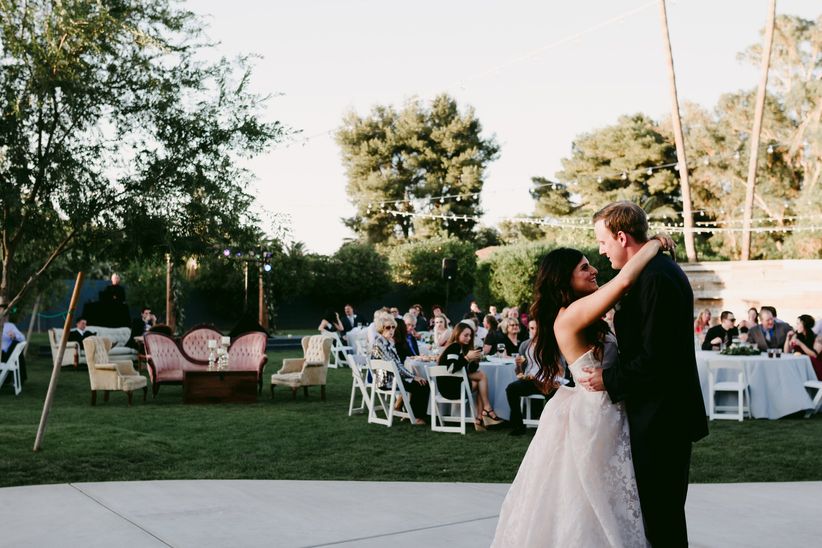 Photo: Something Creative Photography
My name is Danielle and I'm an Arizona life and style blogger at Dani Arizona. I'm a newlywed working by day in real estate with my now husband, Vance. We got married in an intimate wedding ceremony in our favorite place, Coronado Island and then celebrated at home with a cocktail style reception with all of our friends and family in Arizona in May. You can frequently find me posting on Instagram about being a crazy new dog mom to our four mouth old Aussie Puppy or sharing my outfit inspirations.

When I first started planning our May wedding, I was looking at the standard venues: the resorts, country clubs, etc. They did not really fit our style and were all quite pricey with the food and alcohol packages built in. We also wanted a destination wedding which added even more added costs. As a couple, we began to brainstorm how get the best of both worlds: a destination wedding in our favorite place, but a more budget friendly reception done our way. Cue, the cocktail-style reception which mixes heavy passed hors d'oeuvres with food stations, allowing guests to eat when they want.


If you're on the fence about choosing a cocktail-style wedding reception as opposed to a plated dinner or buffet, read on. Turns out it was one of the best decisions we made during our wedding-planning process!
Pro: More relaxed atmosphere
After having a destination ceremony with a more intimate group, we knew we wanted the reception in our home state to be a more laid back, fun party where our guests could enjoy themselves. We wanted them there to celebrate our marriage with good food, drinks, and dancing. (All the best parts of course!) Our wedding planner, Lara Jacobs of
Laki Events and Design
, created a great atmosphere with a mix of high top tables, round tables, and cool seating areas. We didn't have a seating chart, so people felt free to mix and mingle as they would at a normal cocktail hour all night.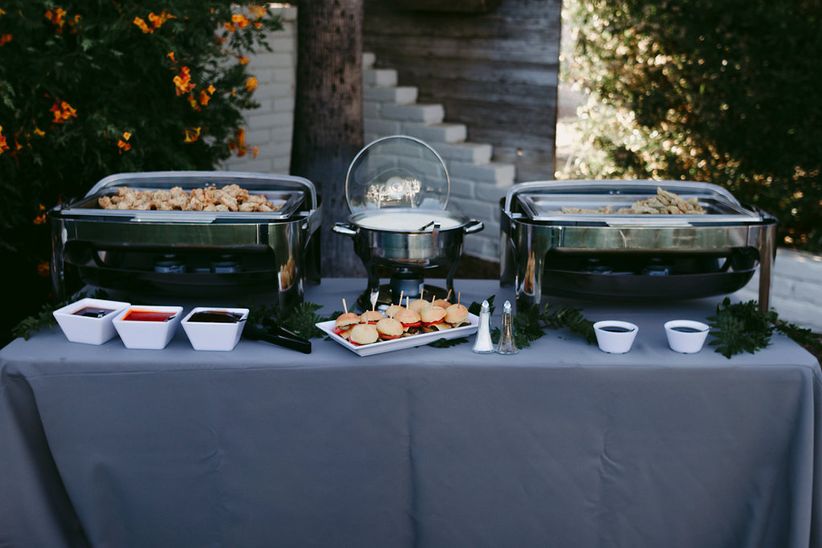 Photo: Something Creative Photography
Pro: Budget-friendly food options
I'm a self proclaimed picky eater, so weddings can be a little anxiety inducing for me even when you get to choose between options beforehand. My husband and I
went to our caterer
and expressed interest in a less traditional menu of hors d'oeuvres. I sent him pictures of cool buffet set ups of more finger foods or mini items: sliders, chicken strips, mini tomato soup and grilled cheese combos, etc. These were a huge hit with our guests because they're comfort foods that everyone likes and they were some of our favorites too. We had the buffet open for most of the night and people felt like they could keep going back for more. It kept our cost for food lower because we did not pay per plate, but it wasn't a standard buffet either.
Pro: You choose how it goes
We shared on the invite that our guests were invited to a reception that stated we wanted them to join us for cocktails, hors d'oeuvres, and dancing. Since most people haven't been to a reception like this, we got to make our own rules. We
created a timeline
with Lara and our vendors that fit our needs. We took pictures with our bridal party and each other before the party got started then mingled with our guests for a little bit before making our grand entrance leading into our first dance and parent dances, all the while our guests could enjoy the food and get drinks without feeling like they were starving. We
took the traditional elements and arranged them in a way
that felt right to us. People didn't feel obligated to stay the whole night if they were ready to go home, but to be honest most did. We had the photobooth open all night, we did our cake cutting, garter/bouquet tosses, and danced all night.
The cocktail style reception is a great concept for those less than traditional looking to save a little money and surprise their guests. We had a great response from it and it turned out to be just the fun party celebrating us and our marriage we dreamed of!