"Traditions We Ditched at Our Wedding—and How You Can, Too"
Once you feel empowered enough to ditch the wedding "traditions" that aren't your style, you'll find your new, improved planning checklist to be much more manageable.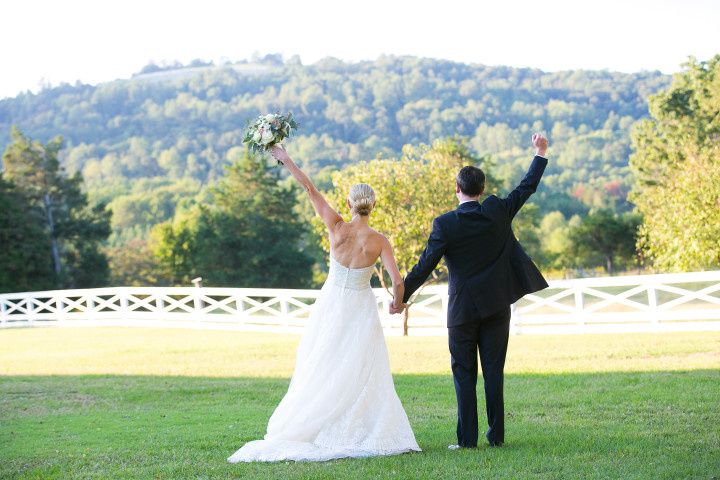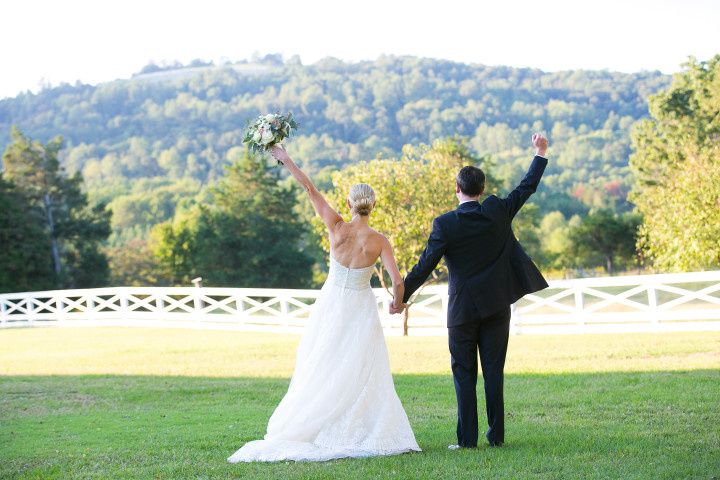 Photo: Jack Looney Photography
Ever been engaged and casually paged through a 12-month wedding planning checklist in a bridal magazine? It's enough to drain that pre-wedding glow right out of you. Maybe you've done it on the subway and had to throw yourself off the train at the next stop, race upstairs to the street level, dial your fiancé and scream breathlessly: "We're eloping!" Maybe passersby stare at you, alarmed. I don't know, this is all extremely hypothetical.

If it sounds familiar, it's because you're forgetting one extremely important detail about wedding planning (something all women should receive written on a postcard from a fairy godmother moments after they're engaged): You're only planning your wedding. All those checklists? They're written for some kind of inhuman super-bride-bot who somehow has the time, wherewithal, and desire to send singing telegrams to all seven of her junior bridesmaids, pick up a different white bikini for every day of her honeymoon, spray-paint aluminum cans rose gold for the vintage getaway Bentley that she also has to rent, and take swing lessons with her dad for that unforgettable father-daughter dance. That bride doesn't exist. But you do! Which means you're allowed (and expected) to personalize that to-do list—and your entire wedding run of show—to fit the vision of your and your partner's dream day.

Once you feel empowered enough to ditch the wedding "traditions" that aren't your style, you'll find your new, improved wedding planning checklist to be much more manageable. Your stress might even (imagine this!) decrease! You can trust me on this, because I did it myself. Even better, deciding with my now-husband Joe on the things we weren't going to do was such a huge, welcomed relief that it filled us with more energy to pour into the ideas we did want to bring to life for our wedding. Which led to a very perfect, personalized day.

Here are a few of the wedding traditions we opted out of (and didn't get arrested by wedding police for doing so):
Parent dances
There was no hesitation with this one. While I love watching the mother-son dance and the father-daughter dance at other weddings, I had no romanticized ideas of them at ours. After standing in front of everyone (and sobbing in front of everyone!) for 20 minutes during the ceremony, then dancing in front of everyone during our first dance (something we were already pretty nervous about), Joe and I just couldn't bring ourselves to add two more limelight moments to our itinerary for the day. And neither his mom nor my dad are quite the the ballroom dancing type (we definitely would have done it if they were!). It was the first "big thing" we decided on not doing, and I actually asked my planner if it was okay that we didn't. She laughed and said "Duh!" It was illuminating.
The bouquet/garter toss
This was not as much a decision made out of shyness, so much as it was made out of preference. Making my single friends huddle in center of the dance floor for all to gawk at, then lunge at a bundle of (expensive! beautiful!) flowers hurdling toward them is not my idea of "indispensable tradition." Not to mention, I have a terrible throw. I'd always hated having to participate in this at weddings before mine, and knowing all my girlfriends coming to my wedding, I didn't want to inflict it upon them (even though I know it's all in good fun). The same went for the garter toss protocol. Nothing makes me cringe more than photos of a groom with his entire top half up his bride's skirt while 150 wedding guests look on. To me and Joe, these are dated traditions that didn't mesh with our personalities, and even though we had a little anxiety about cutting them out—we worried people might think our wedding was boring since it was missing these key events—we followed our gut instincts. Guess what? No one even mentioned it! (Except a few single friends who clinked their cocktail with mine while subtly expressing their gratitude.)
Taking a honeymoon right after our wedding day
It's so romantic to think about celebrating the happiest day of your life one day, sleeping off the festivities with your newly minted spouse, then jetting off to some exotic locale with suitcases packed and sunhats the morning after. Like, who wouldn't want that? And as much as Joe and I wanted (and needed!) a vacay after 18 months of hardcore planning, we decided it would be best—for our bank accounts, and our sanity—to hold off on the honeymoon till later in the year. For one, we paid for a large portion of our wedding with our own money, and knew if we honeymooned right away, we'd have to skimp on the trip rather than take the extra-special trip we really wanted to celebrate our marriage. Two, I couldn't really bring myself to plan a trip, pack for it, and coordinate logistics while ALSO planning, packing for and coordinating logistics for our wedding (since our wedding was in a different state from where we live, it'd be like packing and traveling for two trips!). So, the day after our wedding, we took a short weekend escape to the coast of Maine, had the best time ever, and now have a real honeymoon to look forward to in February (when our home city NYC is freezing and miserable!).
Keeping our vows a surprise
If you can't tell by how many times I've used the words "stress," "anxiety" and "nervous" in this post, I (along with my husband) are pretty highly emotional people. And we both knew we'd totally lose it at the altar while reading and receiving our handwritten wedding vows. One way we attempted to cut down the weep factor is by rendezvousing after our rehearsal dinner, before we parted ways the night before our wedding, and exchanging vows then, just the two of us. It ended up being one of the most memorable moments from our whole wedding weekend, and served as a sweet, intimate moment of rest from an otherwise whirlwind few days. We were able to cry, laugh, blow our noses in unattractive ways, whatever—and really listen to and process one another's vows without any distractions or inhibitions. It was the perfect moment to refocus our intentions, and the next day during our ceremony, we both felt way more present and ready. Did I still cry? Yes! But way less than I would have, you better believe.

That's just a few of the traditions we threw to the wayside to throw our version of the perfect wedding. We also cut the champagne out of the champagne toast, and just had everyone cheers with the drinks they already had (it saved us money, and our planner said hardly anyone even drinks those champagnes!). And we had our attendants sit in the front row at the ceremony, rather than stand beside us, for their own comfort. Some of these decisions were completely unnoticeable, while others took a bit more convincing (mostly of our moms). But all were totally worth it, because ultimately, planning your wedding is about more than choosing linen colors and floral arrangements. It's about choosing a flow for the day that makes you and your fiancé comfortable, carefree and happy. And once you realize no one minds at all that you and your dad aren't dancing to a Frank Sinatra song (or anything at all!) during the reception, you'll feel more confident to nip and tuck that wedding day itinerary till it's perfectly you two. Just don't cut cocktail hour. It's one of the very best parts!