7 Wedding Traditions to Include in Your Virtual Wedding
If you're planning a virtual wedding, there are still lots of wedding traditions you can embrace. Here, a few of our favorites.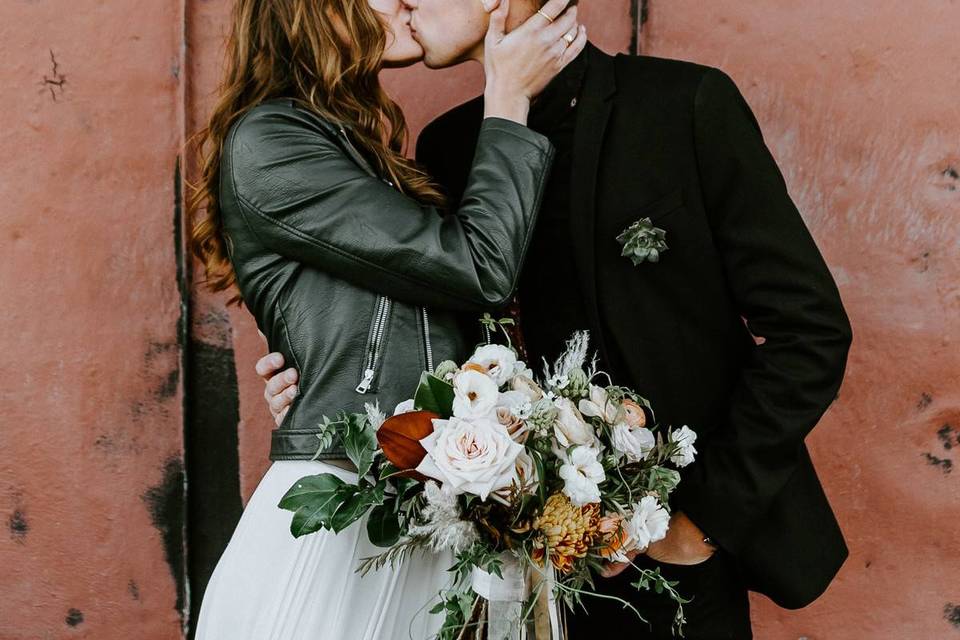 If you're opting to have a virtual wedding or minimony in light of the coronavirus pandemic, you're in good company. Virtual weddings give couples the opportunity to participate in some wedding traditions now and allow their loved ones to (virtually) join in, with an in-person celebration to come at a later date. As Jamie Chang of Mango Muse Events and Let's "I Do" This!, puts it, they give couples a chance to move forward with their life together without endangering anyone in the process.
While your virtual wedding may not be the wedding you planned or the one you dreamed of for as long as you can remember, it can still be meaningful and special in its own right. One way to do this is to incorporate wedding traditions into your virtual wedding. "You can have all the same emotions and experiences with a virtual wedding as you can with a normal wedding," says Chang. "And part of that includes honoring the traditions and ceremonies that matter to you whether it's just a few or many."
If you're having a virtual wedding, here are some of the most meaningful wedding traditions planners recommend incorporating into your ceremony and reception.
The ceremony
The most important wedding tradition to include in a virtual wedding? Undoubtedly the ceremony itself. "The ceremony is where you declare your love and commitment to each other, which can take different forms with different words and have different religious and cultural variations," says Chang. "Not only is a ceremony how you become married in the first place, but sharing your love in front of those you love is a crucial part of a wedding."
Incorporating the wedding party
Even though you're not yet having an in-person wedding, your wedding party members still deserve to fulfill their role. Nora Sheils, founder of Bridal Bliss, in Seattle, even suggests sending them a little something beforehand to enjoy or make the day special for them as well. "Regardless of what your wedding is like, these are the people who are closest to you and will support you throughout your time as a couple together so make them feel special!" she says.
Exchanging of vows
Not all couples choose to exchange personal vows, especially ones that are original, but Kevin Dennis, owner of Fantasy Sound Event Services in Livermore, California, says that a virtual wedding is the perfect platform to do so. "You only get to have one wedding with your partner, so it's important to make your promises and vows to one another," he says.
Portraits
There's an abundance of photographers that are doing at-home portrait sessions, with social distancing guidelines in mind, notes Dennis. "Whether it's in your backyard or from a safe distance in your home, you'll want to have your memories photographed to reflect on for years to come," he says. "Better yet, you can capture all of the romantic moments of your (small) big day."
Cutting the cake
Cutting the cake is another wedding tradition that should not be forgotten—and deserves to be captured! Lindsay Parrot of P3 Events in Chicago recommends cutting your cake in front of the camera and even asking your guests if any of them would like to make a toast. "It would be good to prearrange the toasts of parents and siblings, but giving the opportunity to other guests after is always nice."
First dance
"Yes, it may feel silly that you're dancing in your backyard or in your living room in your home, but your first dance is the perfect kick-off to your marriage," says Dennis. "There are no logistics to worry about, as you can play your favorite song while your guests watch." As an added bonus, this moment makes for a wonderful photo op—something you'll cherish for years to come.
The dance party
This is probably one of the wedding traditions you thought you'd have to miss, but there's no reason you and your guests can't get down on their own dance floors in celebration of your "I do's." There are some major plus sides to a virtual dance party too. "While others can technically see you, it's not like a real dance floor where you may feel shy or self conscious," says Chang. "You can really just let loose and that's both fun and freeing—plus let's not forget that it's a fun activity that's outside of what normal everyday life is like now."