43 Mother-Son Dance Songs That Will Move Mom to Tears
Need help finding that special mother-son wedding dance song? These meaningful tunes will have mom shedding happy tears (if not sentimental ones) during your mother-son dance.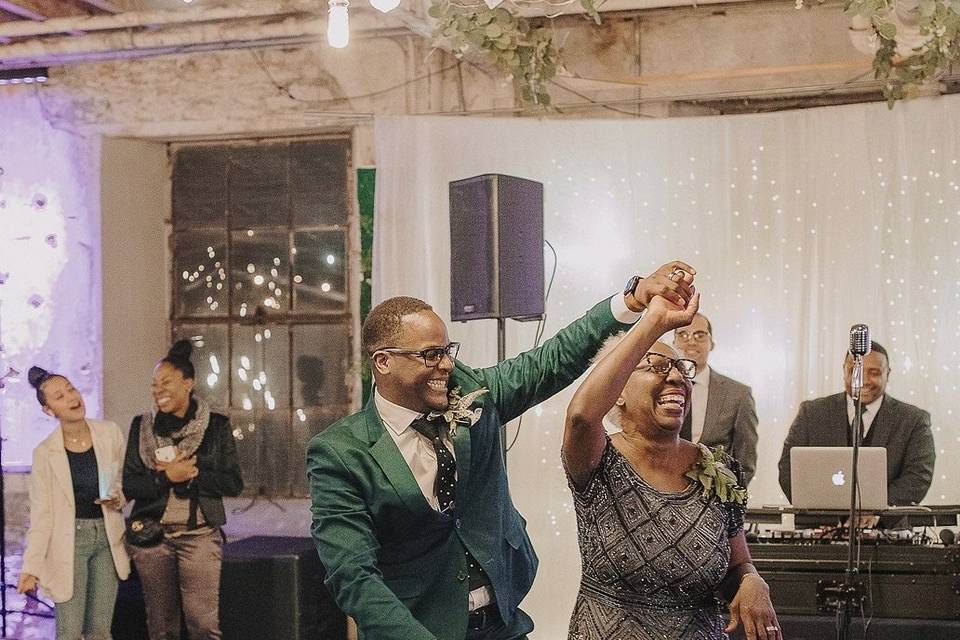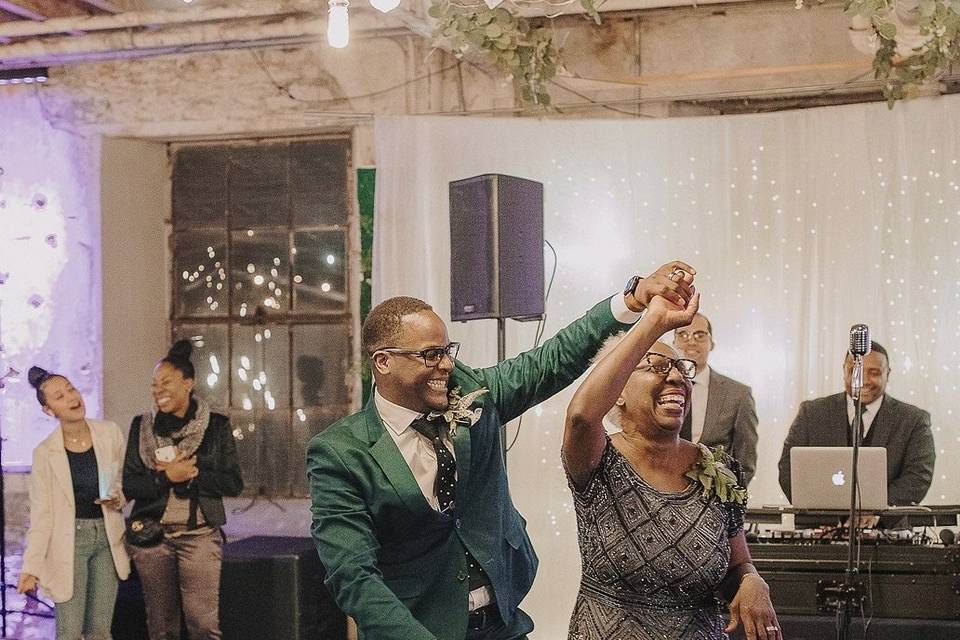 The first dance song might be top of mind when it comes to choosing your wedding music, but mother-son dance songs—and parent dance songs in general (hello, father-daughter dance)— are just as important. As the groom, the bond you share with your mom, whether she's your biological mom, step-mom, adoptive mom, grandmom, or mother-like figure, is a special one that should be honored on your wedding day. After all, she loved you first! There's no better way to embrace and honor your bond than with a heartfelt mother-son dance song at your wedding reception.
These are our favorite mother-son dance songs, ideal for that memorable wedding moment between the groom and his mom.
"Humble and Kind" by Tim McGraw
Somebody pass the tissues, because we can never make it through this song without getting teary-eyed. Tim McGraw sings about some of the best lessons a mother can teach us: working hard, doing our best, respecting others—and most importantly, remembering that our moms will always have our backs.
"Coming Home" by Leon Bridges
Your mom is the first woman who ever loved you—and this song is perfect for showing her just how much she means to you. "Coming Home" is a popular first dance song for couples, but we think the lyrics, "I'm coming home / To your tender sweet loving / You're my one and only woman" will remind mom that she'll always have a special place in your heart.
"I Got You" by Ciara
Here come the waterworks (again). Ciara's song for her son, Future, tells the story of a mother's promise to always be there for her child. The opening lyrics, "Hush little baby don't you cry / Momma's gonna love you all your life / And if you ever need a friend / Momma's right there 'til the very end" get us every. time. If nothing else, check out the music video for some of Ciara's adorable mother-son moments.
"Te Amo Mamá" by Marco Antonio Solís
This Latin pop ballad from the '90s features beautiful acoustic guitar solos alongside lyrics that are relevant no matter the decade. The song is about thanking your mom for the life she's given you, and how much you love all of the characteristics that make her so special.
"The Wish" by Bruce Springsteen
If your mom loves The Boss, look no further for your perfect mother-son wedding dance song. Bruce Springsteen confirmed that he wrote "The Wish" about his mother, and the song tells the story of how she bought him his first guitar.
"I'll Be There" by Mac Miller ft. Phonte
This R&B song will remind you of everything your mom has done for you in your life, from buying you a bike to cheering you on in sports games. The chorus lyrics, "I wanna tell you momma / Sunshine or rain, I'll be there / For the good times or bad, I'll be there / Sunshine or rain, I'll be there / For the good times or bad, I'll be there" are all about showing your mom the same love she gave to you while you were growing up.
"Time After Time" by Cyndi Lauper
This iconic '80s hit perfectly sums up a mother's unrelenting love with the famous lyrics, "If you're lost you can look and you will find me / Time after time / If you fall, I will catch you, I'll be waiting / Time after time." If you don't want to use the original version, there are hundreds of different covers to choose from in a variety of genres.
"Mother Like Mine" by The Band Perry
This acoustic country song is a great choice for a slow dance with your mom. The lyrics are especially heartfelt if you want to tell your mom that you think she's the best mom in the world: "Oh the wars would all be over / 'Cause she'd raise us all as friends / And no one would ever wonder, if somebody wanted them / Tonight would be easier / And our dreams would all be deeper / If the world had a mother like mine."
"Turn to You" by Justin Bieber
If you were raised by a single mom, we think this song will be especially meaningful for you. Justin Bieber is notoriously close with his mom, Pattie, and it shows through these lyrics.
"Look What You've Done" by Drake
Dedicate this song to your mom if she stuck by your side through the good and the bad, and always supported your dreams. Drake honors his mother with this rap song about how she helped him become a star—and how much he loves her for all of it.
"All My Tomorrows" by Frank Sinatra
When you listen to the lyrics from a mother's perspective, this song is a natural fit for your mother-son dance. It's perfect for moms who love the golden oldies—sway along to the recording or hire a band to perform it live for even more ambience.
"Letter to My Mother" by Edwin McCain
Slow it down with this pop-rock song you can dedicate to your one and only mom. Even now that you've grown up, it doesn't mean you don't love or need your mom any less, and this song will get the message across in a sweet way.
"Tu Guardián" by Juanes
Spanish-speaking moms will appreciate this sweet, lullaby-inspired song, which is about protecting the one you love and being there for them always, even in their sleep.
"Like My Mother Does" by Lauren Alaina
This song will resonate with anyone who's spent their whole life looking up to their mom. The lyrics, "She's a rock / She is grace / She's an angel / She's my heart and soul / She does it all" are a testament to just how amazing a mother's love can be, and they're bound to bring a tear to your mom's eye on the dance floor.
"Forever Young" by Rod Stewart
Get those tissues ready, because once this mother-son dance song starts playing, we don't think there will be a dry eye in the house. Inspired by a Bob Dylan song with the same title, Rod Stewart wrote "Forever Young" about his two kids. The lyrics send a message about always being brave, staying kind, and never losing sight of who you are as you grow up. We imagine this song has a sentiment that any mom can relate to, which is why it's one of our faves for a mother-son dance.
"Dear Mama" by 2Pac
Maybe you and your mom didn't always see eye-to-eye when you were growing up, but as an adult, you've come to appreciate everything she did for you. If that's the case, "Dear Mama" is worth considering for your mother-son dance.
"The One Thing" by Shakira
If you're looking for a mother-son dance song that's more upbeat, "The One Thing' by Shakira is a perfect choice. With lyrics like, "You're the one thing that I got right / It's a big ol' world, yeah, it's a big ol' world / You turn the darkness into sunlight," this tune beautifully sums up the feeling of being a mom!
"Mama I'm Coming Home" by Ozzy Osborne
Full disclosure: This song is actually about his wife, but if you and your mom are classic rock fans (or better yet, if you love to sing this song together), it's a worthy choice for your mother-son dance song.
"Sweetest Devotion" by Adele
What could be better than a song Adele wrote for her son? This sweet ballad guarantees that your mother-son dance song is a special moment you'll both always remember.
"You'll Be In My Heart" by Phil Collins
This is definitely on the list of most popular mother-son wedding dance songs. It's an original song from the Tarzan soundtrack, making it an especially great choice for Disney fans, but the message about a mother's unconditional love is universal.
"I'll Stand By You" by The Pretenders
With lyrics like, "I'll stand by you / Won't let nobody hurt you," this song perfectly captures the meaning of a mother-son relationship.
"God Made You Beautiful" by Beyoncé
Sung from a mom's perspective, this touching song is perfect for any parent child wedding dance. Beyoncé wrote "God Made You Beautiful" about her daughter Blue Ivy, and the lyrics get us every time: "When you were born the angels sighed in delight / They never thought they'd see such a beautiful sight / You took a breath and the world was right again / Tears were shed, how we had been blessed."
"Home" by Phillip Phillips
Since winning American Idol in 2012, Phillip Phillips has become known for his acoustic, folk-inspired music. We love his most famous song, "Home," for an upbeat mother-son dance.
"A Song for Mama" by Boyz II Men
Dance along with your mom to this heartwarming Boyz II Men tune from the '90s. "A Song for Mama" is one of our fave modern mother-son-dance songs for the mom who's always had your back, with the lyrics, "You're always there for me / Have always been around for me even when I was bad / You showed me right from my wrong."
"Mom" by Meghan Trainor
While this song is written from Meghan's perspective as a daughter, the heartfelt message about having the best mom ever applies to grooms, too. The lyrics "You might have a mom / She might be the bomb / But ain't nobody got a mom like mine" will make your mom feel like the guest of honor during your mother-son dance.
"What I Never Knew I Always Wanted" by Carrie Underwood
Moms who love country music are sure to connect with this Carrie Underwood song. It's a definite tear-jerker, with the lyrics "Never pictured myself singing lullabies / Sitting in a rocking chair in the middle of the night / In the quiet, in the dark / You're stealing every bit of my heart with your daddy's eyes / What a sweet surprise."
"My Baby You" by Marc Anthony
This is a technically a love song, but it could also be taken from a mom's point of view for a perfect mother-son dance song with these sweet lyrics: "You're the simplest love I've known / And the purest one I'll own / Know you'll never be alone." Oh, the feels.
"Sweet Child o' Mine" by Sheryl Crow
This more mellow cover of the Guns N' Roses classic hit is perfect for rocking out with your mama on the dance floor. We're bringing the '80s back and naming this as one of our favorite mother-son dance songs for 2020.
"The Best Day" by Taylor Swift
It's no secret that Tay and her mom are BFFs, and this song that Taylor wrote about their relationship is proof if you ever needed it. "The Best Day" captures a mother's love through the eyes of a son or daughter, with lyrics like "I know you were on my side / Even when I was wrong / And I love you for giving me your eyes / Staying back and watching me shine." This mother-son dance song is guaranteed to make the room a little misty-eyed, but in the sweetest way.
"You're Gonna Be" by Reba McEntire
This one goes out to all the hardworking moms out there. Show your love for your mom with this touching choice, which is one of the most meaningful mother-son wedding songs you could ask for. The lyrics, "You're gonna fly with every dream you chase / You're gonna cry but know that that's okay / Sometimes life's not fair but if you hang in there" are a good reminder of how moms always manage to support us, even in our toughest times.
"If I Didn't Have You" by Thompson Square
Rustic grooms will love this country option for mother-son wedding dance songs. We love the lyrics, "If you didn't love me so much / I'd never make it through / 'Cause this life would kill me / This life would kill me / If I didn't have you."
"My Wish" by Rascal Flatts
Rascal Flatts understands that no one in the world loves you like your mom. Even after you grow up and get married, she'll always want the best for you (that's what moms do, after all). The lyrics, "My wish, for you, is that this life becomes all that you want it to / Your dreams stay big, your worries stay small / You never need to carry more than you can hold / And while you're out there getting where you're getting to / I hope you know somebody loves you" get us right in the heart every time.
"I'll Always Love My Mama" by The Intruders
This song opens with a groovy melody that will make people want to get up and dance. If you're looking for a way to tell your mom that you appreciate everything she's done for you, this is the perfect mother-son dance song to play. Work on some choreographed dance moves to really blow the crowd away!
"You Are the Sunshine of My Life" by Stevie Wonder
We can't ever resist a Stevie Wonder song. "You Are the Sunshine of My Life" is one of our favorite and most lovely songs for a mother-son wedding dance, especially if the two of you love to show off your moves! We envision a lot of twirling and dips happening to this jazzy tune.
"Just to See You Smile" by Tim McGraw
Your mom always knows how to make you smile. Now it's your turn to make her smile with a dance to this sweet Tim McGraw tune (yep, we're including him twice on our list!). We love "Just to See You Smile" as a mother-son song for a rustic-themed wedding.
"God's Been Good to Me" by Keith Urban
Country and rock music fans alike can appreciate Keith Urban's guitar skills. "God's Been Good to Me" is a meaningful mother-son song choice for any groom who's counted on his mom to help him through tough times, with the lyrics "I've been down some darkened detours / Leanin' heavy on my faith / But where the devil had me chained / Lord, youre love done set me free."
"Beautiful Boy" by John Lennon
John Lennon wrote this song for his son Sean. If you want to bring out all the feels during your mother-son dance, you'll definitely want to give "Beautiful Boy" a listen.
"Here For You" by Neil Young
The rumor is that Neil Young wrote this song for his daughter, who was away at college. Either way, "Here For You" is a good choice for a slow-paced mother-son dance song (or a father daughter dance song, too!).
"The Wonder of You" by Elvis Presley
If you and your mom love classical music, we bet you'll love this version of "The Wonder of You" accompanied by London's Royal Philharmonic Orchestra.
"93 Million Miles" by Jason Mraz
If you're looking for a more low-key addition to your wedding song list, "93 Million Miles" is mellow yet meaningful. We like it for a mother-son dance because of these lyrics: "My beautiful mother / She told me / Son, in life you're gonna go far / If you do it right / You'll love where you are / Just know that wherever you go / You can always come home."
"How Sweet It Is (To Be Loved By You)" by James Taylor
You can't go wrong with this James Taylor classic. "How Sweet It Is (To Be Loved By You)" is a strong addition to any wedding song list and works wonderfully as a mother-son wedding dance song.
"Days Like This" by The Shirelles
This '60s pop song is a no-brainer for any oldies fan. "Days Like This" is one of our favorite suggestions for mother-son dance songs and we love the lyrics: "Oh my mama told me / There'll be days like this." If rock music is more your style, you can dance to the Van Morrison cover of this song instead.
"How Long Will I Love You" by Jon Boden
The original version of this song by Ellie Goulding is much slower and stripped down, but we love this upbeat cover by Jon Boden. It's from the About Time soundtrack and has a catchy Celtic-inspired vibes.