20 First Dance Songs That Aren't on the Most Popular List
When it comes to your first dance song, it's not necessarily ideal to play the exact same tune you've heard at the seven other weddings you've attended this year.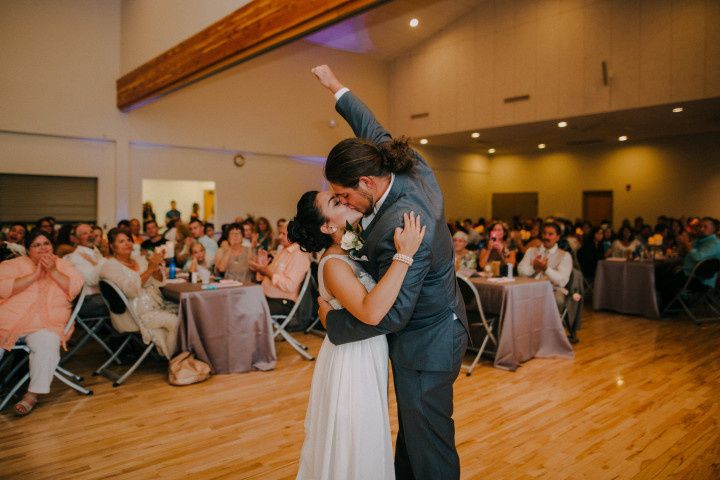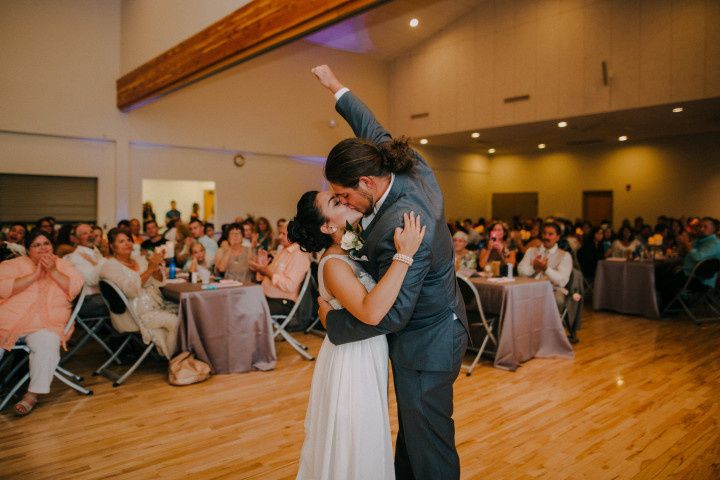 Photo: Cassie Madden Photography
When it comes to your first dance song, it's not necessarily ideal to play the exact same tune you've heard at the seven other weddings you've attended this year. Of course, if a popular song has special meaning to you, by all means go for it, but if you don't have a tune in mind you might want to pick a song that's played a bit less frequently.


Just check out this list of songs that aren't on the most popular list!

Spotify just released its list of the top 50 first dance songs of 2016, with "Thinking Out Loud" by Ed Sheeran taking the number-one spot over "At Last" by Etta James. But remember, these aren't the only songs out there. If the idea of a "popular" first dance song just isn't your thing, we created a list of 20 unique first dance songs that aren't on the top 50 list that you might also enjoy.

"Mean to Me" by Brett Eldredge
We love the casual vibe of this country song. It talks about loving one another, imperfections all, which gives it a truly relatable feel for a low-key wedding.

"Into the Mystic" by Van Morrison
This song is perfect for a nautical-themed wedding, but it's joyful and lighthearted feel makes it a great choice for any event.

"This Year's Love" by David Gray
Swoon! Just the introductory piano chords give us chills. And the lyrics, like "…and when you kiss me/On that midnight street/Sweep me off my feet/Singing ain't this life so sweet" are pure modern romance.

"XO" by Beyonce
If you're looking for a first dance song that's sultry and sexy, this is a perfect option. Your guests will be swaying and singing along.

"I Don't Dance" by Lee Brice
This song was practically written for a wedding first dance—particularly if you or your spouse-to-be aren't big dancers. We love the cheeky humor in this one.

"I Choose You" by Sara Bareilles
Bareilles clearly had weddings in mind with this tune—the music video actually features real proposals. The song is sweet and upbeat, and the lyrics "This is a beautiful start/To a lifelong love letter" couldn't be more perfect for a wedding.

"Hey Pretty Girl" by Kip Moore
This sweet country song feels oh-so romantic, yet laid-back at the same time. It's another great choice for an informal wedding's first dance song.

"It's Your Love" by Faith Hill and Tim McGraw
This country tune is sung by a couple who's been married pretty much forever, so that's a good omen right from the start! And of course, it's super-romantic too.

"Grow Old With You" by Adam Sandler from The Wedding Singer
If you and your future spouse are always joking and laughing, this song from one of Adam Sandler's best-known films is the ideal choice. The lyrics will have your guests cracking up, but the meaning is spot-on.

"You and Me" by Dave Matthews Band
The lyrics of this tune are ideal a freewheeling couple who is always up for an adventure. And the lyrics "You and me together, we could do anything" say it all.

"La Vie En Rose" by Louis Armstrong
There are many covers of this song out there, but we particularly love this classic version. If you're hosting a vintage-inspired wedding, this tune is a fabulous first dance song. Guests old and young alike will delight in hearing this song.

"Happy Together" by The Turtles
The title of this first dance song sums it up pretty well—this is one upbeat song! Sure, it's a little cheesy, but it will certainly make you and your guests smile.

"The Book of Love" by The Magnetic Fields
This is a bit of an offbeat choice for a first dance song, so it's ideal for more modern, nontraditional weddings.

"The Way I Am" by Ingrid Michaelson
This song is oh-so-simple but totally romantic at the same time. It's lovely for the couple that appreciates the little, everyday things about each other.

"I Got You" by Jack Johnson
If you like the feel of Johnson's song "Better Together" but want a tune that's a bit less overplayed, this is a great choice. And like "Better Together" this song has simple and sweet lyrics and a laid-back feel.

"I Just Can't Stop Loving You" by Michael Jackson
This is a natural choice for MJ fans, of course, but the lyrics are super-romantic and we love the tune's classic 80's vibe.

"Home" by Edward Shape & The Magnetic Zeroes
This indie first dance song is ideal for a relaxed and casual wedding—your guests will surely start clapping and stomping along to this tune. And the lyrics, including "Home is wherever I'm with you" are lovely sentiments for a celebration of love.

"Happy" by Pharrell Williams
If you and your future spouse are just looking to have a good time on the dance floor (forget that mushy stuff!), this is a fun, and yes, happy tune. We love the idea of asking your guests to join you on the dance floor toward the end of the song for a "group first dance."

"Harvest Moon" by Neil Young
This tune is easy to dance to—not too fast, not too slow—and the lyrics are sweet and wedding-appropriate.

"Signed Sealed Delivered" by Stevie Wonder
This celebratory R&B classic is not only a great first dance song, it's really a must-play at any wedding. The upbeat favorite is fun to dance to, but it will get your guests excited to jump on the dance floor too!