A Wedding Playlist That Guests of All Ages Will Love
We asked top DJs to share their song picks for a wedding playlist that will draw all of your guests to the dance floor.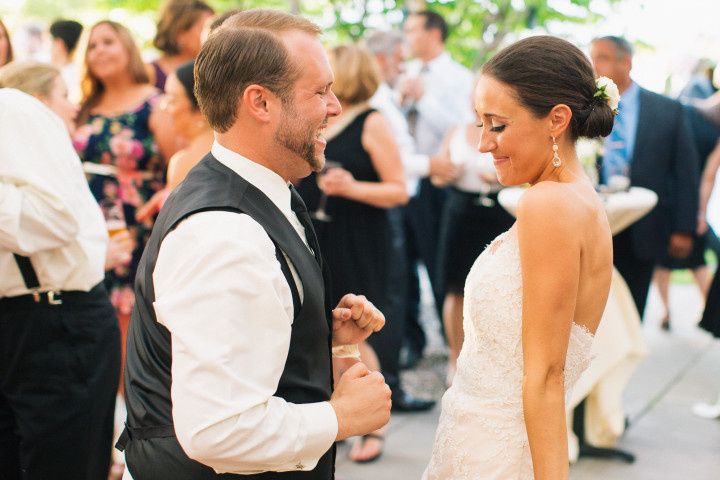 Creating a wedding playlist can be an exciting aspect of wedding planning, but finding songs that appeal to both your grandparents and your college friends? That's easier said than done. Industry insiders Angela Meggs of DJ Angie D Entertainment in Bowie, Maryland and Hollon Yarborough of AMP'D ENTERTAINMENT in Atlanta, Georgia weighed in with their top picks for music that your guests of all ages will love.
If you're looking for a wedding playlist built on tried and true crowd pleasers, consider this your go-to guide.
Processional
"To Make You Feel My Love" by Adele
Adele's take on this Bob Dylan classic is practically made for a wedding playlist. There's no doubt her soulful vocals will set the scene for a walk down the aisle.
"I Was Made for Loving You" by Tori Kelly ft. Ed Sheeran
While this song was recently released in 2015, it's quickly become a go-to processional selection thanks to its romantic lyrics that heighten the emotions right before for your big moment.
Recessional
"Signed, Sealed, Delivered" by Stevie Wonder
Family, friends, and everyone in attendance will smile in recognition of this Stevie Wonder classic as it blasts in the background during your newlywed kiss.
"Lovely Day" by Bill Withers
Add a dose of R&B into your ceremony playlist with this Bill Withers hit that's always a crowd favorite.
First Dance
"I Won't Give Up" by Jason Mraz
The words of this Jason Mraz song carry a beautiful sentiment that will leave you without a dry eye in the room. "I won't give up on us / Even if the skies get rough / I'm giving you all my love / I'm still looking up"
"Everything" by Michael Buble
This easy listening hit by Michael Buble is a great choice for the couple who wants a more upbeat tune as their first dance. Plus, your guests will love watching as you and your other half have some fun on the dance floor.
Cake Cutting
"I Can't Help Myself (Sugar Pie Honey Bunch)" by Four Tops
Take it back to 1965 with a Four Tops' hit that never goes out of style.
"How Sweet It Is To Be Loved by You" by Marvin Gaye
Declare your "sweet love and devotion" with Marvin Gaye's gorgeous voice ringing through the speakers as you cut the cake. This 60's classic is another guaranteed crowd pleaser for your wedding playlist.
Father-Daughter Dance
"I Loved Her First" by Heartland
Country music is known for its emotional lyrics, and this beautiful song by Heartland is certainly no exception. Tears will be flowing from guests young and old as the bride and father take the dance floor.
"Cinderella" by Steven Curtis Chapman
An equally beautiful selection by Steven Curtis Chapman that delivers a perfect daddy-daughter moment.
Mother-Son Dance
"Song For Mama" by Boyz II Men
Every mom in the room will tear up hearing lyrics like, "You taught me everything / Everything you've given me / I'll always keep it inside / You're the driving force in my life"
"Here Comes the Sun" by The Beatles
Make mom (and all your guests) smile with this Beatles' hit from their iconic Abbey Road album.
Slow Songs
"How Long Will I Love You" by Ellie Goulding
The combination of Ellie Goulding's stunning voice and the emotional lyrics make this an obvious slow song pick for your wedding playlist. "How long will I love you / As long as stars are above you / And longer if I can / How long will I need you / As long as the seasons need to / Follow their plan"
"The Way You Look Tonight" by Frank Sinatra
You simply can't go wrong with this Frank Sinatra classic that will get every couple out on the dance floor.
Songs to Get Everyone Dancing
"I Wanna Dance With Somebody" by Whitney Houston
Leave it to Whitney Houston to get every friend, relative, and coworker on your guest list busting moves together on the dance floor.
"Brown-Eyed Girl" by Van Morrison
"Brown-Eyed Girl" is one of those songs everyone knows the words to, so don't be surprised if a spontaneous sing-along breaks out when the DJ drops this hit.
Last Dance
"Can't Stop the Feeling" by Justin Timberlake
Both kids and adults go nuts for this catchy JT song that practically begs you to dance.
"Don't Stop Believin'" by Journey
The best way to wrap up your wedding playlist? This 1981 hit by Journey that will serve as the perfect send-off.