32 Instrumental Love Songs for Every Part of Your Big Day
From classical arrangements to movie soundtracks and unique covers of modern-day hits, these instrumental love songs will have you thinking twice about choosing music with lyrics.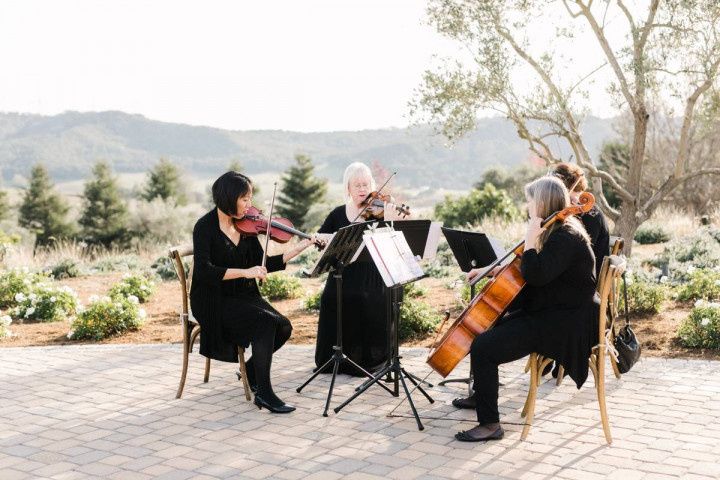 If you ask us, instrumental love songs are pretty underrated when it comes to your wedding playlist. There are the popular songs you've probably heard before—like "Canon in D" and the "Wedding March"—but if you think they're your only options for tasteful, timeless wedding music, think again. Whether you're looking for classical wedding songs, romantic piano love songs, or background instrumental music that's both modern and sophisticated, it turns out that you have plenty of tracks to choose from. We've picked our favorite romantic instrumental music to incorporate throughout your big day, from the prelude and your vows, all the way to the reception. Once you hear a song you like, look for wedding musicians in your area who can help you bring it to life with a live performance on your special day.
"Can You Feel the Love Tonight" by Costantino Carrara
With or without lyrics, "Can You Feel the Love Tonight" is one of the best romantic love songs for your wedding day. This cover of the song from The Lion King soundtrack works as relaxing piano music for your wedding processional, cocktail hour playlist, or playing in the background during dinner.
"I Will Always Love You" by Freddy Just
This sax cover of one of the greatest love songs of all time (originally sung by Whitney Houston) is a soulful, smooth jazz option for your wedding day music. We'd suggest this instrumental love song for your first dance or parent dance.
"How Deep Is Your Love" by Ricardo Hagenaars
We highly recommend hiring a live jazz band to play this Bee Gees cover at your wedding—it's a sweet addition to any playlist or instrumental love songs collection for your special day.
"La Vie En Rose" by Brooklyn Duo
If you love this famous song by Edith Piaf, consider this instrumental piano and cello version for your wedding day.
"Eden (Harlem)" by Nicholas Britell
An orchestra of romantic violins and cellos make this instrumental love song a simple but beautiful and emotional masterpiece. Use it for your wedding processional and we guarantee there will be waterworks.
"I Could Fall in Love" by Guitar Tribute Players
This acoustic, romantic guitar cover of Selena Quintanilla's famous ballad "I Could Fall in Love" might just bring tears to your eyes. It would make wonderful choice for your processional song or first dance song—and you can easily hire a guitarist to play it live if you don't want to use the recording.
"Watching Connell Play" by Stephen Rennicks
This soothing composition from the Normal People soundtrack begins slow and builds over time—perfect as a prelude song for setting the mood leading up to the start of your ceremony.
"Ordinary People" by John Legend
While we love the original version with lyrics, this instrumental rendition of Legend's famous song is just as catchy. The upbeat piano would be ideal for your prelude playlist as guests are taking their seats at the ceremony or mingling during cocktail hour.
"Opening" by Craig Armstrong
Starting out with a solo violin, this song from the Far from the Madding Crowd soundtrack will give you major chills around 0:20 and again at 3:45 with a beautiful crescendo. The total track is around 4:40 minutes, making it long enough for a ceremony entrance or processional.
"Your Song" by United Guitar Players
If you're a fan of Elton John's original version of this song, chances are you'll love this toned-down rendition by United Guitar Players. The acoustic sound is mellow but cheerful, making this one of the best guitar love song for either your processional or your first dance.
"Main Title" by Quincy Jones
The Color Purple is a powerful, iconic movie—and the soundtrack by composer Quincy Jones is a huge part of that. The film's main title, which starts out with a harmonica, is a moving choice for an instrumental song if you're getting married outdoors in the countryside.
"Turning Page" by Sleeping at Last
If you've ever seen the Twilight movies, this song will sound familiar to you. It's a truly moving composition of violin, beautiful piano, and guitar—it was used for Bella's walk down the aisle in Breaking Dawn—Part 1, and again later on in that bedroom scene. The dramatic crescendos make it an excellent choice for a ceremony entrance or twirling around on the dance floor.
"Nocturne No. 2 in E-Flat Major, Op. 9" by Frederic Chopin
Set the mood for an elegant celebration with this classical piano arrangement by Chopin. We think it would be great to play as as a prelude song while your guests are arriving to ceremony venue and settling into their seats.
"Día de los Muertos Suite" by Michael Giacchino
There are so many different layers to this instrumental track, from the acoustic guitar at the very beginning, to the upbeat trumpets that enter at 2:15 and the pure magic that happens at 4:05. If you're a Disney fan, this song is a must-have for your wedding playlist.
"Suite Bergamasque, L. 75:III, Clair De Lune" by Claude Debussy
Looking for an instrumental wedding song with a slower pace? This soothing, five-minute suite is one of the best piano arrangements to use as a prelude song or as background music during your reception meal.
"Sicilienne" by Maria Theresia von Paradis
Want to feel like royalty on your wedding day? There's a song for that! The Duke and Duchess of Sussex chose "Sicilienne" to be played during their wedding in 2018—it's performed here by cellist Sheku Kanneh-Mason. It's a lovely choice for a wedding interlude song or for your walk down the aisle.
"The Meeting" by John Powell
This playful composition is from one of our favorite rom-coms: P.S I Love You. It plays during the flashback scene when Gerry and Holly first meet in Ireland—talk about a sweet moment! We think it would be nice as a processional song for your wedding party or even as a bride entrance song.
"Define Dancing" by Thomas Newman
Get ready to twirl around the dance floor at your reception with this enchanting tune from the Wall-E soundtrack (see more of our favorite Disney first dance songs here!). Fun fact: Composer Thomas Newman also wrote the soundtracks for Finding Nemo and Finding Dory.
"Wedding" by Craig Armstrong
With a title like "Wedding," this song from Bridget Jones's Baby was made for your big day. The way the song builds makes us think it would be perfect for the start of your ceremony—skip ahead to 1:48 for the part that we'd use for a grand entrance.
"A Thousand Years" by The Piano Guys
Speaking of bride entrance songs, "A Thousand Years" by Christina Perry is one of the most popular picks. The original is an ultra-romantic choice, but this instrumental cover by The Piano Guys is just as swoon-worthy.
"Your Hands Are Cold" by Dario Marianelli
This entire song from Pride & Prejudice is something we'd listen to on repeat all day long (it's so soothing!), but it really picks up at 2:22 with a gorgeous piano and violin love song that gives us chills. Consider it for a dramatic ceremony entrance or as a recessional song that begins right after your first kiss.
"And I Love Her" by George Martin
Here's another instrumental take on a classic rock song, with an arrangement of acoustic guitar, strings, harp, trumpets, and pan flute. Composer George Martin, who worked with The Beatles on all of their original albums, made this rendition of their hit "And I Love Her." We'd suggest this beautiful relaxing music for your cocktail hour or used as a first dance song, whether you're taking professional lessons or just winging it!
"Allie Returns" by Aaron Zigman
If The Notebook is one of your favorite movies, you'll be happy to hear that the soundtrack has a couple of instrumental love songs you can use on the big day. This relaxing music would be great for a ceremony prelude or postlude playlist.
"Canon in D-Major" by Brooklyn Duo
We couldn't forget about one of the most famous instrumental wedding songs of all time! If you're looking for a traditional processional song, check out this updated version of Johann Pachelbel's "Canon in D-Major" by Brooklyn Duo.
"Glasgow Love Theme" by Craig Armstrong
Pulled from one of the most memorable scenes during Love Actually (when Keira Knightley's character Juliet realizes that her friend Mark is in love with her), "Glasgow Love Theme" is a romantic choice for your walk down the aisle.
"Clocks" by 2Cellos ft. Lang Lang
Just like the Coldplay original, this song starts out slow with a solo piano but quickly builds as other instruments are added in (giving us all the feels). It's an excellent choice if you're looking for upbeat instrumental wedding songs—use it to kick off your wedding recessional or for your first dance.
"Hampshire" by Adrian Johnston
At only 40 seconds long, this short instrumental song is ideal for a prelude or an interlude if there's a break in your ceremony when no one is speaking (during a candle lighting or other wedding ceremony ritual, for example).
"Feels Like Home" by Edwina Hayes
Cue the happy tears. This soft guitar music immediately sets the scene for an emotional walk down the aisle.
"Attraversiamo" by Dario Marianelli
While this instrumental wedding song from Eat Pray Love starts out slow, we think it would be a lovely choice for your ceremony processional if you need an extended musical selection. We also love the name: from Italian, "attraversiamo" translates to "let's cross over," which is a fitting sentiment as you marry your true love.
"A Midsummer Night's Dream Op. 61:IX, Wedding March" by Felix Mendelssohn
Once you've said "I do," take your first steps as newlyweds with this famous recessional song. It's five minutes long, which leaves enough time for you, your wedding party, and your guests to recess out of the ceremony venue.
"Up With End Credits" by Michael Giacchino
As the main theme from Up, this instrumental wedding song is a cute choice for Disney fans. It's also surprisingly versatile—we can picture this song being used for everything from your recessional to your first dance, as your cake cutting song, or even a wedding anniversary song.
"Theme from 'The Search for Everything'" by John Mayer
On his 2017 album, guitar legend John Mayer blessed us with this mellow acoustic track that would work wonderfully as a processional or recessional song.