The 6 Rules of Social Media Wedding Etiquette
Learning how to navigate social media wedding etiquette will keep your friends from wanting to hit unfollow.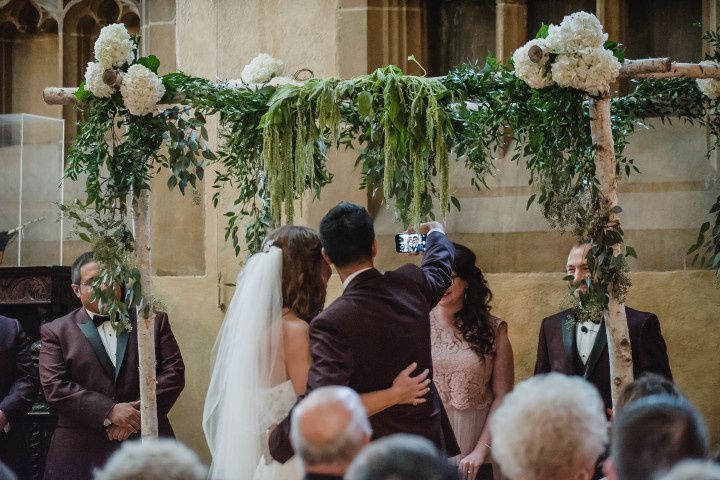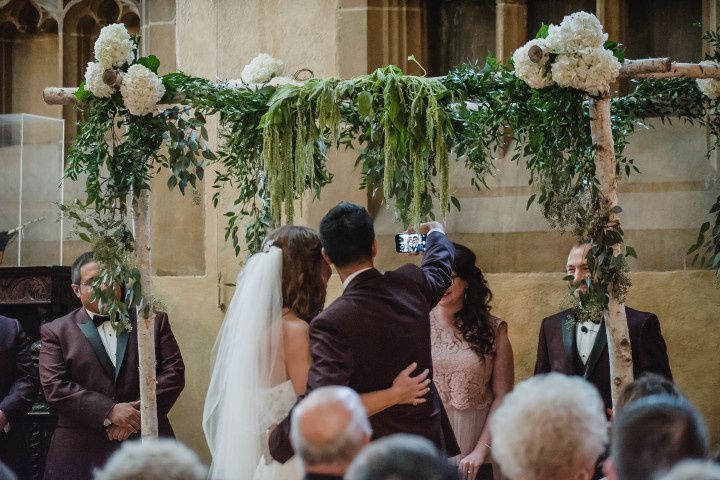 Photo: Kari Dawson Weddings
You're rocking a gorgeous new ring and you're ready to shout it from the virtual rooftops. But before you make a beeline for your phone, remember to pause and carefully consider your next move. When it comes to sharing the big news, and every other aspect of your wedding journey, brushing up on a little social media wedding etiquette is always a good idea. We know that getting engaged in the age of oversharing isn't always a cakewalk so we're laying out a few things to consider before posting to your feed.


Whether it's Facebook Live Streaming the dress shopping experience or heading to Instagram seconds after the proposal, learning how to navigate social media wedding etiquette will keep your friends from wanting to hit unfollow.
Make an engagement announcement gameplan.
We've previously discussed the importance of sharing the engagement news with your loved ones, but it goes even further. When calling your nearest and dearest to reveal the exciting news, make sure to mention if you'd prefer them not post before you're ready. Something simple like, "We're planning a social media announcement in the morning" will ensure no relatives leave a congratulations on your Facebook wall and beat you to the punch.


Touch base with your partner.
Once the proposal high has settled and you begin the planning journey, sit down with your future spouse and decide how much information surrounding your wedding and love story you'd like to share (or not share) online. For either professional or personal reasons, some people opt for more privacy on social media while others simply enjoy spreading the excitement with their online friends. Whichever route you choose as a couple, a quick conversation on your social media wedding etiquette strategy will ensure you're both on the same page from the start.


Set some boundaries.
Fighting the urge to share daily planning updates on your social outlets might feel like a struggle, but it's always best to be thoughtful about what and how often you post. Occasional updates like saying yes to the dress or revealing your engagement photos are fun highlights but if you want to give an in-depth account of every wedding detail, consider using the right platform. Certain social media outlets like Instagram stories or Snapchat are great for those more informal, temporary posts that keep your followers in the loop without clogging people's newsfeeds.

When you do decide to post, make sure to keep it light, upbeat and fun. Save the mother-in-law rants or vendor shaming for an offline conversation. Trust us, you don't want to develop a reputation as a virtual "bridezilla" or "groomzilla" for all the world to see.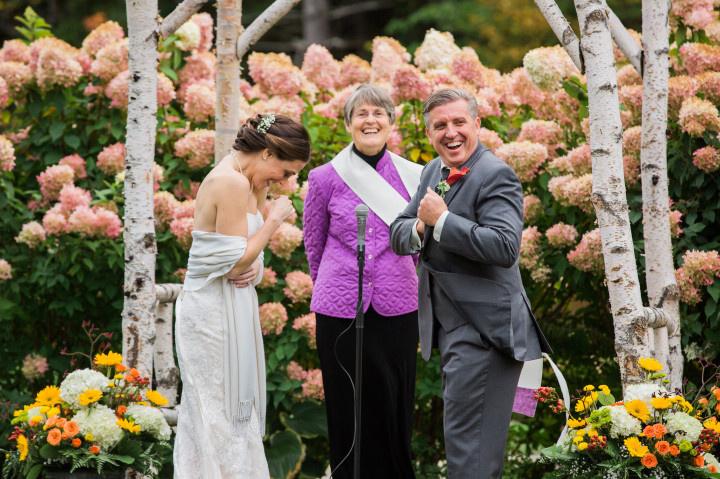 Photo: Trish Kemp Photography
Embrace the hashtag.
There's no denying wedding hashtags are all the rage and it's not without good reason. Not only are they a fun way to involve your guests in the photo sharing fun, but they keep all your wedding memories in one easy place.

PS: If you're struggling to find just the right word combo for your big day, head over to our Wedding Hashtag Generator for customized suggestions in seconds. From proposal to "I do" and every moment in between, a well-crafted hashtag is a tech-savvy couple's very best friend.


Decide on a wedding-day strategy.
Whether you decide to have an unplugged ceremony or a phone-friendly celebration is entirely up to you but it's important to make a solid decision before the big day rolls around. There are many great reasons to have social media at your wedding but it's also worth considering a wedding that prompts your guests to truly live in the moment. Unplugged or not, it's guaranteed to be a day you'll always remember.


Be present in the big moments.
Nobody and we mean nobody wants to be a bride or groom who misses out on her or his own wedding journey while glued to her phone—that's definitely poor social media wedding etiquette. When it comes to important events like the engagement party, bridal shower, bachelor or bachelorette bash and dress shopping, make sure to outsource any photo taking and real-time posting to a trusted friend or relative. On the wedding day itself, feel the freedom to put your phone away completely, trust the amazing photographer you hired to capture every moment and be fully present with the ones you love.

Remember, there's no perfect formula for sharing your wedding journey on social media but it's definitely worth putting a few healthy boundaries in place from the get-go. Work together with your fiancé to determine the balance that feels right for you as a couple and you'll be able to cherish this exciting time both online and off.