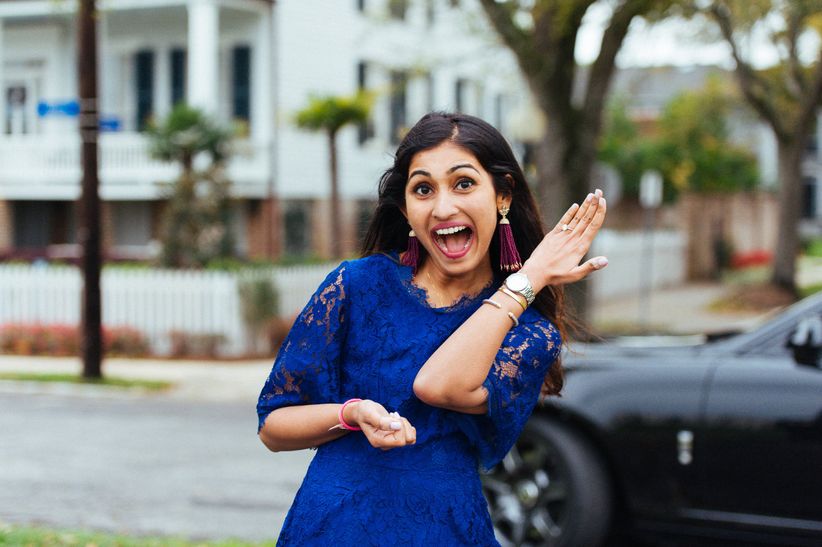 Photo: Christie Froom Photography
Each year, the magic of the holidays is often coupled with the magic of proposal season. If you're one of the lucky couples that got engaged, read on for a timeline of how and when to share your big news with loved ones and on social media.
First, tell the important folks off-line.
Before you start posting pics to Facebook and Instagram, get on the phone. Mom, Dad, Grandma, and other super-close friends and family members deserve direct alerts about your engagement hours before your social networks start liking it.
Send a private message to your close friends.
Email, text message, whatever it may be -- send the the friends who've known you longest (and who will likely be in your wedding party) a heartfelt message explaining how it all went down. Thank them for their support throughout your relationship, and be sure to note that you wanted them to hear directly from you! In this age of instantaneous uploads, they'll be touched that you took the time to personally share the news.
Take some time to soak it in yourselves.
Here's the reality of a proposal: it happens, and then you spend all day / night explaining what happened over and over again to the people we mentioned in step one and two. So, after you've told the important folks, stop telling people for a little bit. Spend some time alone with your new fiancé and let the excitement sink in between the two of you.
One post per social media platform.
Now that the important folks know and you've had some time to savor the news yourself, go ahead and put the word out on social media. No need to fill up everyone's feeds -- one Instagram, one tweet, and one Facebook status update will do.
Opt for a couple shot instead of a ring pic.
We know, we know -- the temptation to show off your new bling is strong. Really strong. But remember: your engagement is ultimately about the people that share it, and not the jewelry that symbolizes it, so take this opportunity to post a crazy-in-love, all-smiles selfie instead. Besides, holding off on showing the ring will give people something to ooh and ahh over when they congratulate you in person.
Keep the caption short and sweet.
Personalize your announcement in a way that works for you. Reflect on your time together as a couple, offer a short summary of how the proposal went down, or simply let the world know how grateful you are to be marrying your best friend. Keep the tone true to your style as a couple (funny, relaxed, romantic, etc.), and try to keep the gushing to a minimum.
Update your relationship status
Now that you've made the announcement, it's time to make things Facebook official. Change your relationship status shortly after posting the news so people know it's legit.
Sit back, relax, and let the likes roll in.
No explanation needed here.
Thank everyone for their well wishes.
Say thank you by commenting on your original post instead of writing a new status update. A new status update will seem out of context and leave people who missed the announcement wondering precisely what you're thanking the world for; a comment on your original post will let everyone who interacted with your news know that you've seen their congratulations.